There are a lot of software options available when it comes to downloading videos from the internet, especially YouTube. YTD has been the go-to downloader for a lot of people for a long time, but it has its own problems. The software offers very limited functionality in the free version and the paid version is unreasonably overpriced. That makes people look for YTD downloader alternatives that can do all that YTD could do. YTD is also down for a short time. It is not completely dead but it does run into errors more often than it should. The purpose of this text is to introduce some alternative to YTD downloader to you that have the best functions and none of the limitations of YTD. Before we start with the alternatives, let's have a detailed look on the features and functionalities of YTD downloader.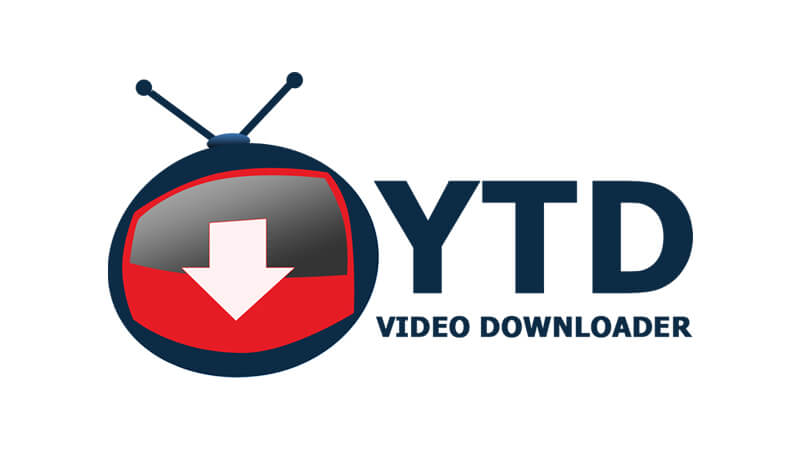 Comprehensive YTD Video Downloader Review
Before we start off with an in-depth review of YTD Downloader, here's what Techradar has to say about it and we think their word is credible:
"It's not the most powerful free video downloader around, but for grabbing the occasional clip, this little program is a great choice. Its file converter and cutting tools are welcome additions." – Techradar
Introduction of YTD Downloader
URL: https://www.ytddownloader.com/
Operating system: Windows XP/Vista/7/8/10; Mac OSx 10.6~10.12
The main functions of YTD Downloader have three parts: downloader, converter and player. Let's see how YTD Downloader does in the fields of features, UI, speed and price.
#1. Features
Downloader
YTD Downloader comes as free and paid software. Both the paid and the free version can download single videos from a number of websites, but the free version does not support downloading playlists. The free version can only entertain a single URL at a time, and you have to add each URL separately.
There are also restrictions on the download format. You can only download MP4 YouTube videos for free, and the highest video quality is 1080P. This is sufficient for playback without HD requirements. However, the free version always has a lot of irritating limitations. When you use the free YTD Downloader to download, you need to wait for 30 seconds of advertisements before starting the download process. The download speed is very slow, you can only pay to speed it up, otherwise you will waste a lot of time on this useless downloader.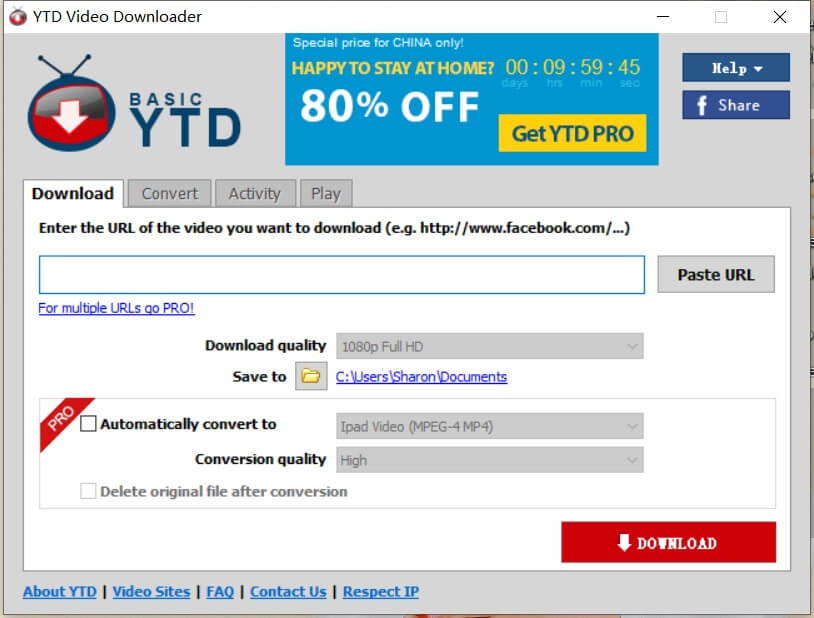 Local conversion
YTD Downloader has a built-in media converter, which allows you to batch convert videos in various formats. But the free version only supports 6 formats: mp3, mov, wmv, 3gp, avi, and mp3. And you can only convert single video at a time. It provides a simple video cutter to trim video clips by setting the video start and end time.
Player
YTD Downloader offers you the option of playing videos within the app. This player is relatively concise, the window is a bit too small and not practical, it can only be used to preview media after dowload or conversion. If you want to watch movies or listen to songs, it is not professional and the viewing experience is not good. It is recommended to watch it in other playback destinations such as VLC.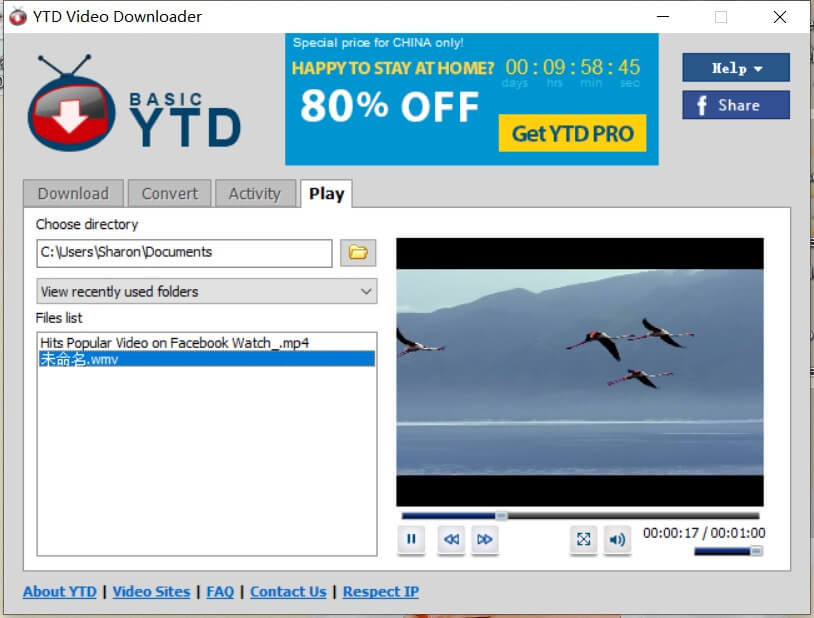 #2. Speed
The free version of YTD is painfully slow. We tried downloading a 6-minute video in 1080p resolution using the free version and the progress was at 0% even after an hour. It is safe to say that this thing is slow to the point where you just can't use it.
#3. Interface
The interface itself is designed to be simple and easy to use. However, the free version is plagued with tricky ads that want you to buy the premium version of the software.
#4. User Experience
This software has an overall user experience. It is easy to operate and can do the same thing as the other video downloaders in the same way. You only need to copy and paste the video URL to YTD Downloader, select the quality and file save path, click the "download" button. All download processes can be viewed in the Activity tab.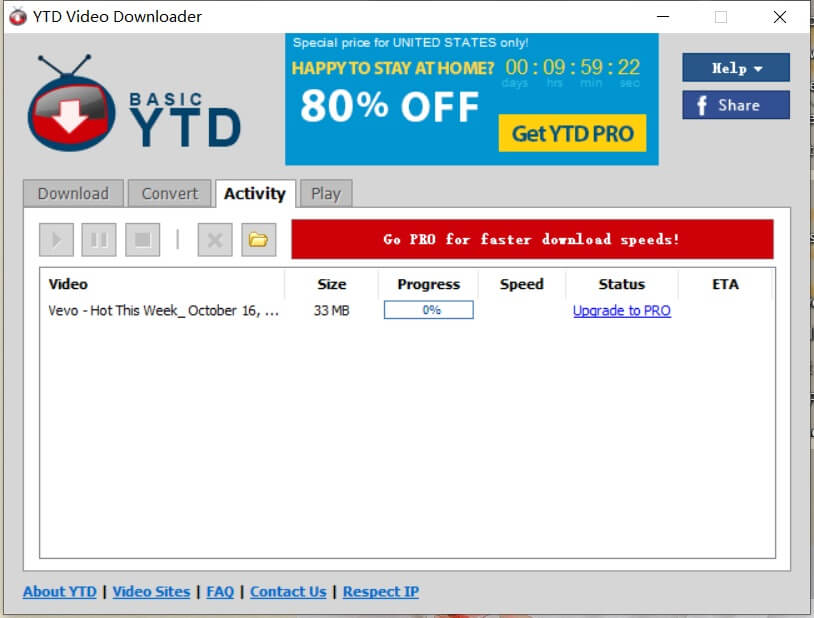 #5. Pricing
The trial version of the software is free but as stated earlier it is too slow and ad-ridden to use. If you want to take the advantage of all the features YTD Downloader offers, you'll need to buy the premium version that has three billing options.
Free Trial
$9.99/month
$17.94/6 months
$23.88/year
In order to make it easy for you to see objectively what YTD Downloader can and cannot do, here's a tabular analysis of the functionality of the free and the paid version of YTD:
| | | |
| --- | --- | --- |
| Features | YTD Free | YTD Premium |
| Single Video Download | ✔ | ✔ |
| Playlist Download | – | ✔ |
| Multiple Video Download | – | ✔ |
| Video Conversion options | 6 formats | ✔ |
| Bacth Conversion | – | ✔ |
| Trim Videos | ✔ | ✔ |
| Download Speed | Considerably Slow | 4x Faster |
| Advertisements Free | – | ✔ |
| Lifetime Support | – | ✔ |
The Best YTD Downloader Alternative
If YTD Downloader is not working for you or is not producing the results you need, here are some options that you can consider using instead of YTD Downloader.
iTubeGo YouTube Downloader
iTubeGo YouTube Downloader is a video downloader designed to work with Windows as well as Mac computers. This software has revolutionized the very concept of downloading stuff from the internet by giving the users all the functionality that they might need from a video downloader. It works for more than 10,000 websites and has a set of amazing features. This downloader is easy to use and seldom runs into errors. It also has a free Android app which can be used to download videos on Android. Here are some of the pros and cons of this software.
Pros
Cons

It can work with any website.
It downloads content at 10x faster speeds.
It supports more than 40 audio and video formats.
It can download playlists in one command.
It supports batch download and conversion.
It has the ability to download in 8 k resolution.

Like any other software, you would need to install it on your computer.
Steps to Use iTubeGo to Download Videos
Step 1

Download and Install iTubeGo's Latest Version

Download it for Windows or Mac from below links:
Step 2

Find the Video and Get its URL

Now open the video you want to download in a web browser and copy the URL of the video from the address bar. The URL is a unique identifier of any video on the internet.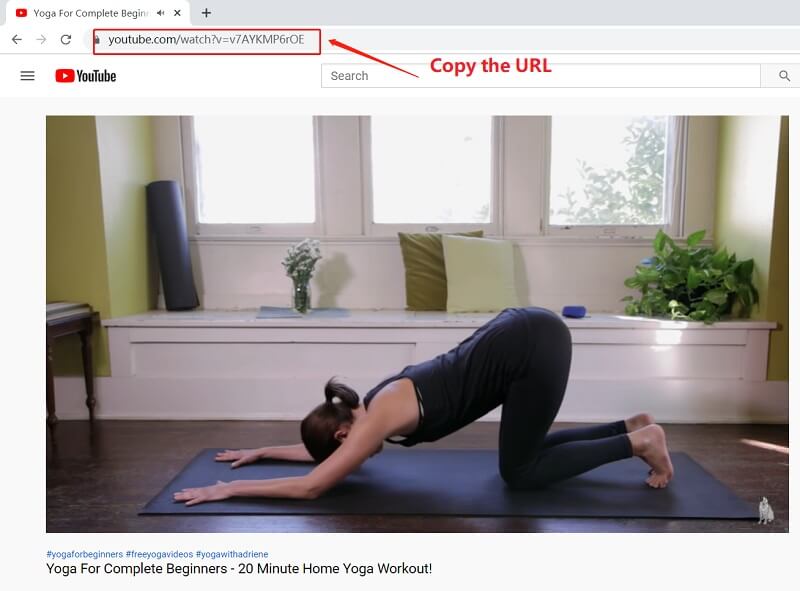 Step 3

Set Output Preferences

Open iTubeGo and go to the Preferences section to set the format and resolution for downloading the video.Set the Download type from Video or Audio and resolution options from 240p to 8k. You can also choose among a range of 40 different formats from the "Download then Convert to" option on the main interface of the software.
Step 4

Paste the Already Copied Video Link

After everything is tuned up to your taste, click the button saying "Paste URL." This will add the URL to the software and the download process will begin automatically.
Step 5

Download the Video on Your Desktop

After the video has been downloaded, you can access it through the Downloaded section of the software. You can also go to the downloaded video through the file explorer on your Windows or Mac computer.
Another Way to Download YouTube Videos
Step 1

Open Videos in Build-in Browser

iTubeGo's "Online" section is a built-in browser, open the YouTube website here, search or find the channels you subscribe to. Play the video.
Step 2

Download YouTube Video without Copying and Pasting

The download button will appear at the bottom right of the video, click it to start the download process immediately, you can check it in the Downloading section. Of course, a simple YouTube video cutting tool is also provided here.
More Alternatives of YTD Downloader
Alternative For Windows:
There is no shortage of any software when it comes to downloading videos on Windows computers. However, not all of the options work equally well. Here are some of the best alternatives for YTD that you can use on Windows computers. See best YouTube Downloaders for Windows.
Alternative For Mac:
The Mac market does not have such an abundance of software solutions as the Windows does but you can still find some great YTD alternatives that can serve the purpose. You can see some of the best YouTube Downloader for Mac which can alternative to YTD.
Alternative For Android:
The android app environment gets very creative, but the Play Store keeps removing video downloading apps due to legal issues. However, you can always install an app via an APK. Here are some of the best YouTube Downloader apps you can use instead of YTD on your Android device.
Alternative Online Tools: If you do not want to install software to be able to download videos from the internet, there are some online alternatives that you can use. Here's our article on the best online free YouTube Downloader for YTD alternative video downloaders.
Comparison of YTD Video Downloader and Alternatives
The only alternative of YTD that is worth a one-on-one comparison with YTD Video Downloader is iTubeGo. Both have free as well as paid versions. Let's see how these two competitors stack up to each other.
iTubeGo
YTD Downloader
Free Version
Single video downloads
3
Unlimited
Playlist downloads
1
–
Music downloads
3
–
Video subtitles download
√
–
Private content download
√
–
Output formats
mp4, mp3
mp4
Video Quality
240P~8K
144P~1080P
Audio Quality
320kbps
–
Downlaod speed
512kbps
Not clear, very slow
Simultaneous downloads
√
–
Local Converter
20+ formats
6 formats
Butild-in Browser
√
–
YouTube Cutter
√
–
Player
–
√
Media Management
√
–
Build-in Proxy
√
–
Advertisements Free
√
–
Premium
Multiple Downloads
√
√
YouTube Channel downloads
√
–
Output formats
20+
7
Download Speed
10X, tubo-fast mode
4X
Free Upgrade
√
√
Free Support
√
√
Price
1-month plan: $9.95
1-year plan: $19.95
Lifetime plan: $29.95
Family plan: $39.95
1-month plan: $9.99
6-month plan: $17.94
1-year plan: $23.88
The Bottom Line:
YTD Downloader has always been a very good video downloader that people loved to use. However, in the recent past, this downloader has become increasingly unreliable and people need an alternative. One of the major problems with YTD is that its free version is not practically usable. It is just too slow and too out of options to be used as a downloader. The price of the premium version is also a bit too steep for the functionality it offers and according to the other options available on the market. There are alternatives available for this software that you can use on Windows, Mac, or Android Devices or you can use the online solutions mentioned above. The best alternative in our opinion is the iTubeGo YouTube downloader that offers the best-in-class features and options and the most flexibility in formats and resolutions for the download.
(Click to rate this post)
Generally rated 4.5 (215 participated)