Nowadays, everyone is fond of watching movies and videos online. Gone are the days, when we were dependent on televisions and cinemas. With technology in our hands in the form of smartphones, things have changed drastically. You don't even have to plug in the smartphone to a computer to transfer videos anymore. VidMate for Android is one of those Apps through which you can directly download videos to your smartphones.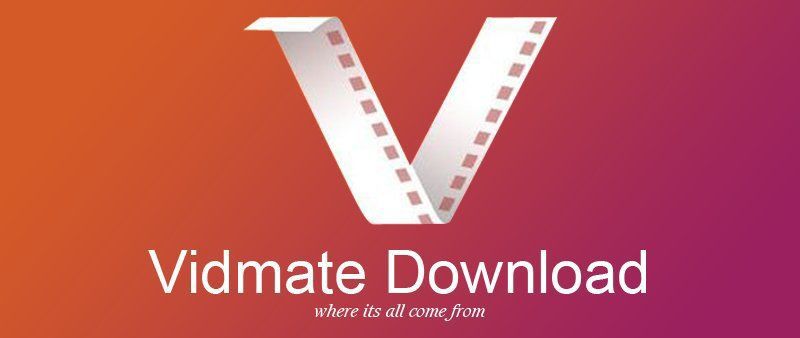 VidMate for Android App:
VidMate for Android is a video downloading App that allows you to download and save video content on your android devices. It offers you to download HD video content like movies, music, television shows, and even allows you to stream free live TV. Like any android App, it can be installed easily, and once it is installed on your smartphone, you can directly access your favorite videos through the App or any third party.
Like video content, the VidMate app downloads high-quality music in formats like mp3 with VidMate App. It comes with a very simple and clean interface, which provides an ease to its users. VidMate app download video from online websites and itself doesn't take too much space in terms of device's storage. However, this App also has some disadvantages and the biggest one we're going to discuss next.
VidMate Banned on Google Play Store:
Google Play Store values the safety and confidentiality of its users' data, and that is why it never allows any application that proved to be involved in any illegal activity or policy violation. VidMate is one of the applications that are currently banned on Play Store due to some serious policy violations. As it is not available on Play Store, you have to download the App from their website, which sometimes may consume more time and data.
There is a very clear stance from Google that utilizing such applications may pose a serious threat to your personal data, and your device can even get damaged by using them. This means, if you're using any banned application like VidMate, your device is at an increased risk of malicious attacks.
As mentioned above, if your VidMate App can't work, then next, we're going to explore an similar App like Vidmate that can be used as the best alternative to VidMate.
VidMate Alternative Android App – iTubeGo
iTubeGo YouTube Downloader for Android is an amazing and unique App that enables you to download videos in a powerful yet easy manner. It allows you to download an unlimited number of videos and music files at ultra-lightning speed. It is a complete solution for your entertainment and provides you the facility to download as many videos/audios as you want from all the famous online websites. Some of the features that make it different from the rest are the following:
# Support 1000+ Online Websites
iTubeGo for Android is not just for YouTube. It allows you to download unlimited free videos and mp3 music from more than 1000 online video sharing platforms. Some of these websites are the following.
| | | | |
| --- | --- | --- | --- |
| YouTube | Facebook | Twitter | Instagram |
| Dailymotion | SoundCloud | MixCloud | Tik Tok |
| Vimeo | Bandcamp | Vine | Niconico |
| TED | VK | YouKu | Bilibili |
| Coub | Vevo | LiveLeak | 1TV.ru |
| AudioBoom | 9gag | Lynda | OK.RU |
# Support and Download Complete YouTube Playlists in Just 0ne-Click
iTubeGo for Android also allows you to download the entire YouTube playlist with just 1-click. With its smart detection tool, it can smartly grab YouTube playlists and will display all the available videos and audio files that you can easily convert to mp3, HD mp4 formats.
# Support Full HD / 4K Video Downloading
iTubeGo for Android has the potential to deliver what it advertises. It can download high-quality videos even going up-to 4K video downloading simple tasks for the iTubeGo App. It supports downloading videos in various resolutions such as 360p, 720p, 1080p, 1440p, and 2160p. Furthermore, it doesn't affect the video quality during the downloading process and ensures the original video quality.
# Multiple Simultaneous Download
It is such a powerful App that will enable you to download hundreds of videos in just a few minutes. You can download multiple audio and video files at ultra-fast speed with its acceleration engine.
# Built-in Browser
There too many tools available on the internet to download videos but iTubeGo for Android is a complete solution. It comes with a built-in browser that will enable you to navigate the web by remaining within the App. Due to which, you don't need to paste the video links and you can easily select the required videos from the App.
Steps to Download YouTube Videos:
For instance, if you want to download any YouTube video using iTubeGo for Android App, you need to follow these easy steps after installing the App onto your Android device.
Step1, Open the App on Your Android Device:
First of all, you need to launch the iTubeGo for Android App on your device.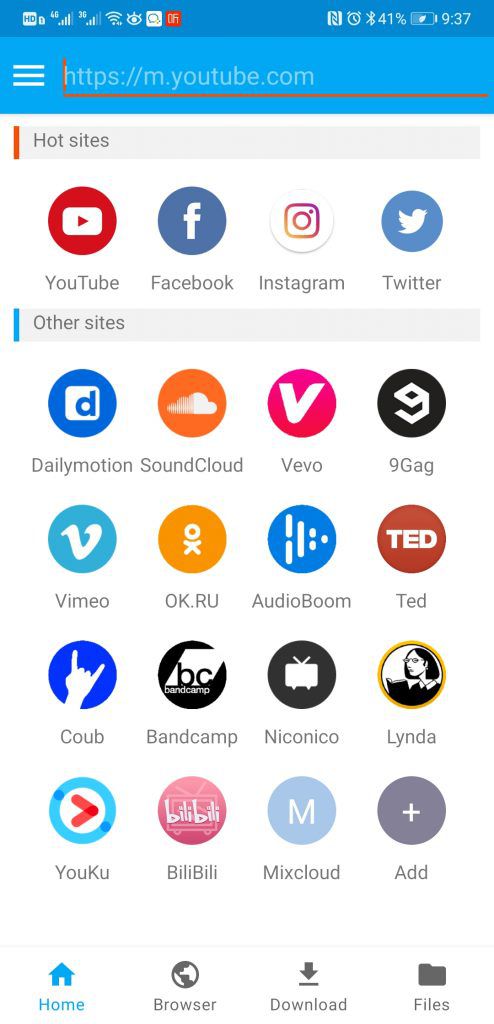 Step2, Select the Required Video:
As iTubeGo for Android comes with a built-in browser, various mainstream videos are preloaded on the main interface by default. To download any video, open YouTube from the built-in browser of the App. Then, go to the particular video that you want to download. Or, if you already have the video link, just open the app and it will automatically process the link and instantly pop-up a prompt box.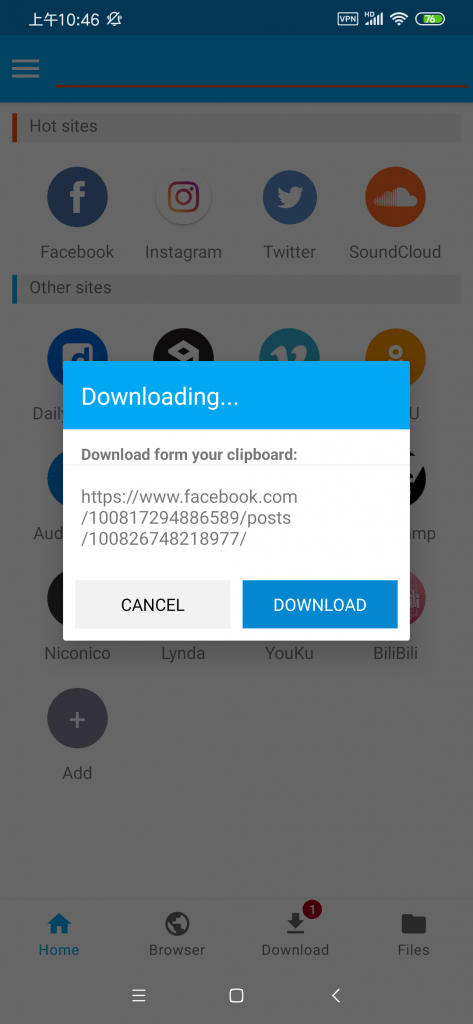 Step3, Set the Required Format:
Once you browse YouTube videos, there will be a red button below the video, press the Download Video button, you'll be required to set the settings as per your requirements. Select Video in Type and Quality according to your requirements.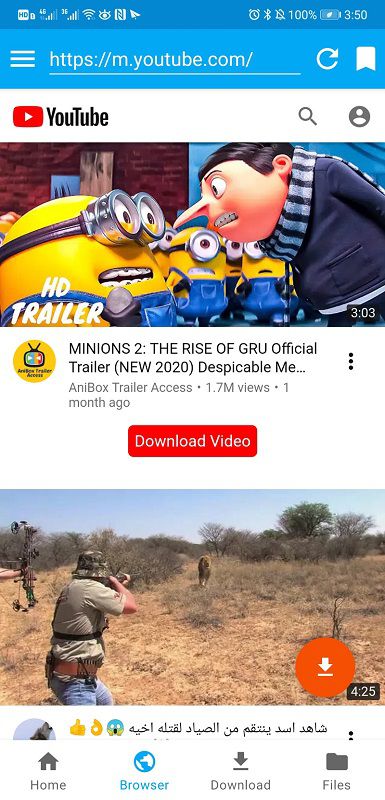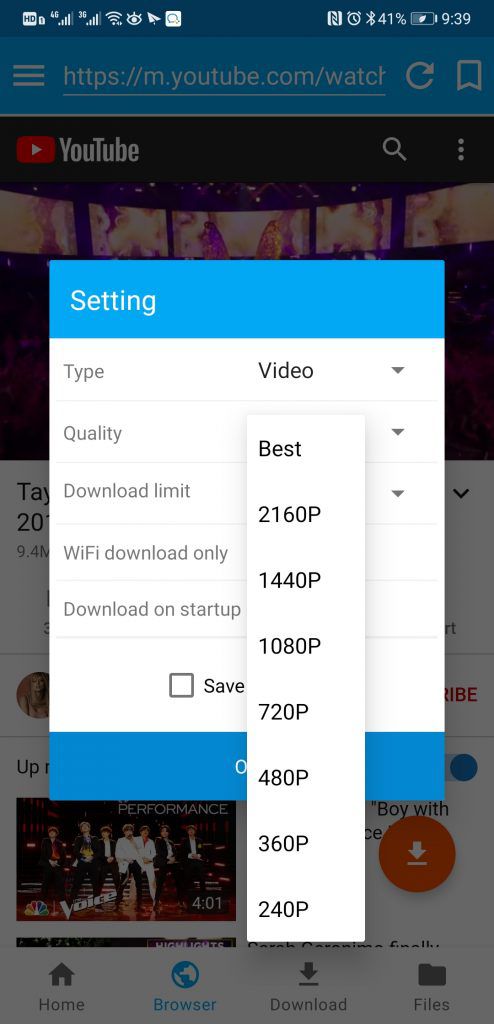 Step4, Download YouTube MP4 Video
Finally, press the OK and the app will start converting the video into the required format. Afterward, it will be downloaded and saved to your device.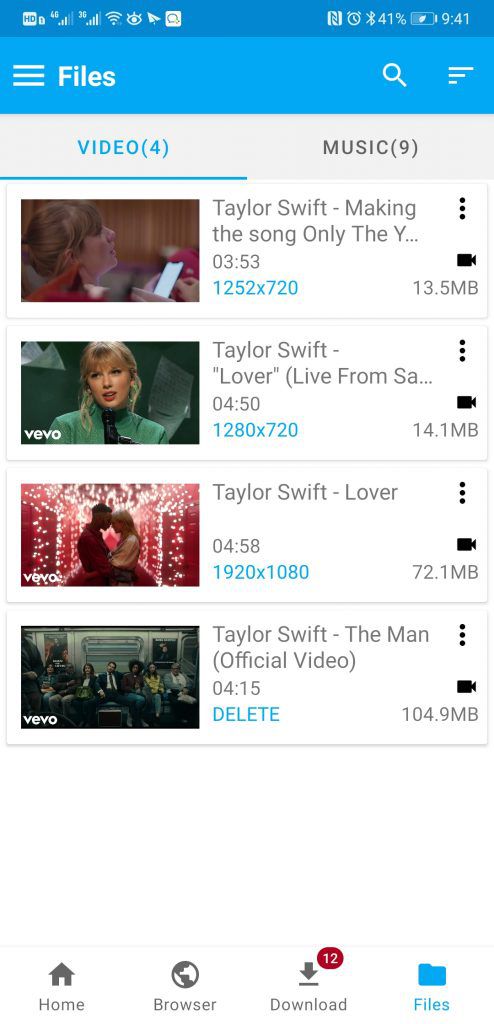 The Bottom Line:
For all the people who are facing difficulties in using VidMate App, iTubeGo for Android is the best altenative app for VidMate that actually works in a more efficient way than any other available solution. What's more special is that it is 100% free. Click here to download this App now and download the unlimited number of videos and music to your Android devices.
(Click to rate this post)
Generally rated 4.5 (215 participated)