Videoder is a powerful android app that allows you to download videos from 50+ online websites. It also lets you download videos in mp3 format without compromising the audio quality. There are various other features, which make it one of the best android apps available in the market. If Videoder not working properly on your device or you can download Hotstar, YouTube with Videoder, then in this article, you'll come to know some solutions and best alternatives to this app.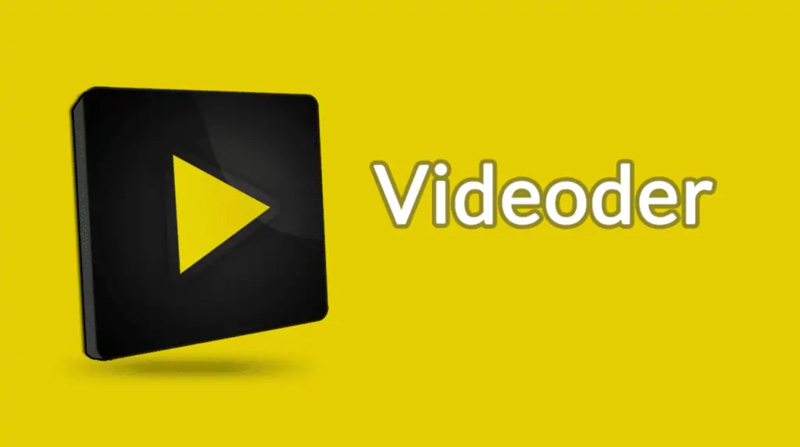 Videoder App Isn't Working:
Videoder is one of those apps that are not available on the Google Play Store due to some policy violations. To install this app on your phone, you may need to download it from some unknown sources that can affect the safety of your private data. Sometimes, you can also face some issues while downloading videos due to the bug attacks. Another reason is the usage of an outdated version of the app, which can also affect the proper operation of the app.
So, if you're facing some issues while downloading the videos on Videoder, you need to consider the following solutions:
As, installing the app from unknown sources can affect the working, so you should make sure that you have properly download the app from some trusted source. Download from the official website.
Update to the latest version if it is still not working properly.
Another way through which you can improve the performance of this app is to clear the cache memory and then restart the app. It will help the app to perform the downloading process more smoothly.
In the case, Videoder not working after trying these solutions.
But recently we found that Videoder reminds users that it no longer supports YouTube downloads, then you need to look for some similar apps like Videoder.

For this reason, we're going to unfold a similar app and also explain why it is better than Videoder.
Best Videoder Alternative App:
In recent times, many users have reported that they're facing various problems while using the Videoder app for downloading videos from YouTube, Hotstar and other websites. Coming up next, we're going to recommend another app that is 100% safe and download videos without any problems.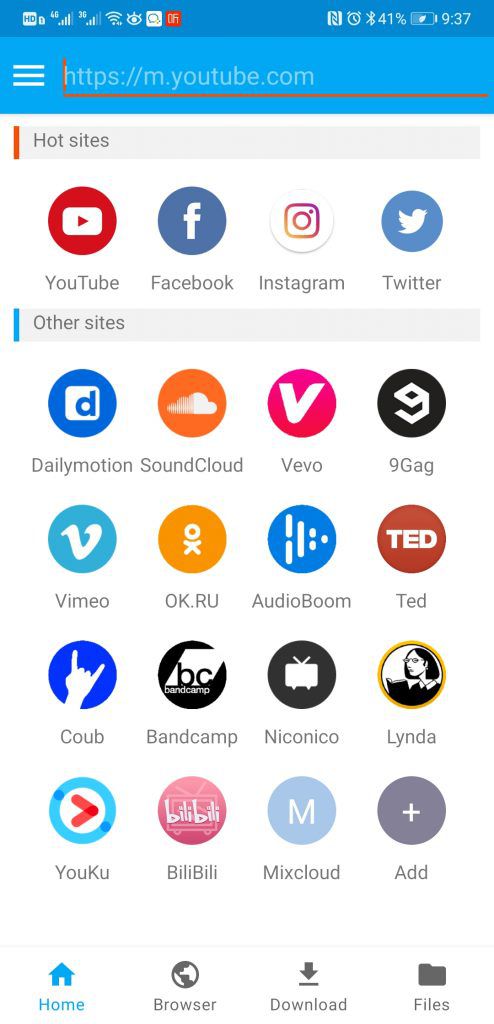 iTubeGo YouTube Downloader for Android
There are hundreds of android apps available that claim to download videos, but in reality, only a few of them can actually perform the tasks efficiently. iTubeGo for Android is one of those very few apps, more specifically, the best app that allows you to download videos in mp3, aac, flac, HD/4K mp4 format from more than 1000+ online video streaming websites. You can download it safely and freely below:
How to Download Video from Youtube Using iTubeGo APP
Once you have installed the iTubeGo APP on your Android device, you have to launch the app and click the Youtube website.
Search for the video you want to download, the play it. You can see the red arrow button in the lower right corner.
Press the red-colored Download button. Then, you'll be given with different options to set according to your requirements. If you want to download YouTube video in mp4 format, set the Type as Video and select the Quality from the different options.
After getting done with the settings, press the OK button and the downloading process will be started.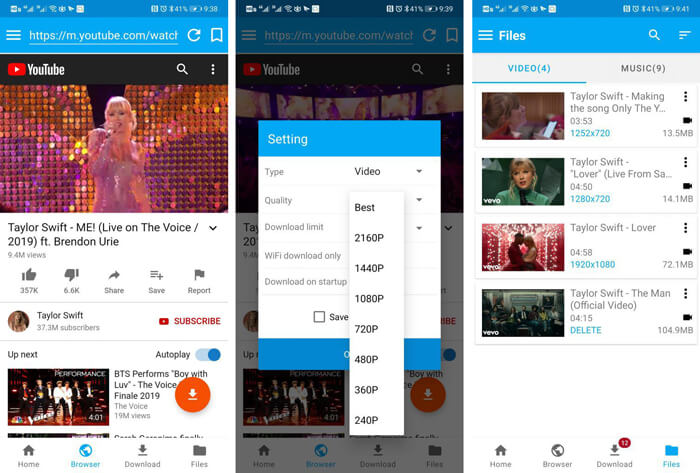 iTubeGo vs. Videoder: Which is better?
To make this clear for you, let's discuss the pros and cons of both the apps.
iTubeGo
Videoder
Pros:

Support Windows, MacOS, Android.
No ads and Free.
Impressive download speed.
Supports tens of thousands of online video and music sharing websites.
Download complete YouTube playlists.
Supports various qualities: 720p, 2K, 4K.
Support multiple formats: mp4, mp3, aac, flac.
Support multiple audio and video files download.
Save Music ID3 Tags.

Free and simple to use.
It integrates a video search engine that covers multiple sites.
Supports a wide range of resolutions, includes 4K.

Cons:

Only supports Android 7 and above, some old systems do not support.

Free version has ads.
It can prone to glitches with the search engine, which sometimes, may result in the failing.
Only supports 50+ websites.
Very few formats, only mp4, mp3.
Learn more YouTube downloader apps like Videoder here. If you want to download video from any website on PC/Mac, just click here.
Other 4 Apps like Videoder to Download Youtube Video
1. TubeMate
TubeMate is an application available for Windows and Android mobiles. It integrates a web browser inside, which makes you have access to downloading videos, extracting the audio from them, and even creating offline playlists. All you have to do is enter the URL of the page of interest and click on the download option. Meanwhile, TubeMate allows you to download all the videos you want directly to your mobile and for free memory. You do not need to pay any subscription or anything similar to enjoy the service. Also, there is no limit to the amount of content or videos you can save.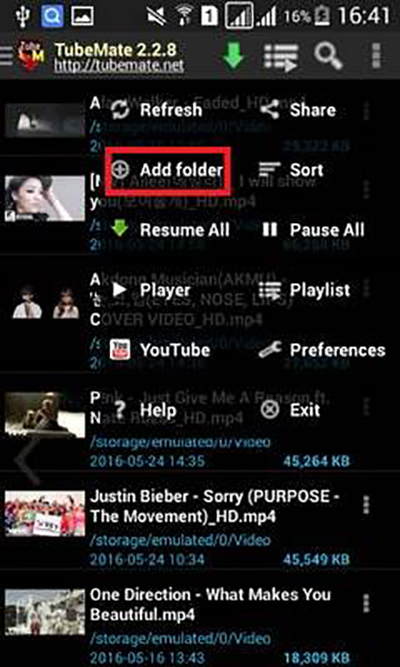 2. Snaptube
Snaptube is a program for viewing YouTube videos. Using this program, you can download video files of different extensions or record them in audio format. Snaptube offers the possibility to search the videos by categories, popularity and by name. The program has the tools to stop, interrupt or restart the download in progress. Snaptube also allows you to view and download video from Facebook, Instagram, Soundcloud, Funny or Die, Vimeo and other services.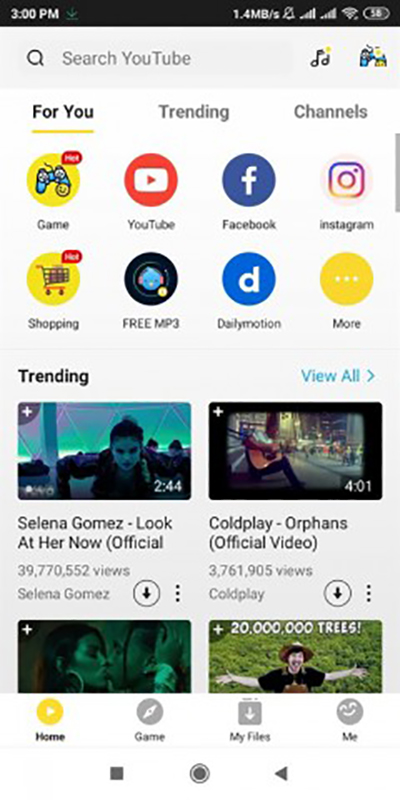 3. InsTube
InsTube YouTube Downloader is a simple and easy-to-use application for Android to download videos and audios from the most popular platforms, not only YouTube but also Twitter or SoundCloud. The list of platforms supported by InsTube YouTube Downloader is quite extensive since, in total, there are 33 platforms compatible with this great app. Once you've selected the content to download, you can choose your preferences regarding video quality, ranging from 144p to Ultra HD.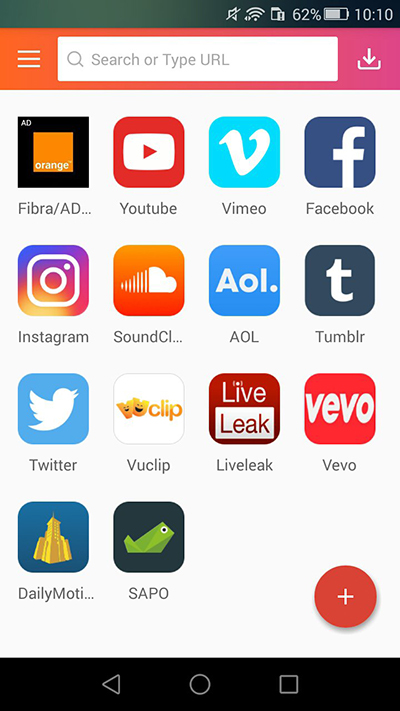 4. VidMate
Vidmate is one of the tools that currently exist for downloading videos or songs online. This application allows you to download videos from Facebook, Instagram, and YouTube, among others, with the best resolutions and free. Vidmate has become one of the most downloaded and used applications today for being so versatile and its quality of sound and images in videos. Also, its lightness and easy compression of the user interface makes it one of the most popular.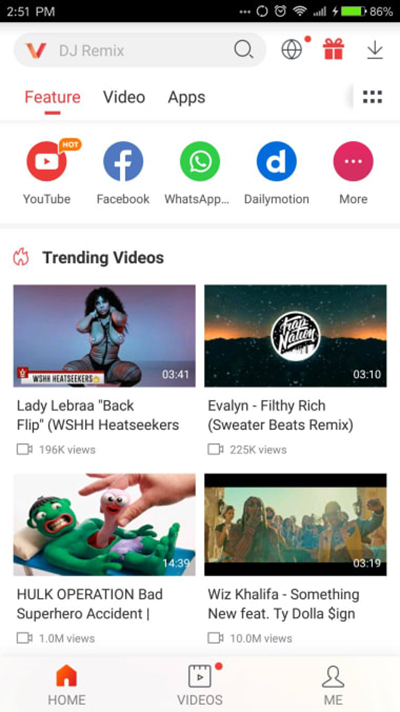 Conclusion
One of the main factors that we tried to discuss throughout the article is your data privacy. Installing these third-party apps can breach confidentiality. We strongly recommend you to only use trusted apps like iTubeGo for Android to download any video. This app not only helps you to download videos but also protect your data. We have discussed few other apps as well. You can use them at your own risk and figure out the best app that suits your needs.
(Click to rate this post)
Generally rated 4.5 (215 participated)