Instagram is one of the most used social networks in the world and number one in the multimedia content network. Unfortunately, Instagram videos can't download online directly from the application. On Instagram, we can find a wide variety of content, from photos to videos, through personal accounts, famous people, or brands. This means that the social network has a very varied content and audience, which publishes thousands of photos every day.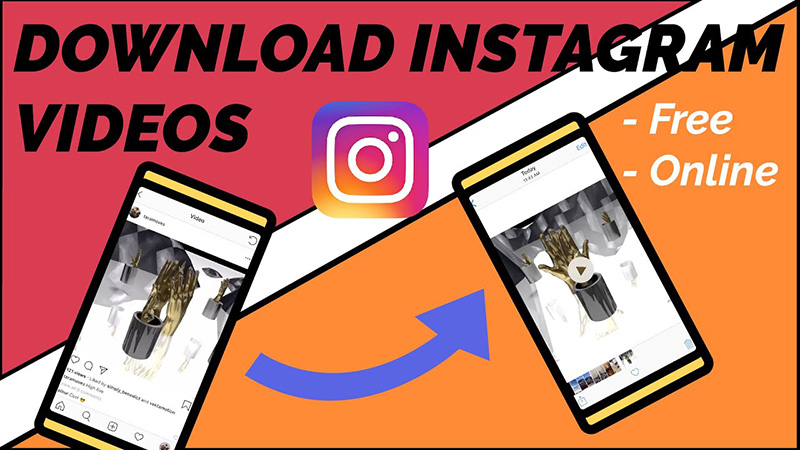 And as it can happen, when something is published on Instagram, after some time it may disappear, be deleted, the profile will be changed to private, the author will block access, or we just won't find it. Therefore, it can be useful to be able to download videos on Instagram online and always have them on hand on your mobile or PC. From this article, we bring you the best free Instagram videos downloader online in the market.
Here is the list of 8 free Instagram videos downloader online.
1. Keepvid.pro
KeepVid Pro is a video download application that offers various functions. The most important is the one that allows you to download any Instagram video, either individually or in batches. To do this, simply paste the URL where the video that interests us is located and press the download button. Since it supports many output formats and many social media platforms, it is used by many users. Apart from that, it provides the capability to convert the downloaded videos from social media platforms.

Pros:
It supports output format like MP4, MP3, and M4A, etc.
Provides a video converter
Supports more than 1000 social media sites
High speed downloading process
Cons:
Annoying ads
Redirect to different other websites
2. SaveFrom.net
Savefrom.net is another straightforward website to use, in which we will simply have to paste the link and select below the different qualities available for that video. In addition to Instagram, this service allows us to download content from other very popular platforms: Vimeo, Twitter, YouTube, Yandex, Soundcloud, TikTok, Facebook, or Dailymotion.

Pros:
Works perfectly with any browser on a PC or mobile device
Download private Instagram videos and photos
Availability of extension for browsers such as Chrome, Firefox, Opera, Safari, and all Chromium-based browsers
Smart app for Android users
Ads free application
Cons:
Limited output format, only MP4 is available
3. Downloadvideosfrom
Downloadvideosfrom is an online tool for downloading Instagram videos and images online. You can simply download any Instagram video in one click. All you need is an Instagram Video link, and our server will extract the video information from the Instagram post. Then you will be able to download that Instagram video on your device. The Instagram videos are in MP4 format.

Pros:
Available for free
Compatible with both Windows and macOS
Fewer popup ads
Supports mobile versions as well
Cons:
Downloading speed is lower compared with other tools
Redirect to different sites
MP4 format is available as the only output format
4. W3toys
Some sites allow you to download Instagram videos through your browser quickly. One is W3Toys. W3Toys is much more preferable than other online tools but can be busy and slow at peak times. To download the Instagram video, capture the URL of the video you want to download. Navigate to the W3Toys website and paste the URL into the box. Press Go and the site will download the video to your device to get started.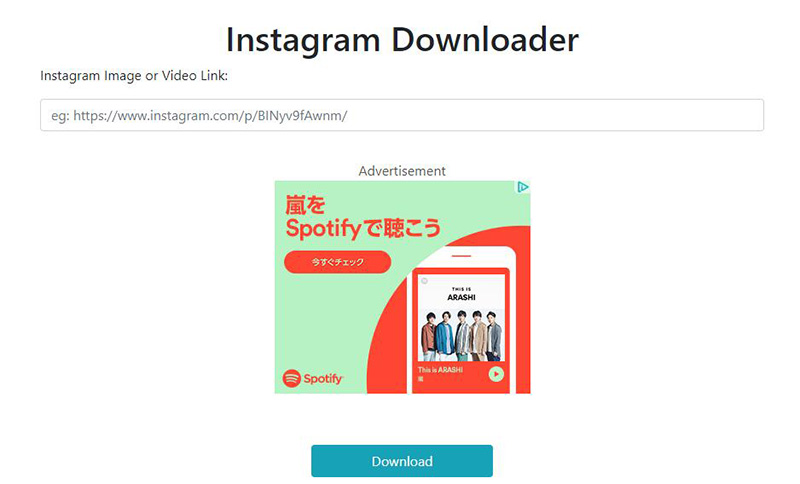 Pros:
Cons:
Doesn't support to download Private video
Cannot choose the output format
Annoying ads
5. Insta Videos Downloader
With Insta Videos Downloader, you can download Instagram videos and photos to save them in the phone's gallery. It works like the pages we have seen: you copy the video link from Instagram, paste it in the app, and click on the Download button. In addition to downloading the video, you can also copy the description and labels. Instagram Videos are downloaded in MP4, photos in JPG, and save a download history.
Pros:
Support PC, mobile phone or any other device
Available to choose the output quality
Can use to download IG videos
Compatible in downloading Private video
Cons:
Limited output formats available to choose
6. Download Instagram Videos
If you want to download an Instagram video to your computer, a good option is to do it online, and for this, web pages are specializing in offering this service, such as downloadinstagramvideos.net.
To download a video on this page from your Android device, you just have to follow the same procedure to get the link, and in case you want to do it from a computer, you must open the video in a new tab and copy the link. You copy the link in the bar destined for it and hit the button download video from Instagram. After that, your link will be ready. The last step is to click on download and save the content of Instagram.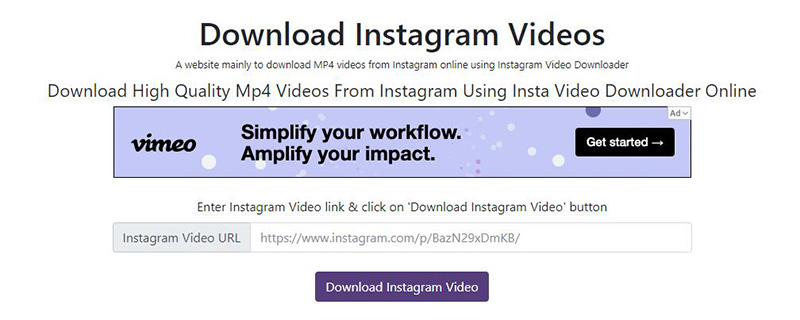 Pros:
Supports both Windows and macOS
Download speed is comparatively higher
A simple interface and fewer ads
Cons:
Can't use to download private video
Limited output format available such as MP4
7. Socialdown
SocialDown will allow us to download profile photos from Instagram, all using the URL of the profile in question. After entering the address, we will obtain the profile image in full size so that we can download it to the PC. At the same time, it is worth mentioning that in this specific case, we also find additional options that allow us to share photos through WhatsApp, Facebook Messenger, or Facebook.

Pros:
Can download on mobile through scanning the QC code
Supports most of the OS
Supports other social media platforms
Cons:
Too many annoying ads
Cannot choose output formats
8. Instasaveonline
InstaSaveOnline is the best and newest tool to download Instagram videos and Instagram photos. This online tool (website) allows you to download Instagram photos and videos directly from your Chrome browser (or others) on any device such as Android, Apple Mac, iPhone (iOS), and computer.

Pros:
Doesn't require to install insta save app
Support mobile or PC platforms
Cons:
Annoying ads
Cannot choose the output format, only MP4
Conclusion
When we compare the online tools for Instagram video download online free, the majority of them provide high downloading speed. But if you require a multi-functional downloader, we recommend going either with SaveFrom.net or Insta Videos Downloader.
If you are a user who wants to download Instagram videos in different formats, you should go with keepvid.pro or Downloadvideosfrom. All these tools have their pros and cons. Thus you have to consider them and select the best-suited one.
(Click to rate this post)
Generally rated 4.5 (215 participated)