It is possible to download all videos from the Instagram social network directly from your browser at the maximum resolution at which they were uploaded. Instagram does not provide an option to download photos and videos. Still, it is possible to do it equally, and as we say, in the original maximum size, the user uploads it, not the one that is usually shown.
Although there are many websites or applications with which you can use to download videos, with the following Firefox Add-ons Instagram download, you can get the job from the browser itself without downloading and installing external software.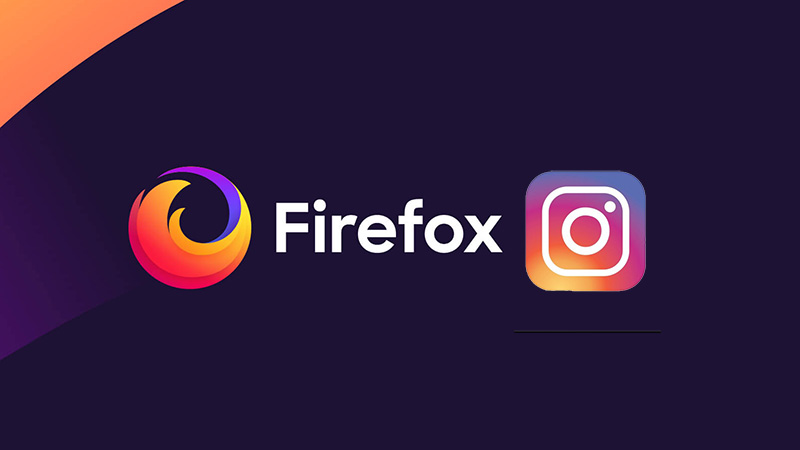 Here is the list of 8 best Instagram downloader Firefox Add-ons:
1. Instagram Downloader by HuiBuh
This Instagram Downloader Add-onintroduced by Huibuh and allow to download both the photos, stories, and videos from Instagram. This add-on has been open to everyone since it is open source and said to highly secured.
Downloading videos is pretty simple with this add-on. Once you install it, it will add a downloading icon to your videos and images when you hover them. Once you click on the download icon, it will download it to your device.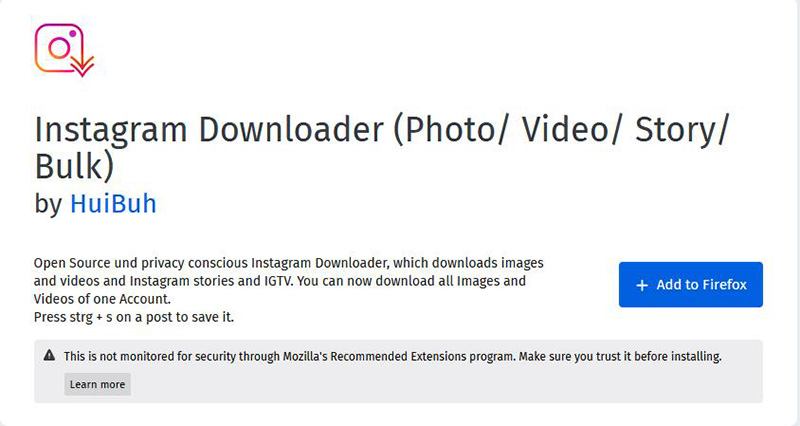 Problem: It regularly releases updates. But most recent updates have introduced new bugs to the extension.
Star rate: 4.5
2. Instagram Downloader by Smjrifle
Another simple Instagram downloader Firefox add-on that helps you to download photos, videos, and stories from Instagram. Smjrifle introduces it.
After adding it to the Firefox browser, you can use it to download it from Instagram. To make use of the add-on, you should enable scripts in the browser. Thus if you haven't disabled it previously, the browser will have it enabled by default. Hover near to the video and click it to open. Once it's open, right-click on the video and select Save as from the list. Then it will download into your device.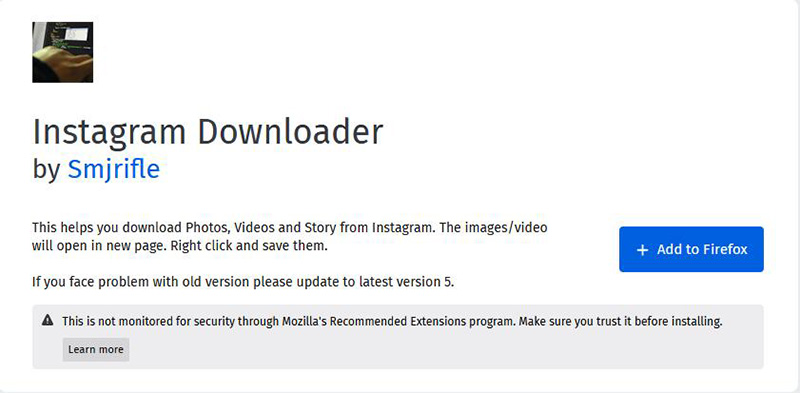 Problem: Sometimes, not able to download images and videos. Older versions are exposed to lots of bugs.
Star rate: 3.4
3. Instagram Video Downloader by InstaDownloaderPro
Instagram Video Downloader provides more functionalities to the users where they can download IG stories, videos, photos, and DPs from one place. There is no initial registration requires to use this add-on. All the functionalities are available for free and safer to use.
After installing the add-on, you need to copy the URL of the Instagram video and paste it on the add-on. Once the download clicked, it will automatically start to download the video.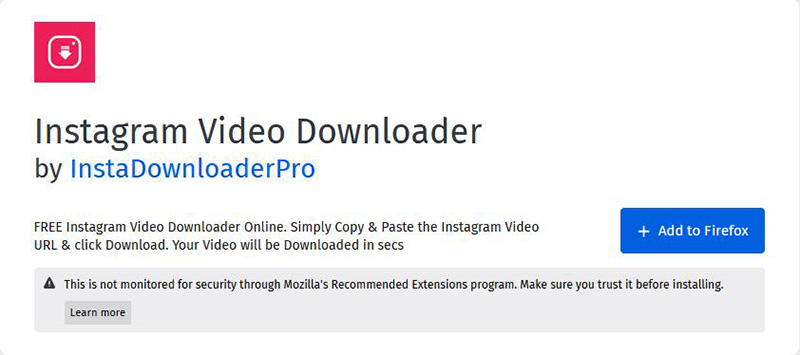 Problem: Sometimes, it doesn't work in the timeline, and it will get resolved from the future updates.
Star rate: 4.3
4. Instagram Video Download by Adnan
This Instagram video downloader Firefox add-on is freely available for any Firefox user. To use this add-on requires permission to access your browser download history and access to browser tabs. By using the add-on, you can download any video with one-click.
To download videos using this add-on, simply click on the three dots at the bottom of the video post. Then select Go to post from the list and click on the add-on icon in your browser. At last, it will save to your device.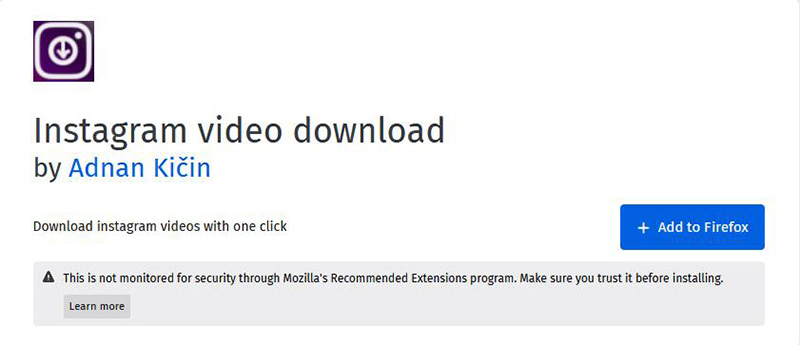 Problem: Doesn't download anything inside stories. Also, it's a bit annoying to have to use two separate extensions for photos and videos.
Star rate: 4.4
5. Download IG Video/Photo (Instagram Downloader) by 1ClickProduct
This Firefox add-on can save Instagram videos with the original MP4 format. With a single click, you can download the videos and photos. It is available for free. But it is not recommended to use this add-on since it has many loopholes in recent times.
Once the add-on is installed, click on it will redirect to the downloading page, and you cause the video URL to download the video.
Problem: Sometimes, it doesn't work even the extension is clicked. Recently many users have reported several bugs related to the add-on.
Star rate: 3.1
6. Video Downloader for IW by Muyor
Another single-click video downloader for Instagram, which offered a free extension for Firefox users. It is only created to download videos from Instagram, and if you want to download images, you have to use a different add-on for that.
Once it is installed, you can go to the Instagram page and find the relevant video. In the top right corner, you will see a download button next to the video. When you click on it, downloading will start automatically and saved it to your download folder.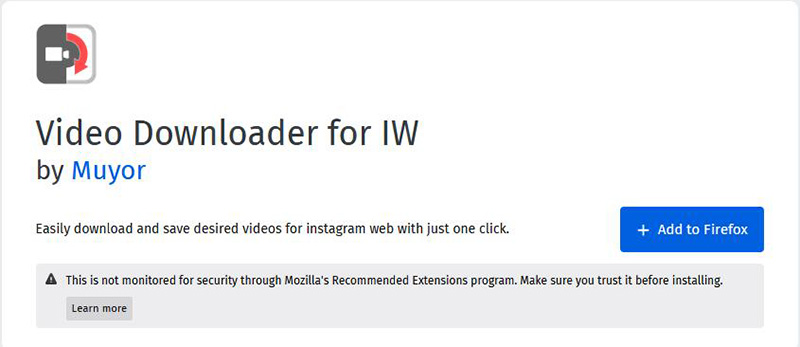 Problem: Download button appears but doesn't work for some videos.
Star rate: 4.4
7. Instagram Video Download by lumerias
This Firefox Instagram downloader add-on will add a download link to the videos page and will add another button to save the video. Users can use either of the option to download videos and photos.
To download, videos need to be open in a separate tab. Once you click on the download link near the video, it will automatically save it to your download folder. It won't work when the videos are open in a separate tab.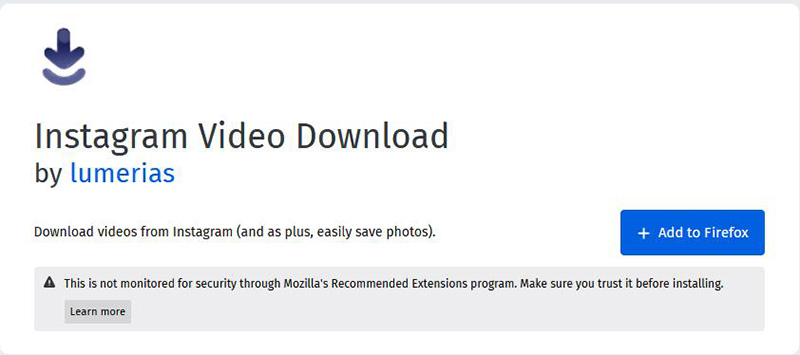 Problem: Works for images but no longer works for videos. They just save as an image of the 1st frame of the video.
Star rate: 3.7
8. Using View Page Info on Firefox Browser
This is a simple trick uses by most of the users to download videos without any external add-ons or software. For that head onto Instagram and find the relevant video page. Right-click on the page and select View Page Info from the context menu. Next, click on the Media tab from the popup window and check for the MP4 file from the list. Select that row and click on the Save As button. Now it will automatically download the video to your machine. By using this, you can download any video with the original quality.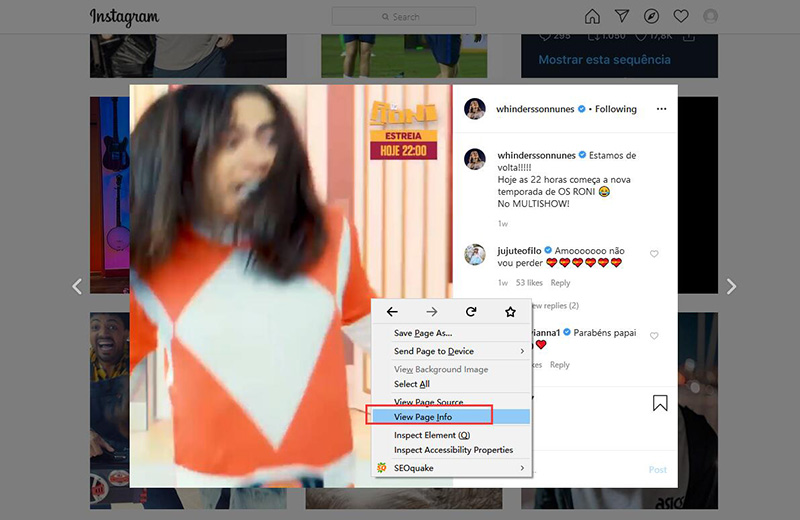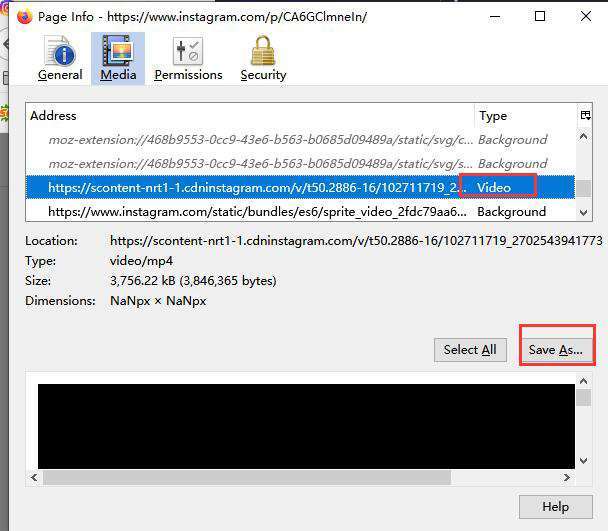 Advantages: Works perfectly with any video, highly recommended, no need to download software, and very easy to operate.
Conclusion
We have brought to you the best possible ways to download Instagram videos from Firefox browser. When using an add-on, it requires to check the reviews and documentation since many security concerns raised in the recent past.
Our recommendation is to use the default browser downloading option that we discussed, at last, using the view page info option. It is more secure and faster than using an external tool. If you want to download Instagram videos from the Chrome browser, please come here to find the best tools to do it.
(Click to rate this post)
Generally rated 4.5 (215 participated)