Instagram has rapidly evolved from just a selfie sharing app to one of the leading social media platforms of the modern age. On average, more than 100 million photos and videos are posted every day on this social media giant which has above a billion monthly active users and more than half a billion daily active ones.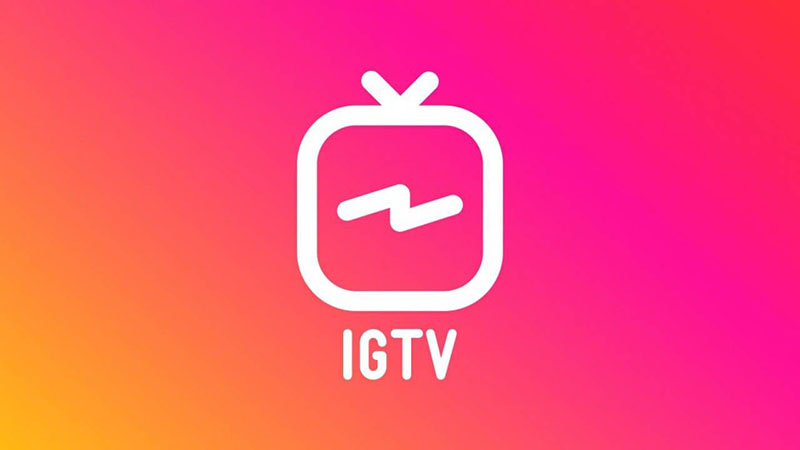 Instagram hosts some really amazing videos that you can watch online while using the app via a newly launched service by Instagram known as IGTV. However, these IGTV videos cannot be downloaded. At least Instagram doesn't give you that facility. If you want to download video IGTV Instagram you need to have an IGTV video downloader. We'll discover three of the leading IGTV video downloaders that make it possible to download videos from IGTV.
How to Download IGTV Videos on Computer
To download IGTV videos on a computer whether it is a PC or a Mac, the simplest and the most effective way is to use iTubeGo. There are a number of reasons that make iTubeGo for desktops the best option for downloading videos from IGTV.
Highlight:
Download YouTube videos, audios, playlists, channels in one click
Convert media to 20+ formats such as: mp4, mp3, mov, avi, m4a and more
Download full HD and 4K videos losslessly
Download media from 10,000+ websites at high speed
Steps of Downloading IGTV Videos Using iTubeGo
Let's discover the process of downloading IGTV videos using iTubeGo YouTube downloader.
Step 1 Get and install iTubeGo YouTube Downloader
Before you start downloading videos from Instagram using the iTubeGo YouTube downloader, you need to install it on your computer. It can be downloaded from the following links for PC as well as for Mac.
Once you have downloaded the installation files from one of these sources, run it to install the software on your computer and register for it to start using it.
Step 2 Get the link of the video you need to download
Next, open the video you want to download and copy its URL. This can be done by right-clicking on the video and selecting copy video URL or by copying an address from the address bar of the internet browser.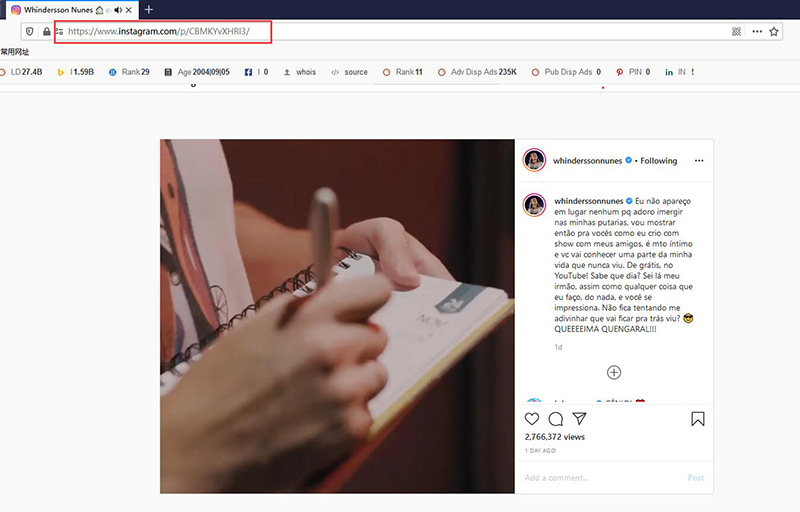 Step 3 Run iTubeGo
Once you have the link, open iTubeGo to start the download.
Step 4 Set Output Format
In the preferences tab of iTubeGo, you can set the output video format and resolution or can select MP4 for downloading audio from a video.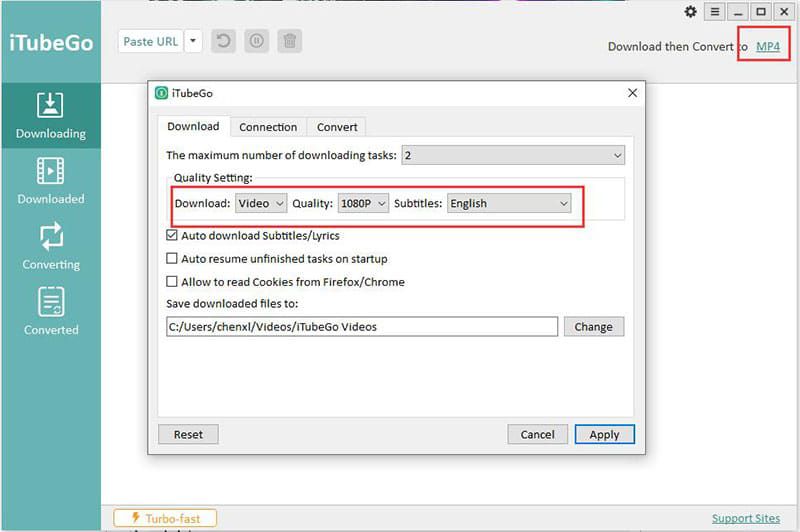 Step 5 Enter URL
Click on Paste URL button in iTubeGo and paste the copied URL to start the download procedure.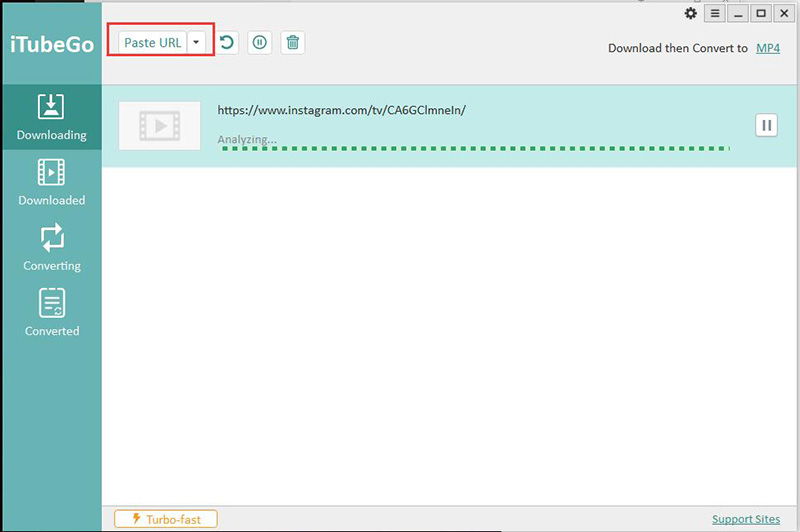 Step 6 Download IGTV Video
Click on the Download button and the file will be downloaded and saved to your computer.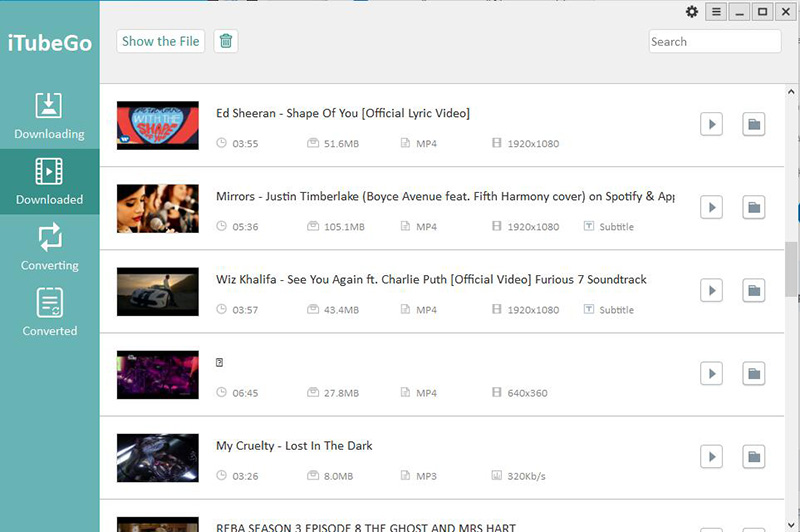 How to Download IGTV Videos on Android
As stated earlier, iTubeGo is not bound to any particular device or operating system. In addition to Windows and Mac devices, it is also available for android devices. You can use the iTubeGo for Android to download IGTV videos on your mobile device.
While there are a number of tools on the market, iTubeGo is the market-leading software because of the flexibility and number of options it offers. You can use it to download any video from any app or website to your mobile device. It can also be used to extract audio from video files as well. You can also choose from a range of resolutions to download a video in which means you can download in smaller 240p files or in higher resolution 1080p, 2k or 4k files.
Using iTubeGo Android Application to Download IGTV Videos
Step 1 Install iTubeGo for android
The first thing you need to do to use iTubeGo to download IGTV and other videos is to download and install the app on your android device. You can directly get the download APK from here.
After the file has been downloaded, run it to install the application into your android device.
Step 2 Launch iTubeGo for Android App on Your Dvice
Once the app has been successfully installed the on your device, you can launch the app and start downloading IGTV videos.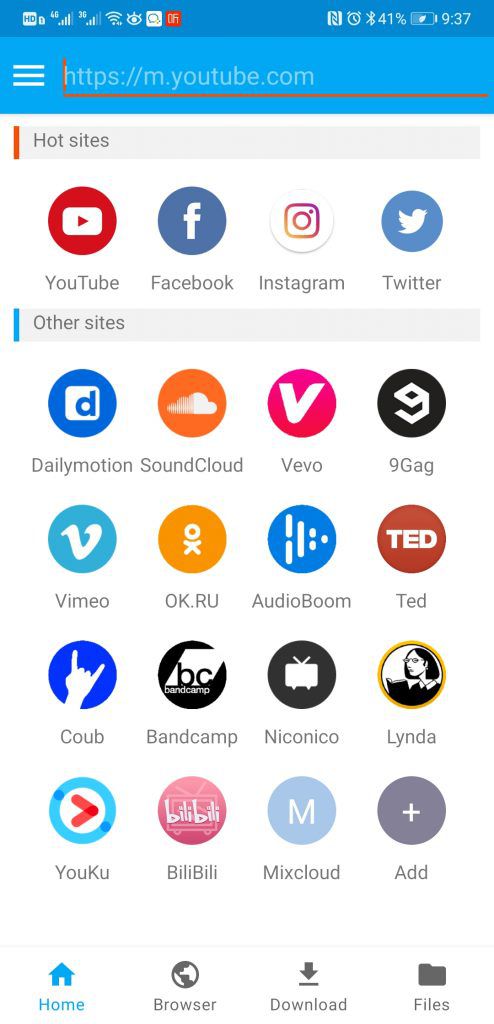 Step 3 Search for the Particular IGTV Video or Paste the Video URL
Then, look for the IGTV video through the built-in browser of iTubeGo for Android app. In the case, you're watching video through Instagram app, simply press the Share button and select the "Download with iTubeGo" option. And if you have already copied the video URL through their app or website, the downloading app will automatically start analyzing the video of the video, once you've opened the iTubeGo for Android App.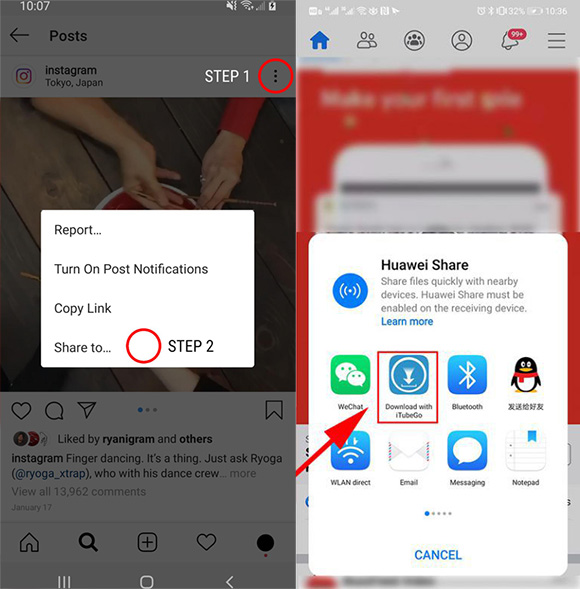 Step 4 Set the Output Format and Quality
In this step, you have to set the required output format and quality in which you want to download IGTV video using iTubeGo fro Android. Select the Type as Video and and the quality/resolution from different given options, including Full HD and 4K video downloading.
Step 5 Download IGTV Video
After you have selected the desired format, hit the download button and the video will be downloaded and saved to your device. You can also access all the downloaded files from the Download folder of the app.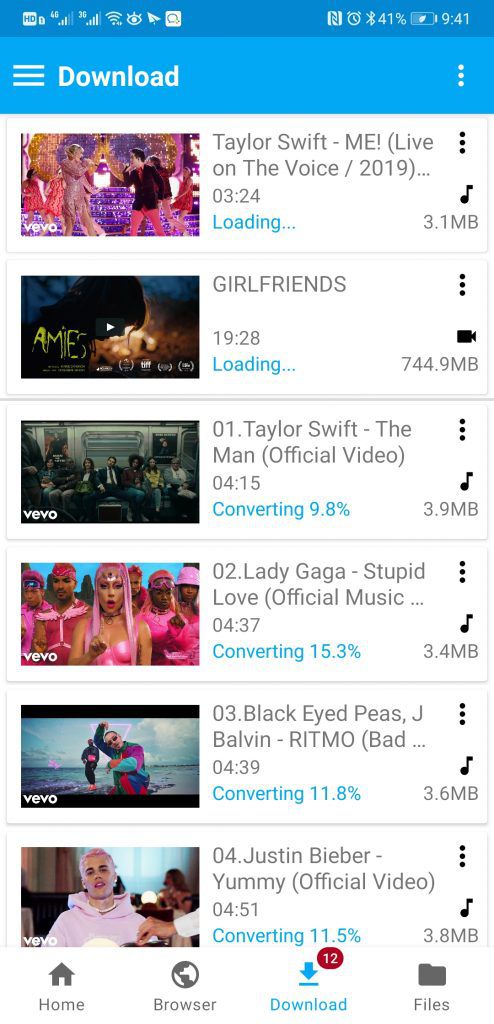 How to Download IGTV Videos on iPhone
Downloading IGTV videos on an iPhone is a tricky thing but simple once you learn it. You'll need to install an app called Documents by Readdle. Once you have downloaded this app from the App Store on your iPhone, the following steps are needed to download videos from IGTV.
Steps to Download IGTV Videos on iPhone
Step 1 Install "Documents by Readdle"
Search for the "Documents by Readdle" on the Play Store, then download and install the APP.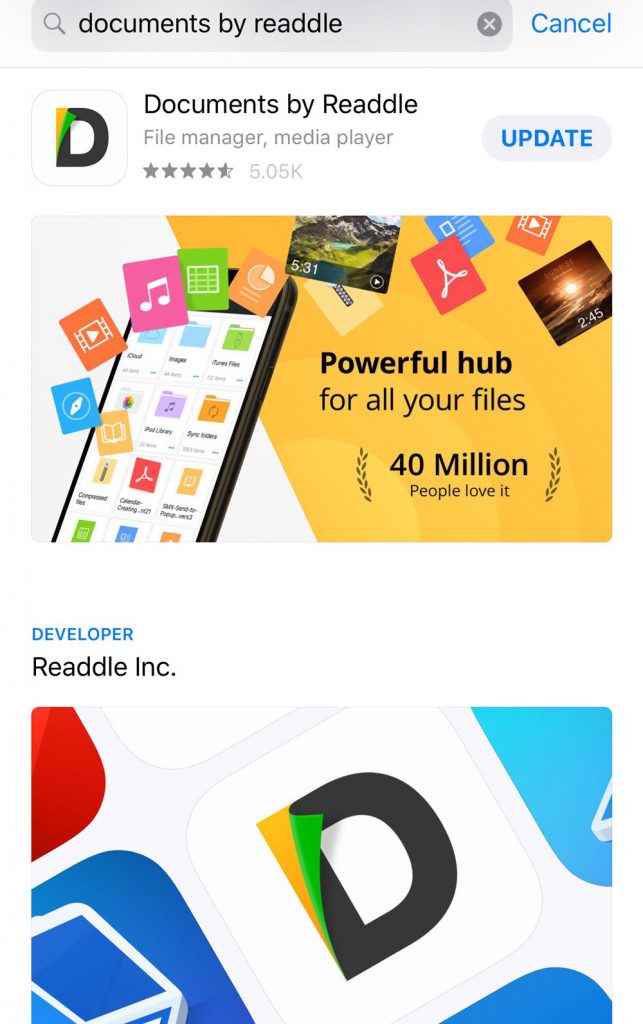 Step 2 Copy IGTV Video URL
Open the video in the Instagram app on your iPhone. On the top right corner of the video, you'll see three dots. Click on the three dots and click on Copy Video URL.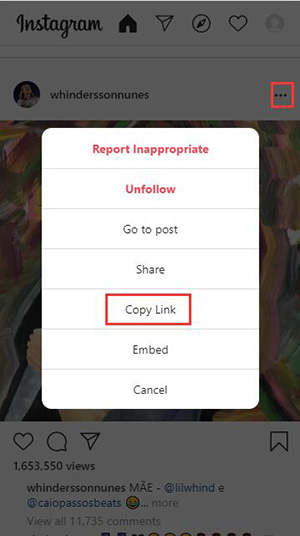 Step 3 Paste the Copied IGTV Video URL
Open Safari on your device and go to IGTV Video Downloader and paste the link there. Next, click the download button.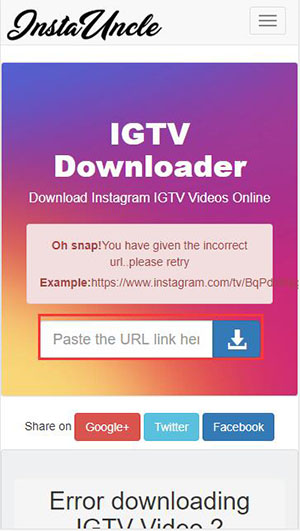 Step 4 Open the Documents App
Now Safari will ask you to open the Documents app. All you have to do is to press the Open button to continue downloading the video.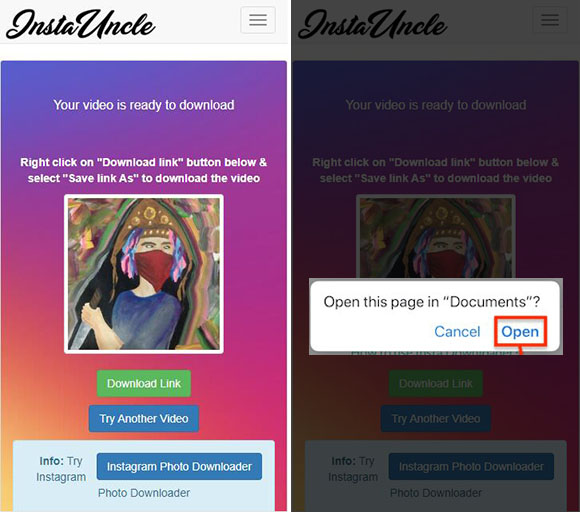 Step 5 Hit the Done Button
Click on the Done button on the top right corner of your iPhone to complete the download process.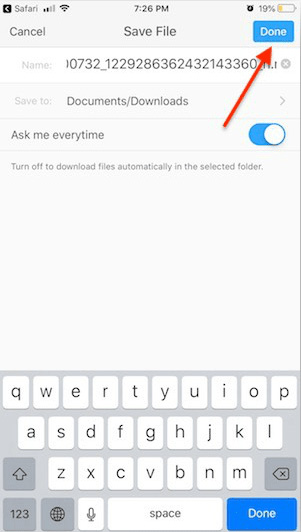 Step 6 Download IGTV Video on Your iPhone
That's it; your selected IGTV video has been downloaded to your iPhone. The downloaded file can be accessed by going to Home and then Downloads in the Documents by Readdle app.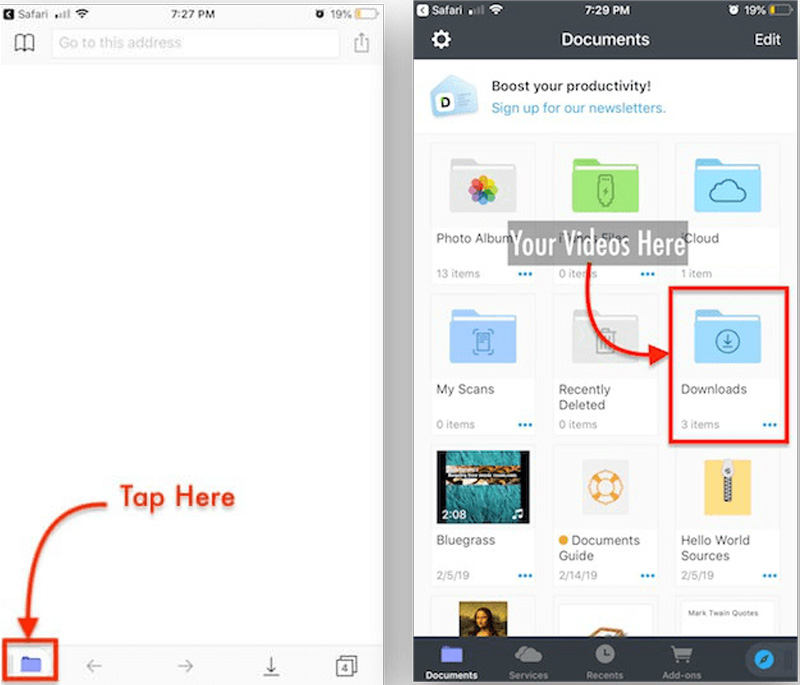 Conclude
Instagram has become one of the leading social media platforms in the last couple of years and it offers IGTV, a service that is centered on sharing videos. You can only watch IGTV videos if you are connected to the internet because IGTV and Instagram do not allow downloading videos to devices for offline playback.
This problem is solved by iTubeGo. iTubeGo is a multi-platform software available for Windows, Mac, and Android devices. It can be used to download videos from a number of websites including Instagram. The process of downloading IGTV videos using iTubeGo has been discussed in detail in the preceding paragraphs and it is fairly simple and easy for everyone.
(Click to rate this post)
Generally rated 4.5 (215 participated)