This is a list of 7 proven Spotify recorders.
These music recorders can make your Spotify music recording and download really convenient.
And in this guide, we will list the basic information, pros, and cons of every tool for your reference. Let's dive right in.
Note: While you have to record the songs one by one with these Spotify recorders, which may significantly increase the time it takes to download the songs. One of the best ways to overcome this problem is to use a Spotify downloader instead. In this situation, we recommend Musify Spotify downloader here.
Audacity is a well known Spotify music recorder for the beginners that allow the DJ's, singers and producers to record their music audio by using the microphones and then they can use the Audacity's tools to edit the audio according to their needs. There is a wide range of tools through which you can make your audio recording really awesome.
You can also use this tool to record the music form Spotify, but you must need to set it perfectly. This tool is quite easy to record Spotify's music. To do so, you just simply need to change the audio input from your monitor and then it will straightforwardly start to record the audio music from Spotify. You do not need to get worried about the quality because this music recorder will not compromise on the quality of audio.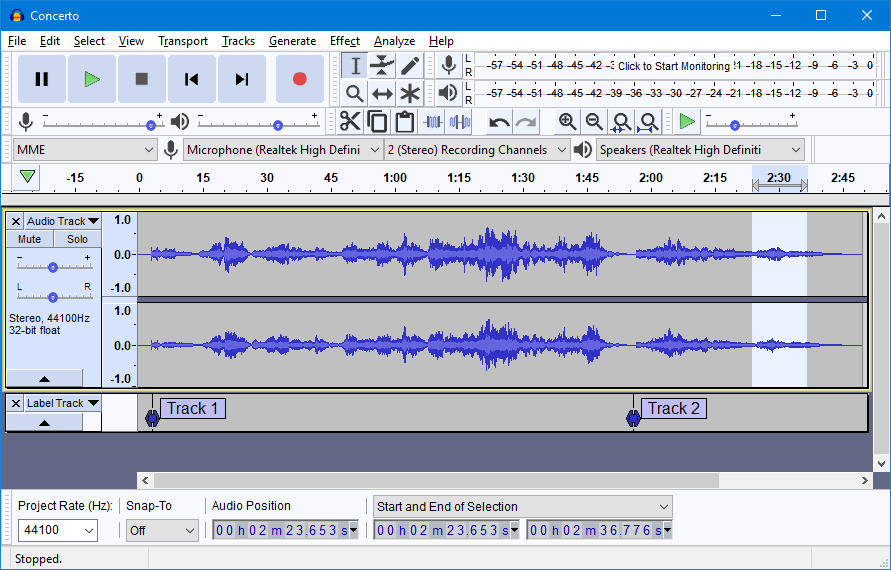 Pros
User-Friendly interface that is really easy to download, install and use
You can easily save and rename the files name in your windows or mac
Will not compromise on quality
Free to use
Best for the beginners
Cons
It needs to plug-in first when you need to export your recording into MP3 format
Sometimes can become a cause of loss in recorded music
This Software is specially designed to record Spotify music which is really easy to use. A person developed this software for his personal use such as to record the music form Spotify and to enjoy that recorded music in his car. But after few time this program starts to get popularity, it contacts directly with the soundcard of a computer that starts to record the sound in high quality and then adds the information of a track to the song automatically. You do not need to pay any cost to install and download this music recorder. Unfortunately, CodePlex was shut down on March 31, 2017, so the software has not been updated for a long time.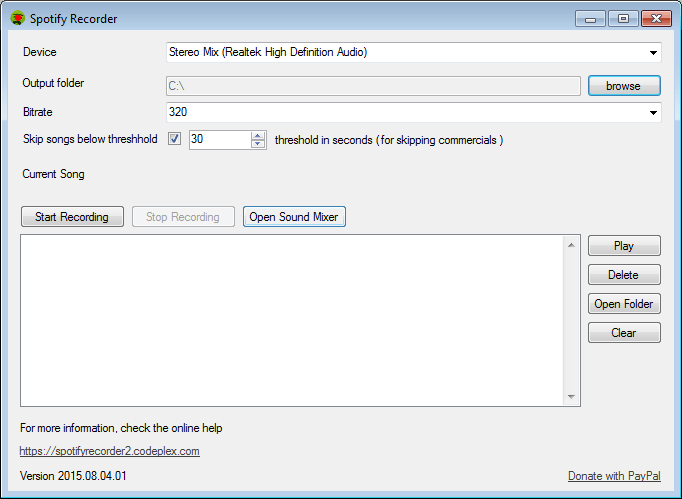 Pros
It has the ability to record form the soundcard directly
It can automatically add the information of a track which is its best feature
Cons
The software can't be able to delete the advertisement form recorded music
Hard to install and use on windows 8.
The software has not been updated for a long time
Replay Music is another Best Spotify Music Recorder that provides you with an opportunity to record high-quality Spotify music efficiently. This program has no restriction to record any video directly from Spotify.
They always try to provide the best services and features to their users for online recording of Spotify music. It has contained a user-friendly interface that the user can easily understand.
This is the main reason that people feel really satisfied after using this software on their mac or windows computers. This tool has a great ability to identify the 30 millions of songs and can easily edit the song's information.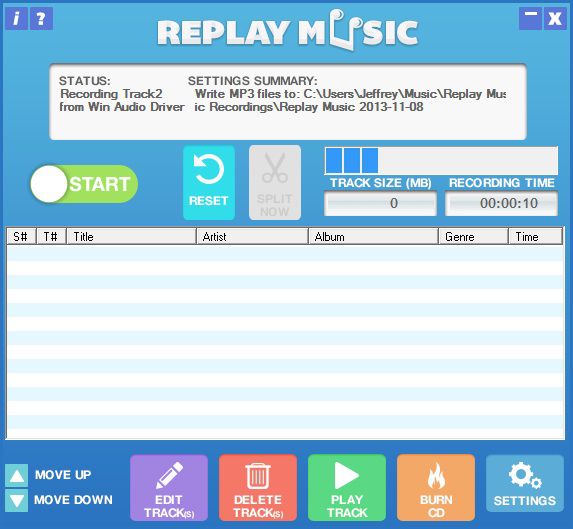 Pros
While using this software, you can record from different websites
Can easily find and delete the silence within music tracks
Easy to understand and use
Cons
This application is supported only by few web browsers
Sometimes it records music only for the 10 seconds and then suddenly stops the recording
The Aimersoft Company developed this software, especially to record the Spotify music and also the music of other streaming websites. This software has the ability to record high-quality music from different music streaming websites. It can provide you with great features that you may never get in any other music recording software. The developers are still working on it and trying to make it even more superb. The company promises its users to give them high-quality music recording software, and they are trying to fulfill it.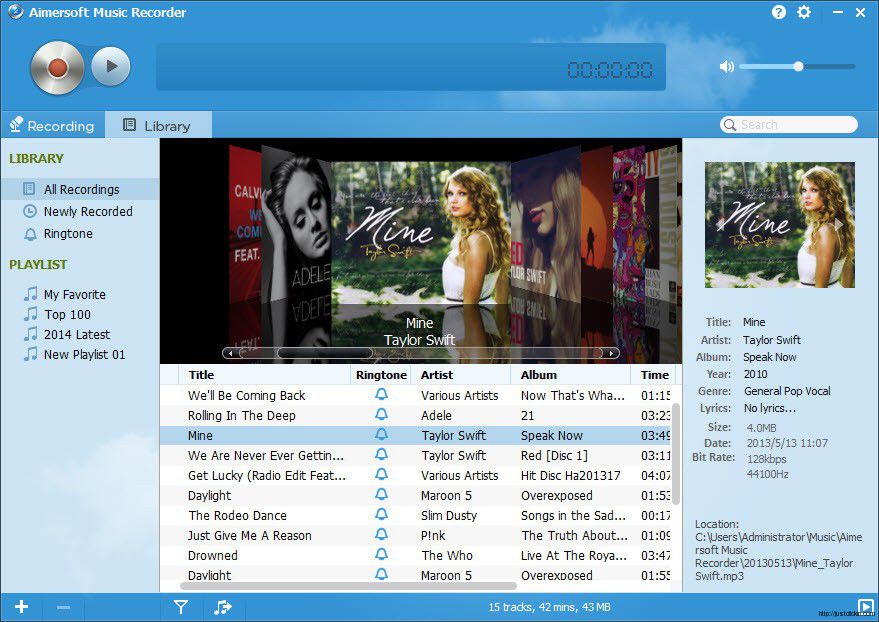 Pros
No restrictions to record the tracks form several music streaming websites
The user can even record the music from online Radio stations
Cons
Sometimes it suddenly stops working due to program crashing issue
The overall quality is not too good yet
It is another great music recorder with some great and high-quality features that allow a user to record the music form Spotify or some other streaming websites. It can easily detect the information about a track and can split the audio recording into multiple files as well. It has contained on a built-in Radio Search that allows a user to search your favorite Radio Station according to location, genre or station name.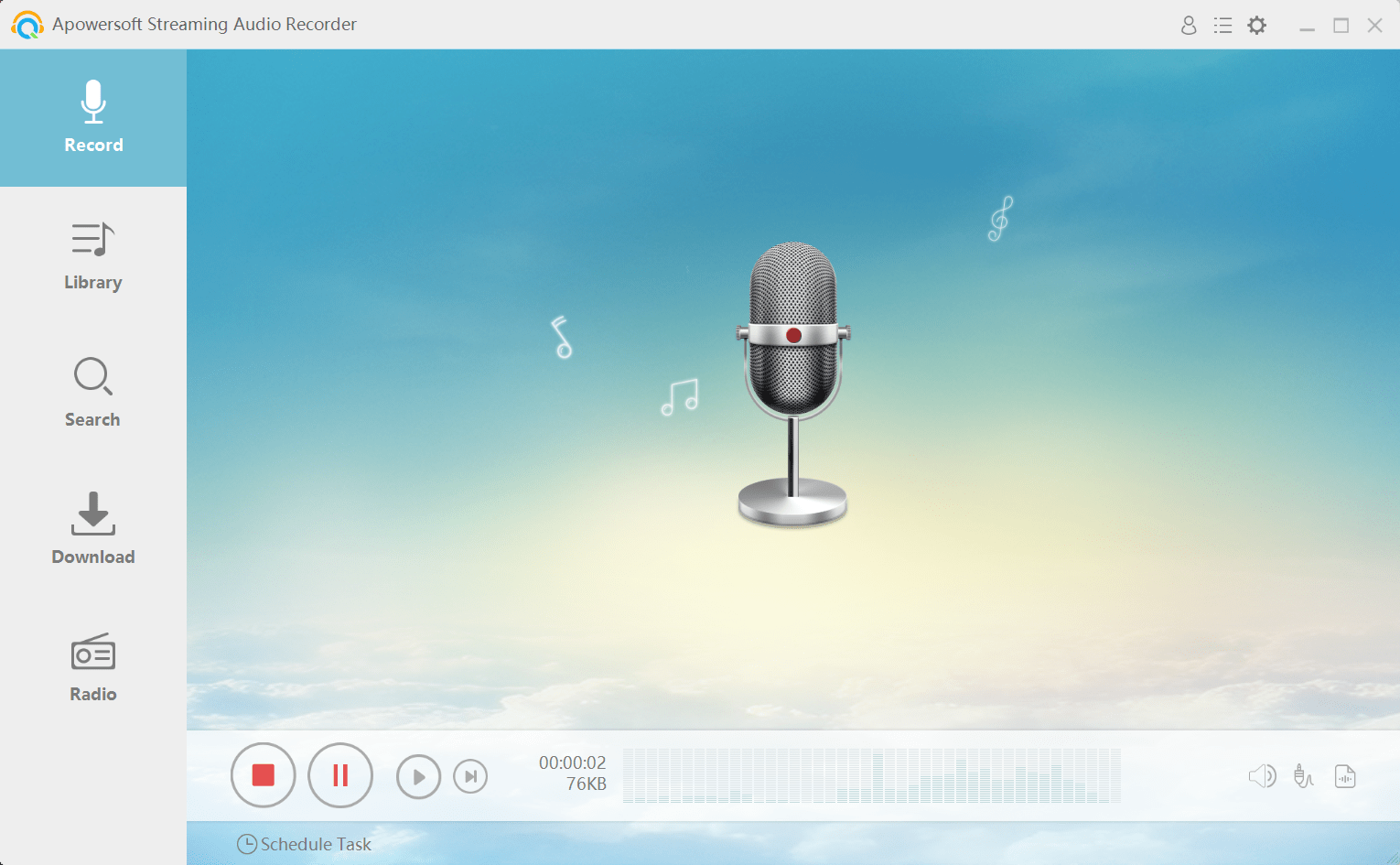 Pros
It can easily capture the streaming audio
User can choose multiple file formats
Cons
Some options are not really easy to find or understand
Its share option can only share the link instead of a soundtrack
Spytify is a program that can be used to record music from Spotify. It is a free, open source tool which works by splitting the song into separate tracks and records them to MP3. The process also extrapolates the ID3 tags of the song including the name of the artists, song title and album.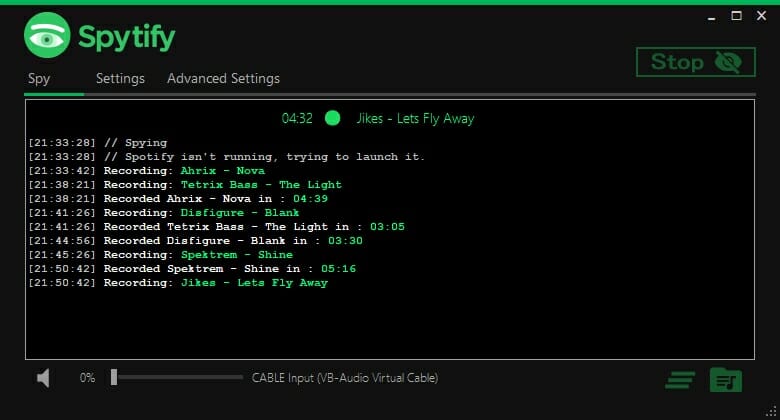 Pros
It is free to use
It accurately gets ID3 tags for each recorded song
The quality of the recorded spotify song is good
It doesn't have ads
Cons
It only works on Windows OS
It will not works for the Spotify browser player
It doesn't support other music streaming sites
The interface needs significant improvement
Audials One is another great tool when you want to record music from Spotify. This Windows program records Spotify at 15 times the speed of any other recorder and supports numerous other music and video streaming sites.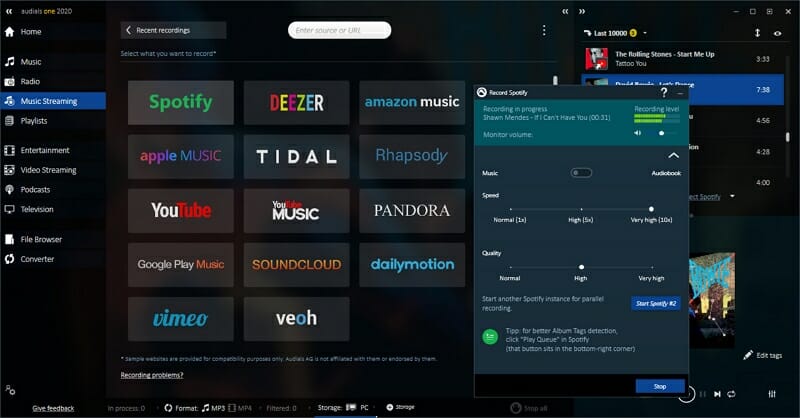 Pros
It can record music, videos, series and podcasts from various sites
It is ideal for batch recording
Records music and videos from numerous streaming sites
Cons
It can be a little bit difficult to use particularly for beginners
Conclusion
Well, after reading this article, you must be able to choose a perfect Spotify Music Recorder for your Mac or Windows. These are 7 best software, specially designed to record the music tracks from Spotify or even from other websites of music streaming. So, what are you waiting for let's install and enjoy the music.
(Click to rate this post)
Generally rated 4.5 (215 participated)