If you are looking to listen to the latest music from your favorite artists in the best audio quality there is, Spotify is the service you need to use. It has a vast collection of music from all the famous artists. However, Spotify works with the internet. All the songs are streamed live. If you want to convert Spotify to AAC, we have the method to do that, but first a bit on Spotify. If you get the premium subscription, which costs $9.99 a month, you can save Spotify songs on your mobile device for offline playback. Let's now see how to convert Spotify music to AAC.
How to Convert Spotify to AAC on Windows/Mac
Musify is a music downloader designed to run on Windows and Mac computers and can download music from over 1,000 websites. The software is constructed keeping one thing in mind and that is downloading music in the most convenient possible way. Here are some of the features that make Musify the best option for converting Spotify to AAC.
Salient Features
It converts and downloads music files in various audio formats.
It supports more than 1,000 websites.
It can download albums, playlists, and artist collections in one go.
It automatically downloads the lyrics for the music you are downloading with it.
It retains the ID3 tags to make sorting music easy.
It has a very high download speed.
It retains 100% source music quality.
Steps to Convert Spotify to AAC Using Musify?
Musify is very easy to use to download music from Spotify in AAC format. Here's how you can do that.
Step 1

Download and Install the Latest Version of Musify Software

Head over to the official Musify website and download the installation file for Musify for your Windows or Mac computer. After the file has been downloaded, run it on your computer to install the software on your computer. The process is simple and will take only a few minutes.
Step 2

Get URL of the Required Music

Now, go to Spotify and navigate to the song, playlist, album, or artist you want to download. Copy the link of the media to download it.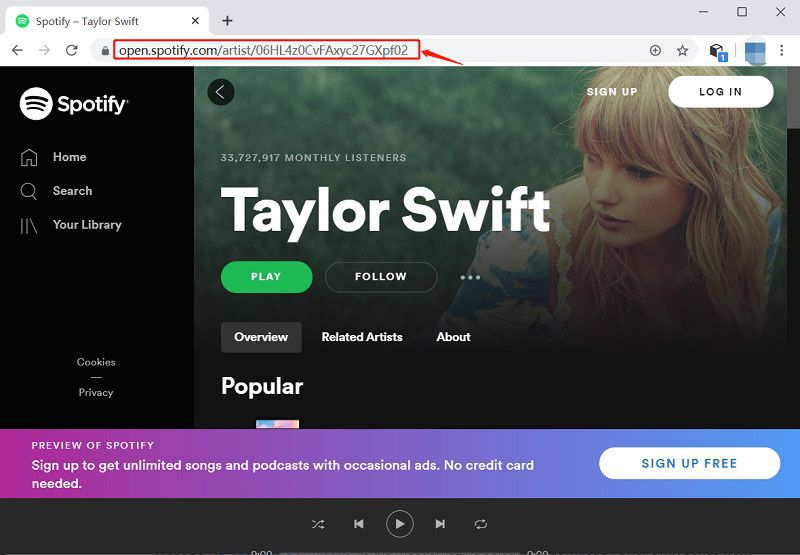 Step 3

Set Output to AAC

Open Musify and go to the Preferences section. This is where you can configure the output format of the music you need to download. Set the format to AAC and continue to the next step. You can also select the quality and opt to download the lyrics in this step.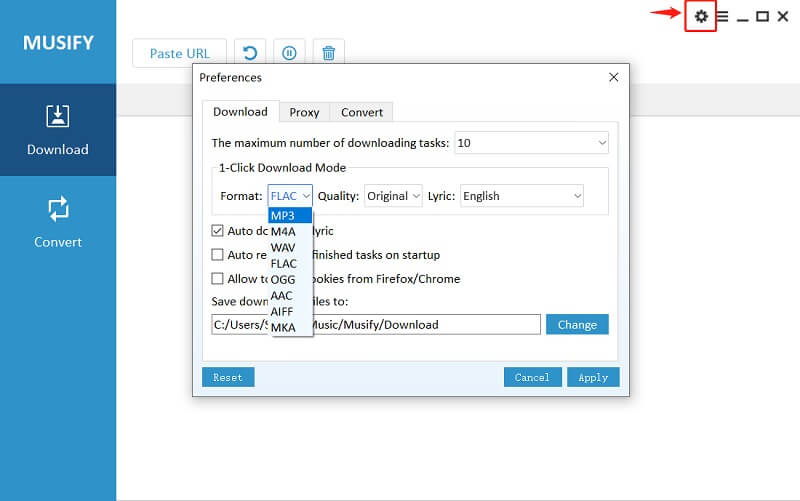 Step 4

Enter the Copied Spotify URL

Click on the Paste URL button and the URL will automatically be entered into the software and the download will start automatically.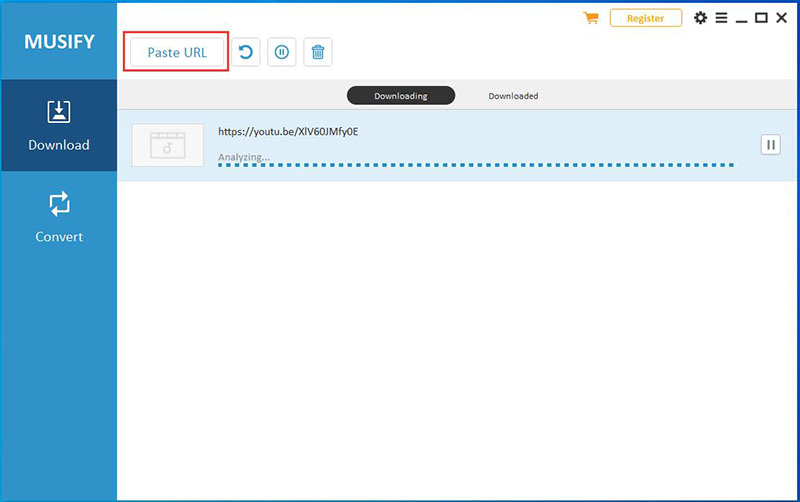 Step 4

Download Spotify to AAC on PC

After the song has been downloaded, you can find it under the "Downloaded" section of the software or at the pre-selected destination location on your PC.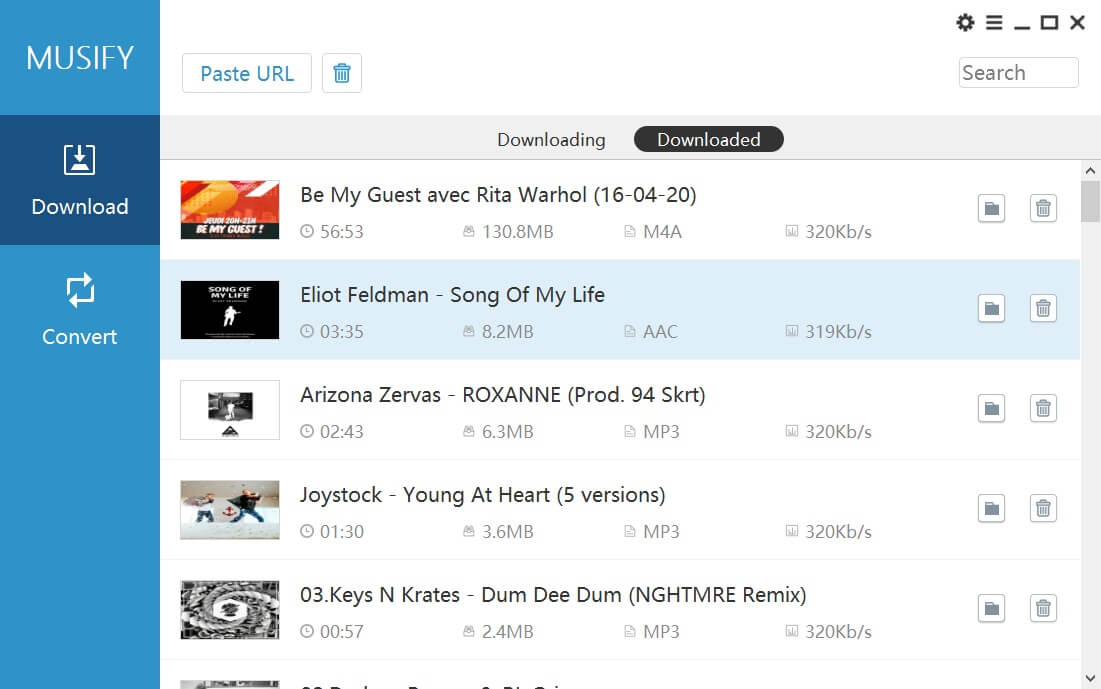 How to Convert Spotify to AAC on Android – iTubeGo for Android
iTubeGo for Android is the Android version of iTubeGo YouTube Downloader, the best online video downloader available in the market! The app can download audio and video content from more than 10,000 websites including Spotify. Here are the things that make iTubeGo for Android right choice for downloading Spotify songs on Android devices.
Key Features
It supports virtually every website.
It offers a lot of format options, including AAC.
It offers lossless conversion.
It can download in 320 kbps audio quality.
It is fully safe and secure.
Steps to Convert Spotify to AAC using iTubeGo Android App
The procedure for downloading Spotify songs to AAC using this app is a very easy one. You can complete the whole process in just a few easy steps.
Step 1

Download and Install iTubeGo for Android App

The iTubeGo android app can only be installed via apk file. The APK can easily be downloaded from the link given below. After downloading the APK, run it to install the app on your android device.
Step 2

Copy the Spotify Music URL

Now, iTubeGo has a built-in web browser but you cannot open the Spotify website on that, so you'll need to share the song from the Spotify app and click "Download with iTubeGo".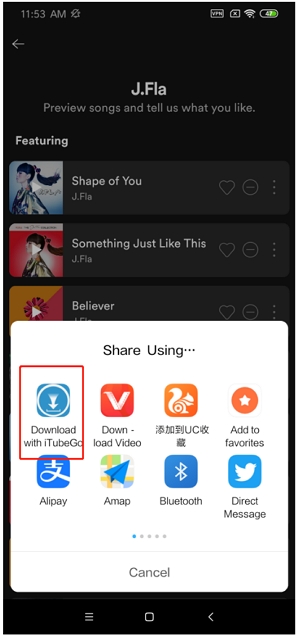 Step 3

Download Spotify AAC on Android Device

iTubeGo will instantly detect the copied URL and load the prompt box. Set the download format as AAC and the required quality from the given options. After that, press the "OK" button the download will start. After the song has been downloaded, it will be available in the "Downloaded" section and in your iTubeGo for Android app.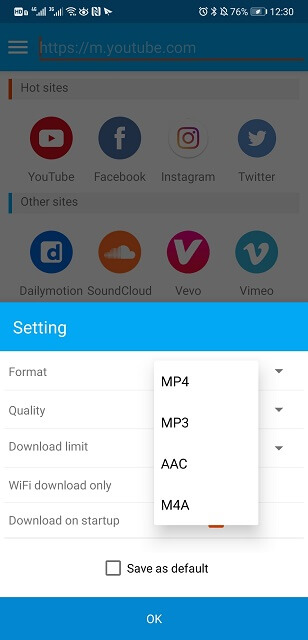 FAQ about Spotify AAC
1. Does Spotify use AAC?
No, Spotify doesn't use AAC format. It operates an OGG VORBIS format that delivers a bit rate of 320kbps for smooth and high-quality playback.
2. AAC vs. Ogg, Which One is Better?
OGG is an open-source format that delivers good quality as long as the bitrate is near 100kbps. For higher bitrate audio, AAC performs better than OGG. AAC is also supported by a lot of devices and operating systems while OGG mostly only works with online services.
3. Is AAC Better than 320kbps MP3?
AAC is a better format for playing music at high bitrates than MP3. Both are lossy formats but AAC delivers considerably good quality while taking up lesser space on the storage device as compared to a similar MP3 file.
The Bottom Line:
AAC is a good high-quality audio format in which you can download songs on your device. While Spotify doesn't allow users to download songs from their servers to local storage, we have given you the methods that you can use to download Spotify content on your Mac, PC, or Android device.