In just a few short years, we switched from storing all our favorite Instagram videos and songs on various external devices to completely relying on the cloud to get instant access to them whenever we need. Despite obvious advantages like easy sharing and no need to ever worry about storage space limit, things do not turn out so well when we can't connect to the Internet. That's where a reliable video downloader for Mac comes into play.
But most of the users having the question of how to download Instagram videos on mac? From this article, we will provide a complete list of tools to answer the question of how to save Instagram videos on mac.
Here are 10 tools to download Instagram videos on Mac.
1. iTubeGo YouTube Downloader
iTubeGo is one of the best software available in the market to download Instagram videos in HD format. Being an Instagram video downloader HD, it allows downloading any video in your Instagram feed with ease. Apart from being a video downloader, iTubeGo YouTube Downloader can be used to convert your files to MP4, MP3, MOV, AVI, M4A, etc.
How to Download Instagram Videos with iTubeGo
Step 1 Download and Install iTubeGo
The first thing you have to do is to install it on your device. Installation is very much straightforward. After downloading double click on the step and follow the steps.
Step 2 Copy the Video URL
First, you need to select the video that you want to download. For that open Instagram account and log in with your credentials. Then find your video that required to be downloaded. Once you find the video, click on the three dots at the top right corner of the video and select Copy link from the context menu.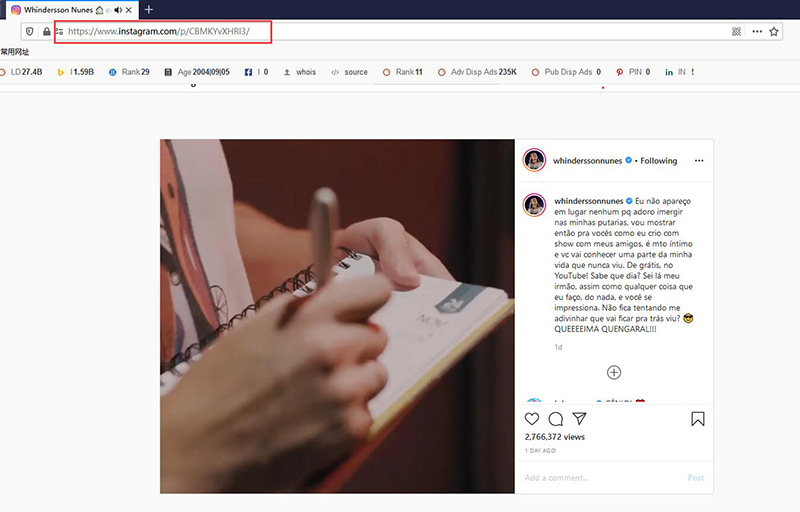 Step 3 Set the Configurations
Next, open the iTubeGo software and click on the setting icon at the top right corner of the main window. In the Preference Window, you set the downloading format and quality. Once settings are completed, click on the Apply button to apply the changes.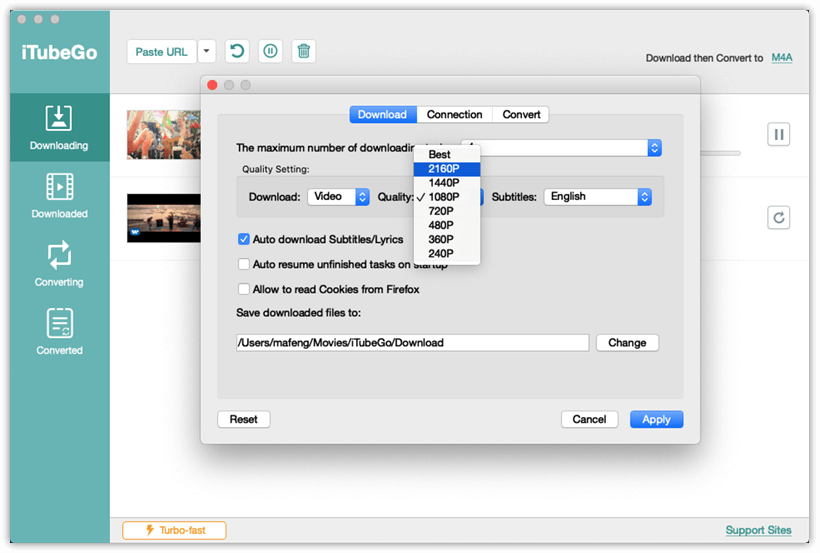 Step 4 Paste the URL
iTubeGo YouTube Downloader is a smart link detector. That is, it will automatically detect the URL you have copied. For that, click on the Paste URL button at the top left corner of the main window. Then iTubeGo will start to analyze the Instagram URL that you have copied to your clipboard. After analyzing the URL, downloading will start automatically.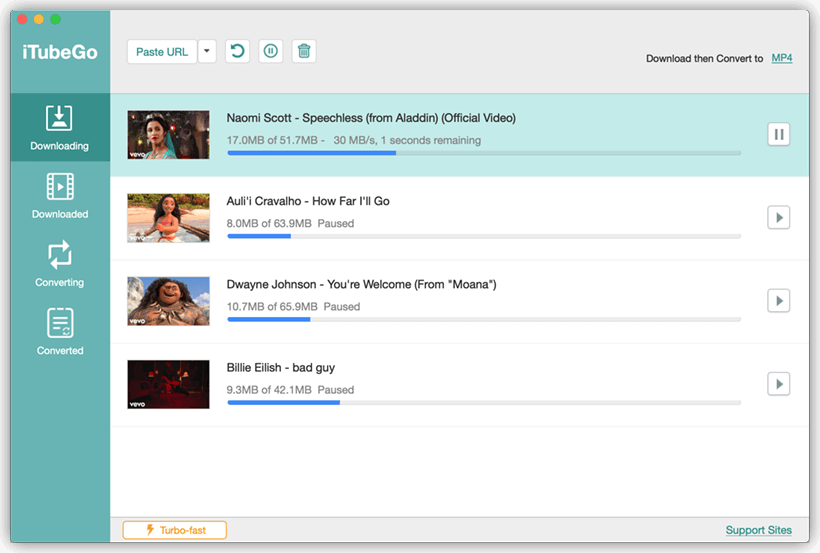 Step 5 Find the Downloaded File
After the download process, you can go to the output folder and check for the downloaded files.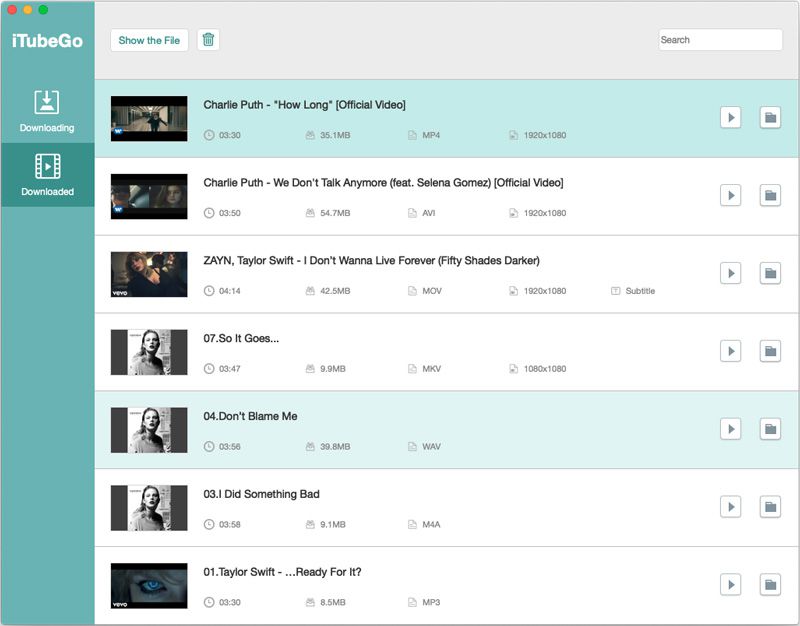 2. 5KPlayer
The 5KPlayer player has been presented as one of the complete solutions that we can currently find on the market, both in terms of functions and support—designed to take full advantage of the possibilities offered by OS X and Windows operating systems, including the new Windows 10.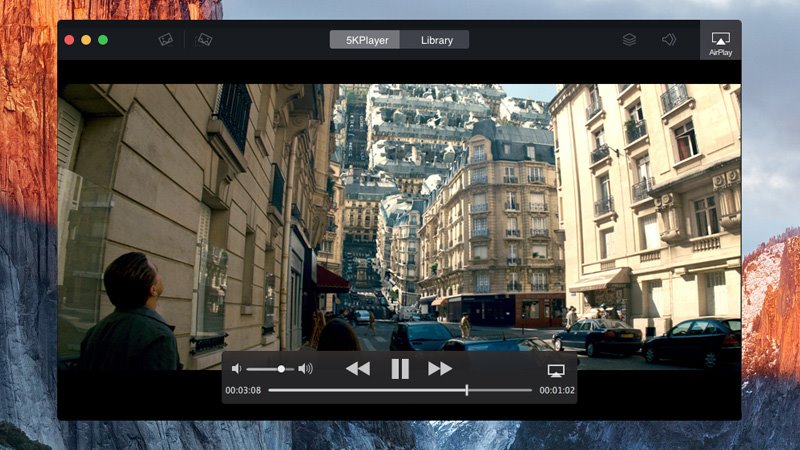 Pros:
It allows you to play videos in the latest generation formats, such as 4K / 5K / 8K (Ultra HD), 1080p / 720p (HD), etc.
As a music player, it supports MP3, AAC, AC3, FLAC, ALAC, and WMA formats, which guarantees full compatibility with our favorite music.
Support multichannel surround DTS sound
Cons:
Collect data without the user consent
3. Gihosoft TubeGet
Gihosoft TubeGet is a free video downloader. You can use it to download videos from all online video sharing sites and keep the original quality. You only have to follow these 3 easy steps to download Instagram videos: copy and paste URL to the program, select the video resolution to download, and download and save the video on your computer.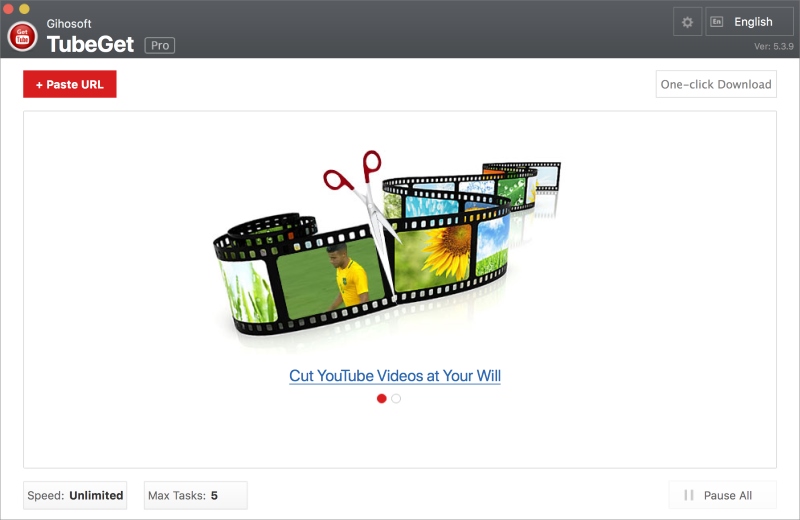 Pros:
Can use to download videos in SD and HD format, as well as 4K
Download videos from Instagram and 10,000 other video sites such as Dailymotion, Vimeo, Metacafe, Break, Netflix, Blip.tv, etc.
Allow to download up to five videos at a time
Cons:
Interfaces are not appealing
Not highly secured
4. ClipGrab
Clipgrab is an Open Source and cross-platform download manager that specializes in streaming videos from sites like Instagram, Vimeo, Dailymotion, Clipfish, Tudou, Collegehumor, MyVideo, Sevenload, and MySpass. It is very simple to use; we can download the videos in MP4, WMV, and OGG formats.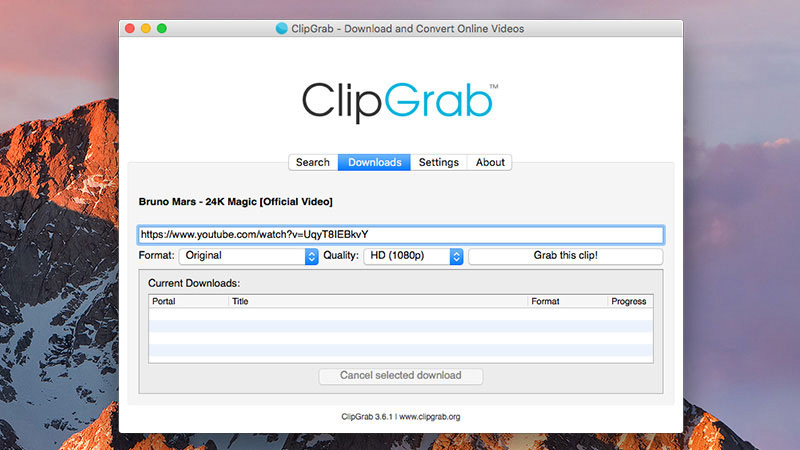 Pros:
It is simple to use and free
Easier to search and download the videos
Files are diagnosed to guarantee its security
Cons:
Quality of the videos will be degraded
5. Bigasoft Video Downloader Pro
Bigasoft Video Downloader Pro is a popular One-Step Online Video Downloader and Converter to help fast download and convert YouTube videos and other online movies to play on PC, portable device, mobile phone, mp4 player, television and more with ease. The powerful Video Downloader tool can save online videos in HD, HQ, and 3D for playback on a wide variety of digital devices, including iPad mini, iPad, iPod, iPhone.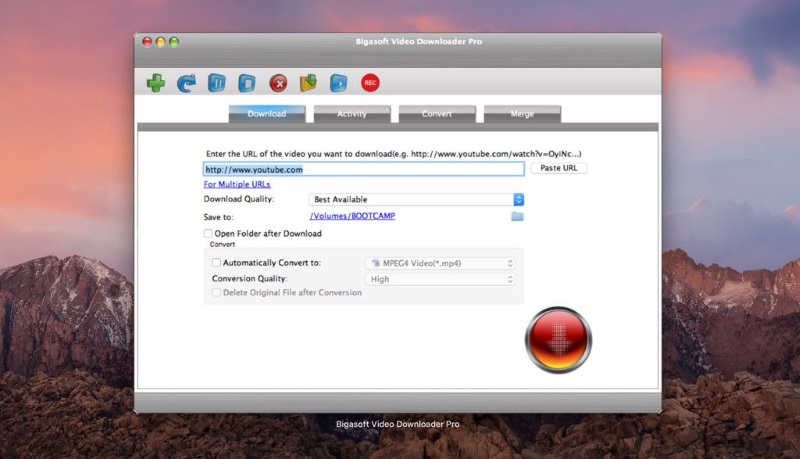 Pros:
Convert to MP3, WMA, WAV, AC3, M4A, FLAC, OGG, AIFF, MOV, MKV, MPG and VOB
Supports conversion to formats compatible with Apple, PS3, PSP, Wii, Xbox, and Android devices
Easy to use interface and powerful tools to save online videos in HD, HQ and 3D movie formats
Cons:
Doesn't have fast download speeds as advertised
6. Apowersoft Video Downloader
The Apowersoft Video Downloader is a free software for Mac that lets you download videos on the web pages like Instagram, Vimeo or Dailymotion, among others. The program downloads in the most popular formats, such as MP4, WMV, FLV, SWF, 3GP, MOV, and WebM, and supports different resolutions, including HD and Full HD.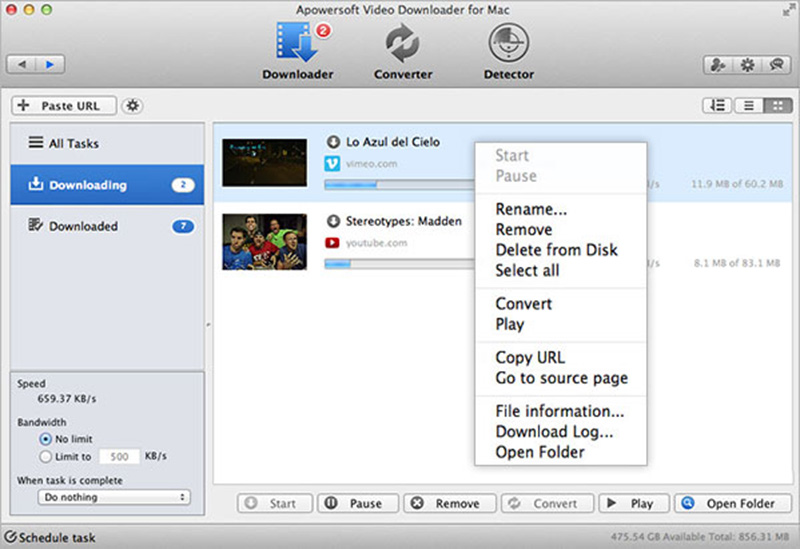 Pros:
Good range of compatible formats, protocols, and quality
Supports to take screenshots
Both web app and desktop app available
Cons:
Slows down your PC
Need to purchase the full version after three day trial period
7. 4K Video Downloader
4K Video Downloader is a free application developed to make it as easy as possible to download videos from Instagram in the highest quality and with the special features that these videos include today, such as subtitles, 3D effects, or 360-degree video. It is compatible with the main online video and audio platforms such as Instagram, YouTube, Vimeo, SoundCloud, Flickr, Facebook, and DailyMotion.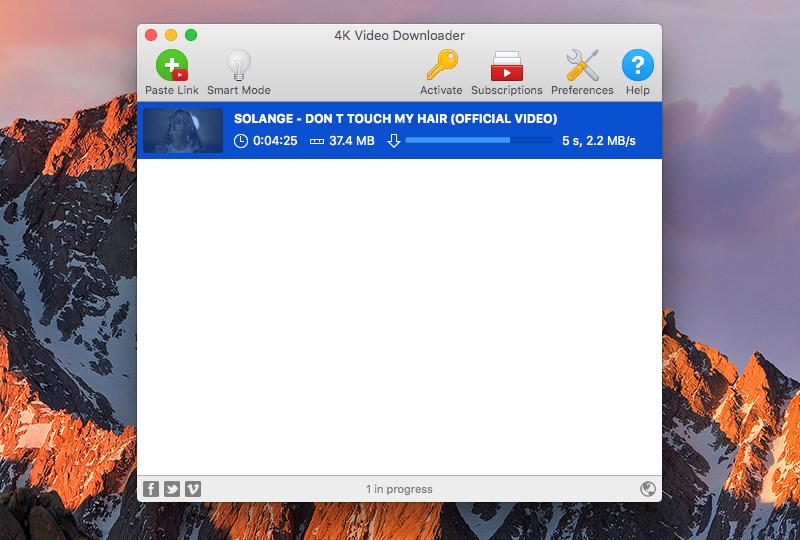 Pros:
It allows you to download any video from Instagram and save it to your computer directly in the format you need
It has a "Smart" mode that allows you to download the best configuration according to our needs automatically.
3D video and 60 fps video downloading
Cons:
Doesn't minimize to tray
Doesn't provide FTP settings
Cannot set any limit on downloading speed and not very customizable friendly
8. iTube Studio
iTube Studio for Mac allows you to download videos from more than 10,000 websites, YouTube, Vimeo, VEVO, Dailymotion, and social networks like Facebook and Instagram, to name a few examples. The videos you download can have a wide variety of destination formats. You can access the content download quickly thanks to its integration with browsers such as Safari, Google Chrome, and Firefox.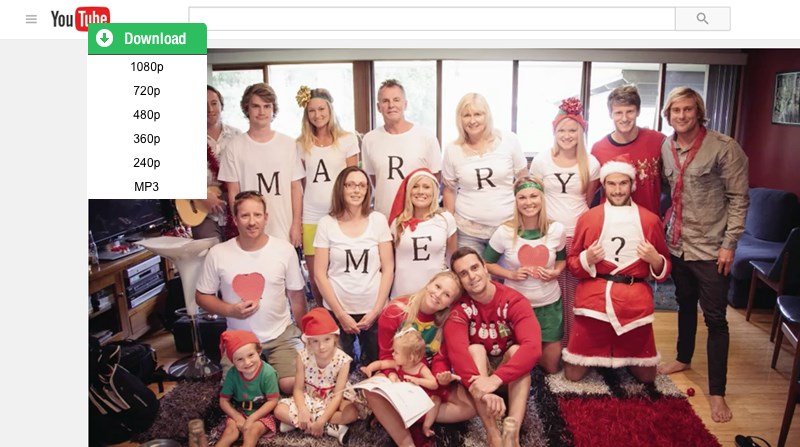 Pros:
Can download your favorite videos for your Apple devices
Supports converting videos to formats like MP4, WMV, MOV or audio like MP3, WAV, M4A and MKA
Can work as a video player
Cons:
Highly expensive for a normal user
Sometimes not working with Instagram videos
9. Total Video Downloader
Total Video Downloader can work with all of the top websites. These include Instagram, Dailymotion, Vimeo, VIVO, Metacafe, and more. Likewise, it can support both SD and HD formats ideal when you hope to enjoy unprecedented levels of resolution. File types, including MP3 WAV MPEG4 and MP4, are all compatible with this software.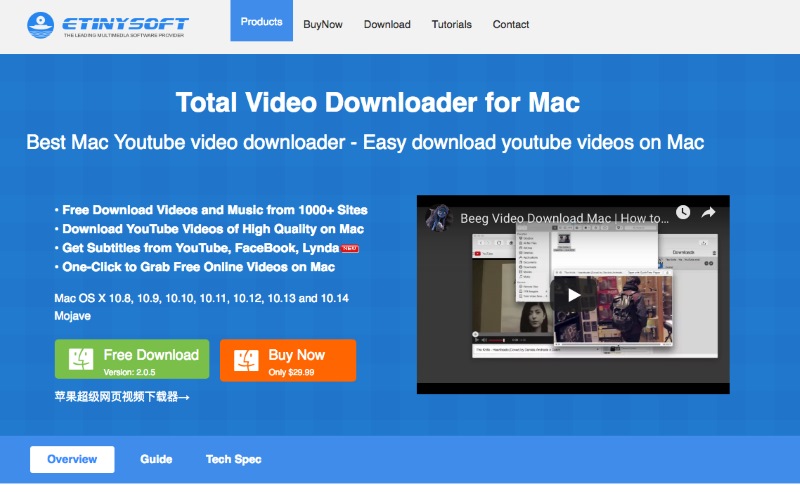 Pros:
The integrated browser allows you to download videos from almost any video hosting site
Simple search functions to retrieve videos once the process is complete
The capability of downloading files from multiple online portals
Cons:
Doesn't support to download 1080p videos
Most advanced features can only be accessed after the product is purchased
10. iOrgsoft Downloader for Mac
If you want to download Instagram video online, you need a reliable tool. And that's exactly. iOrgsoft Downloader is delivering. You can grab videos from Instagram and a lot of other websites and social media platforms and convert them into MP3, MP4, MKV, MOV, or AVI. Besides that, the resolution range is very flexible, starting with 240p and to 8K.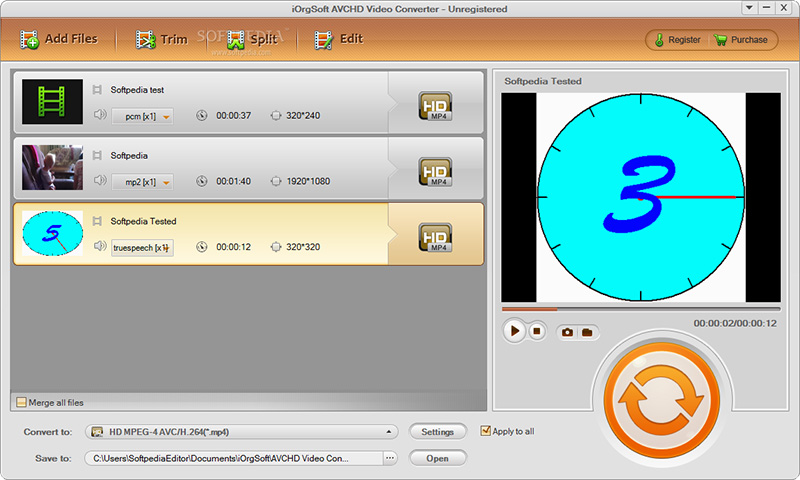 Pros:
Covers both video and audio downloads from Instagram and 100 other websites.
Handles low resolutions and 8K as well
Intuitive interface
Cons:
Most of the advanced features are included in the PRO version that can only be accessed if bought
Conclusion
Hopefully, you enjoyed this lineup of the best tools to download Instagram videos on mac and were able to make a smart choice up to your needs. After all, video downloading should be fun, fast, and effective. With the help of the video downloaders presented above, you should have an easy time getting all the videos on your computer to watch offline.
(Click to rate this post)
Generally rated 4.5 (215 participated)