It is not possible to post a video from YouTube to Facebook directly. You can share the video as a post but that's about it. The video will play on YouTube. In order to post a YouTube video to Facebook, you'll need a YouTube Facebook video downloader. Find out in the following lines how that can be done.
The Difference between YouTube and Facebook Videos
YouTube, with 1.3 billion videos and more than 300 hours of videos being uploaded to it every minute, is, by far, the largest and the most diverse video sharing platform humanity has ever had. Facebook, one the other hand is the largest social media platform that has a number of other features including video sharing. Facebook, unlike YouTube, supports only MP4 and MOV video formats which means you'd have to download a video from YouTube, convert it to one of these two formats, and then upload it to Facebook. Here's a comprehensive guide for doing this.
Converting YouTube Videos to Facebook – iTubeGo
In order to convert a YouTube video to Facebook, you need to have a YouTube Video Downloader. We recommend using iTubeGo YouTube Downloader for this. You might think there are a ton of video downloaders out there so why our recommendation is iTubeGo. These are some of the reasons why we recommend it.
Key Features
iTubeGo YouTube Downloader uses an in-app proxy setup to shield your identity. Your connection is encrypted and relayed via a proxy server so that you cannot be traced, and your privacy is never compromised. Moreover, while downloading a video from YouTube, iTubeGo uses multiple connections with YouTube so that the download is executed at phenomenal speed.
iTubeGo lets you save the downloaded video in any format that you want. This is particularly important if you want to post the downloaded video to Facebook.
iTubeGo is compatible with almost all the video and audio sites online are supported by iTubeGo and you can download video from any source and post it to Facebook using this tool.
Converts and downloads Videos at the same time
You don't need to have a separate video converter when you use iTubeGo YouTube Downloader. It downloads the video and at the same time saves it in the format you have opted for.
Steps to Convert a YouTube Video for Facebook
To convert YouTube videos for Facebook uploading, you simply need to follow these easy steps.
Step 1 Download and Install iTubeGo YouTube Downloader
First of all, before you start YouTube to the Facebook video conversion process, the thing you need to make sure is that you have iTubeGo YouTube Downloader installed on your computer. You can simply download the installation file of this impressing downloader from here. After the installation file has been downloaded and saved to your computer, run the file and it will guide you through the installation process. Register your account once the app is installed on your computer and you are good to go.
Step 2 Get the link
After you have installed and registered the iTubeGo software on your device, you can start the downloading process. For this, the thing you need is the URL of the video you want to download. You can get the video URL by opening it in your browser and copying the link in the address bar. This link is what iTubeGo uses to download your desired video.
Step 3 Set output Format
After opening iTubeGo on your computer, you need to go to the preferences tab to set the resolution as well as the format in which you need the video to be downloaded.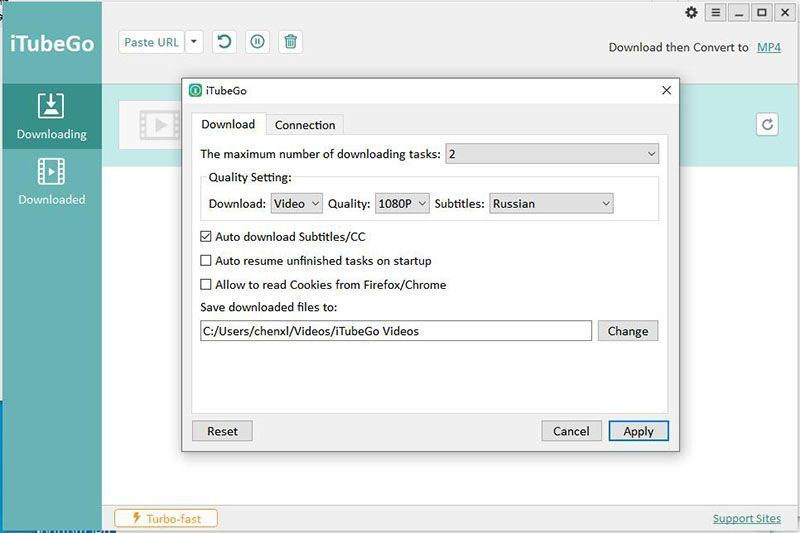 Step 4 Paste the URL
Click the Paste URL button on the main interface and it will automatically paste the video link you had copied from Facebook into iTubeGo to start the download.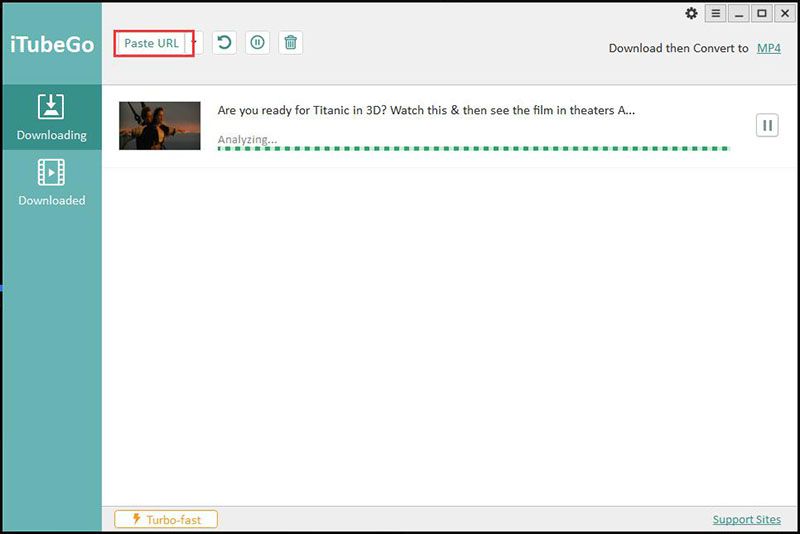 Step 5 Download
After the link has been entered, the video will start downloading immediately. The videos normally go to the Downloads folder on your computer but if you want to change the output directory that can be done in the preferences tab or by clicking the folder icon in iTubeGo.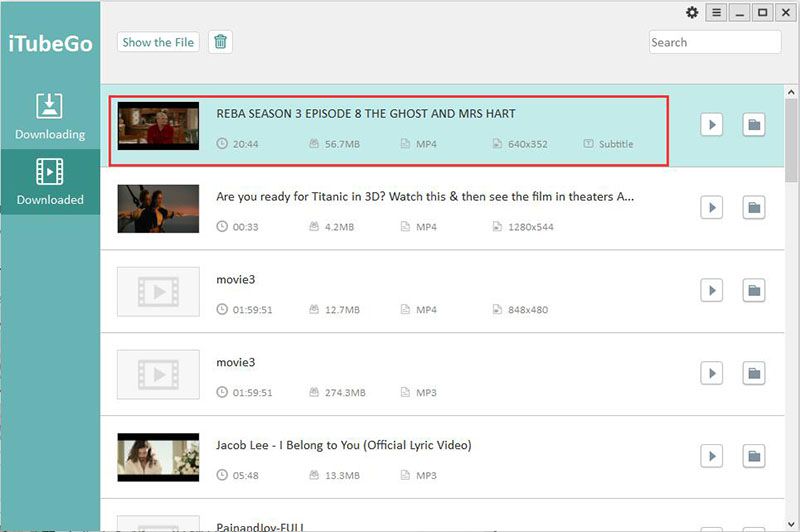 Step 6 Upload to Facebook
Once the video has been downloaded and saved in MP4 or MOV format on your device, you can post it to Facebook like you post any other video, for example, the ones taken from your phone.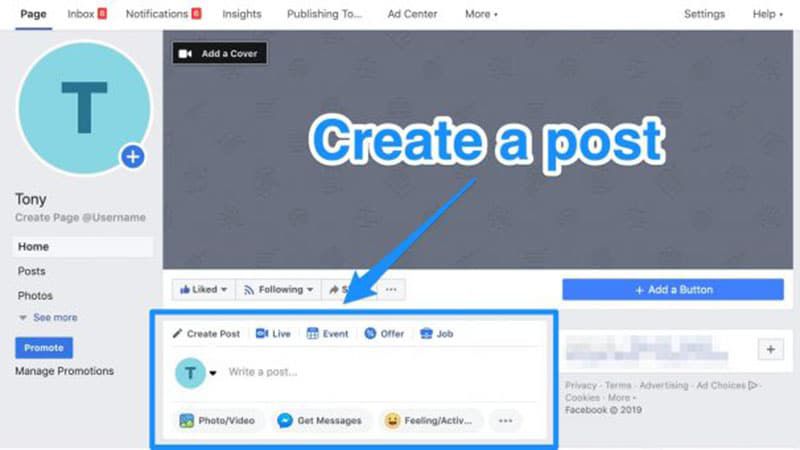 In Summary
Facebook and YouTube make up the majority of social media networking but the two are inherently different, especially when it comes to videos. YouTube is a platform that supports any video format whereas Facebook only welcomes MP4 and MOV. In order to post a YouTube video to Facebook, you'll need to download and convert to MP4 or MOV format. This task needs a separate video downloader and a converter, but iTubeGo YouTube Downloader is a versatile tool that can do both of these tasks for you in a couple of easy steps.