With a premium subscription, you can download your favorite music on Spotify and listen to them offline. Maybe you are wondering if there are other ways to listen to Spotify songs offline, you've come to the right place. In this article we will offer you various solutions to help you listen to Spotify offline.
Official way to listen to Spotify songs offline
One of the best things about Spotify premium is that it allows you to download songs to your device for offline listening. Follow the steps below to download Spotify songs offline with Spotify premium.
limitations:
You can download only 3,333 songs per device for 3 devices, a total of more than 10,000 songs.
You may not be able to download an individual song; you can only download playlists and albums.
Steps to download Spotify songs:
Step 1. Open Spotify on our device or desktop and as long as you have a premium subscription.
Step 2. Tap on the artist, album or playlist that you would like to download.
Step 3. You will see a switch named "Download". turn on the "Download" switch.
Step 4. Once the songs have been downloaded, you will see a green arrow next to each song.
Step 5. If you want to delete the downloaded songs from your device, all you have to do is tap "Download" switch again to turn it off.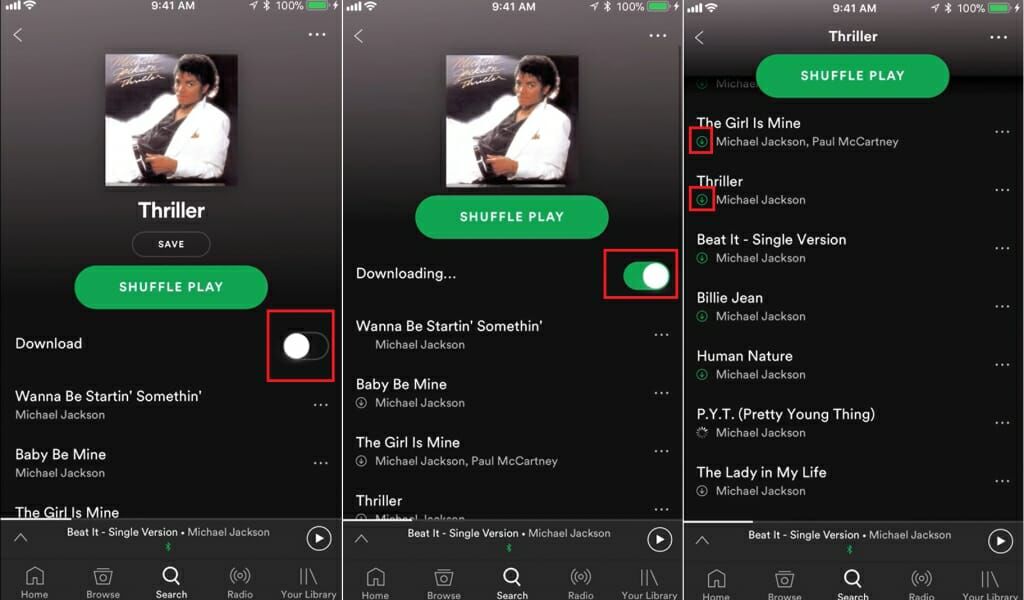 Steps to turn on offline mde to stop streaming:
Once you have downloaded all the songs you want to listen to, you may want to turn on offline mode to stop Spotify from using your data to stream songs you haven't downloaded yet. Doing this is very easy; just follow these simple steps;
Step 1. Open Spotify and then tap on "Your Library.
Step 2. Tap on the Settings icon at the top right corner and then select "Playback"
Step 3. Here, you should see the "Offline" toggle. Tap on it to turn it on and you will officially be in offline mode.
The next time you use Spotify, you will only be able to play the songs already downloaded to the device. Even when you search for a song, you'll only get results for the songs downloaded on the device.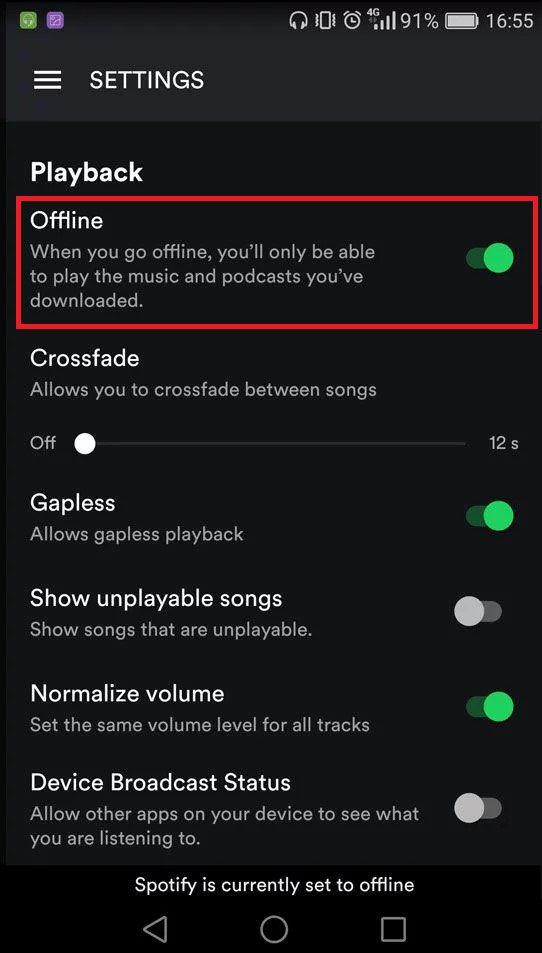 How to listen to Spotify offline without Premium
The biggest problem with the method described above is that you will not be able to keep the songs. If you cancel your subscription, the downloaded songs will be deleted from your device. If you would like to keep the songs you download even after canceling your subscription, we recommend using Musify. This tool allows you to download songs, playlists, and albums from Spotify and other music sites easily and quickly.
benefits of this method:
You can use Musify to download music from Spotify and more than 1000 other music and video streaming sites including YouTube, Vimeo and SoundCloud.
It can download individual songs, playlists or albums according to your own needs.
Once the song has been downloaded, Musify can be used to convert the song to different formats including MP3, WAV and M4A.
It is very easy to set up and use.
Steps to use Musify to download songs:
Download and install the program on to your computer and the follow these simple steps.
Step 1 Open Spotify and locate the song, playlist or album you want to download. Copy its URL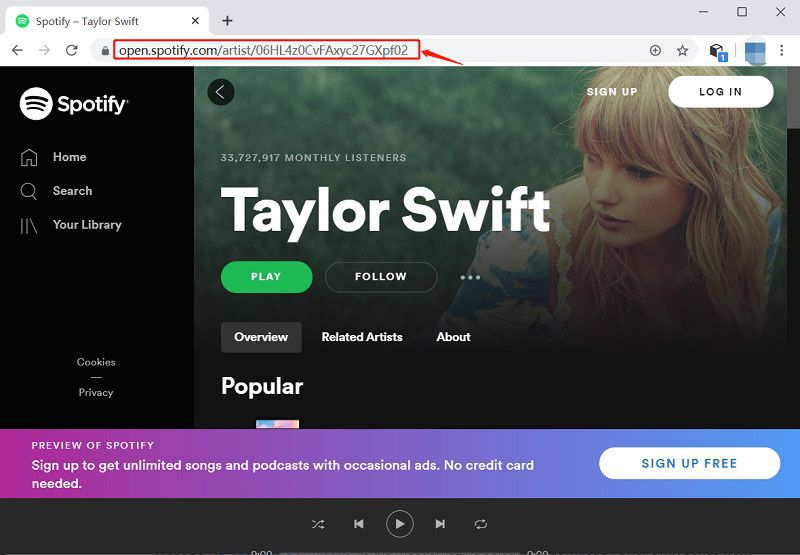 Step 2 Go back to Musify, click on "Paste URL" and then paste the URL of the song or playlist you want to download in the field provided. Wait while the program analyzes the URL. You can select the different settings for the songs you want to download by tapping on the "Preferences" section. For example the output format. When you're happy with all the settings, click on "Apply" to save the settings.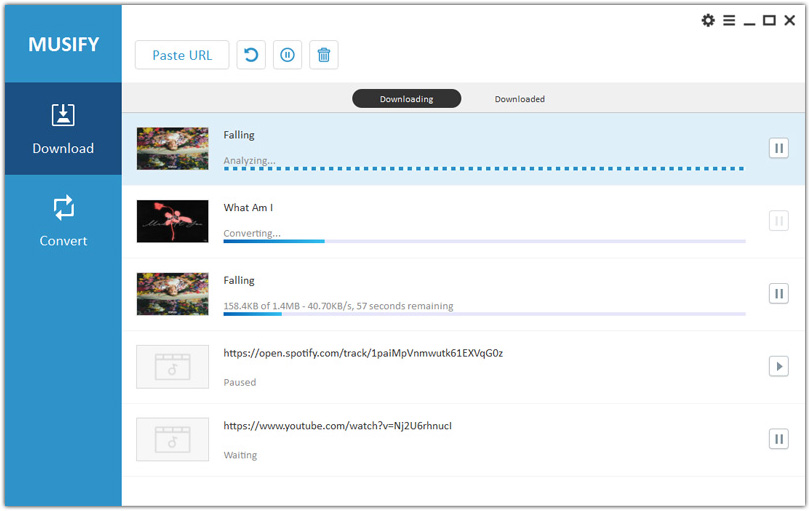 Step 3 When the process is complete, click on the "Downloaded" tab to locate the downloaded songs on your computer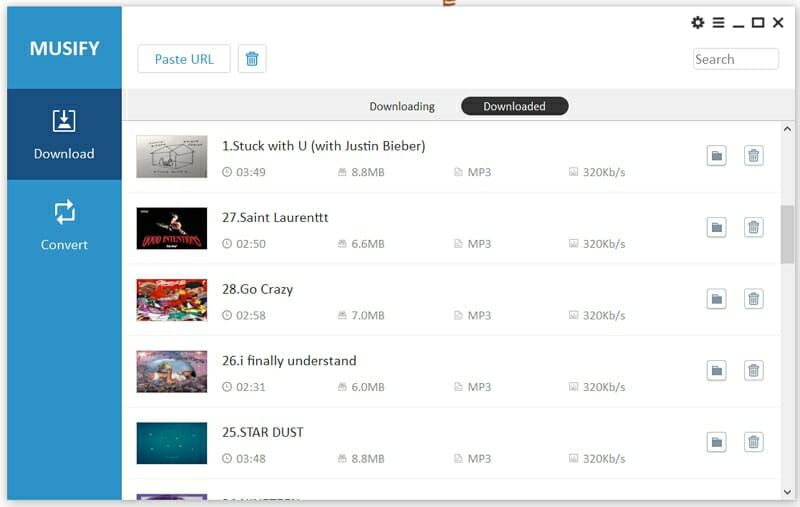 (Click to rate this post)
Generally rated 4.5 (215 participated)