Music tags are bits of data attached to a music file that carry the information like artist details, album name, song number, release date, and other attributes. You'll need a music tag editor Mac software to assign and edit music tags on your music collection. Using music tags, you can very easily arrange your music no matter how large a music library you might have.
Let's find out, which is the best music tag editor Mac software out there and what options you have when it comes to getting this thing done.
Best Music Tag Editor for Mac/Windows
TidyTag Music Tag Editor is a music metadata editing tool available for Mac and Windows operating systems. It takes away the tedious process of editing music tags manually by automating the process but still letting you do the same manually if you ever think that the software has encountered an error or has failed to correctly identify your music.
TidyTag can work for any music format and is compatible with all tag formats. You can use it to edit all the information about music files including song title, album, artist, release year, genre, track number, cover, lyrics, and any other data that might be wrongly assigned or missing. TidyTag gives you full control over your music library by assigning tags and arranging the music in folders and playlists.
Here are some of the great features of TidyTag Music Tag Editor that make it the best option for this task.
Key Features
It detects the music as soon as you import/download it to your computer and automatically searches for and displays the related metadata information.
It supports the batch process which can make it possible to assign or edit music tags for your whole library in one go.
It supports all the audio file formats including MP3, AIFF, AIF, M4A, M4R, FLAC, OGG, WAV, APE, ASF, and WMA
It supports all the major metadata formats such as ID3V1.3, ID3V2.3, ID3V2.4, Ogg Vorbis Comment, APE, ASF, and RIFF Tag.
It has a built-in music player and playlist editor.
It can manage your library by making folders for specific artists, genre, albums, and other classifications and moves all the corresponding music to the respective folders.
It can clear up space on your Mac by searching for duplicates and deleting them.
How to Use TidyTag Music Tag Editor to Edit Music Tags
TidyTag is not only loaded with the coolest functions but is also a software that's designed to be easy to use. Here's how you can sort out your entire music library in a few minutes using TidyTag Music Tag Editor.
Step 1

Download and Install TidyTag
Installing TidyTag is a simple process. You just need to download the installation file for your computer from the TidyTag website and run it to install the software on your system. Once the software is installed, you can start editing the tags. Here's where you can download TidyTag from.
Step 2

Add Your Music to TidyTag
Once the software has been installed on your Mac, you'll need to import your music library into the software to start editing the tags. For this, go to the add option and add the songs you want to edit metadata tags of.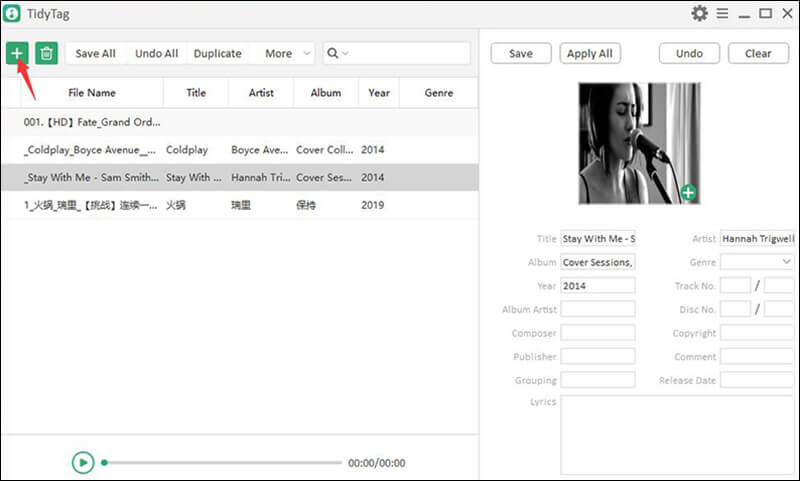 Step 3

Select Music Files to Verify Tags
Upon import of the music, the software will automatically search for the tags of the imported files and will assign the metadata tags to all of your music files. You can select any music file to verify the tags automatically assigned by TidyTag.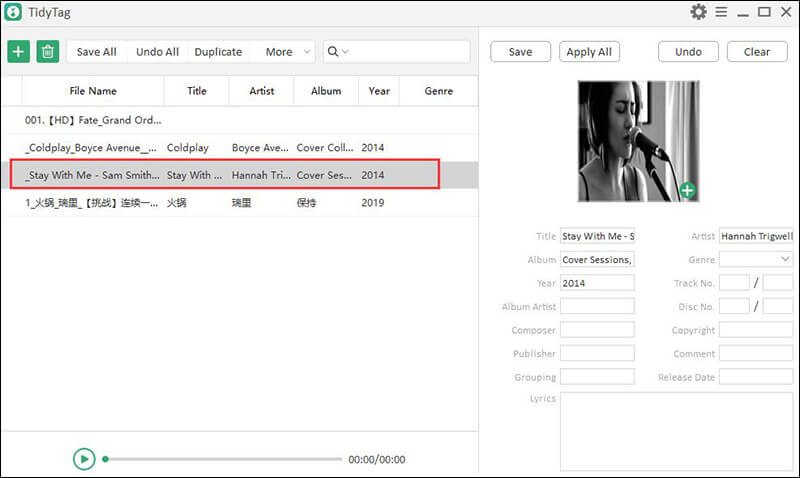 Step 4

Assign or Edit the Tag
You can save the corresponding tags searched by TidyTag or edit them if you find any discrepancies. You can also add the cover album for the files in this step.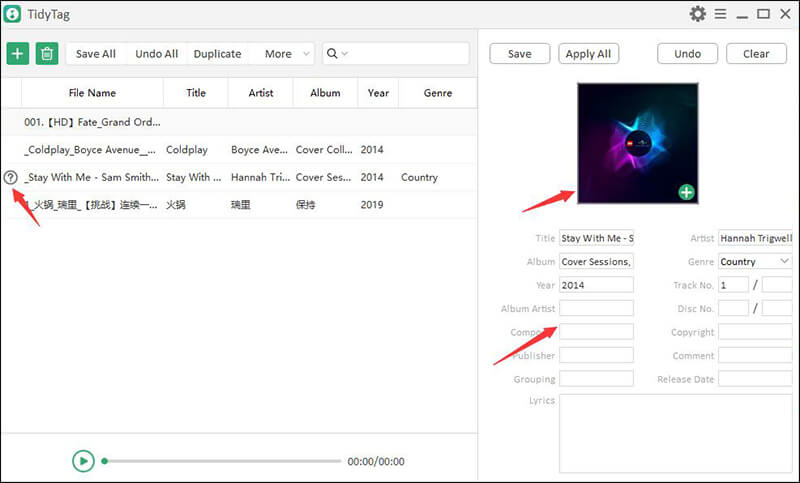 Step 5

Apply Changes and Save Edited Tags
After you have verified and edited the tags, you need to select the "Save Changes" option and all the tags will be applied to your music files.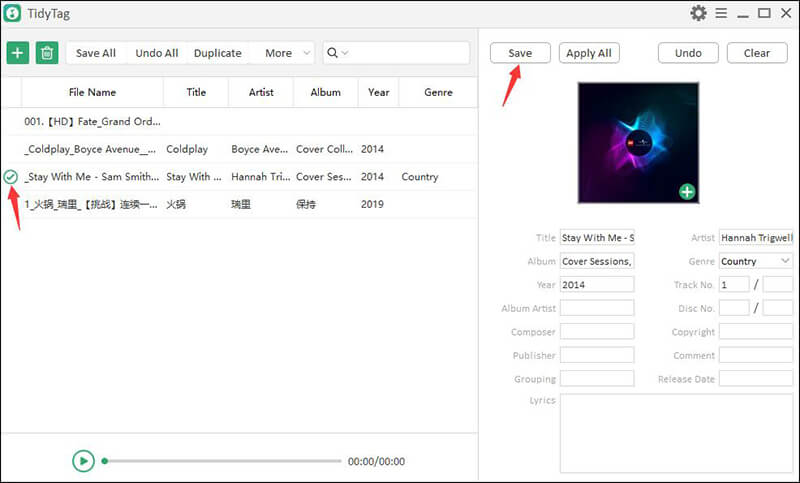 Other 5 Music Tag Editor for Mac You Can't Miss
1. Music Tag Editor for Mac
Music Tag Editor is one of the many software solutions available to edit audio tags on Mac-based computers. It makes the operation fast and easy. The basic version of this tag editor is free to use but if you want additional advanced functionality, you can get that via in-app purchases. This tool can handle editing any sort of ID3 metadata on your computer and needs minimal effort for completing the task. Let's have a look at the Key Features and Pros & Cons of this tool.
Key Features:
This tool can process multiple files parallel in the form of a batch.
It lets you change the cover art of your music files.
It is compatible with the iTunes tag updating.
It is a simple and easy-to-use app.
Pros
Cons

This tool can help you search for the lyrics of any song.
It offers you the liberty of selecting lyrics from LyricWiki, Lyrics.com, AZLyrics, MetroLyrics, DarkLyrics, SongLyrics, or any other website of your choice.
It can detect all the attributes of any music file including bitrate, size, date of last modification, and others.

The tool comes with a help file but that is not helpful at all.
Even though the user interface is designed to be simple, it can sometimes be difficult to comprehend.
2. Tag Editor for Mac
As evident from the name, Tag Editor for Mac is a software designed specifically to edit music tags on Macintosh computers. It makes the process of editing and updating the metadata tags of music files easy and efficient. It searches the tags by using the track names and compiling the information available on the internet for the file title. Let's have a look at the Key Features and Pros & Cons of this tool.
Key Features:
It can update music tags in batches.
It has cut, clear, paste, and copy options.
It can search for the album art and cover art for your music.
Pros
Cons

It has all the basic functionality you may want in a music tag editor.
It can edit tags and names of multiple files at a time.

This software is not available for any other operating system.
It has a complicated user interface.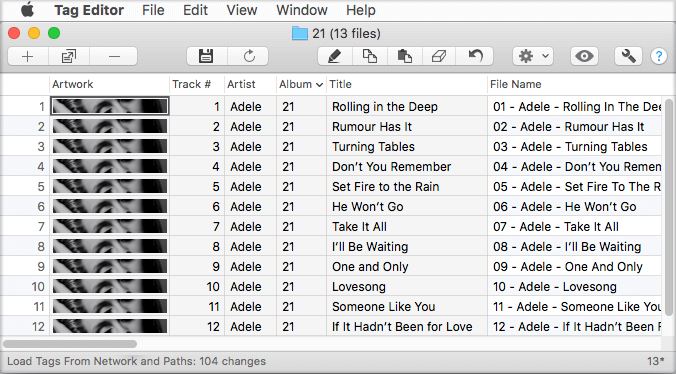 3. Meta
Meta is one of the most highly abled music tag editing software solutions available for Mac computers. The free version gives you the option of updating or editing the metadata tags of all major music file formats. The paid version does the same for videos as well as audio. Let's have a look at the Key Features and Pros & Cons of this tool.
Key Features:
It is quick at updating the metadata tags of music files.
It can search and update album and cover art for music files.
You can select the automatically searched metadata tags or add them manually.
Pros
Cons

It can edit multiple ID3 tags in one go.
It searches metadata automatically online and assigns it to music and video files.

The software is a rather overpriced one, as compared to the competitors.
It is only available for the Mac operating system.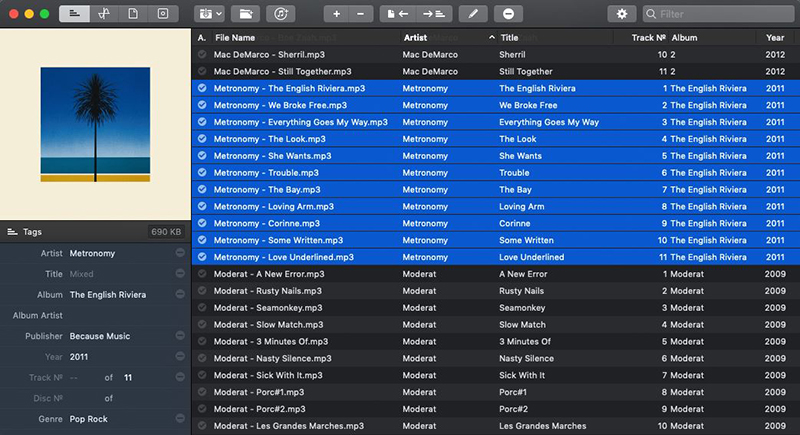 4. MetaBliss
MetaBliss is one of the best audio metadata updating software available for Mac computers. This software is easy to use and efficient. You can use it to download and update all the information about audio files like comments, song names, artist, cover art, and more. The free version has all the functionality you'll need, and you can update your music's tags using the trial version. Here are the key features and pros & cons of this software.
Key Features:
It lets you add new tags to audio files that already have tags assigned to them.
Updating the tags with new tags is a single-click process.
The user interface is easy to navigate and operate.
Pros
Cons

It can handle batches of audio files and add tags to them.
It is one of the fastest tools among all the tag editing tools available for Mac.

The paid version of this software is very expensive.
It is not available for windows.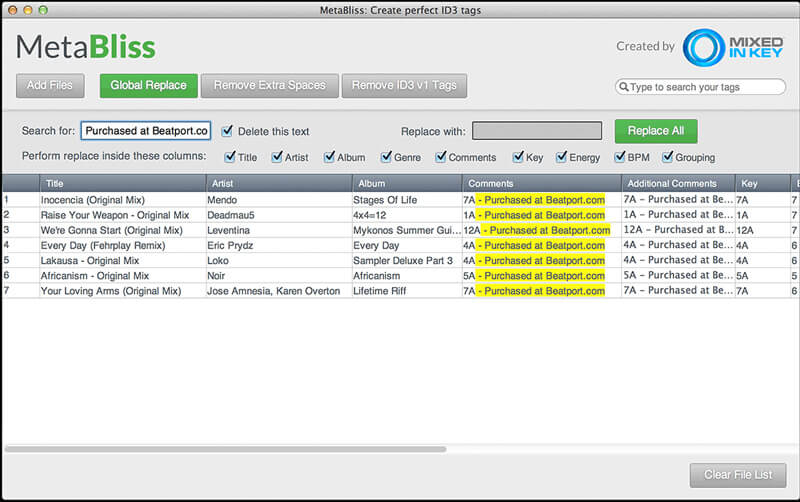 5. iMusic
iMusic is a multi-platform, multipurpose tool that you can use to update multimedia tags. It is one of the most versatile media management tools to ever be and has a wide range of properties that make it a very good option. Let's see what the key features of this tool are, and its pros & cons.
Key Features:
It can make discovering, recording, and transferring music across devices easy and efficient.
It can backup and restore the music in your iTunes library.
You can use it to burn selected songs onto a CD.
It can remove the DRM protection from your iTunes library.
Pros
Cons

The tool comes with a built-in music player.
This tool can make building a playlist very easy.

The software is relatively expensive.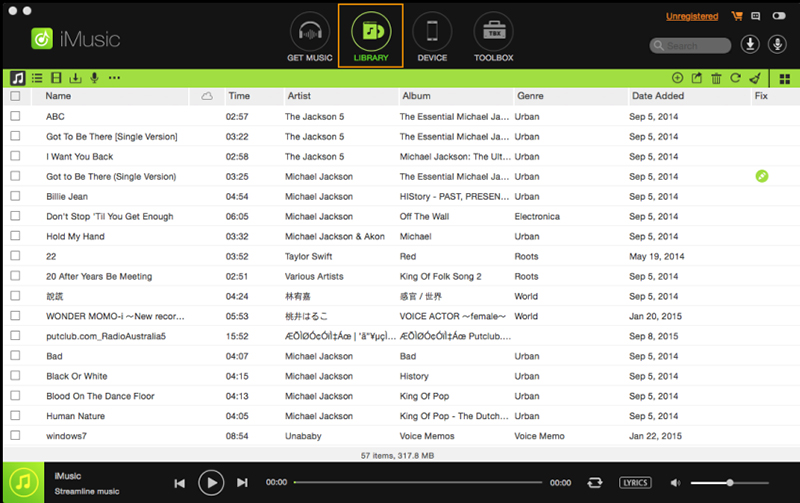 To Conclude
Audio file tags are a great way to organize a music library, but it can be overwhelming to try and update them manually. You can use one of the many available options to automate the process of updating music tags on your Mac. We've discussed six of the best tools available for this job. All have their cool features, pros, and cons.
The one with the best features and the maximum functionality, without any doubt, is TidyTag Music Tag Editor, as it offers the widest array of functions without burning a hole in your pocket.