Most software media players have built-in music tag editors for editing song information such as title, artist name, and genre, they are often limited in what they can do. If you have a large selection of music tracks that need tag information, the most efficient way to work with metadata is to use a dedicated music tag editor.
Here, we will introduce 8 best music tag editors one by one and you can choose the best one to edit your music tags and manage your music library.
Best Music Tag Editor – TidyTag Music Tag Editor
TidyTag Music Tag Editor is an ID3 Tag Editor software for Windows and Mac that helps you add or modify ID3 tags to music collections and remove duplicates in music libraries. It supports most of the audio formats and Metadata formats. One of the main advantages of this program is that it allows batch editing so you can change the data of large amounts of audio tracks in one go instead of going one by one. You can also remove a specific tag from all of them with a single click and execute so that the program will add or delete the information you want.
Key Features
Manage and organize the music collection
Available for both Windows and macOS
Edit metadata tags like song title, album, artist, release year, genre, track number, cover, and lyrics
Batch process all missing or incorrect tags
Edit tags with various options
Rename the audio files according to the tag information
Automatically filter out duplicates in the music library
How to Edit Music Tags Using Tidytag
Step 1

Download Tidytag and Install
The first thing is to install Tidytag on your PC. For both Windows users and Mac users, different versions of Tidytag is available and can be downloaded from below.
Step 2

Add Audio Files to Tidytag
Click on the "+" mark on the top left corner of the Tidytag interface and add all your files from there, or you can drag and drop all your music files to the home interface of Tidytag.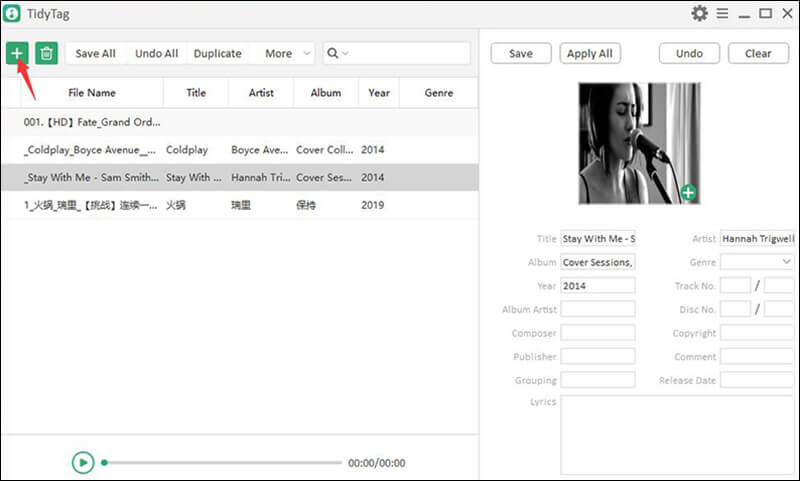 Step 3

Select the File and Review the Metadata Tags
Once you add the files, you need to select a file to edit the ID3 tags. Simply move the cursor to the required file and click on it. Then it'll be selected. Once the file is selected, Tidytag will display all the metadata tags of the music file on the right sidebar.
Most of the occasions, it will show Title, Album, Artist, Genre, Year, Album Artist, Track Number, Disc Number, Composer, Copyright, Publisher, Comment, Grouping, Release Date, Cover, and Lyrics.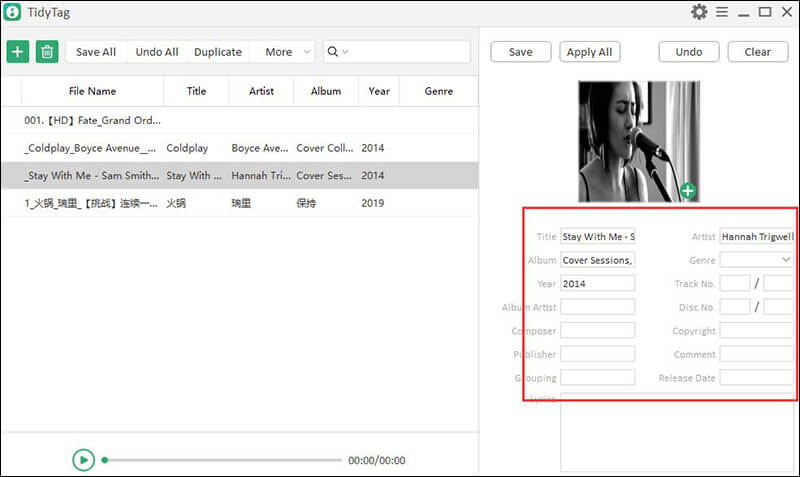 Step 4

Add or Modify Tags
To add or modify tags, you simply click on the relevant fields and do the modifications. For empty fields, users can add relevant information. The coolest thing, you can even change the cover of the album. Simply click on the + button on the album cover and add a new photo as required.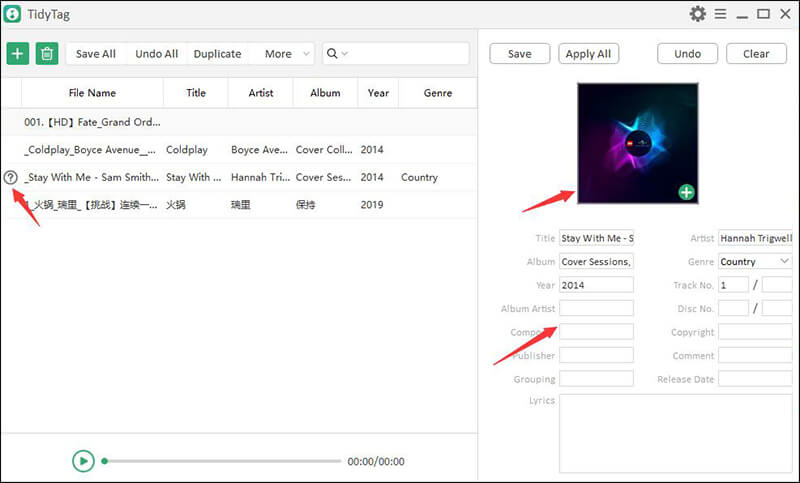 Step 5

Save the Tags
Finally, after all the changes are finalized, click on the Save button on the top. Then it'll update the metadata tags of the music file, and ✔ symbol will display aside from the file name in the list.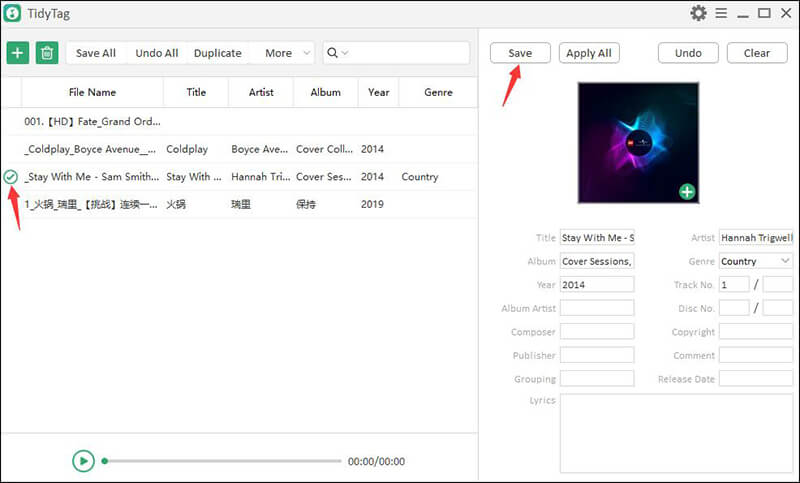 After we introduce Tidytag, now we will share other 7 Music Tag Editors that you should know.
Other 7 Music Tag Editor Mac/PC You Should Know
1. MP3TAG
MP3TAG is capable of creating/modifying tags of both an individual file and several MP3 files at the same time. In short, it is a fundamental application to clean tags of audio files, change the covers, and rename the different files in a massive way. Its compatibility extends to tags in ID3 versions 1.1, 2.3 and 2.4, MP4, WMA, and APEv2. This equates to support for editing more than a dozen different formats.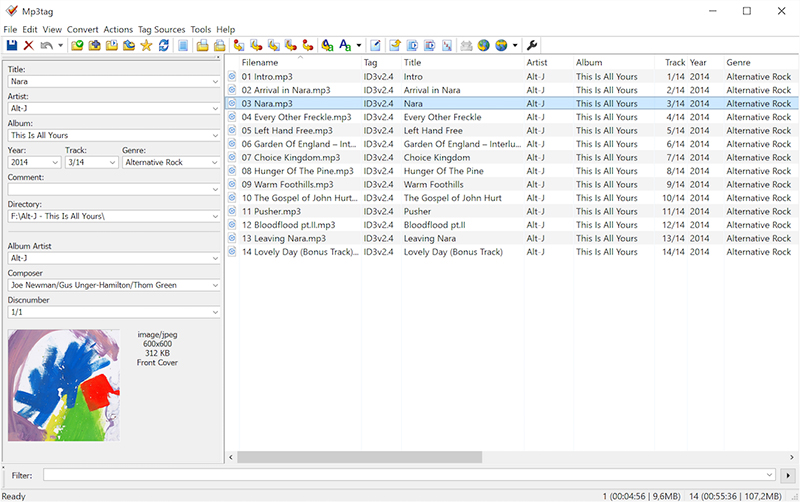 OS Supported: Windows
Download URL: https://www.mp3tag.de/en/
Pros:
Edit the tags of audio files by adding data such as artist, album, year, genre, album art, etc
Can add an album art by searching for it directly through online databases such as Amazon, freedb, Discogs, or MusicBrainz
It allows you to quickly rename files, as well as use regular expressions to manipulate the text
It allows us to create actions, which are a kind of smart macros that allow us to manipulate the tags or file names
Cons:
Manually required to save all the changes since it doesn't sync automatically
Limitation in putting lyrics and restricted to 6 lines
Not very much user-friendly for a novice user
2. MusicBrainz Picard
MusicBrainz Picard is a free and open-source application, which is intended to identify, label, and organize digital audio records. It was developed by the MetaBrainz Foundation, a non-profit company that also operates the MusicBrainz database.
MusicBrainz Picard identifies audio files and compact discs by comparing their metadata or acoustic fingerprint(AcoustID) with the records in the database. When MusicBrainz Picard identifies an audio file, you can add new information to it, such as the artist, album title, record company, and release date.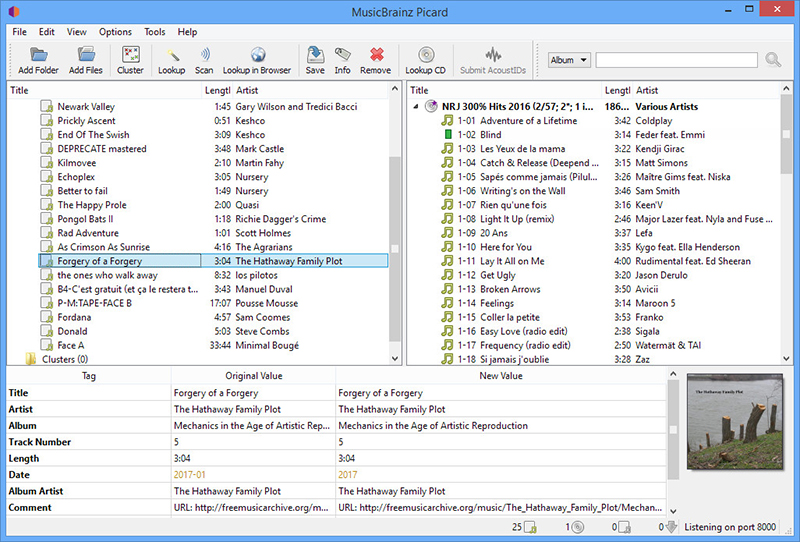 OS Supported: Windows, Linux, Mac
Download URL: https://picard.musicbrainz.org/
Pros:
Support for Retina and HiDPI displays
Support for tagged .dsf and .dff files
The added keyboard shortcut for deleting scripts from Options> Scripting page with the new version
Fast and accurate tagging
Cons:
Not recommended for beginners since there is a learning curve
Interfaces different in different OS
3. TigoTago
TigoTago is a tool that lets you access tags that are in a file by viewing them in a spreadsheet-like editor. It is an ideal program for all those people who like to have their songs well labeled and are looking for a program to modify the labels of their songs, of any multimedia file they have, and to do it in a very fast way. With this program, we can modify all the labels of the files in the same folder at the same time, so that we will have a lot of work done in a single moment.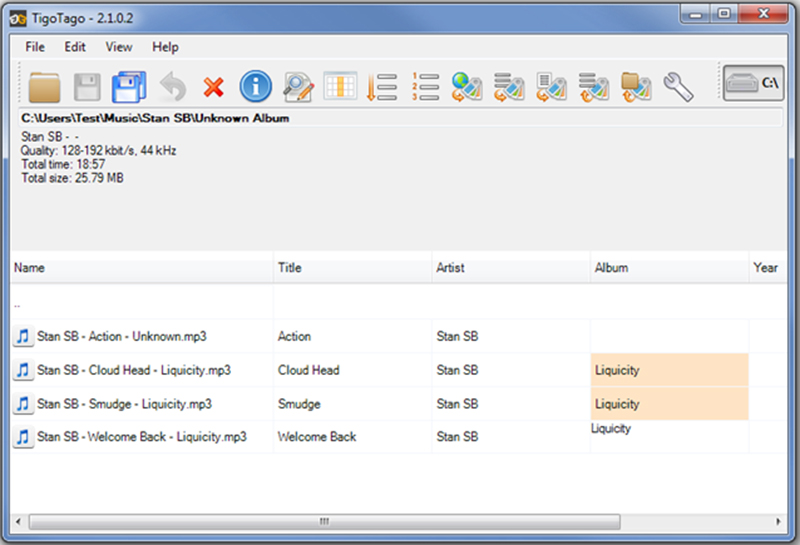 OS Supported: Windows
Download URL: http://tigotago.com/
Pros:
Allow to set and modify tags and to rename a huge number of files at once
Convenient multi-selection allows for flexible mass tagging and mass renaming operations
No typing required when filling tags
Cons:
No multi-language support
Interfaces not intuitive
4. TagScanner
TagScanner is a powerful Tag editor with which you can also comfortably rename audio files from the content of their original tags and vice versa. It incorporates batch functions that will allow you to edit several tags simultaneously, in addition to offering you the possibility of making massive renaming within the same folder, creating playlists, or listening to the tracks that you are editing through a small internal player. It is also possible to manually edit tags, change file names using templates, or create song lists that can be exported to Excel CSV format, XML, or M3u playlist format.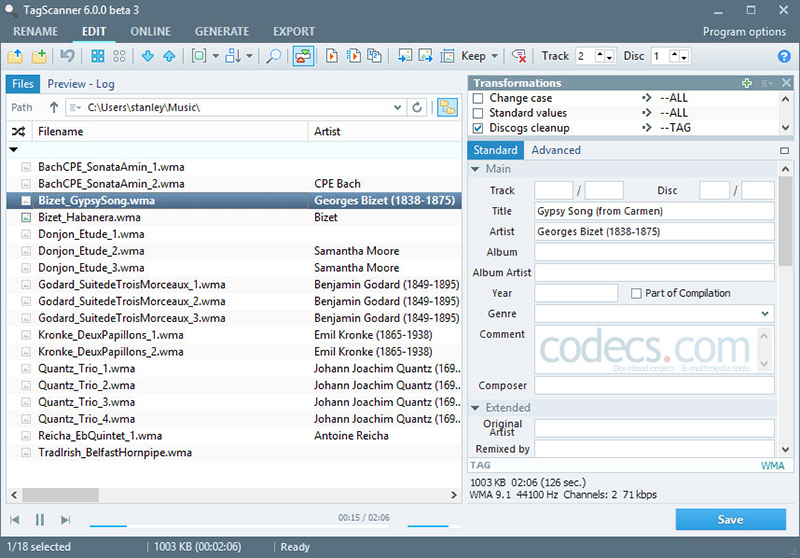 OS Supported: Windows
Download URL: https://www.xdlab.ru/en/
Pros:
Allow you to rename files based on the tag and file information
Generate file tag information
Displays fields from the format tag
Displays export information to HTML, XML, and CSV, or any other user-defined format
Includes support for embedded lyrics and to locate the album cover
Display album art and import tag information by searching online databases such as freedb or Amazon
Cons:
The biggest problem with this application is the lack of documentation that explains how it works.
Does not support viewing and editing synced lyrics
5. Metatogger
Metatogger includes renaming, tagging, and organizing the music. It takes a bit of experience, but with patience, beginners will find the tool simple, thanks to the clean and easy-to-use interface. Advanced features accessed through configuration options include game tracks, delete duplicate files, and download manager, music decks, among others.
There are two options to load music tracks, wither drag and drop or use a built-in file browser to load them into the interface. On the other hand, it can be dealt with a single file or multiple files. The moment you click on a song, you get all the details, including name, file size, track number, genre, and album. It also includes the date and time of the last edition.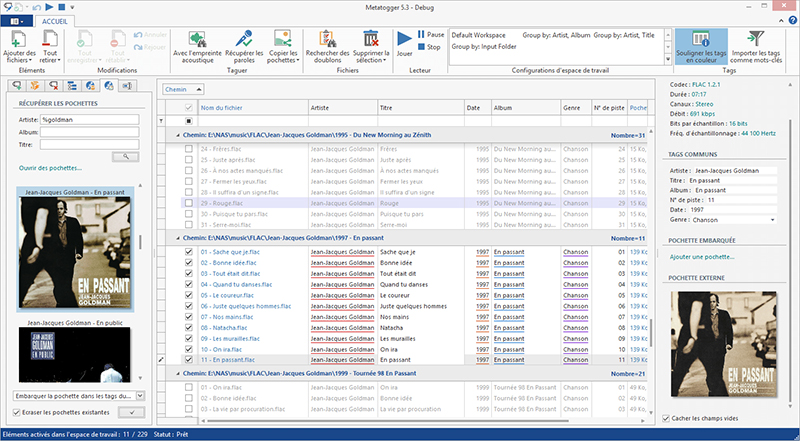 OS Supported: Windows
Download URL: https://www.luminescence-software.org/en/metatogger.html
Pros:
There is a built-in editor in the application that also runs various editing functions
Support various audio and video formats
Provide the ability to integrate lyrics with the online searches
Cons:
It is licensed as software for a 32-bit Windows PC or laptop with a 64-bit operating system, so require to download Microsoft's .NET framework
Interfaces are hard to use to not user-friendly
6. Foobar2000
Foobar2000 is a closed source project developed in C / C ++, but the player is completely free. This player is for users who are already used to messing with their digital audio library, since it has a large number of options in which you can get lost, although once you get used to using it, you do not change it. The installation process is very simple, and in Windows, the installer itself gives us the possibility of installing it in portable mode, so that the configuration files are stored in the program's own folder.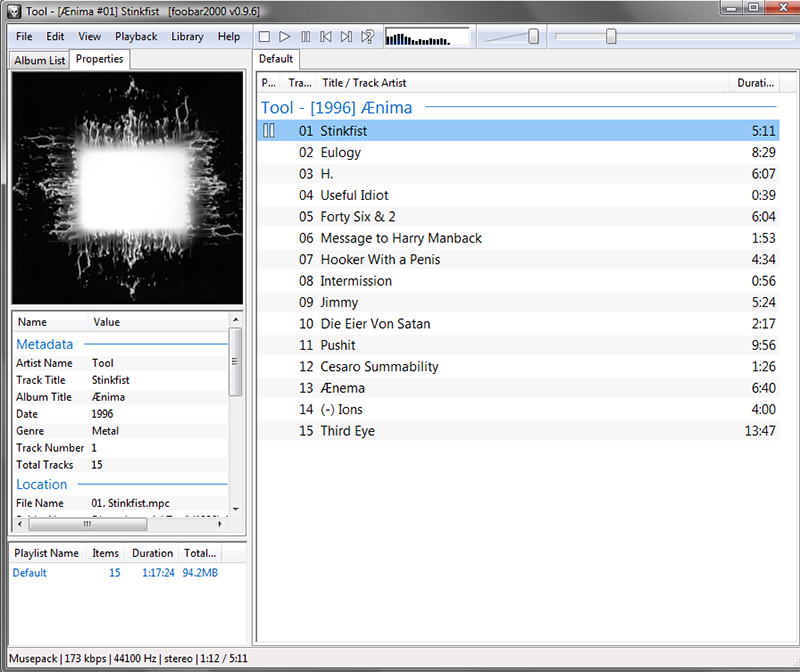 OS Supported: Windows, iOS, Android
Download URL: https://www.foobar2000.org/
Pros:
It has a file manager that allows us to rename, copy or move the files in our music collection
You can convert between different audio formats
It also offers support for DSP plugins, such as an equalizer and other effects
Cons:
It is not cross-platform, although it has a version for Windows and mobile versions for Android, iOS, and Windows Mobile
As it is a player in itself, unlike some of the other audio tag editor software, the tag editing does not work with other music players
Some customizations can hamper the performance of the software, and you need to be careful when making the modifications
7. Kid3
This is an audio tag editor with which we can edit the tags of MP3, OGG, FLAC, MPC, and WMA files or convert ID3v1 and ID3v2 efficiently. We can also set new labels on files or import from Freedb, MusicBrainz, and Disco, among other platforms. This is an application that can be very useful if we are one of those users who have a large collection of audio files, and we need to quickly categorize them. If this is your case, then Kid3 Audio Tagger will seem like a simple and great option. Kid3 Audio Tagger is lightweight and easy to use. With it, anyone can edit the labels of all your audio tracks, no matter what format they are in.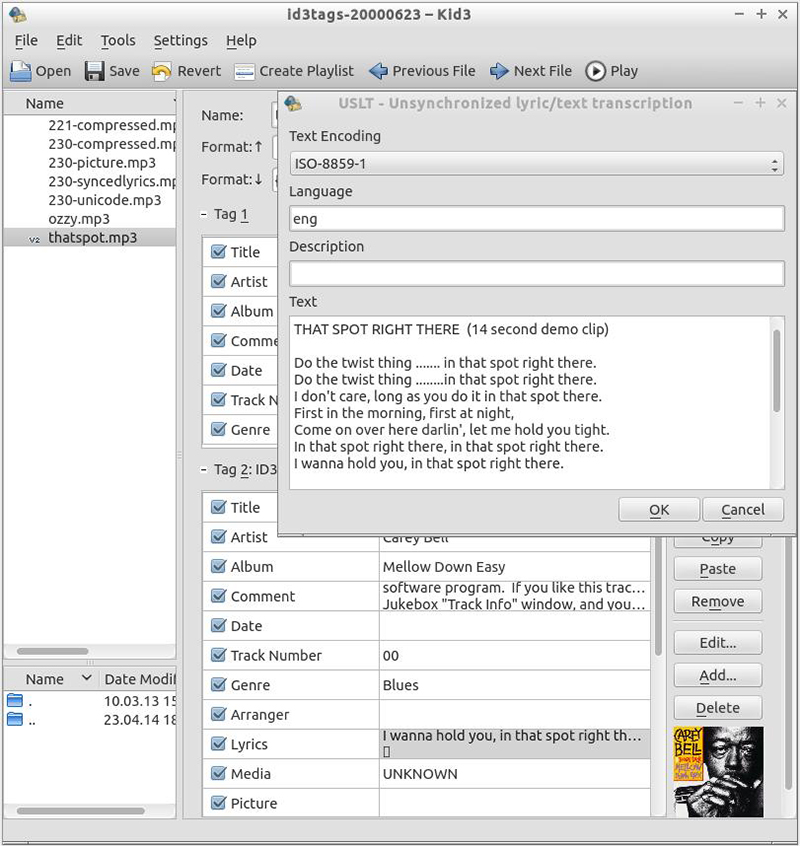 OS Supported: Windows, Linux, Mac, Android
Download URL: https://kid3.sourceforge.io/
Pros:
Supports MP3, OGG / Vorbis, FLAC, MPC, MP4 / AAC, MP2, Speex, TrueAudio, WavPack, WMA, WAV, and AIFF files
We can edit and convert between ID3v1.1, ID3v2.3, and ID3v2.4 tags of MP3 files
Offers a new look for the Android application with Qt Quick Controls 2
Edits all tags and generates them from sources like files, databases, etc
There is a portable version of the software
Cons:
It does not have a column view for multiple files, which is a major flaw
If you want to use advanced features, you will require a little help from online manuals
Requires command line knowledge to automate the tasks
Comparison of 8 Music Tag Editors
Software
Platforms
Supported Audio Formats
Supported Tag Formats
Editable Metadata
TidyTag Music Tag Editor
Mac OS 10.15 (Catalina), 10.14, 10.13, 10.12, 10.11, 10.10
Windows 10/8/7
MP3, AIFF, AIF, M4A, M4R, FLAC, OGG, WAV, APE, ASF and WMA
ID3V1.3, ID3V2.3, ID3V2.4, Ogg Vorbis Comment, APE, ASF and RIFF
Title, Artist, Album, Year, Track No., Genre, Album Artist, Cover, Disc No., Composer, Comment, Copyright, Publisher, Grouping, Release Date, Lyrics
MP3TAG
Mac OS 10.6 – 10.14
AAC, ALAC, AIF, AIFC, AIFF, DSF, FLAC, MKA, MKV, APE, MP3, MP4, M4A, M4B, M4V, MPC, Ogg, Opus, OFR, OFS, SPX, TAK, TTA, WMA, WV, WAV, WebM
ID3v1.1, ID3v2.3, ID3v2.4, MP4, WMA, APEv2 Tags and Vorbis Comments
Title, Artist, Album, Year, Track, Genre, Comment, Album Artist, Composer, Disc number, Cover
MusicBrainz Picard
Mac OS 10.10, 10.12
Windows 10
MP3, FLAC, OGG, M4A, WMA, WAV
ID3v2.3, ID3v2.4, APEv2
Main music tags only
TigoTago
Windows XP/ Vista/ 7/ 8 – 32bit or 64bit
MP3, FLAC, M4A, AAC, APE, AVI, WAV, WMA, WMV OGG, ASF, MPC, MPP, MPEG
ID3 v1.1 & v2.3.0
Main music tags
TagScanner
Windows Vista / 2008 / 7 / 8 / 8.1 / 10
MP3, OGG, FLAC, WMA, MPEG-4, Opus, Musepack, Monkey's Audio, AAC, OptimFROG, SPEEX, WavPack, TrueAudio, WAV, AIFF, Direct Stream Digital files
ID3v1/v2, Vorbis comments, APEv2, WMA and MP4(iTunes) tags
Main music tags
Metatogger
Windows 10/ 8.x et / 7 SP1
Ogg Vorbis, native FLAC, MP3, M4A (AAC and ALAC) and Windows Media Audio
ID3 v1, 2.2, 2.3, 2.4
Main music tags
foobar2000
Windows, iOS, Android
MP3, MP4, AAC, CD Audio, WMA, Vorbis, Opus, FLAC, WavPack, WAV, AIFF, Musepack, Speex, AU, SND… and more
Not Available
Main music tags
Kid3
Mac, Windows, Linux
MP3, Ogg, FLAC, MPC, MP4, AAC, MP2, WMA, WAV, AIFF
ID3v1.1, ID3v2.3 and ID3v2.4
Main music tags
Conclusion
There are various types of music tag editor tools available in the market. Every tool has its pros and cons. Users should consider the quality of the tool and its features when deciding on what to use. In general, music tag editor for mac or windows, Tidytag Music Tag Editor is highly recommended over other editors due to the quality of the service and premium features provided for such a lower amount.
(Click to rate this post)
Generally rated 4.5 (215 participated)