What's the best program to edit metadata of music files on Mac? There are many mp3 tag editor Mac programs in the market, which might make it difficult for you to choose the right ones. To save you from this trouble, we've tested and ranked the best 7 ID3 tag editors for Mac OS.
Why You Need ID3 Tag Editor?
A world without music is just like a world without life. Music remained a big part of people's lives from ever, and with the advent of the digital age, the way we consume music has undergone a complete transformation. Now using the internet, anyone can conveniently access and download every type of music to the computer. But this ease turns into difficulty when you have to manage the music library tagged with improper or wrong metadata. In this case, it would become extremely difficult to organize tracks by album, artist, genre, and other audio file attributes.
The best way to deal with this situation is to use an ID3 tag editor. It will help to change and modify all the information that is present within the music files. After which, you can easily search for music files using various filters.
Find Out the best ID3 Tag Editor for Mac
Let's start discussing all of them one by one!
1. TidyTag ID3 Tag Editor
TidyTag ID3 Tag Editor is the latest powerhouse in the category that comes with the most versatile and amazing features. It is designed specifically to deliver great results and can easily add or modify ID3 tags to your music files. Not only this, but you can also manage every aspect of your music collection with TidyTag. It has the most easy to use interface and also comes with a built-in player that enables you to experience advance playback options remaining within the program. TidyTag offers separate versions for Windows and Mac OS. You can download from the following link.
Key Features
TidyTag comes with batch processing feature that allows you to edit all missing or incorrect metadata like title, artist, album, album cover, track number, lyrics, etc. You can edit and save all the songs in the File list at one time.
It supports multiple tag formats, which include ID3 (V1.3, V2.3, V2.4), Ogg Vorbis Comment, APE, ASF, and RIFF.
It supports almost all the music file formats such as MP3, AIFF, AIF, M4A, M4R, FLAC, OGG, WAV, APE, ASF, and WMA.
This program has a convenient music deduplication function, which removes all the duplicates in the music library.
You can rename the audio files according to the tag information.
TidyTag also helps to organize music files by moving them to separate folders as per their metadata information including Album, Artist, Album Artist, and Genre.
Pros
Cons

It can accurately scan out and delete all the duplicate music files, hence saving a lot of time.
TidyTag has the power to batch process all missing or incorrect tags at one time.
It comes with a built-in player with advanced playback options.
It comes with more playlist creation options that help to keep your music collection organized.
It supports Mac OS 10.10 and all later versions, even Mac OS 10.15 (Catalina).
2.MusicBrainz Picard
MusicBrainz Picard is another multi-platform tool that allows you to add missing metadata information to the music files. It supports most of the available music formats like MP3, FLAC, OGG, M4A, WMA, WAV, etc. With its unique feature called AccoustID, this tool helps to identify music files by their content so that if audio files have no metadata, it can still add the missing information. Get the MusicBrainz Picard music tag editor Mac version from here.
Key Features
MusicBrainz Picard has a very attractive design with a clean interface.
It comes with very well-placed elements that help the program to run smoothly.
You can lookup complete music CDs with this tool.
If you need any particular feature, Picard allows you to choose from a range of available plugins or you can also write your own.
Pros
Cons

Simple and easy to use.
It is open-source software that is available for free.

It is just a very simple music tag editor mac tool that can do very little as compared to TidyTag.
Supports only very basic music tags.
3. Kid3
Kid3 is an Mp3 tag editor tool that also allows you to convert your music files' tags into different formats. Various types of audio formats are supported by this ID3 tag editor Mac program. This music tag editor has the ability to generate tags either automatically from the file names or also manually. It uses different online databases to add metadata information to your music files.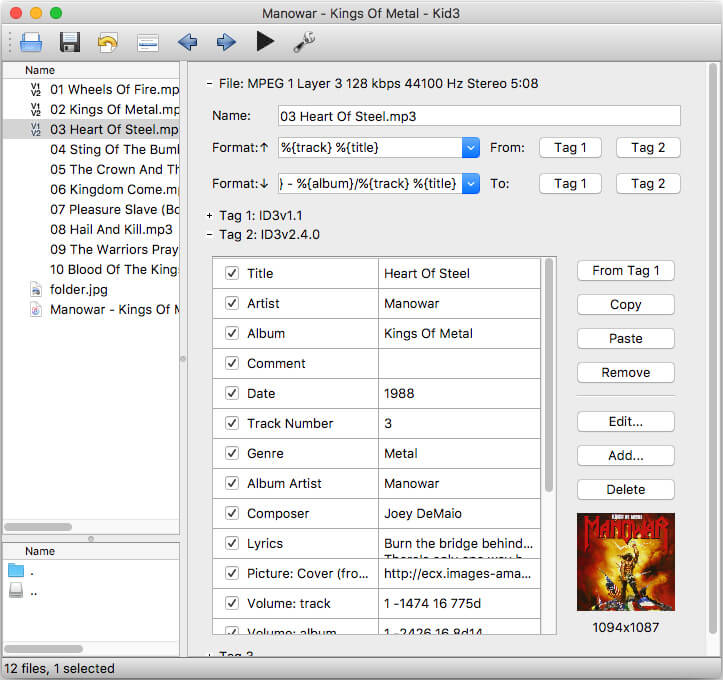 Key Features
Kid3 can generate tags from filenames and the contents of tag fields.
This tool supports directory editing and playlist creation.
It automatically imports tags or metadata information from nudb.org, MusicBrainz, Discogs, Amazon, and various other sources of album data4.
It can export tags as CSV, HTML, and XML.
It comes with a command-like interface that contains all the elements in a logical order.
Pros
Cons

Allows you to import and export LRC files.
It can edit synchronized lyrics code.
4. MetaBliss
MetaBliss is a new ID3 tag editor Mac program that is solely created for Mac OS X. It enables you to quickly edit different audio file tags like Artist, Song Name, Comments, and many others. Due to its high-speed performance, you will be able to fix hundreds of music files at one time. You can download MetaBliss music tag editor Mac software from the link given below.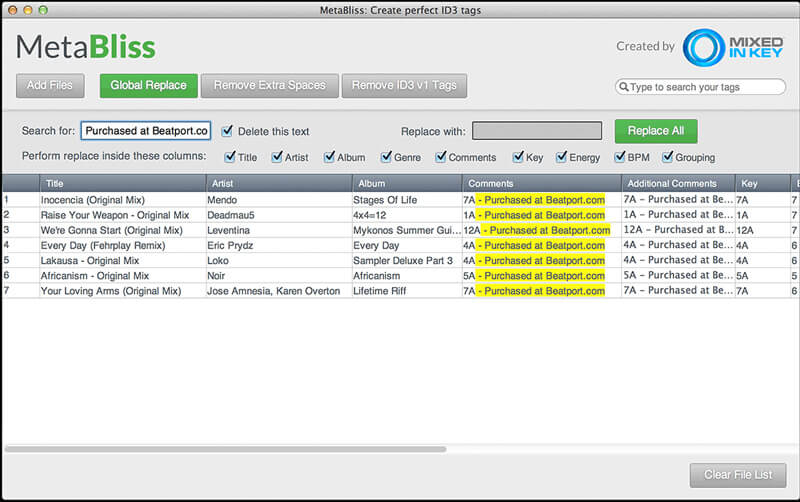 Key Features
You can easily search and replace words in tags with this program.
It has the power to edit multiple audio files at once.
MetaBliss will make you able to remove old ID3v1 tags, as they're obsolete and useless.
It also has the feature to remove extra spaces within the tags.
Pros
Cons

You can directly double-click any value to edit it.
Simply drag down to copy tags, just like editing in Microsoft Excel

No Windows version available.
It is a bit overpriced, at least for such basic functions. You can find better options at a similar price.
5. Music Tag
Unlike most of the similar tools, Music Tag is a music tag editor that lets you automatically download and add missing metadata information to the audio files. It works in quite a simple way, what you all have to do is to give it the mp3 files that you want to edit and the editor will download the required information and modify the selected audio files.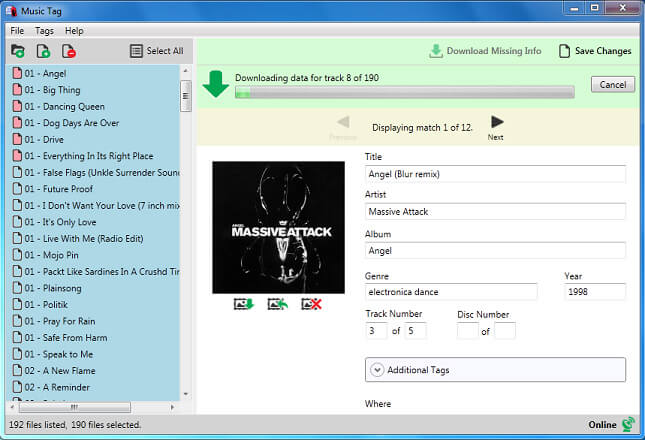 Key Features
It can work quicker than many other programs by allowing you to automatically or manually edit music file tags.
It also automatically downloads Album Artwork.
Music Tag software can recognize more than 35 million music tracks.
Pros
Cons

Automatic downloading of music metadata information.

WMA files are not supported in the Mac version.
Supports only a few audio formats.
Automatically downloaded metadata can be a bit confusing at times.
6. MP3TAG
As its name implies, MP3TAG is an mp3 tag editor to add or modify mp3 tags and also supports batch processing for the convenience of users. This software also supports database lookups from different online sources like Discogs, MusicBrainz, freedb, etc. With MP3TAG, you can easily rename audio files in your music library using tag information. Download this mp3 tag editor Mac program from here below.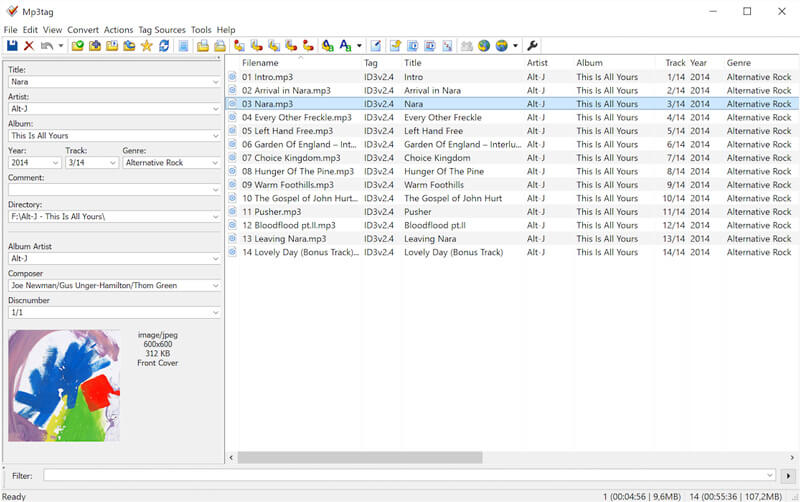 Key Features
MP3TAG allows you to replace characters or words in tags.
It can generate nice reports and lists of collection to HTML, RTF, and CSV format.
You can download and add album covers to your music files using this program.
It saves your time by creating and managing playlists while editing tags.
Pros
Cons

This software isn't officially supported and may have some problems that can be dangerous for your computer safety. The Mac version of this program is a pre-packaged version.
It doesn't support Mac OS 10.15 (Catalina).
7. Amvidia Tag Editor for Mac
Developed by Amvidia, Tag Editor for Mac is another useful ID3 tag editor for Mac OS that allows you to edit all types of music tags. Audio files other than mp3 format can also be processed, as it supports ID3 tags for MP3, AIFF, WAV, FLAC files, whereas, MP4 tags for MPextra4, MA4 audio files. You can directly download Tag Editor for Mac using the following link.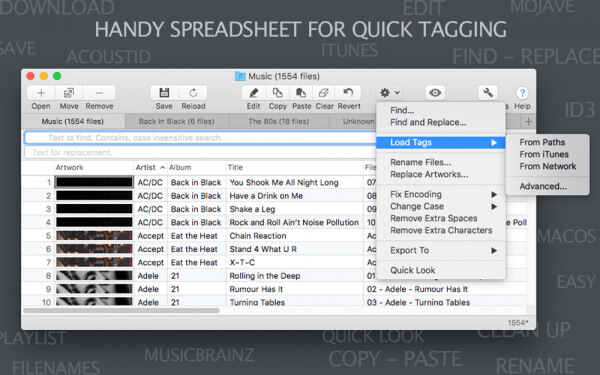 Key Features
Tag Editor for Mac supports all music tags.
It can automatically retrieve audio files metadata from network and paths.
It can find and replace mislabeled tags.
Pros
Cons

Rename audio files as per their tags.
Supports and edits a lot of tags.
Batch processing is possible with this tool.
Helps to remove extra spaces and characters from the tags.

The program is a bit complicated and suitable for professionals; music lovers with little technical knowledge can face difficulty in using this software.
Side by Side Comparison of 7 ID3 Tag Editors for Mac
Software
Platforms
Supported Audio Formats
Supported Tag Formats
Editable Metadata
Pricing
TidyTag Music Tag Editor
Mac OS
10.15 (Catalina), 10.14, 10.13, 10.12, 10.11, 10.10
Windows
10/8/7
MP3, AIFF, AIF, M4A, M4R, FLAC, OGG, WAV, APE, ASF and WMA
ID3V1.3,ID3V2.3,ID3V2.4, Ogg Vorbis Comment, APE, ASF and RIFF
Title, Artist, Album, Year, Track No., Genre, Album Artist, Cover, Disc No., Composer, Comment, Copyright, Publisher, Grouping, Release Date, Lyrics
$19.95
MusicBrainz Picard
Mac OS
10.10, 10.12
Windows
10
MP3, FLAC, OGG, M4A, WMA, WAV
ID3v2.3, ID3v2.4, APEv2
Main music tags only
Free
Kid3
Mac, Windows, Linux
MP3, Ogg, FLAC, MPC, MP4, AAC, MP2, WMA, WAV, AIFF
ID3v1.1, ID3v2.3 and ID3v2.4
Main music tags
Free
MetaBliss
Mac OS 10.7 and later versions
Not Available
ID3
Main music tags
$20
Music Tag
Mac OS
X, 10.8 or later versions, Windows
Vista/7/8/8.1/10
MP3, MP4, AAC, WMA, FLAC
Not Available
Main music tags
$20
MP3TAG
Mac OS
10.6 – 10.14
AAC, ALAC, AIF, AIFC, AIFF, DSF, FLAC, MKA, MKV, APE, MP3, MP4, M4A, M4B, M4V, MPC, Ogg, Opus, OFR, OFS, SPX, TAK, TTA, WMA, WV, WAV, WebM
ID3v1.1, ID3v2.3, ID3v2.4, MP4, WMA, APEv2 Tags and Vorbis Comments
Title, Artist, Album, Year, Track, Genre, Comment, Album Artist, Composer, Disc number, Cover
Free
Amvidia Tag Editor for Mac
Mac OS
X, 10.7 or later
MP3, AIFF, WAV, FLAC, MP4, M4A
ID3v1, ID3v2.4, XIPH
Main music tags, Podcast tags, sorting tags, Classical tag, Commerce tag, Mood tag, People tag, iTunes tag
$28.99
Free Or Paid – How to Choose?
Free programs are usually not considered as safe to use. Another thing to consider is that free tools have relatively basic features and mostly failed to meet users' expectations.
If you don't want to spend money, then we recommend MP3TAG for Mac, but it isn't officially supported and do not support Mac OS 10.5. In paid software, TidyTag is undoubtedly the best tool for you. Not only it is superior in performance, but also it comes at a very affordable price, which makes it the best value for money.
The Bottom Line:
That's all for the list of best ID3 tag editor Mac software. By analyzing the features and specifications, you'll able to pick the one that best suits your needs. If you still have any queries, feel free to ask us in the comments section below.
(Click to rate this post)
Generally rated 4.5 (215 participated)