Even though most media players have built-in music tag editors for editing music track information such as title, artist name, and genre, they are often limited in what they can do. If you have a large selection of music tracks that need FLAC tag information, the most efficient way to work with metadata is to use a dedicated MP3 tagging tool to save time and ensure that your music files have consistent tag information.
Tagging these non-mainstream music files manually can be challenging and time-consuming. Depending on the size and complexity of your music collection, there are plenty of free and paid FLAC tag editors that will make tagging your MP3 files much more comfortable. In this article, we'll be talking about the 8 best FLAC tag editors to get your job done efficiently.
What is FLAC Tag?
FLAC (Free Lossless Audio Codec) is a codec for the audio stream that allows audio compression without loss of quality. Hence the size of the audio file is reduced without losing information. It is one of the fastest and most widely used audio codecs, as well as being the only non-proprietary.
FLAC supports album art, metadata tagging, quick search and is available on most operating systems, including Windows and UNIX. There is no loss of information in the encoding process, and the decoded audio is identical to the original file used in the encoding. The metadata system supports tags, album art, seek tables, and cue sheets. New metadata blocks can be defined and implemented in future versions without breaking old decoders.
Best FLAC Tag Editor – TidyTag Music Tag Editor
TidyTag Music Tag Editor is a tool designed specifically for people who want to organize and manage their music libraries in a convenient way. It supports MP3, AIFF, AIF, M4A, M4R, FLAC, OGG, WAV, APE, ASF and WMA audio file formats and including different metadata formats. Once you upload all the music files to TidyTag Music Tag Editor, it will show the available metadata upon clicking the file name.
Apart from that, built-in allows you to listen to music while editing tags providing options to perform basic media player activities. Hence, it will enable you to create different playlists to manage and organize your music files without needing to stress on it.
Key Features
Compatible with iTunes and available for both Windows and macOS
Remove duplicate files from the list automatically
Allow adding, edit and remove the metadata with a single click
Supports many audio and metadata formats
Flexible pricing plans to suit everyone
User-friendly interfaces and easy for anyone to use
How to Edit Flac Tags Using Tidytag
Step 1

Download Tidytag and Install
You can download the latest version of Tidytag Music Tag Editor from below. When downloading it, select the version compatible with your OS.
Step 2

Add Audio Files to Tidytag
Drag and drop all your music files on top of the home window, or use the + mark in the left corner of the main window to add the files by browsing your local drive.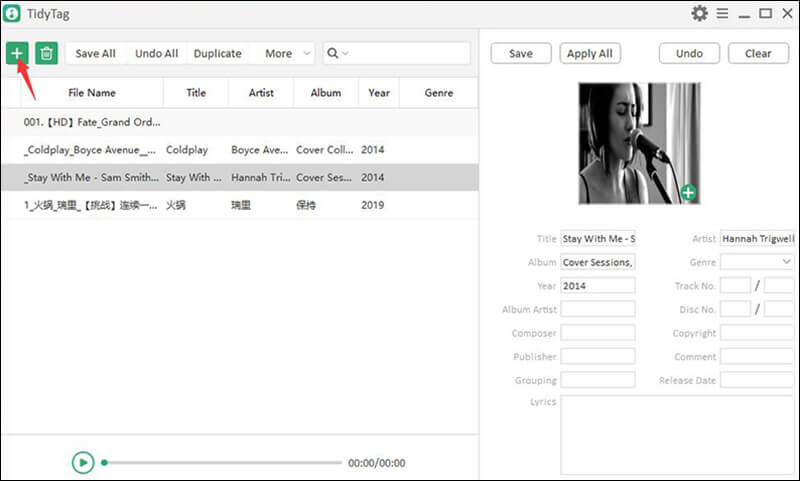 Step 3

Select the File and Review Tags
After uploading the music files, click on the file that you wish to change the metadata. Once you click on the file, all the available metadata is visible in the right sidebar of the main window.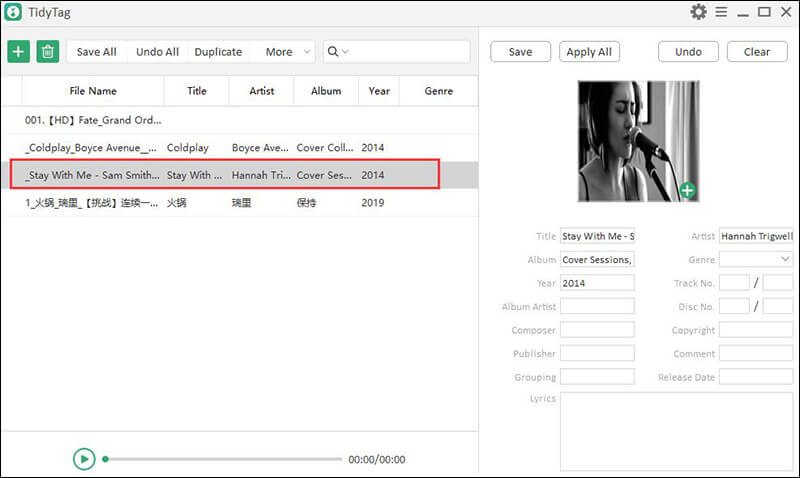 Step 4

Add or Modify Tags
You can click on each filed and add/edit or remove the metadata tags as you wish. To upload a new album cover, click on the + mark near to the album cover and upload a new one from the local disk.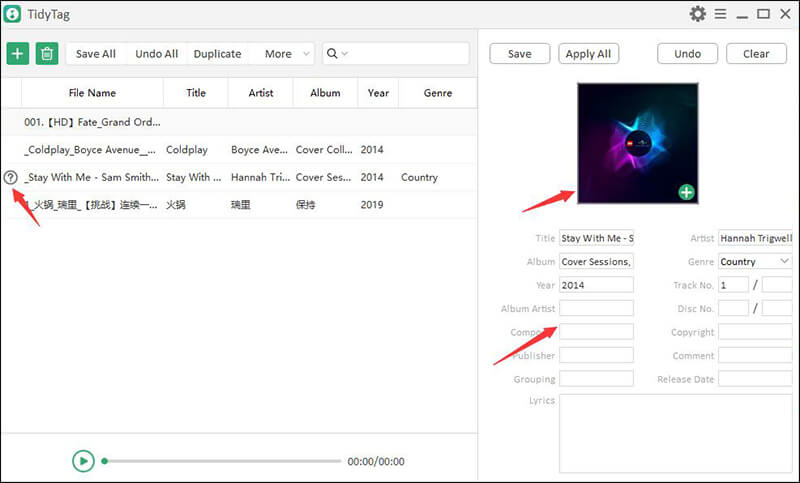 Step 5

Save the Tags
Finally, click on the Save button and close the window. To check whether the file is updated with the latest metadata, you can check the ✔ symbol near to the music file name.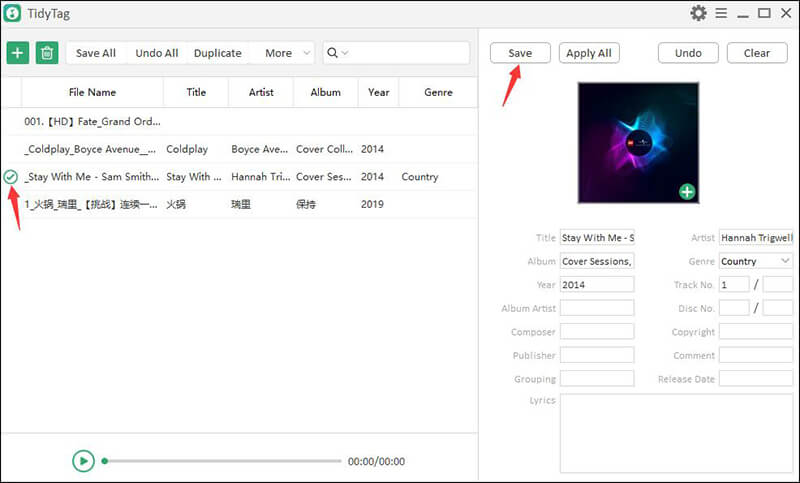 Other 7 FLAC Tag Editors You Should Know
1. MP3Tag
MP3tag is a Windows-based metadata editor that supports a large number of audio formats. The program can handle MP3, WMA, AAC, Ogg, FLAC, MP4 and some other formats. In addition to automatically renaming files based on the tag information, this versatile program also supports online metadata searches from Freedb, Amazon, Discogs, and MusicBrainz. MP3tag is useful for batch tag editing and album art downloading.
Pros
Cons

User-friendly interfaces
Presence of online database enables us to find suitable metadata
Can create playlists with a single click
Customizable front panel

Doesn't provide the capability to view and edit synced lyrics
Only 6 lines of lyrics are permitted
Not available for some versions of different OS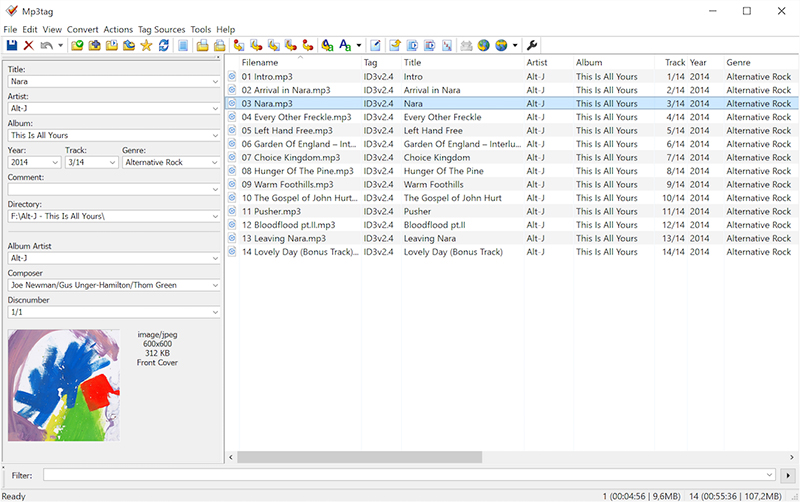 2. TigoTago
TigoTago is a tag editor that can perform batch edit set of files at the same time. This saves a lot of time when you have multiple songs that you need to add information. TigoTago not only supports audio formats like MP3, WMA and WAV but also handles AVI and WMV video formats. TigoTago has useful functions for mass editing your music or video library. Tools include search and replace, the ability to download album information from CDDB, reorder files, change case and file names from tags.
Pros
Cons

Can import tags from surfing the Internet for unnamed files
Lossless conversion between WAV, MP4, FLAC, APE etc
Integrates with system shell
Log window for monitoring purposes

No option to minimize it to the system tray
Needs .NET Framework 2.0
Sometimes it is difficult to navigate through the interfaces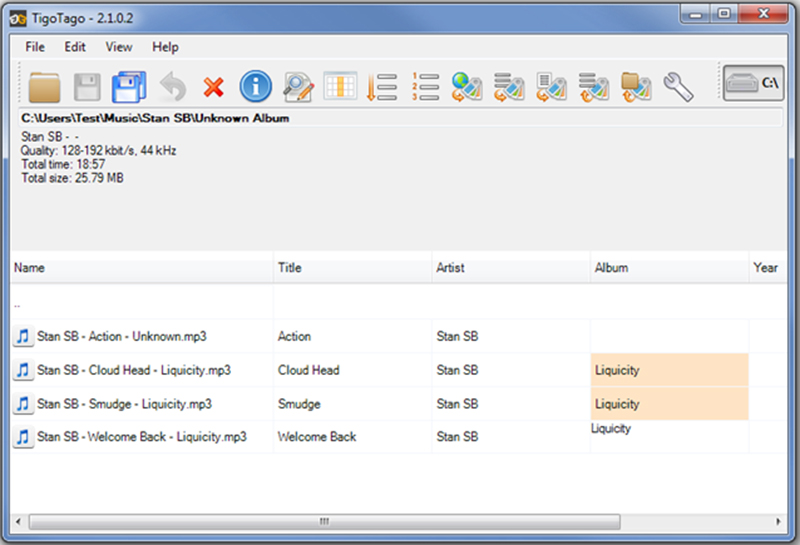 3. Kid3 Tag Editor
With the Kid3 Tag Editor, you can manage the Meta information of your MP3 collection. The content of ID3 tags includes information of the artist, album title, year of publication and genre are stored directly in the music file. Media players and MP3 players can read out such information and thus help to keep track of the library.
Thanks to the Kid3 Tag Editor, missing data can be added. If you wish, you can create the tags using the file name. The tool supports the ID3v1 and ID3v2 tag standards in MP3, OGG, FLAC, MPC and WMA formats. This portable program version of Kid3 Tag Editor can be started without installation on any PC or notebook, for example directly from a USB stick.
Pros
Cons

The performance of the Kid3 is comparatively higher than other FLAC metadata editors
Can import tags from different databases
Allows you to mark the music files as copyrighted
Supports several file formats, including FLAC, MP3, OGG, AAC, MP4, MP2, etc

Album arts won't show up when you play a file
Understanding the interfaces of the application might be challenging for novice users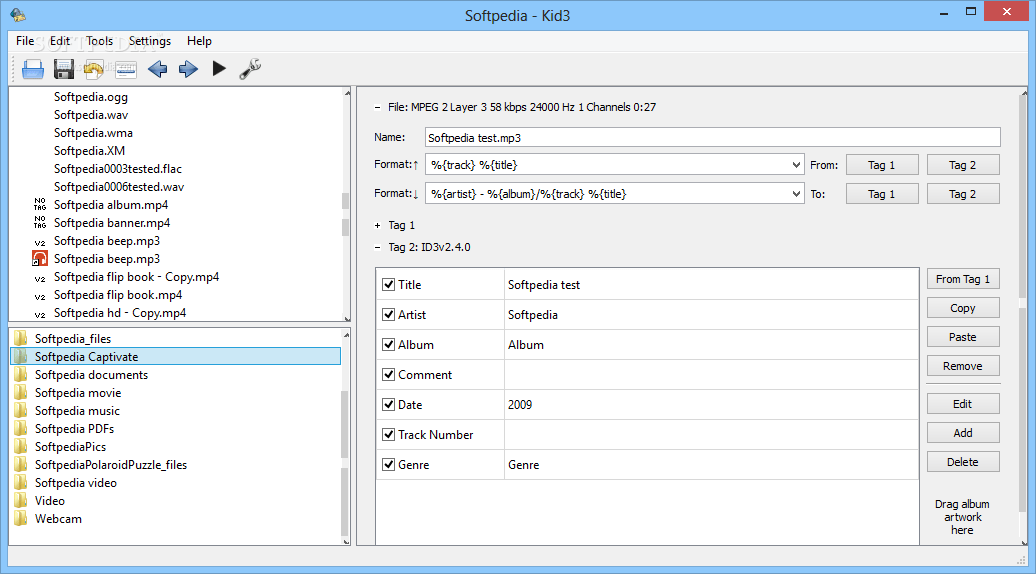 4. Frigate3
Frigate3 is a great software that will easily replace Windows Explorer and help you manage all your files. It is the lightest and uses fewer resources than other medium FLAC editors. If you are looking for an alternative to light-weight metadata editor, you will need Frigate3. This tool has all the functions of a FLAC tag editor plus some additional features that may be of interest to you.
The first of these will be the management of music files, including the MP3 and WAV formats. The tool has a special program classification algorithm that will speed up the process of searching and managing files on hard drives. The same engine is optimized for multitasking, so you can seamlessly execute multiple actions at once.
Pros
Cons

Runs on multiple platforms
Doesn't use a high amount of memory
Has a specialized algorithm to search and manage files

Users complain that software crashes frequently
Supports less number of audio formats compared to other software in the same category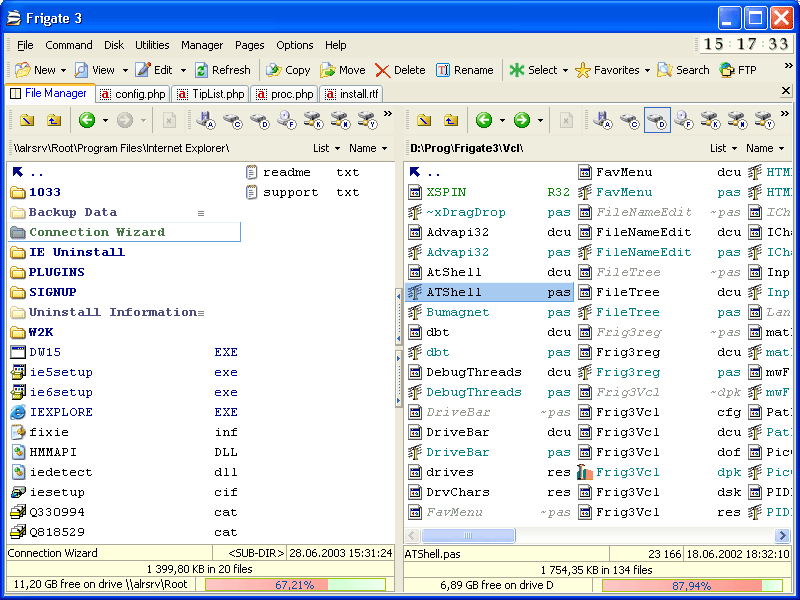 5. MusicBrainz Picard
Musicbrainz Picard is a very simple application, designed by the folks at the Musicbrainz website, which is nothing more than a tool that connects to the music collections uploaded by thousands of contributing users (myself included) and allows re-tagging and renames our music files (Ogg, MP3, FLAC, WMA, etc.) to keep them tidy.
It is an application designed in QT4 and is compatible with Linux, Windows and macOS. With MusicBrainz Picard, we can not only label and rename from the information contained in MusicBrainz and each file, but we can also perform tasks such as organizing and renaming based on the file names.
Pros
Cons

Fast and high-quality tagging
Written in python and therefore, compatible with different OS
Best tools for organizing albums

Not possible to edit album covers
Interfaces are complex and challenging to understand at the first go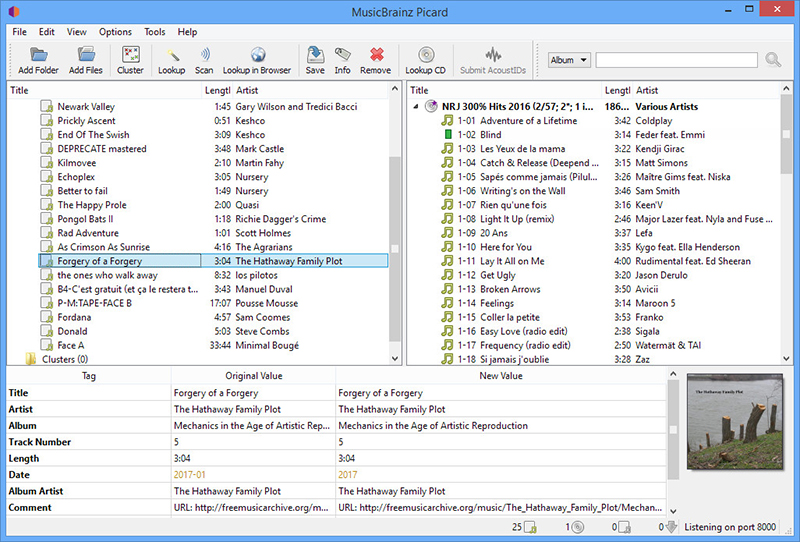 6. TagScanner
TagScanner is a multifunctional software that helps us to manage and organize our music collection. You can rename and tag music files of different formats based on their tag information. Multiple tags can be edited at the same time with TagScanner. We can generate tag information, import tag information, replace text, and convert the upper and lower case into tags and file names very quickly. Apart from this, there are other functions like converting the tag version, creating playlists, reformatting and rearranging the tag fields that TagScanner can do very quickly.
Pros
Cons

Uses online databases to pull out metadata
The user interface of the application is very attractive and comfortable
Generate tag information from the file/folder name
Supports different versions of ID3 and APE

Requires previous knowledge in tag formats
Does not support viewing and editing synced lyrics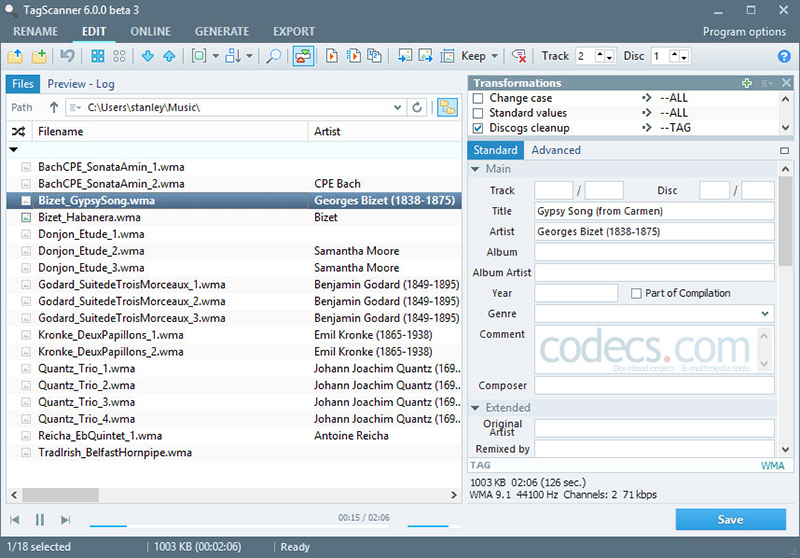 7. Metatogger
Metatogger is a tool that identifies tags and renames audio files on your computer (Ogg, FLAC, Speex, Monkey's Audio, MP3, Musepack, WavPack and WM) in the blink of an eye. To do this, it uses a system based on 'acoustic fingerprint' technology, which recognizes the song corresponding to each file and adds the appropriate tags automatically. Although of course, we will have to be connected to the Internet to benefit from it. Metatogger is an excellent option for those users with a lot of unnamed songs.
Pros
Cons

Supports many audio formats
Uses online search to integrate lyrics
Possibility of downloading song lyrics and covers automatically

Need to have .NET framework installed in your device
Not user-friendly as other similar tools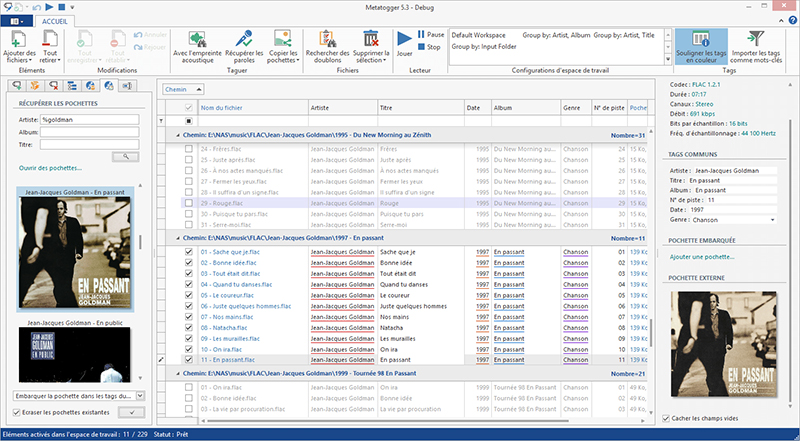 Conclusion
In this article, we have discussed the 8 best FLAC tag editors in the market. All these editors have their pros and cons. As a user, you must select the best FLAC editors that suit you. We highly recommend you to try the Tidytag Music Tag Editor, since it provides high-quality outputs with greater customer satisfaction.
(Click to rate this post)
Generally rated 4.5 (215 participated)