The idea of adding information to the music files came up in 1996 when Eric Kemp inserted this additional data at the end of a document. This meant that the songs in the MP3 format could receive other information besides the audio itself with the introduction of ID3 tag, or ID3v1.
With the popularization of the format and the consequent difficulty in organizing the music due to the extensive collections that users started to create, Kemp's invention soon became standard. ID3v1 was able to store information such as the name of the song, the artist, the album, the year of release, the genre and a small comment, but in a small space of 128 bytes.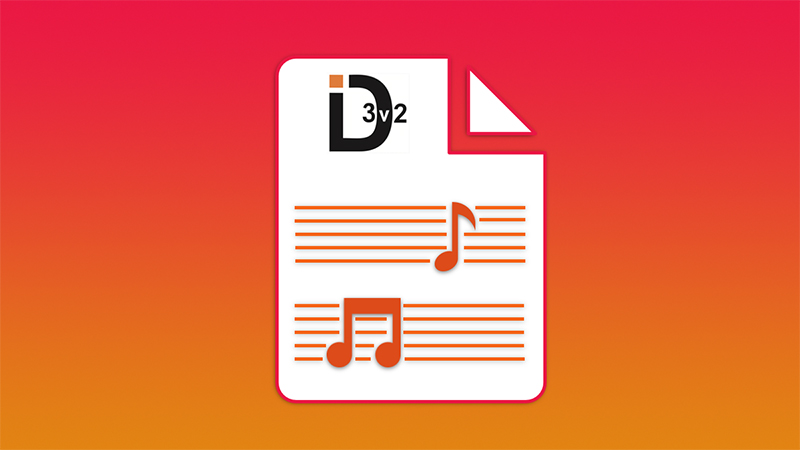 What is ID3 Tag?
The ID3 is a kind of tag present in the file as if it were the information of the information. What does that mean? It means that all the data of that song is inside it. This is what we call ID3 metadata. The most current players and hardware can understand this information and group all files that have similar data. This is the case with Windows Media Players, iTunes and devices such as iPod and some MP3 players.
Also, ID3v2 allows information such as album cover and song lyrics to be inserted as metadata. All this because, instead of having 128 bytes of capacity, it supports 256 megabytes. This is almost like infinite space for inserting additional elements meant that the format soon fell into the users' taste and became the new standard in music. Currently, it is the most used, both in files and in players.
Why Do You Need Them?
It can help you to organize your music library by renaming the title or modifying the genre so that you can find the audio files more efficiently.
Sometimes the downloaded music files are anonymous, or there are some misspelled words in the track titles. It would be best if you renamed them or else it will be misleading when you want to find it and play it next time.
You are allowed to add album covers with a tagger for a pleasant visual enjoyment.
It will be nice to add your comments or create your lyrics from audio files that you like, with an ID3 tag editor.
How to Add ID3 Tag to Your Music File
TidyTag Music Tag Editor is a useful tool for anyone who wants to keep their music organized and have information about their audio files displayed clearly. The ID3 Tag Editor supports MP3, AIFF, AIF, M4A, M4R, FLAC, OGG, WAV, APE, ASF, and WMA audio files. As for metadata formats, it also supports ID3V1.3, ID3V2.3, ID3V2.4, Ogg Vorbis Comment, APE, ASF, RIFF Tag, and more.
You can erase all audio file tag information, but also add or edit missing and mislabeled music information like song title, album, artist, release year, genre, track number, cover art, lyrics and more in batch. In addition to entering the file information in the tag panel, it is also possible to upload album art and add lyrics manually. The built-in media player lets you listen to music while editing tags, with the basic options of any media player such as play, pause, stop, and volume.
Key Features:
Supports many audio and metadata formats
Easy to use and recommended for any novice user
Automatically filter out duplicate songs with the same path when adding new songs to your library
This software is easy to use and allows you to rename labels in a simple and hassle-free
Helps to organize the music data easily
The built-in media player allows you to listen to music while editing tags
How to Edit Music Tags Using Tidytag
Step 1

Download Tidytag and Install
First of all, users need to download the latest version of Tidytag and install it in their PC. Windows users and Mac users can download the correction version compatible with their OS from below. Once the downloading is finished, install the software to a suitable location and open the software.
Step 2

Add Audio Files to Tidytag
You can easily drag and drop all your music files into the home interface, and it will add your music files gradually. Or use the "+" mark in the top left corner of the home window and select the files that you want to modify.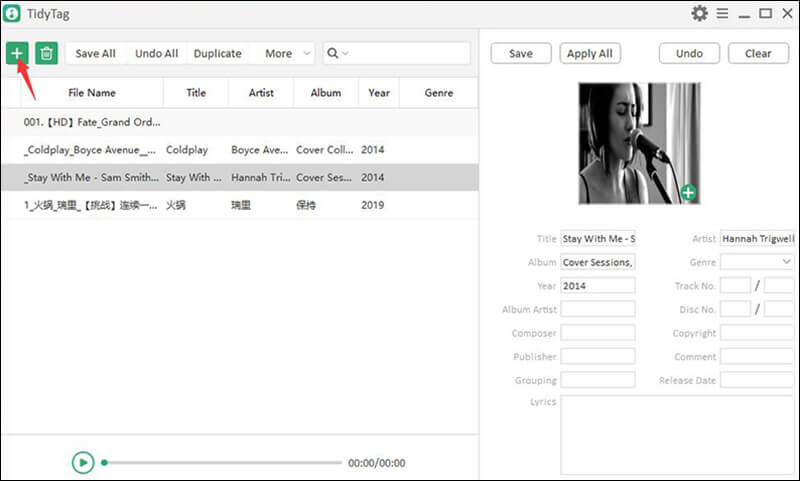 Step 3

Review the Metadata Tags
After you have successfully added the files to be modified, click on the file which you required to edit. Once you click on a file, all its metadata will be visible in the right sidebar. This includes Title, Album, Artist, Genre, Year, Album Artist, Track Number, Disc Number, Composer, Copyright, Publisher, Comment, Grouping, Release Date, Cover, and Lyrics.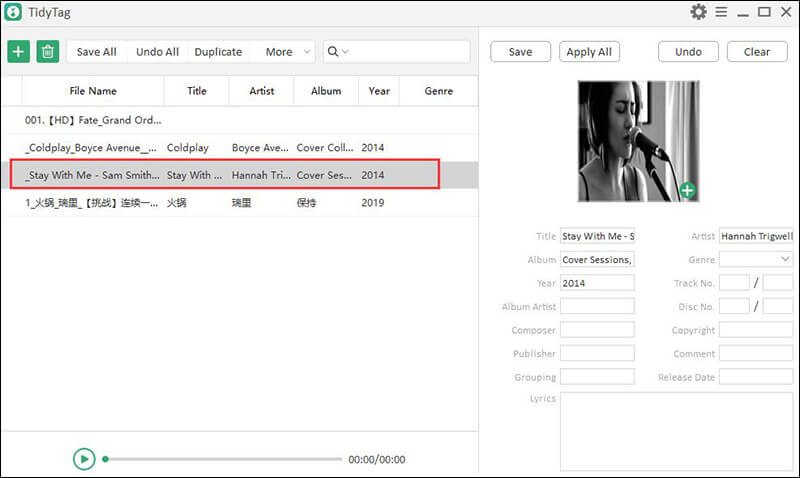 Step 4

Add or Modify Tags
To add or modify metadata, click on the relevant field and add your data. If you want to add a new album cover, click on the + mark on the existing album cover and uploads a new one as you wish.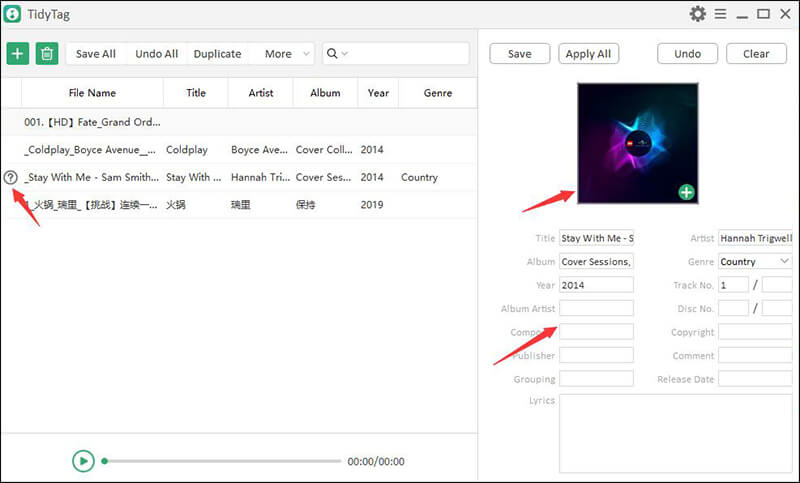 Step 5

Save the Tags
After changing the metadata, click on the Save button on the top of the window. Afterwards, you will see a ✔ symbol near to the music file name, which indicates it has been updated with new metadata.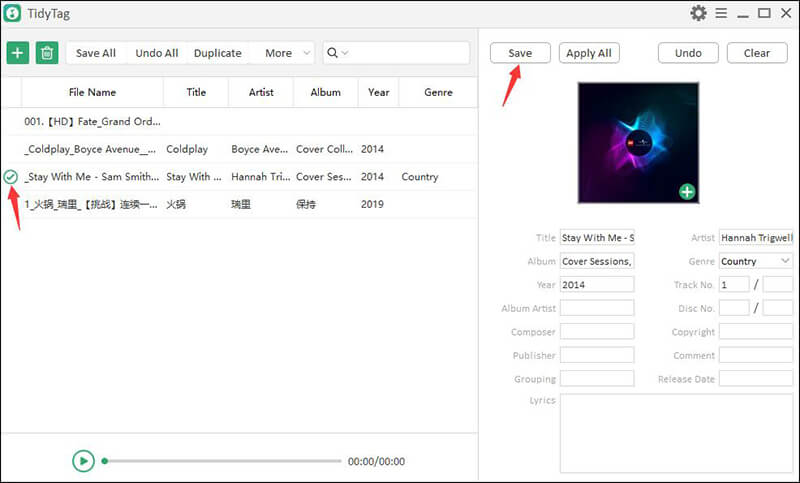 Conclusion
As we discussed, ID3 tags are essential in organizing your music files. We highly recommended trying Tidytag ID3 Tag Editor to manage your files easily. Unlike other ID3 tag editors, Tidytag is cheap and provide the best service at any time. All the information in ID3 tags can be edited as you want with Tidytag smoothly and efficiently.
(Click to rate this post)
Generally rated 4.5 (215 participated)