Our music libraries are getting more and more substantial with every passing day. We have thousands of songs on our computers, smartphones, tablets, and other devices. While it might be a good idea for some to just shuffle their complete stock of music and choose to listen to the song picked by the device but most of the people ask one simple question, how do I organize your music?
In order to organize music collection, you can either go through a hectic procedure edit the metadata tags of your collection or you can use a dedicated music tag manager that can make things easier for you. Let's see how you can easily organize music collection using the best tag editor there is.
The Best Music Manager – TidyTag Music Tag Editor
TidyTag is a music tag editing solution designed to be easily usable for DJs, musicians, and music enthusiasts. Once you use this software to organize your music library and apply relevant tags to all your songs, you'll no longer be bothered by a disturbed music library and unsorted songs. All you need to do is to import your music to the software and then it will automatically search the internet for the required tags and will tag all of your music files with minimal effort.
After TidyTag has done its thing, you'll have properly named, tagged, and sorted music in your library. It also uses a sophisticated algorithm to identify and eliminate any duplicate songs that you might have in your library. Here are some of the things that make TidyTag the best music tag editor on the market.
Feature Highlights
Supports all major music formats, including MP3, AIFF, AIF, M4A, M4R, FLAC, OGG, WAV, APE, ASF, and WMA.
Supports all sorts of music tags like D3V1.3, ID3V2.3, ID3V2.4, Ogg Vorbis Comment, APE, ASF, and RIFF Tag.
Edits all the tags including song title, album, artist, release year, genre, track number, cover, lyrics, and more that might be missing or wrong.
Supports the batch process, which can handle tagging multiple music files at once.
Save, undo, redo, apply, clear, and other options to use in the tagging process.
Provides the option to rename the music files with misleading names in accordance with the tag information.
Organize your music library by making folders and moving the relevant music files to them.
Automatically filter out the duplicate music files.
How to Fix Nameless and Incorrectly Labeled Songs
One of the main things to do to organize your music collection is to change the names of the files with wrong or missing names. TidyTag can do this very easily. Let's see how.
Step 1

Download and Install TidyTag
TidyTag is available for both Windows and Mac. You can download it for your computer from the links given below. After it has been downloaded, run it to install the software on your system. Then you'll need to register to start using the software.
Step 2

Add the Music Files to the Software
After the software has been installed on your computer, run it and click on the "+" sign in the software to add songs to it or just drag and drop the files into the TidyTag program.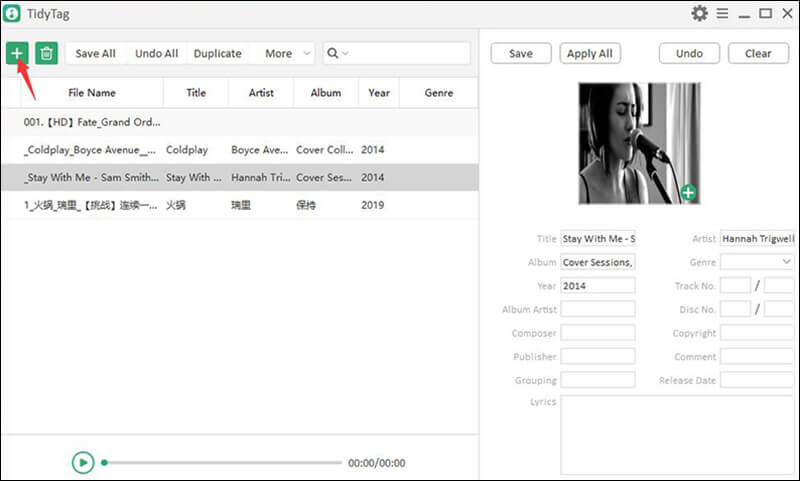 Step 3

Select Files to Check the Tags
After the music has been imported to TidyTag, it will automatically run an internet search and generate tags for all the music files added to it.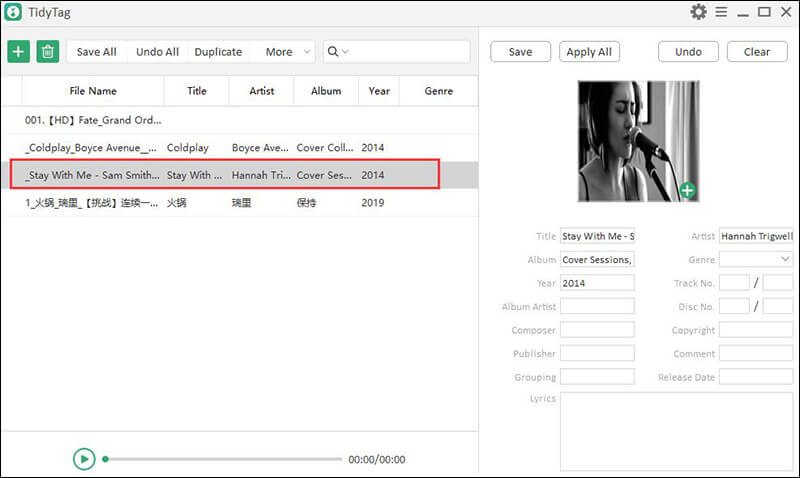 Step 4

Make Adjustments to the Tags
You can also manually check the tags by selecting the music files. You can then manually edit, modify, or add tag information to make it accurate.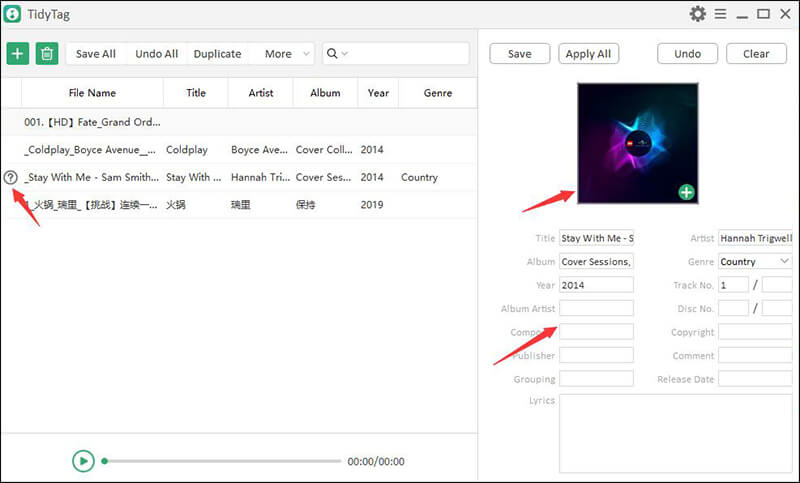 Step 5

Save the Tags
After you have verified that all tags are correct, click on the Apply button to save the tags to the music files.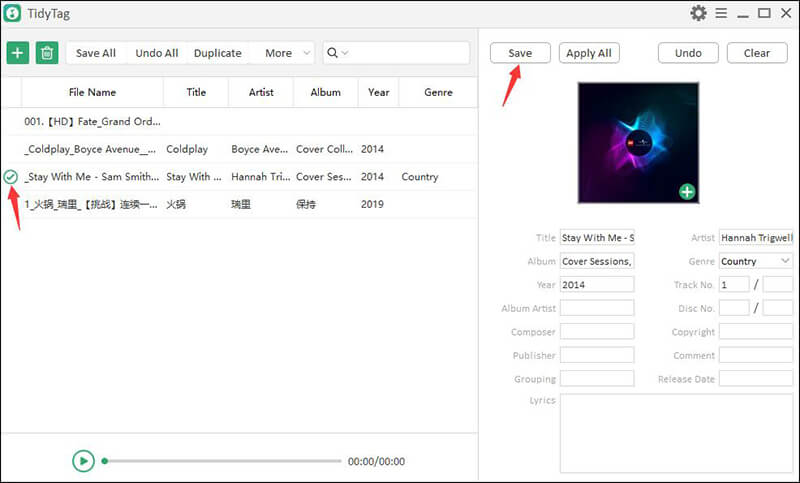 How to Edit Metadata Info of Locally Saved Albumss
You can not only edit the details of songs but can also do the same for albums. Here's how you can do that.
Step 1

Import the Album
Import the local album you want to change the metadata information to TidyTag. To do this, press the same "+" button and add the particular album from your computer's music library.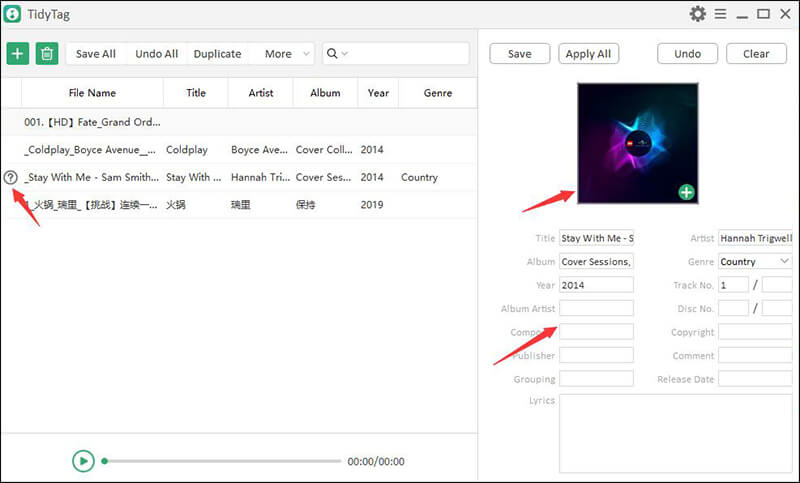 Step 2

Select Albums to Check Metadata
The software will automatically search the internet and displays the corresponding metadata tags for the album. So, choose an album from the list to review the information or edit it.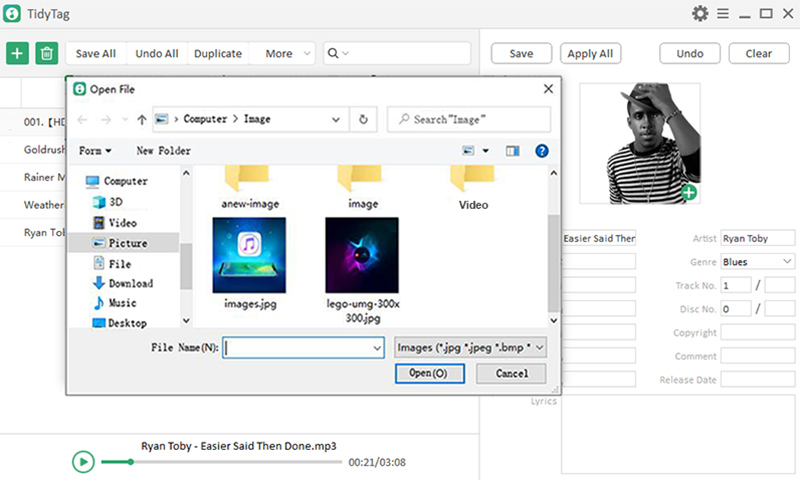 Step 3

Choose the Album Cover Art
You can select the cover art of your choice to assign to the album.
Step 4

Save Changes
Click on the Apply button and the updated changes will be applied to the album.
How to Delete Duplicate Songs
It happens more often than not that we happen to have more than one copy of the same song in our collection. Removing the duplicate songs manually is a tiresome job to undertake. The best method to do that is by using TidyTag. All you need to do is to import your music to TidyTag after you have installed it and then click on the button that says, "Duplicate" on the top of the TidyTag UI near the middle. It will open a dialogue window. Select the attributes for identifying duplicate tags.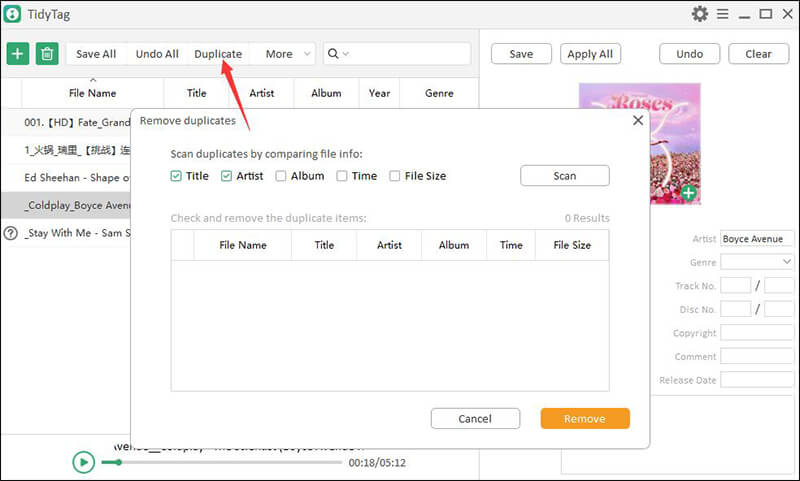 You can choose to match songs by artist name, album, file size, duration, and more. Click the Scan button and the software will read your collection and present you the duplicate songs and then you can delete the ones you want. You can discover 6 Helpful Tools to Find and Remove Duplicate Songs here.
How to Rename Music File via TidyTag
TidyTag is the complete package for managing each and every aspect of your music libraries. It also let you rename the audio files according to the modified metadata information in the following way:
Step 1

Choose the File
Select the music file you want to rename using TidyTag, click on "more", and then, on file name by tags.
Step 2

Select Elements
Select the information like artist, song title, or any other you want to rename the song with.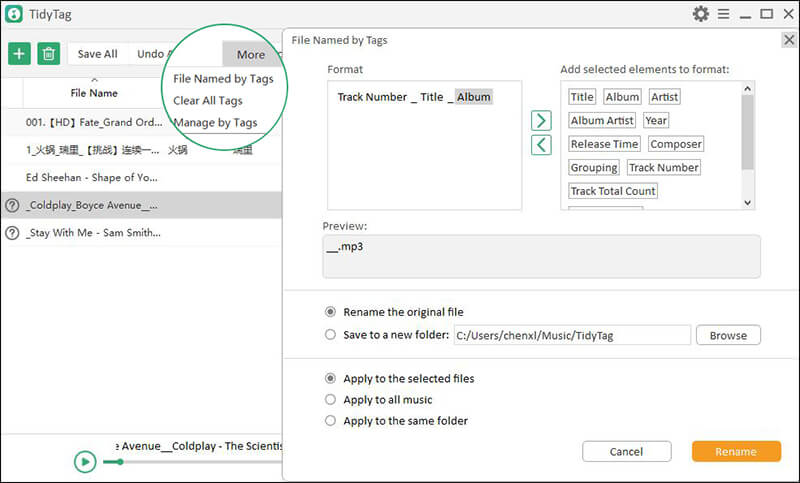 Step 3

Rename
Click on the Rename button to save rename the file or save it to a new location with the new name you just assigned.
How to Manage Music Files by Tags
Now, let's see how TidyTag will help you managing your music files by tags. It is a very process and you can manage your unlimited number of music files in literally very short period of time.
Step 1

Add the Files and Go to "Manage by Tags"
Add music files to TidyTag and go to "more" and then manage by tags to manage your music according to tags.
Step 2

Select the Tag You Want to Sort the Music With
Select how do you want to manage the music, you can select an album, artist, genre, or any other sort of tag.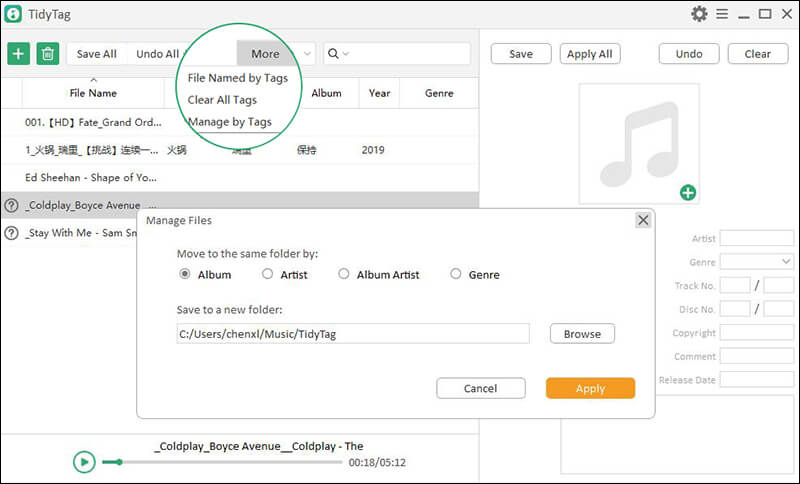 Step 3

Click Apply to Save Changes
Click on Apply to save the music files in folders corresponding to the category you chose to sort your music with.
14 Best Music Managers Recommended
There are other great music tag editing tools too. Some of these are free while others need registration or paid subscription. All of them do an okay job at editing the music tags but none of them can beat the capabilities of TidyTag. Here are 14 Best Music Management Apps to Organize Your Library (2020 Update).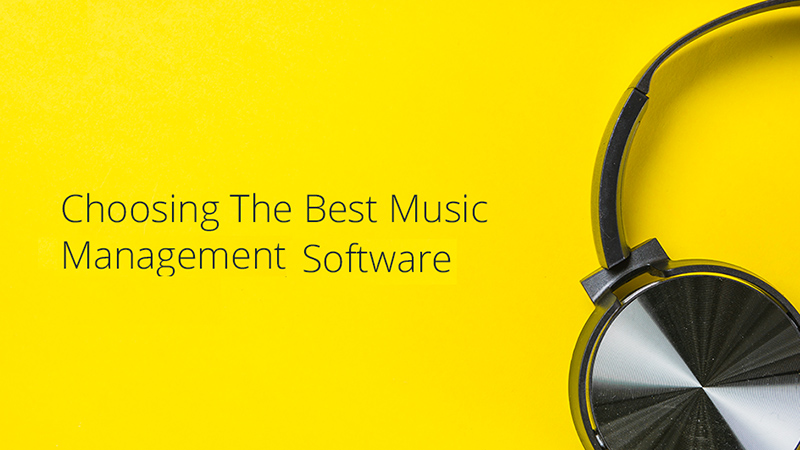 Summing-up
Sorting and arranging thousands of songs will take ages and you'd still not be able to properly do it. TidyTag is a music tag editing software that can be used to edit any type of music tags on all major music file formats. It makes the whole process totally automatic and you can organize your music in minutes. You can also sort the music into folders by your choice and you can also get rid of duplicate songs very easily.
(Click to rate this post)
Generally rated 4.5 (215 participated)