It becomes extremely difficult to find that one song you want to listen to, when you have a vast collection of digital music on your device. In such cases, music management software is essential to save yourself from a lot of hassle. An efficient music management app or software is one that can add metadata information, edit album covers and titles, and help you to manage every aspect of your collection of music with numerous features.
Keeping all these factors in view, we have picked up the 14 options that can help you to create the perfect music libraries. So, read this article and discover the best music organizer program for your needs and make your music files easier to find.
10 Best Music Management Software for Your Choose
1. Tidytag Music Tag Editor
2. MediaMonkey
3. MusicBee
4. Windows Media Player
5. iTunes
6. Foobar2000
7. TuneUp Media
8. Clementine
9. Aimersoft iMusic
10. MusicBrainz Piccard
11. Helium
12. MusicZen
13. Song Director
14. Winyl
1. TidyTag Music Tag Editor
TidyTag Music Tag Editor is widely known as a Swiss army knife of a music management software that can help you deal with virtually every aspect of managing the music library. In addition to adding or modifying mislabeled ID3 tags, it also helps you clean your hard drive space by automatically scanning the duplicates using different audio file attributes.
It comes with a stylish and crisp interface that supports all types of metadata formats and compatible with a wide variety of audio output formats. This software is specially designed to run effectively on Windows PC, as well as Mac OS. Some of the most prominent features of TidyTag music management software are as follows:
Key Features
Supports a wide range of music files types such as MP3, M4A, AIF, AIFF, OGG, WAV, FLAC, M4R, WMA, ASF, and APE.
Such a powerful music metadata editor that can batch process all the missing or incorrect tags in your music files at once.
Allows you to rename the music files and move them into separate folders according to their tag information.
Helps you to remove the duplicate files in the music libraries by filtering out using various file attributes.
Fully compatible with iTunes so that you can enjoy more versatile music collection.
Pros
Cons

TidyTag is fast, efficient, and most powerful tool to edit metadata tags.
It is extremely easy to use. You can edit music files with just one click.
Automatically displays all the corresponding metadata information upon opening the files.
It comes with efficient batch processing feature.
This music management app comes with built-in music player and playlist manager.

You would need to download and install the software.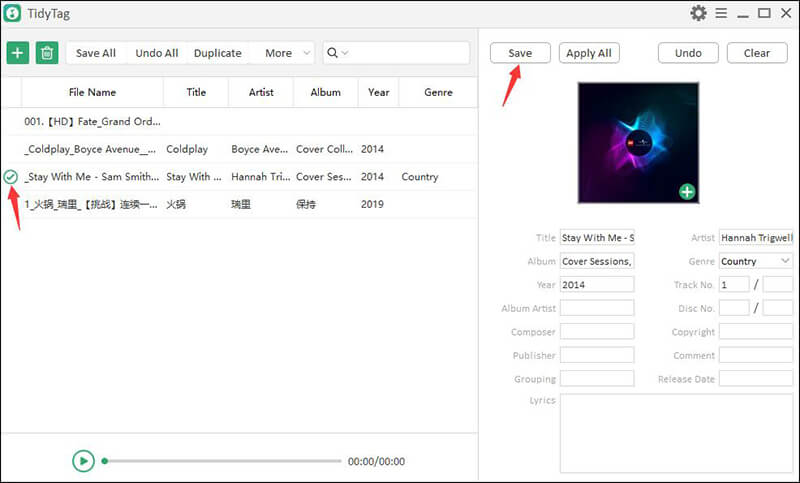 2. MediaMonkey
The next music organizing software on our list is MediaMonkey. It has a free Standard version and a Gold version with more advanced features. The Standard version also has a number of useful features like adding missing metadata information of the music files, organizing playlists, synchronizing music libraries with Android and iOS devices, and more. Whereas, the Gold version, other than offering pro-level features, also acts as a CD ripper.
Key Features
It helps you add tags and album covers of music files with various options and features.
You can also open videos and listen to podcasts using this program.
Compatible with third-party plugins and add-ons.
Supports almost all types of popular media file formats.
Pros
Cons

It allows you to organize music libraries with up to 100,000 audio files.
Able to add metadata tags and convert audio files automatically.
Comes with intuitive sorting options.
You can also use it as a home server.

It doesn't come with any multi-user mode.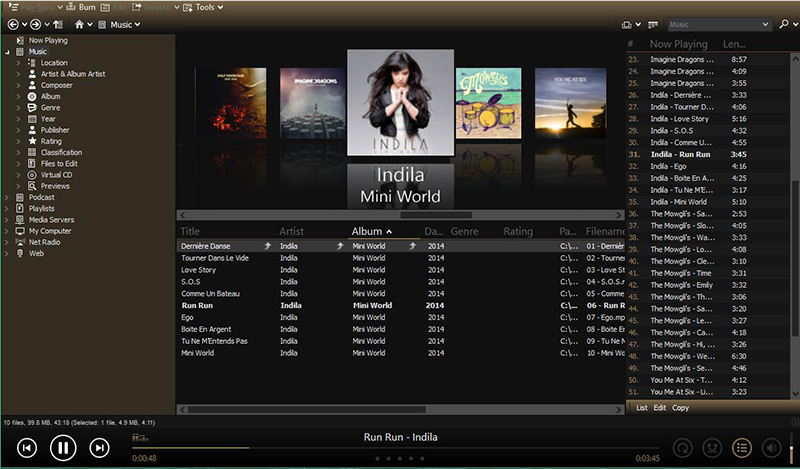 3. MusicBee
MusicBee is another music managing software that allows you to organize your music libraries in the efficient manner. This free-to-use program has a seamless user interface that makes it easy for the users to use this app. Its Auto-DJ feature and built-in media player helps to automatically create playlists by adding the songs that might like or have listened in the past. However, its tag editing and organization tools are not very impressive.
Key Features
Comes with uninterrupted playback and add-on features.
MusicBee has a media player that scrobble songs when you listen to them.
You can also change skins and install plugins using different add-ons.
Pros
Cons

Provides different features for managing audio files.
You can select from various amazing skins.
It supports SoundCloud.
You will be able to open podcasts and audiobooks using MusicBee.

Its performance becomes slow, if you open multiple files at a time.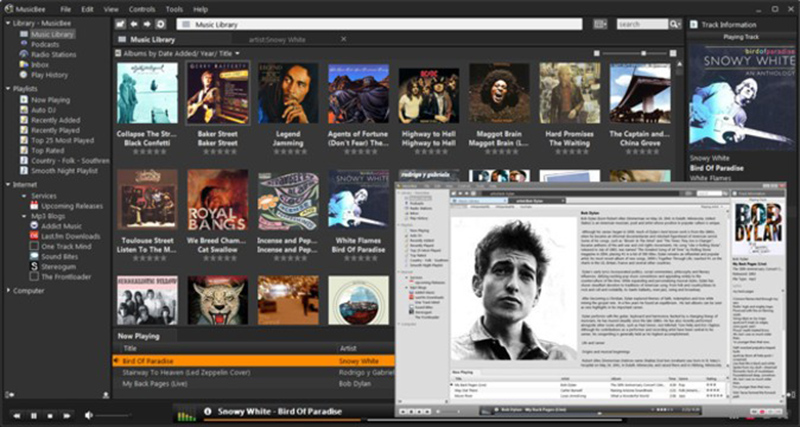 4. Windows Media Player
Microsoft's Windows Media Player is not only a specialized media player and music library, but also comes with a plenty of powerful music organizing features. This program is dedicatedly designed for Windows users, both on PC and mobile phones. However, there are special editions are available for other operating systems, including Mac.
Key Features
It offers a large number of music organizing and media player features such as advanced tag editing, CD ripping, disc burning, navigation pane, auto playlists, media playback, and much more.
It supports multiple formats of both audio and video files.
Dual skin modes are available for the users.
Windows media player allows synchronization with other devices.
Pros
Cons

Windows users download and use this tool for absolutely no cost.
It is a built-in media player and music organizer from Microsoft.
Intuitive interface and fast to organize music files.
Comes with many powerful functionalities.

Not all features are available for third-party operating systems.
5. iTunes
After discussing about Windows Media Player, how can we forget the Mac users. iTunes is a special service created by Apple that allows the users to download, play, and organize music files on Mac and Windows computers. Though it can be accessed from the Windows operating system, but we recommend you to consider another useful option. Apart from managing audio files, the latest versions of iTunes also enables you to purchase many apps and watch TV shows from your devices.
Key Features
It is the best music management software for Mac that allows you to access and organize various playlists with just a few simple clicks.
You will be able to import songs from CDs to iTunes.
iTunes allows you to quickly navigate the songs by using album title, artist name, release year, rating, etc.
Analyzes the songs you listen and suggests new music using the feature called iTunes Genius.
Pros
Cons

It is very easy to navigate iTunes' library.
Enables you to edit metadata information.
Comes with a multi-band EQ.
It also supports custom playlist creation.

The customer support service is not good for the Windows users.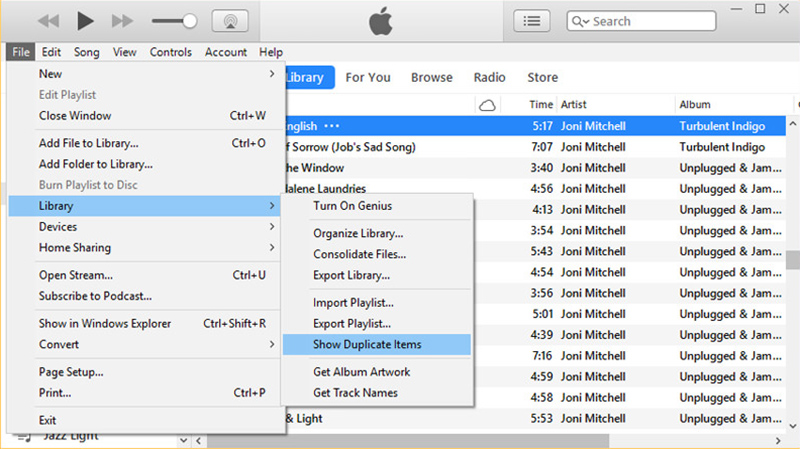 6. Foobar2000
Foobar2000 is a versatile music organizer that is best known for managing small and larger music collections in an easy way. It has a global client base of more than 30 million users, and thus, considered as one of the most widely used music management programs. It has an interface that can be customized in a way that best fits to your preferred style.
Key Features
It provides you the option to convert audio files from one format to another.
Using this program, you can navigate audio tracks using ID3 tags and other metadata information.
Offers various organizing and playback features like CD ripping, advanced tagging, gapless playback, keyboard shortcuts, etc.
It supports multiple formats such as MP3, AAC, MP4, WMV, and others.
Pros
Cons

It can also be used as a media player.
Foobar2000 loads quite impressively.
It is a freeware that means you can download and use it for free.
This tool also supports editing layouts.

Not suitable for beginners.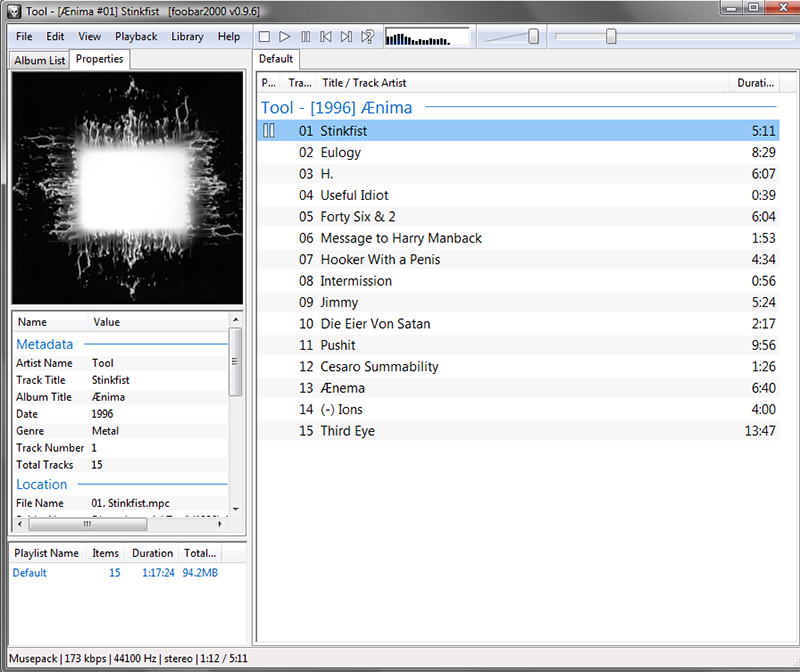 7. TuneUp Media
TuneUp Media is a music management plug-in that can easily be used with either iTunes or Windows Media Player and allows organizing and cleaning your music library in a simple way. You can easily install this plug-in onto your computer from their official webpage, where all the necessary directions and system requirements are already given for the users. The free version of this plugin will only enable you to repair or edit 50 audio tracks, and if you want unlimited services, you'll need to upgrade to the paid version.
Key Features
With the help of its Tuniverse feature, you will receive timely updates about latest releases, upcoming concert dates, and other local events.
You can easily filter out and delete duplicate music files using the acoustic fingerprint technology.
It has various automatic search options that helps you easily find and edit all the damaged audio files in the music library.
Pros
Cons

It helps you delete all the duplicate audio files.
TuneUp Media has a very unique feature of notifying about the upcoming music events.
This music management tool automatically edits music files and adds album covers.

Very limited music file editing options are available in the free trial version.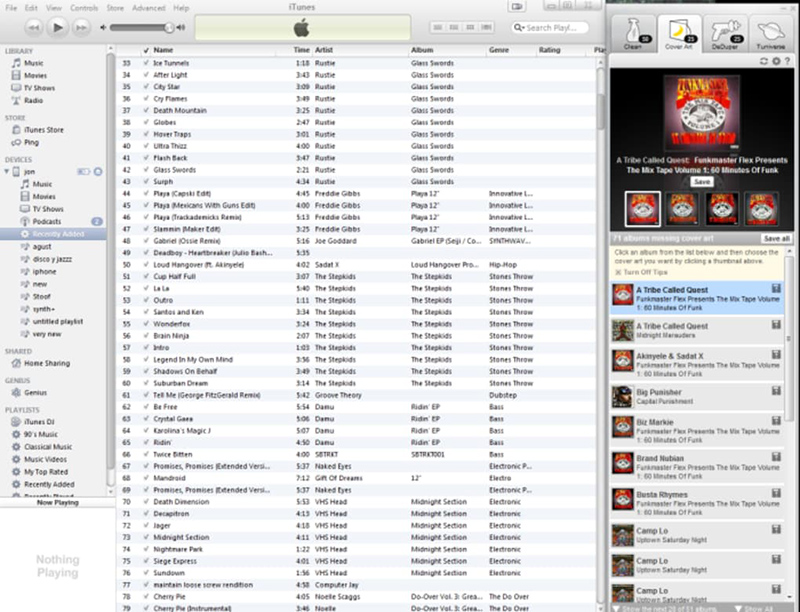 8. Clementine
Clementine is yet another powerful freeware tool that enables you to organize music collections by editing tags, adding lyrics and album covers, etc. You can use this tool to import and export audio files in MP3 and XSPF output formats. As we have already mentioned, it is free to use and available to download on Windows, Mac, and Linux operating systems.
Key Features
You can use Clementine to listen to online radios, SoundCloud, Spotify, Magnatune, etc.
Apart from managing local files, you can also source music files from cloud storage services like Google Drive, Dropbox, OneDrive, and many more.
Pros
Cons

It has a very convenient-to-use UI.
Clementine comes with an internet radio feature and supports smart playlists.
You can integrate this tool with online services.

Has an outdated interface.
It uses a significant percentage of CPU power.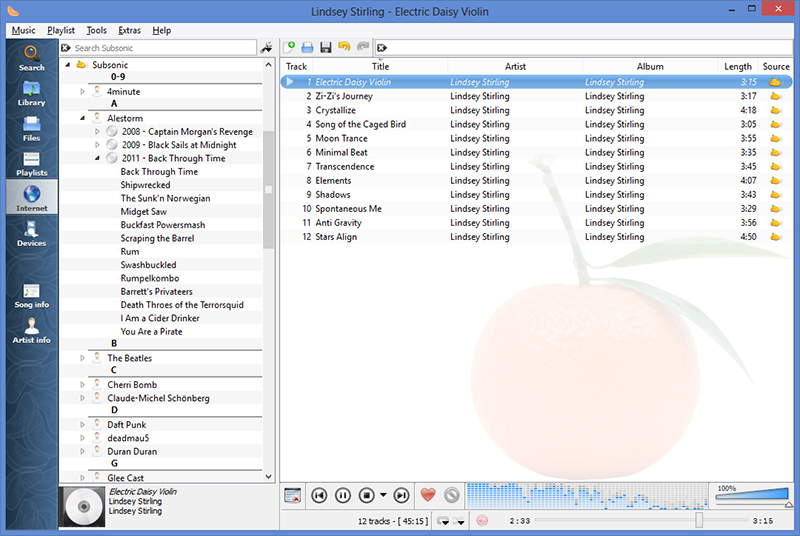 9. Aimersoft iMusic
Aimersoft iMusic is a very useful program that can be used to create back-ups of the audio files so that you can easily restore your music if the files get lost or damaged. Unfortunately, it doesn't have advanced editing tools, but it comes with other practical features like file transfer, track recording, etc.
Key Features
Using this music management app, you can copy or transfer your audio files to other devices.
It allows the recording of tracks and creates playlists by adding the songs that you have heard on the internet radio.
It makes you able to download music from over 3,000 online websites.
You can conveniently access your audio files with DRM protection by converting them into MP3 format.
Pros
Cons

Comes with an impressive music player.
It allows you to create back-ups of your audio files.
Provides files transfer feature.

No advanced editing tools.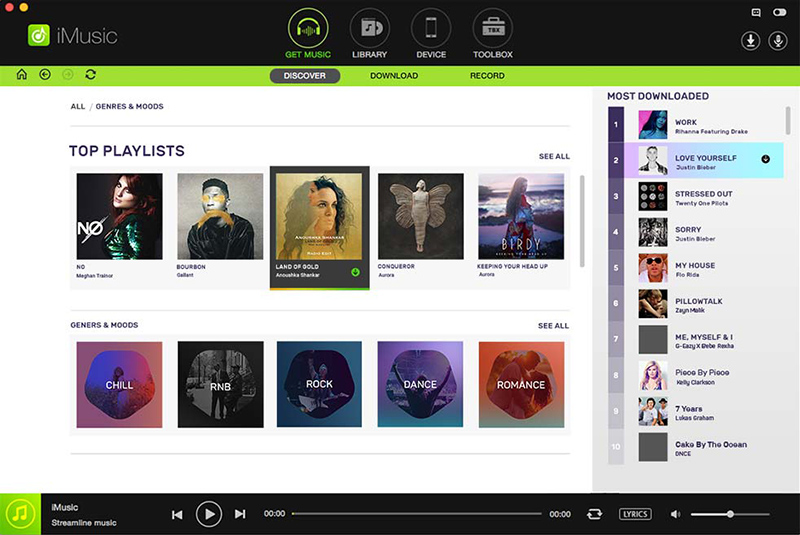 10. MusicBrainz Picard
MusicBrainz is a fairly powerful and reliable music management software that is specifically designed to cater the needs of Mac OS X users. It is well known for providing the set of tools that allows you to add metadata tags to the audio albums. It is so easy to use that even people with no related knowledge can easily sort all the music tracks using this program. That's not all, MusicBrainz Picard is compatible with numerous audio file formats.
Key Features
It uses acoustic fingerprint technology to add missing metadata information onto your audio files.
With advanced search tools, you can easily navigate audio tracks from the music library.
Pros
Cons

It features a built-in search engine.
Minimalist and easy to use interface.
This tool also supports third-party plugins.

The support forum of MusicBrainz Picard is not very convenient to use.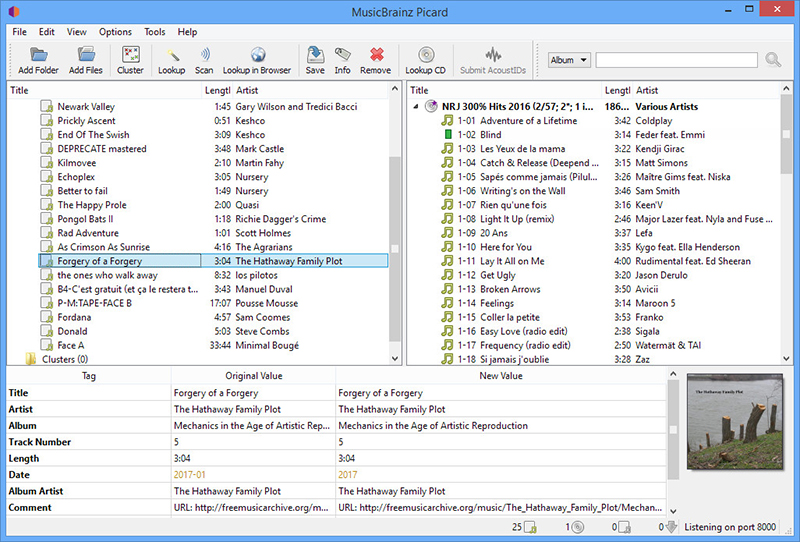 11. Helium
Helium is a multifunctional music management app that can also be used on Android powered, iOS, and Windows mobile phones. In addition to this various functionalities, it supports a lot of audio output formats like MP3, FLAC, WMA, OGG, and many more. With the help of this useful app, you can rip your favorite songs from the internet, convert your music files into different audio formats, add metadata tags, and synchronize your audio files.
Key Features
The built-in MP3 Analyzer automatically analyzes your music libraries and repairs all the damaged MP3 files in them.
Album view mode of this music management app helps you to quickly navigate any track from the music collections.
Its paid version allows you to stream audio files with the help of a mobile application.
It can easily manage large music collections of more than 100,000 audio files.
Pros
Cons

Its minimalist user interface enables you to easily navigate the functionalities.
It can edit a wide range of audio formats.
Offer various music organizing options.

The free version only provides a limited number of functionalities.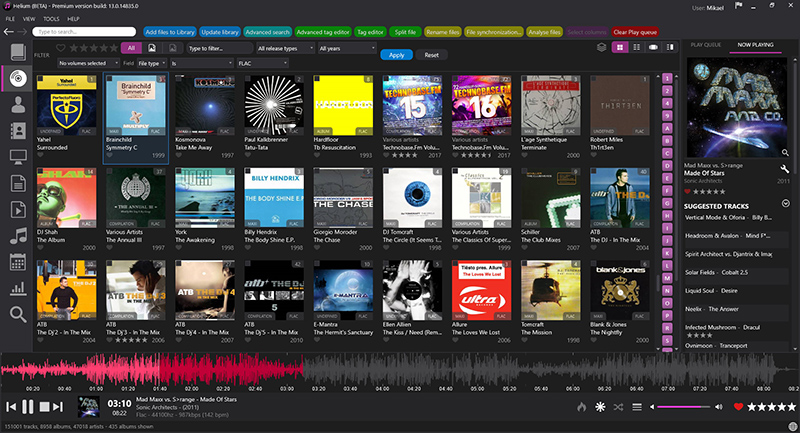 12. MusicZen
The next name on our list of best music management software is MusicZen. It is a powerful tool for creating music collections, adding album titles, and editing other metadata information. This music organizer has a very convenient user-interface, you only need to select the folder that you want to organize and the rest of the task will be done automatically by the program. MusicZen has a free version and a paid one that will require you to pay $18, in order to get the advanced features and regular updates.
Key Features
This is one of the best music management software, which creates folders on your device so that you can easily find the required audio files.
With this program, you can restore folders and rename the audio files as per the updated metadata information.
It provides a wide choice of useful tools for managing MP3 files.
Pros
Cons

It is a freeware program.
Very convenient and clean user interface.
Its features can easily be customized according to your preferences.

Only supports MP3 audio files.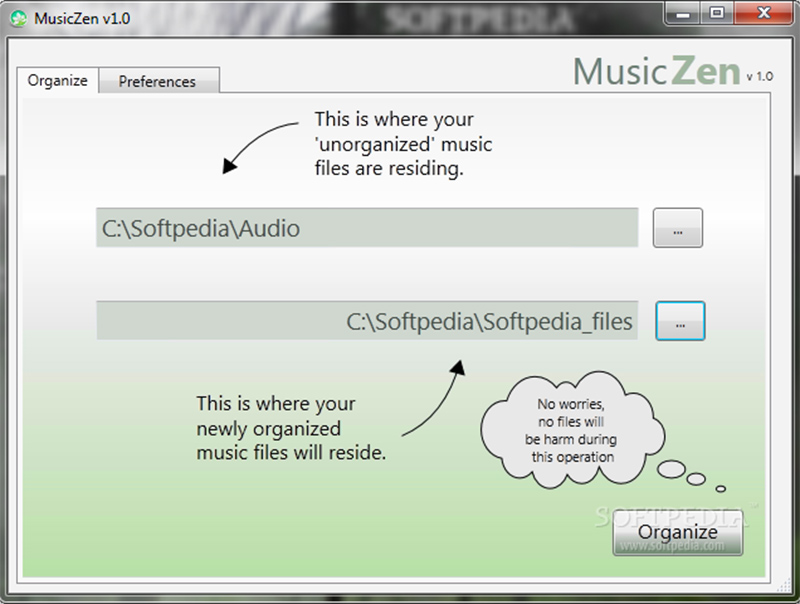 13. Song Director
This music management software features a basic yet easy-to-navigate interface that comes with a plenty of organizing options. Using this program, you would be able to conveniently organize music files, create playlists, and edit their titles in a matter of just a few minutes. Some other features of this music organizing program are stated as follows.
Key Features
Song Director allows you to copy, transfer, or rename audio files.
Using the pro-level search options of the tool, you can find audio tracks using several attributes like bitrate and beats per minute.
It creates the database of your music library by automatically detecting the files in terms of file formats like WMA, WAV, iTunes, M4a/AAC, OGG, and FLAC.
Pros
Cons

It enables you to edit audio files without the need of file explorer.
Allows organizing 23 files of audio tracks.
Comes with screen labels that can easily be customized.
Offers advanced search options for navigating tracks and artists.

A bit old-fashioned interface.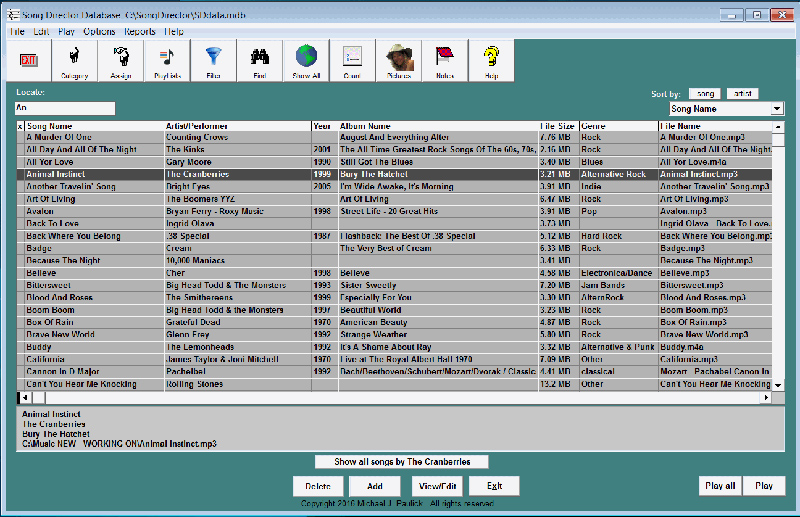 14. Winyl
If you're a Windows user and looking for a practical solution to organize your music files, Winyl is the answer. This music management software is completely free to use and delivers quick performance. It is capable of dealing with even large music collections effectively, and the number of audio tracks wouldn't affect its efficiency either. Despite the fact that it doesn't display the bitrates of the audio files, it will still enable you to sort your music by several other attributes like folders and genre.
Key Features
Winyl can also be used as a media player.
It provides number of music organizing features such as adding tags, creating playlists, reading lyrics, rating your favorite songs, etc.
It also features to split a music album saved as a single file by creating .CUE files.
Its simple user interface displays music libraries in a straightforward manner with album cover and lists of tracks.
Pros
Cons

Extremely suitable for managing music libraries with more than 100,000 audio tracks
Its tag editor feature is simple and easy-to-use.
Edits all the popular audio file formats.
With Winyl, you can easily stay tuned to online radio stations.

Only provides a limited playback features.
The Final Verdict
We hope this article helped you in discovering the best music management software. Irrespective of the type of device or operating system you're using, there must be a solution out there just for you. While all these are helpful in getting the job done, TidyTag still have upper hand here. It is the ultimate and most comprehensive music managing software that will help you organize your music libraries in the best possible way.