MP3 tags are used to organize music according to its various attributes and when it comes to modifying music file tags, the tool-of-choice for most people is MP3 Tagger Portable. This is a fun little tool that can be used to add or modify MP3 tags.
However, it has got its own limitations. First of all, the software has a very limited functionality ac compared to some of the latest MP3 tag editing tools. This tool was designed too long ago to be relevant in today's scenario. The UI is confusing and hard to operate, and you need quite a bit of time and hit and trial to be able to use it. We will introduce you to the best MP3 tagger alternative options that you can use to get the tagging job done fast and easy.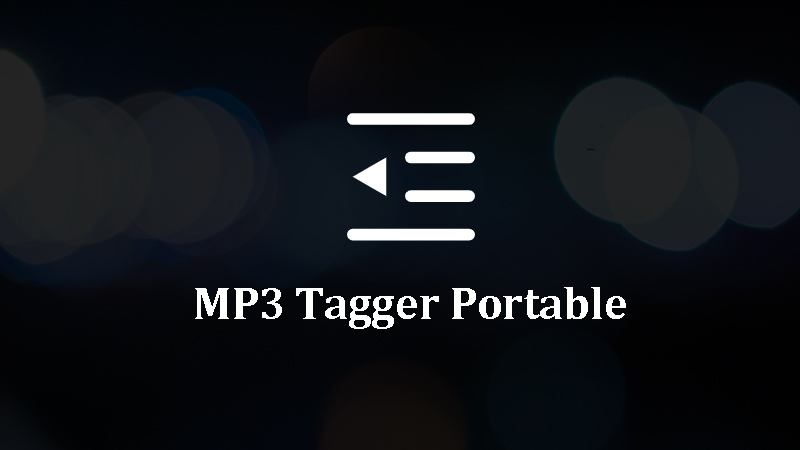 Best MP3 Tagger Portable
MP3 Tagger Portable is a useful and convenient tool that can be used to modify metadata of all the major audio file formats. It can be used to edit or add ID3v1, ID3v2.3, ID3v2.4, iTunes MP4, WMA, Vorbis Comments, and APE Tags. Here are some of the key features and pros and cons of this tool.
Key Features
Modify the name of music files according to the tag information.
Create playlists of songs with the same attributes.
Searches for the tags online on renowned databases like Amazon, Discogs, and FreeDb.
Can tag multiple files at a time thanks to batch processing.
Export the tags of all your music files to a CSV or Xls file.
Download and assign relevant cover art to your albums and songs.
Pros
Cons

It can work with a number of different formats.
It can look up for tag data online.
It has an easy-to-use interface.

It doesn't save the changes automatically.
It also doesn't give users the liberty to change lyrics.
The user interface becomes a bit cluttered at times.
It is only available for Windows, and not for Mac OS.
How to Use MP3 Tagger Portable Free
Step 1

Download and Install the Software
Download the MP3 Tagger Portable software and install it on your PC to start modifying the tags of your music files.
Step 2

Add Your Music
Click on the + button to import your audio files to the software. Once the files are added, the software will automatically generate tags for them.
Step 3

Review the Tags
Click on any of the songs to verify or modify the tags generates by the software.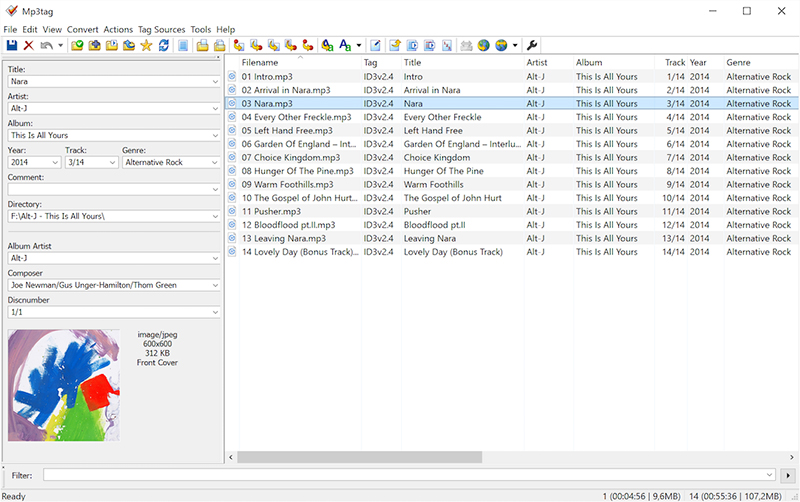 Step 4

Apply Changes
Click the "Save" button to apply the tags to all your music files.
The Best Alternatives to MP3 Tagger Portable
As you can see, MP3 Tagger Portable comes with several disadvantages, and due to which, many users might look for some other options. For all those people, we're bringing up an alternative metadata editor that can even work more efficient than MP3 Tagger Portable and doesn't have any limitations.
TidyTag Music Tag Editor is a software designed to make editing music tags easy and convenient and it is available for Windows as well as Mac computers. It automates the process of tagging the music files and you can tag all songs in your library in a matter of minutes, a job requiring hours, even days, of work. This tool has a minimalistic UI and has all the options and functionality that you might need for editing the tags. It works with all types of music tag formats and all audio files as well.
Here are some of the things that make TidyTag the best option when it comes to editing music tags.
Feature Highlights
Add or edit all the data of audio files including song title, album, artist, release year, genre, track number, cover, and lyrics.
Uses a batch process to add metadata to all the songs that have it missing in one step.
Organize your library by renaming the songs according to the modified tag information.
Make your music libraries more organized, it can add songs to folders according to their genre, artist, album, year of release, or any other classification that you want.
Uses a sophisticated algorithm to check for duplicates analyzing artist name, song title, duration, and size and cleans your library of any annoying duplicate audio file.
Compatible with all the audio formats like MP3, AIFF, AIF, M4A, M4R, FLAC, OGG, WAV, APE, ASF, and WMA.
Edit all the metadata formats like ID3V1.3, ID3V2.3, ID3V2.4, Ogg Vorbis Comment, APE, ASF, and RIFF Tag using this powerful tool.
How to Edit MP3 Tags Using TidyTag
Step 1

Download TidyTag and Install
TidyTag is available for Windows as well as Mac computers. You can download the relevant file for your system from one of the links below. Once the file has been downloaded, run it and it will guide you through the installation process. After the software has been installed, just register yourself to start using it.
Step 2

Add Music Files to TidyTag Program
After the software is up and running, click on the + button located at the center of the user interface's main window and add the songs you need to modify tags of to the software.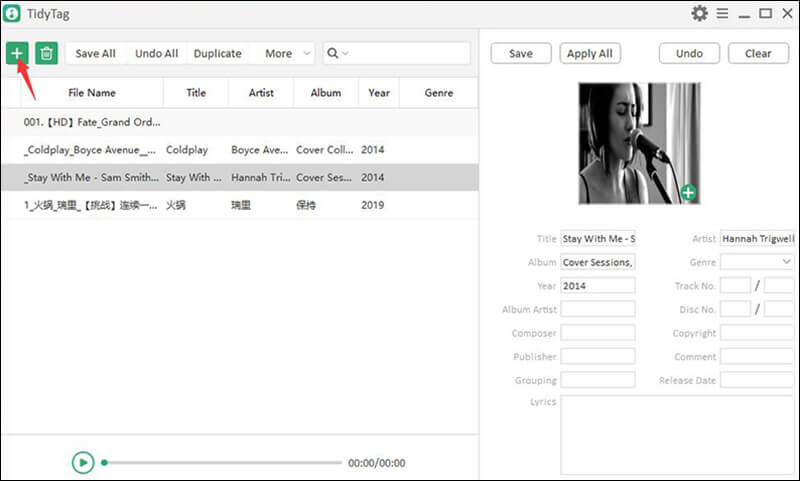 Step 3

Select the Particular Required File and Review the Metadata Tags
Select any of the songs to check the metadata tags. Verify that the corresponding tags generated by TidyTag are accurate.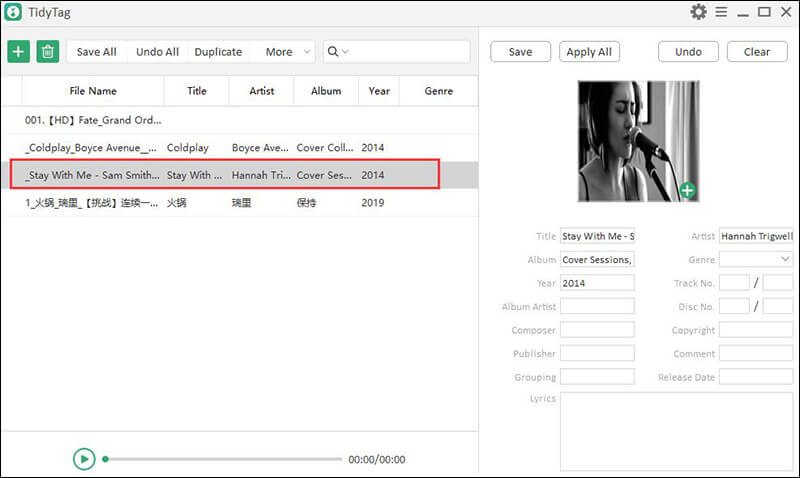 Step 4

Add or Modify Tags
If you want to change any of the metadata information, you can simply edit it in the respective fields.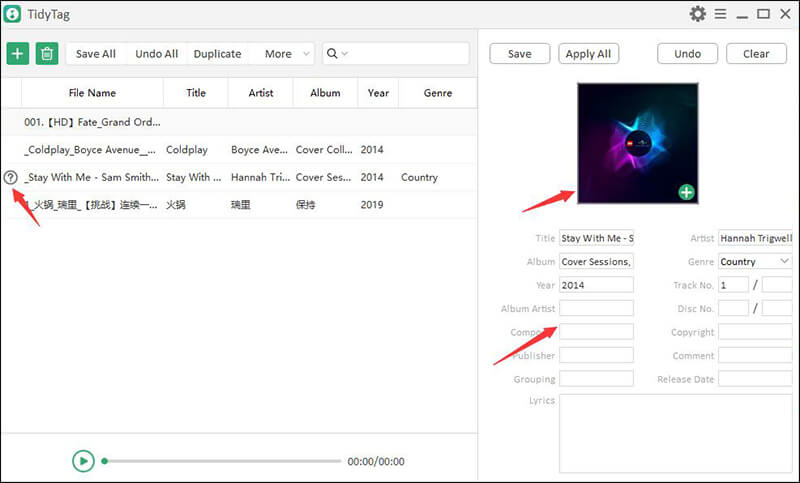 Step 5

Save the Modified Metadata Tags
After you are done checking the tags, just hit the Save button and the modified tags will be embedded into the audio files.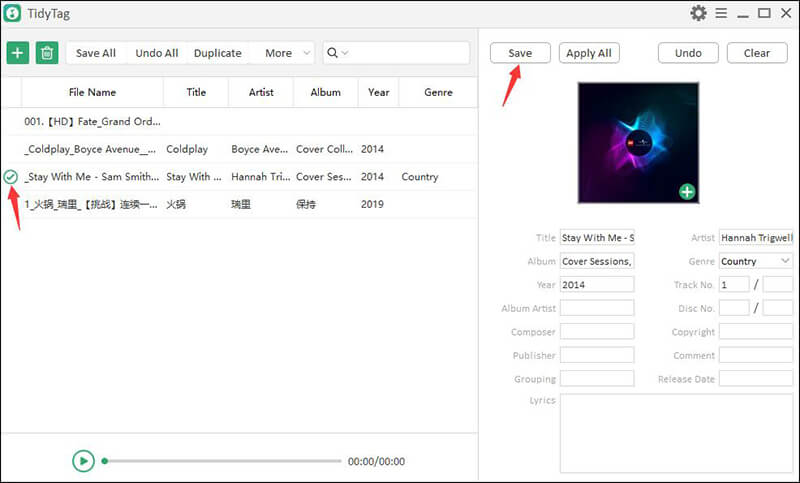 The Final Verdict
Metadata tags are a great way of keeping your music organized. However, it is a daunting task to search for and add tags to thousands of songs. MP3 Tagger Portable was a good solution for doing this task, but it has become too old. The user interface is complicated, and the options are limited.
TidyTag is a powerful modern tag editor that you can use to add, edit, or modify tags of your music files without much trouble. It works for all music file formats and all tag formats. It makes the whole task easy and efficient.
(Click to rate this post)
Generally rated 4.5 (215 participated)