Files can be duplicated for many reasons, and if you don't keep managing them, it can become challenging to delete them. Often you may have downloaded the same MP3 and copied it to different directories. This can make your directories clutter with all sorts of useless duplicate stuff.
This article provides 6 duplicate music finders that you can use to find and remove duplicates from your computer easily.
Best Duplicate MP3 Remover – Tidytag Music Tag Editor
Tidytag Music Tag Editor is a tool for users who wish to keep their music library organized and duplicate free. Since manually finding duplicate music files is time-consuming, Tidytag is automated to find duplicates in a matter of seconds, saving your valuable time. Apart from finding the duplicates, Tidytag is the best tool in the market to modify your metadata.
It supports all the major audio formats, including MP3, WAV, M4A, OGG, etc. and metadata formats, including ID3V1.3, ID3V2.3, and ID3V2.4. If you want to add, edit or delete metadata, Tidytag provides the right sidebar with all the available data to click and edit as wish. Tidytag is compatible with both Windows and Mac allowing any user to use it without any restriction.
Key Features
Removes duplicates in seconds
Supports all the major audio and metadata formats
Compatible with iTunes
Availability of built-in player to play any music
Album artwork can be modified as wished
User-friendly interfaces and 24×7 customer support
How to Find and Remove Duplicate Songs via Tidytag
Step 1

Download and Install Tidytag
To start using Tidytag, download and install the setup from the below. For both the Mac users and Windows users' latest versions are available. Once you download the setup, double click on the setup, and start to install.
Step 2

Add Your Music Files
Click on the Add music files button in the home window, then browse and give your music files, or click on the + mark in the home window, then browse your files and select them. While you are adding the files, if there are any duplicate files in the same directory, Tidytag will automatically remove the list's duplicate.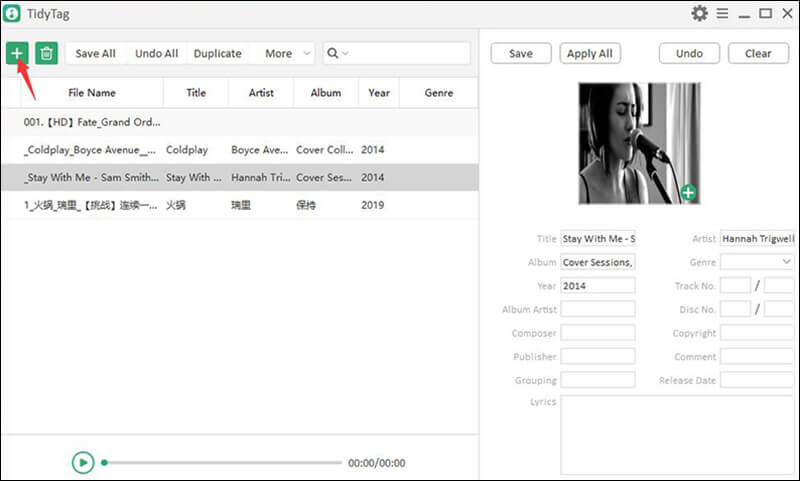 Step 3

Find the Duplicates
After adding the files, click on the Duplicate button to start finding the duplicate files. After some time, a popup will appear with all the duplicate files available on the list; you can select comparing file info and click the Scan button.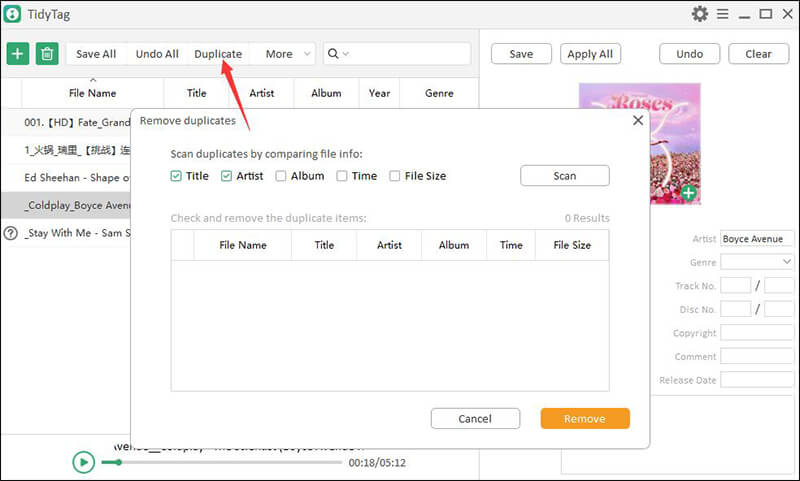 Step 4

Remove Duplicates
Finally, when the duplicates are found, click the Remove button to delete all duplicate music files, keep only one.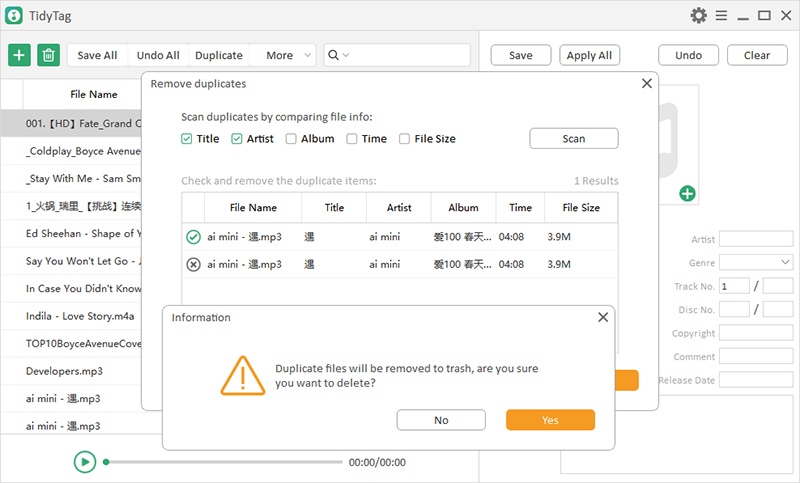 Other Free 5 MP3 Duplicate Songs Finder And Remover
1. Apple iTunes
iTunes is a media player developed by Apple Inc. used to play, download, and organize digital media files. This application has a built-in function that can find duplicate media files in your library. If you have duplicate songs listed in iTunes, you may be listening to the same song multiple times on the same list, which is very annoying. iTunes provides a feature where it lists these duplicate songs for you. Although it doesn't give you any filter to help you to choose the best File to delete. But, you can go one by one and remove the ones you don't want.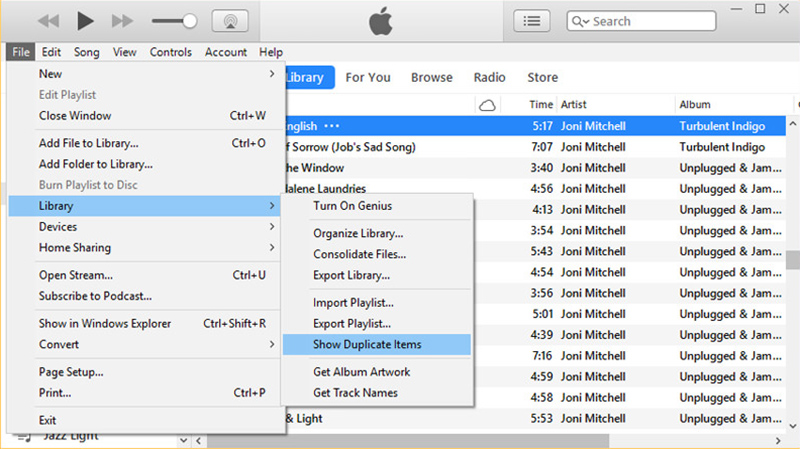 2. AllDup
AllDup offers an installable and a portable version for erasing duplicate information. The interface can be overwhelming at first due to the excess of graphic icons, but once we know how to handle it, it is excellent for the speed we can take. It also has good support for automatically marking the files in the created list, according to specific patterns.
AllDup's options are very flexible and can be combined so that we can run more advanced searches. To sums it up, AllDup is a good program that helps the user to reduce unnecessary space. It works well and fast, being an excellent option for the occasional and frequent user.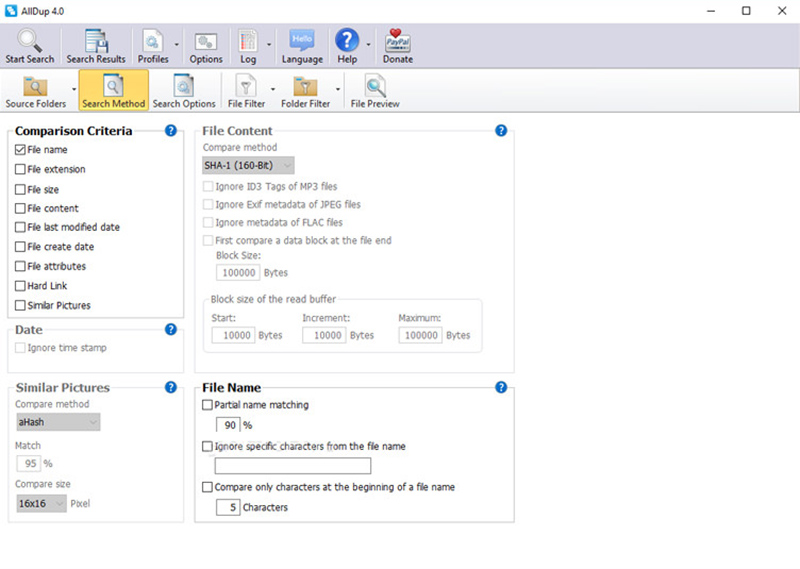 3. Similarity
The similarity is an application that brings the mission of scanning your computer in search of similar or duplicate files. The program has several criteria to collate the information, so to start, we have to go to the menu: Tool and then Options, and choose the method to compare files. In that sense, you can choose between the comparison by tags, content, and duration. Once this matter is configured, we can start the scan from the Play button.
At the end of the program, it will show the duplicate files and the degree of similarity between them. Later you can take the files to delete them or move them to another location.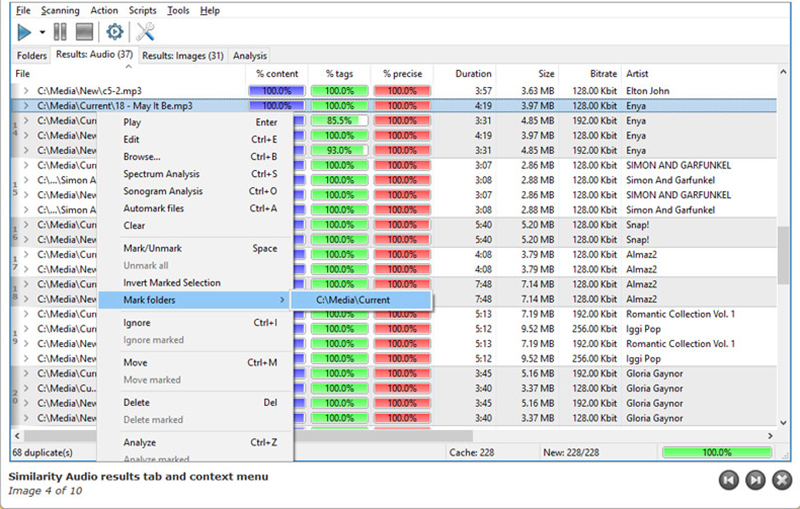 4. Duplicate Music Finder
Duplicate Music Finder is a simple and completely free program useful for removing duplicate music stored on your computer. This software finds all the duplicate music files and deletes them quickly and accurately. Duplicate Music Finder put things in order in your music collection and free up hard disk space. Finding and deleting audio files only takes a few minutes. This tool is entirely safe to use. The program removes only the duplicate files that you specify.
The software interface is so simple that the program can be used even by a novice user. The program takes up very little space on the hard disk and uses minimal system resources for its work.
Open Duplicate Music Finder
Add the folders you want to search for duplicates
Press "Start Searching Duplicates"
Select which duplicates to keep, using the Checkboxes or the "Keep New / Old" preferences
Click on "Recycle Selected Duplicates"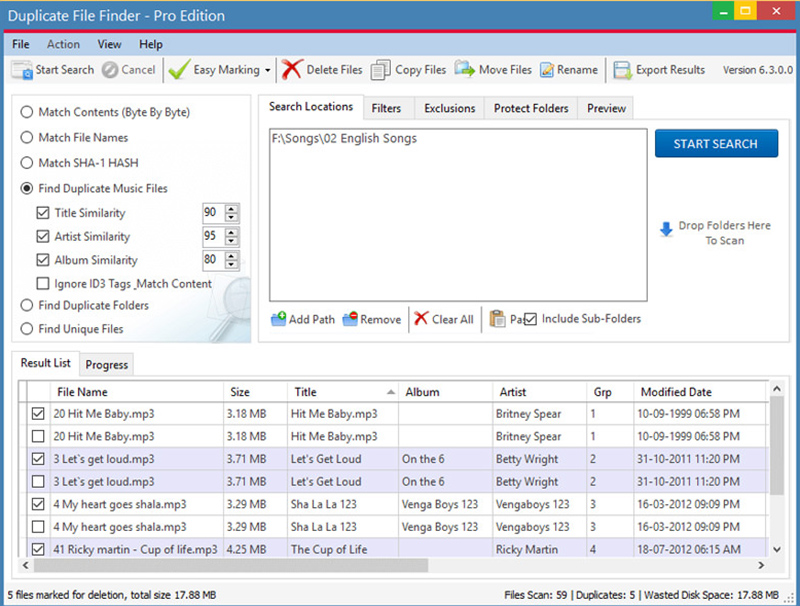 5. Duplicate Cleaner Free
With Duplicate Cleaner, you can perform a search for duplicate files on your system, allowing you to eliminate zero-size files, specific text searches, preview files, metadata tags in image or audio files, etc. The interface is straightforward and pleasant and allows you to make lists in CSV format, for later use through scripts. You can also choose the type of comparison (Byte to byte, MD5, SHA-1, or SHA-256), among many other things.
The search can be done by file names or content. Since the application uses a partial comparison algorithm, the file names don't even have to be precisely the same. Its customizable search engine helps the user find almost exact matches and remove duplicate mp3 files.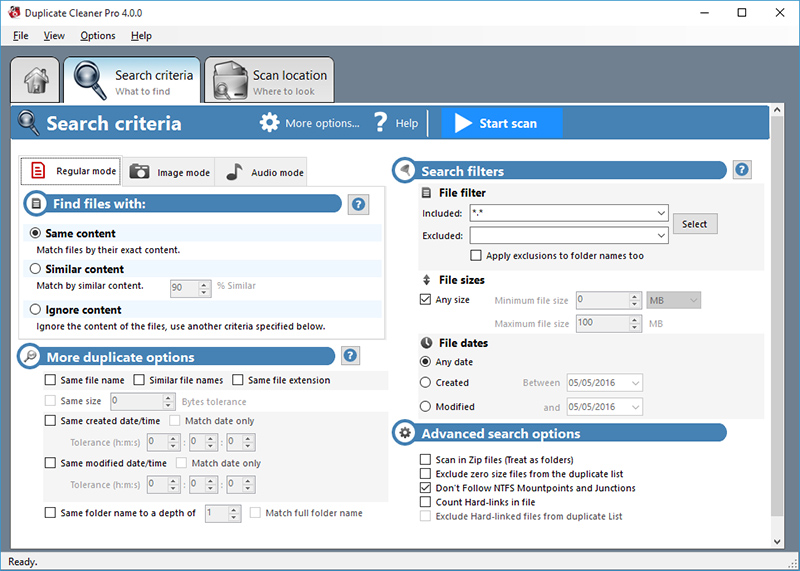 Conclusion
All these tools offer excellent service in removing the duplicate music files from your device. Each tool has its pros and cons. The user must pick the best one that suits them. Hence, we recommend using Tidytag over the other tools, since it is more efficient and less time consuming than the other devices in the market.
(Click to rate this post)
Generally rated 4.5 (215 participated)