It happens a lot of times that we like a video on YouTube or Dailymotion and instantly want to download it. Sometimes we want to save the video on our computers, or smartphones, for sharing with others and sometimes we just want to download them to be able to watch them without any interruption even when the internet connection is not working as it should or we have no connectivity at all.
Downloading videos is also a good way to save bandwidth if you have to watch the video a number of times. Here, we've brought for you Dailymotion YouTube Converter tools that can make downloading videos from both of these sites very easy for you.

Best YouTube Converter and Dailymotion Downloader – iTubeGo
There are a ton of video download solutions available on the internet. You can use them to download videos from a lot of websites. However, not all of them are the same in terms of downloading speed, features, and usability. iTubeGo YouTube Downloader is a video download tool that's developed by a team of highly abled engineers and designers.
It is designed to be user-friendly, easy on the computer and be able to work with different operating systems and websites. It is available for Windows and Mac based computers and can be used to download videos from any website that has them. It will make your life a whole lot easy by making video downloading extremely easy for you.
Key Features
Supports more than 10,000 websites.
Can download YouTube playlists, albums, and channels in just one click.
Downloads videos and music files at phenomenal speed. With its turbo-fast mode, it ensures 10 times faster speed than other similar tool.
Supports all video resolutions, and even 8k video downloading isn't a problem for iTubeGo YouTube Downloader.
Can download multiple YouTube/Dailymotion videos at once.
Can convert videos into high-quality 320kbps mp3 files.
Supports almost all of the popular video and audio formats.
Can download subtitles from YouTube and Dailymotion.
Trusted by millions and the first choice of many experts and specialists.
How to Download YouTube or Dailymotion Videos using iTubeGo?
On top of all those and many other cool features, iTubeGo is designed to provide maximum ease and convenience to its users. Downloading any video from YouTube or Dailymotion using it is incredibly simple and easy. Here's how you can do that.
Step 1

Get the Latest Version of iTubeGo YouTube Downloader
iTubeGo is constantly evolving to keep up with the changes made to the websites it works on. You can get the latest version of the software from the iTubeGo webpage for your Windows or Mac computer. Once you have downloaded it, run the downloaded file to install it on your computer.
Step 2

Go to the Particular YouTube or Dailymotion Video
Now, that you have the software installed on your computer, you need to locate the video you want to download. Open Dailymotion or YouTube in a web browser, go to the required video, and copy its URL from the address bar of the browser.

Step 3

Set Format and Quality
After you have the link to the video you want to download, open iTubeGo and go to the "Preferences" section. Here you can select the resolution and format you want for the video.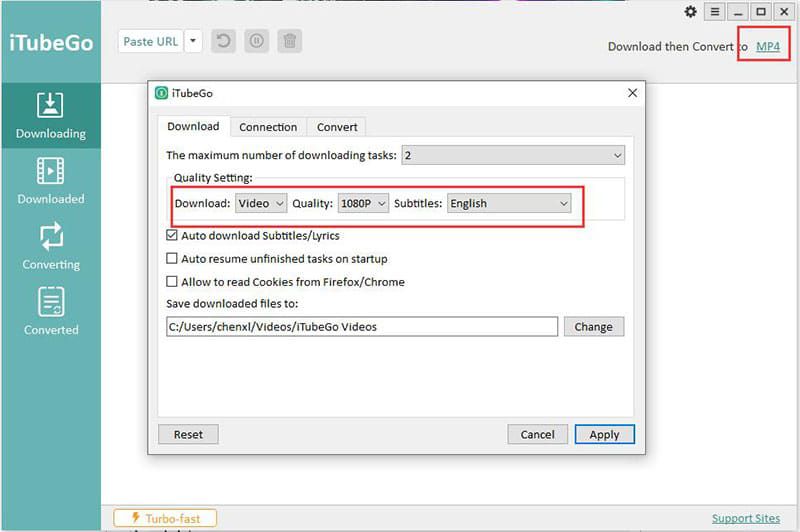 Step 4

Paste the Copied URL
Now hit the Paste URL button on the iTubeGo YouTube Downloader interface. This will automatically add the URL to the software and it will automatically start downloading your video.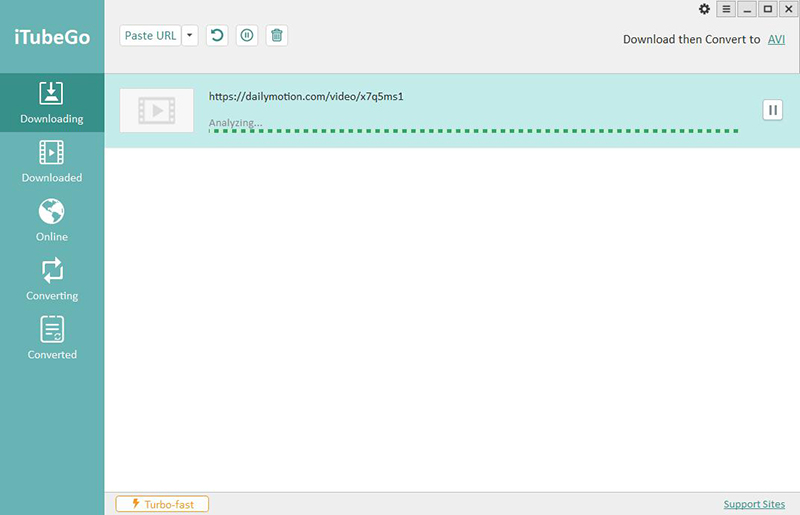 Step 5

Locate the Video
After the file has been downloaded to the destination location on your computer, you can easily access the downloaded files through the "Downloaded" tab of the iTubeGo YouTube Downloader.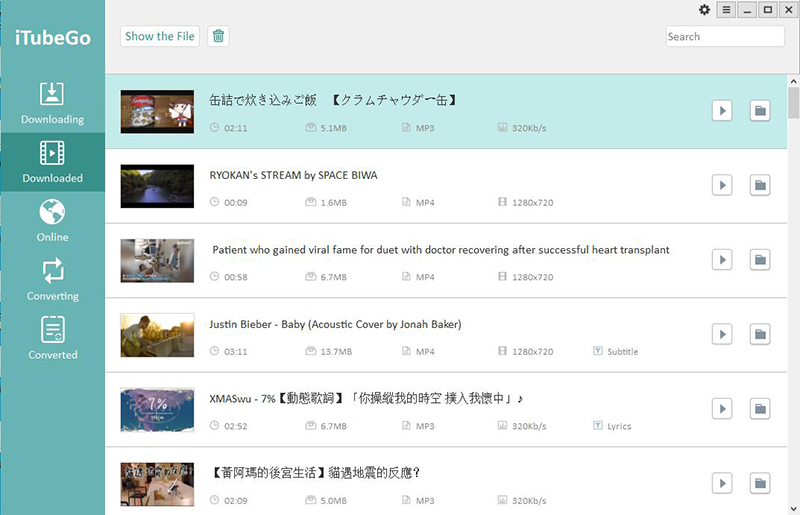 If you don't want to buy iTubeGo YouTube Downloader to download stuff from YouTube and Dailymotion or if you just want to download a video or two, you can use one of these free online YouTube and Dailymotion converters to get the job done. When it comes to downloading procedure, almost all these online downloaders works similarly and you just need to copy and paste the video links into the downloader input box.
Other 5 Free Youtube Converter Online Dailymotion Downloaders Recommended
1. KeepVid.Pro
KeepVid.Pro is a free online tool that can be used to download videos from a lot of websites on the internet. It works perfect with YouTube and Dailymotion and makes downloading stuff easy and fun. It offers video download in a maximum of 720p resolution. For higher you need to get the paid software they offer. You can also extract audio from YouTube and Dailymotion videos using this tool. It offers up to 160kbps audio downloading option.

Coming up next are some of the Pros and Cons of the KeepVid.Pro Dailymotion Downloader.
Pros
Cons

It is user-friendly and easy to use.
It is totally free.
It supports more than 10,000 websites.

Tends to redirect to other websites.
Has a very limited choice of output formats.
Contains a lot of irritating ads.
Not secure.
2. BitDownloader
BitDownloader is a simple tool just like KeepVid. It offers video download without sound up to 2K resolution and you can download videos with sound up to a highest of 720p resolution. The downloader does not allow downloading music videos from YouTube. The download process is exactly identical to that as mentioned in the previous section, and you just have to paste the particular video URL into the input box.

Given below are the pros and cons of this online downloader.
Pros
Cons

Free to use.
Fast Download Speed.
Easy and straight forward UI.
Supports 1,000+ websites.
No ads.

Doesn't download music.
Free Version cannot download above 720p with sound.
Can't download multiple videos at once.
The website crashes very often.
3. YouTubeNow
YouTubeNow is a free online YouTube and Dailymotion video downloader. It is designed to be attractive yet simple and ensures smooth user experience. The best thing about it is that it allows users to download unlimited number of videos for free. You can easily download Dailymotion and YouTube content following the above-mentioned procedure.
Now, let's have a look on the pros and cons of this tool.
Pros
Cons

You can download unlimited videos every day for free.
There's an option to convert to MP4 and MP3 formats.
It has a built-in search engine to directly search and download videos.

This tool is often overcrowded, making download and conversion speeds slow.
It has a lot of pop up ads.
Doesn't allow high resolution downloads.
4. SaveTheVideo
SaveTheVideo is a tool that can be used to edit, convert, crop, merge, and download videos from a number of sources. The tool is easy to use and offers a lot of functionality that makes it the tool of choice for most of the multimedia needs. The procedure for downloading videos from YouTube or Dailymotion using this tool is similar to any of the online downloader.

The following are some of the pros and cons of SaveTheVideo online downloader.
Pros
Cons

It is easy to use.
It provides fast download speed.
It has very few ads.
It can edit and crop a video.

It offers no browser extensions.
Conversion speed is pretty low.
5. Convert2MP3
Convert2MP3 is another YouTube and Dailymotion downloader that works online. You can use it to download videos from a number of websites including both YouTube and Dailymotion. It is easy to use and simple with fairly basic functionality. The download procedure is almost identical the one that we have mentioned above.

Pros and cons of Covert2MP3 online tool are given below.
Pros
Cons

It is totally free to use.
It has a fast download speed.
No registration/sign up needed.

Cannot download videos longer than 90 minutes.
Comparison Between These 7 Dailymotion Youtube Converters
| | | | | | |
| --- | --- | --- | --- | --- | --- |
| Software | Conversion | Download Speed | Formats Supported | Video Quality | Download in Batch |
| iTubeGo YouTube Downloader | Supported | Ultra-Fast | All the Major Formats | Up to 8K | ✓ |
| KeepVid.Pro | Supported | Fast | All the Major Formats | Up to 4K | X |
| BitDownloader | Not Supported | Fast | Only MP4 | 720P | X |
| YouTubeNow | Supported | Fast | All the Major Formats | Up to 4K | X |
| SaveTheVideo.com | Supported | Fast | All the Major Formats | Average Quality | X |
| Convert2MP3 | Supported | Average | All the Major Formats | Average Quality | X |
Final Thoughts
As YouTube and Dailymotion don't offer the luxury of downloading videos, you can use third-party software solution for that. There are a number of online tools for that. While these tools are free, they offer very limited functionality.
iTubeGo offers the greatest amount of functionality and usability in terms of features as well as user interface. It can be used to download media from any website on the internet. The comparison table makes it clear as rain that iTubeGo is the best option for downloading video and audio content from the internet.