Just like YouTube, Dailymotion is another great video sharing online service. Ranging from movies, funny shows, music videos, and much more, it hosts a lot of videos that you can watch online, as much as you may want, but they cannot be downloaded to a computer or a mobile for offline viewing.
But, we are here for you, making it possible to download video from any websites. If you are looking for Dailymotion songs download methods, we can help you do that. This text discusses in detail all the methods for downloading songs from Dailymotion on a desktop computer (both Windows and Mac) and on Android as well as iOS smartphones.

Dailymotion Songs Download on Desktop
With the introduction of a groundbreaking software tool, that's known as iTubeGo YouTube Downloader, downloading songs or any other type of videos from any source on the internet has become extremely easy. iTubeGo can help you download any song from Dailymotion in a few easy steps, which we will cover later on in this article. First let's see what iTubeGo YouTube Downloader is capable of. In the simplest words, it is the single most powerful and feature-rich multimedia downloader to ever be.
Key Features
Compatible with 10,000+ music and video sharing platforms.
Convert online content in 20 audio, video, and mobile device formats.
You can easily download the highest-quality 320kbps MP3 audio files.
10x faster speed than any other similar tool.
How to Use iTubeGo to Download Dailymotion Songs
Step 1

Download and Install iTubeGo Software
To download songs from Dailymotion, first you have to install and download iTubeGo YouTube Downloader. It can be easily downloaded from the iTubeGo website. After you have downloaded the software, you will need to install it on your computer by running the downloaded file.
Step 2

Get the Video Song URL
Now, open your web browser and go to the Dailymotion video song you want to download using iTubeGo YouTube Downloader. With the song playing, copy the URL being displayed in the address bar of the browser.

Step 3

Set Output Options
Now run the freshly installed iTubeGo YouTube Downloader and go to the tab marked as Settings or Preferences. Here, you can select the format you want to download the song in. Select Audio in the Download Format and the required bitrate in the Quality option.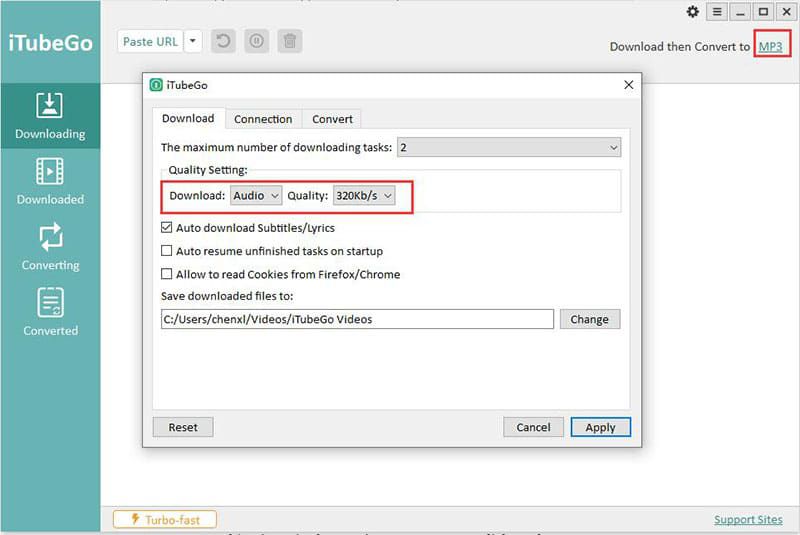 Step 4

Click on Paste URL Button
After you have selected the preferred format, just click the "Paste URL" button and the URL will be automatically added to the software and the download will begin.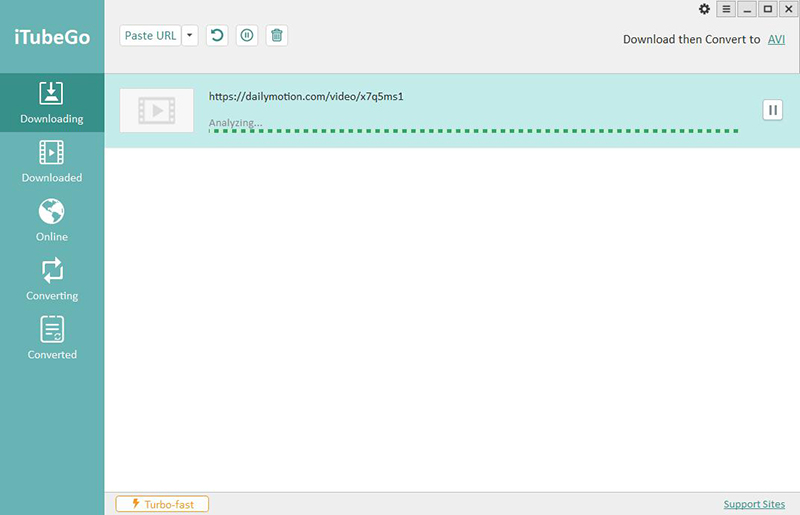 Step 5

Download Dailymotion Song
After the download has completed, you can find the song in the "Downloaded" section of the program.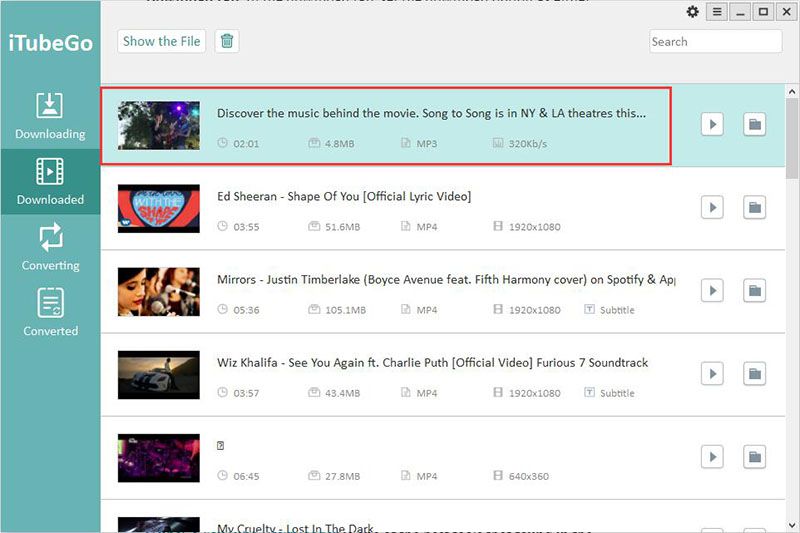 How to Download Dailymotion Songs on iPhone
As we all know, Apple tries to create as many hurdles in downloading content on iPhones as they could. It makes downloading Dailymotion songs directly on iPhones very difficult, but we have a way around it. You can download the songs on your computer and then transfer them to you iPhone.
The method for downloading Dailymotion songs on a computer is detailed above. Now, let's see how to transfer the songs to an iPhone after you have downloaded them on a PC.
Step 1

Connect Your iPhone to Your PC
To transfer songs from your PC to your iPhone, you need to connect it to your computer via the original data cable that came with it. After-market cables can cause problems in data transfer and might even damage your device.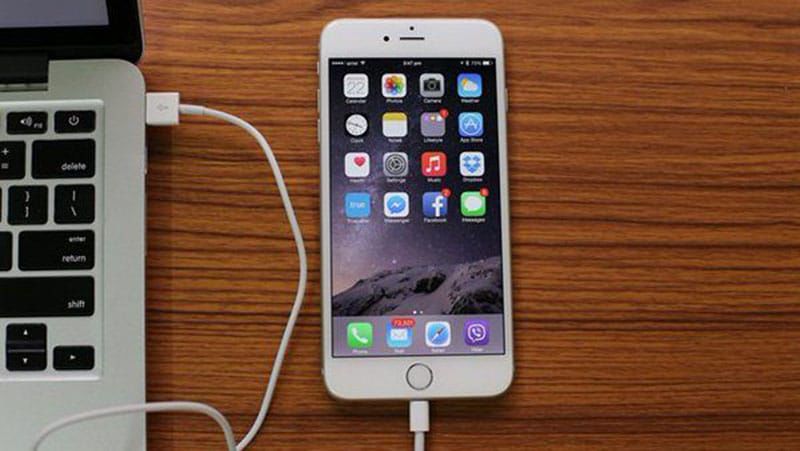 Step 2

Run iTunes Software on Your Computer
After you have connected your phone properly to your computer, you need to run the iTunes software on your PC. Open the software and click on the iPhone icon in the top right corner to access the phone via iTunes.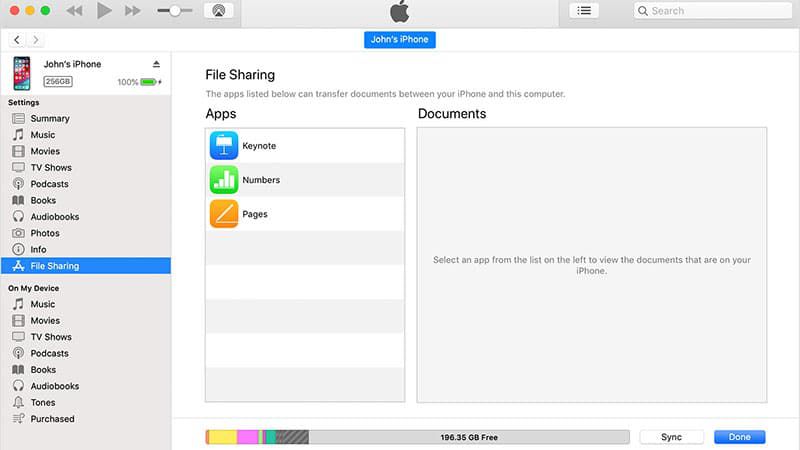 Step 3

Transfer Dailymotion Song
Select the songs you want to transfer to your iPhone and click on the Transfer to iPhone button to transfer them to your iPhone.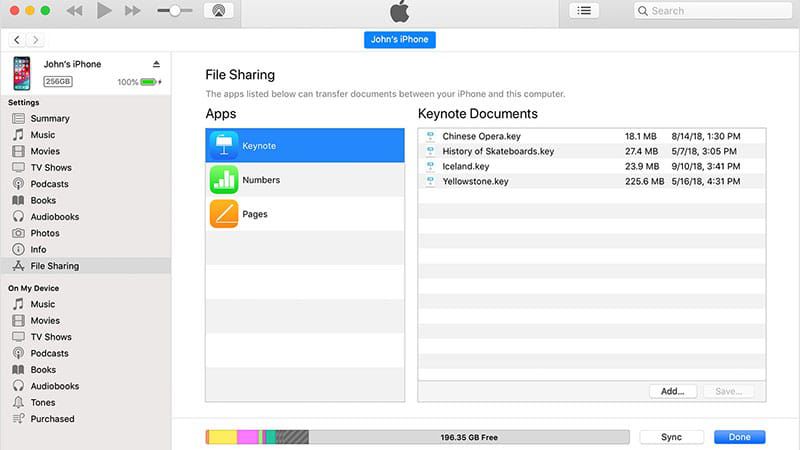 How to Download Dailymotion Videos Songs on Android
If you are an Android user, downloading songs from Dailymotion is easier for you than it is for iPhone users. All you have to do is use iTubeGo Android application and it makes downloading video and audio content from more than 1,000 websites on to any Android phone or tablet extremely easy and efficient.
The Android app is 100% free to use and allows you to download music and videos directly from the internet. For that, it supports various output formats, both audio and video. With its attributes like a built-in browser and smart link detection tool, it will provide a downloading experience that you haven't experienced before.
Here's how you can do that.
Step 1

Install iTubeGo Android App
You can download iTubeGo APK from the link given below. Once you have downloaded the file run it to install the app.
Step 2

Go to the Dailymotion Video
As we've already mentioned that iTubeGo App comes with its own web browser, so open iTubeGo app after it has been installed and go to its built-in browser. Search for the song you want to download from Dailymotion and press the Download button located at the bottom of the screen.
You can also directly copy the URL of the song from the website using any other web browser or Dailymotion App. After copying the link, just open the iTubeGo App and it will automatically pop-up a prompt box will all the download details. Check the video details and press the Download button.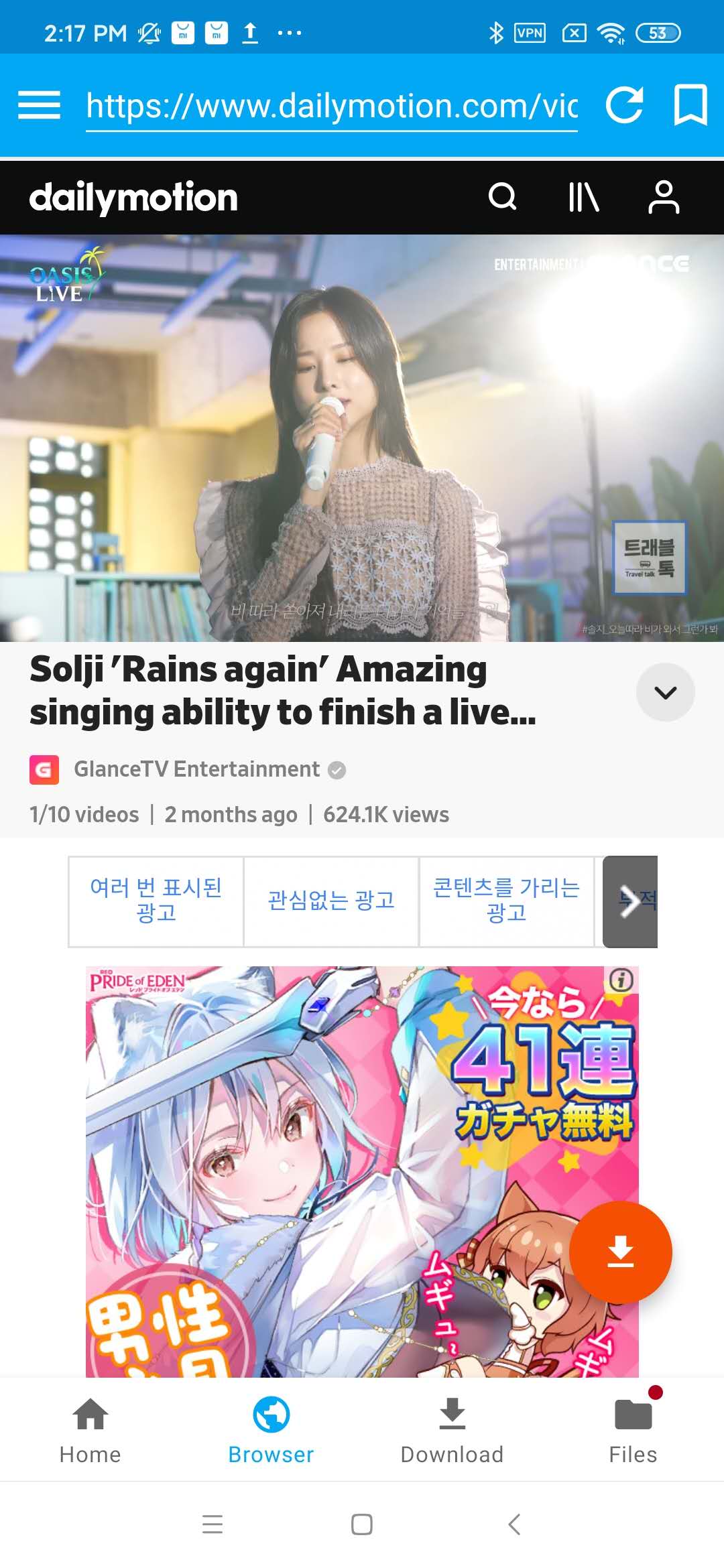 Step 3

Set Required Download Parameters
After taping on the "Download" button below the video, it will give you a choice of formats and qualities for the download. Select Download type as Audio and the required Quality option.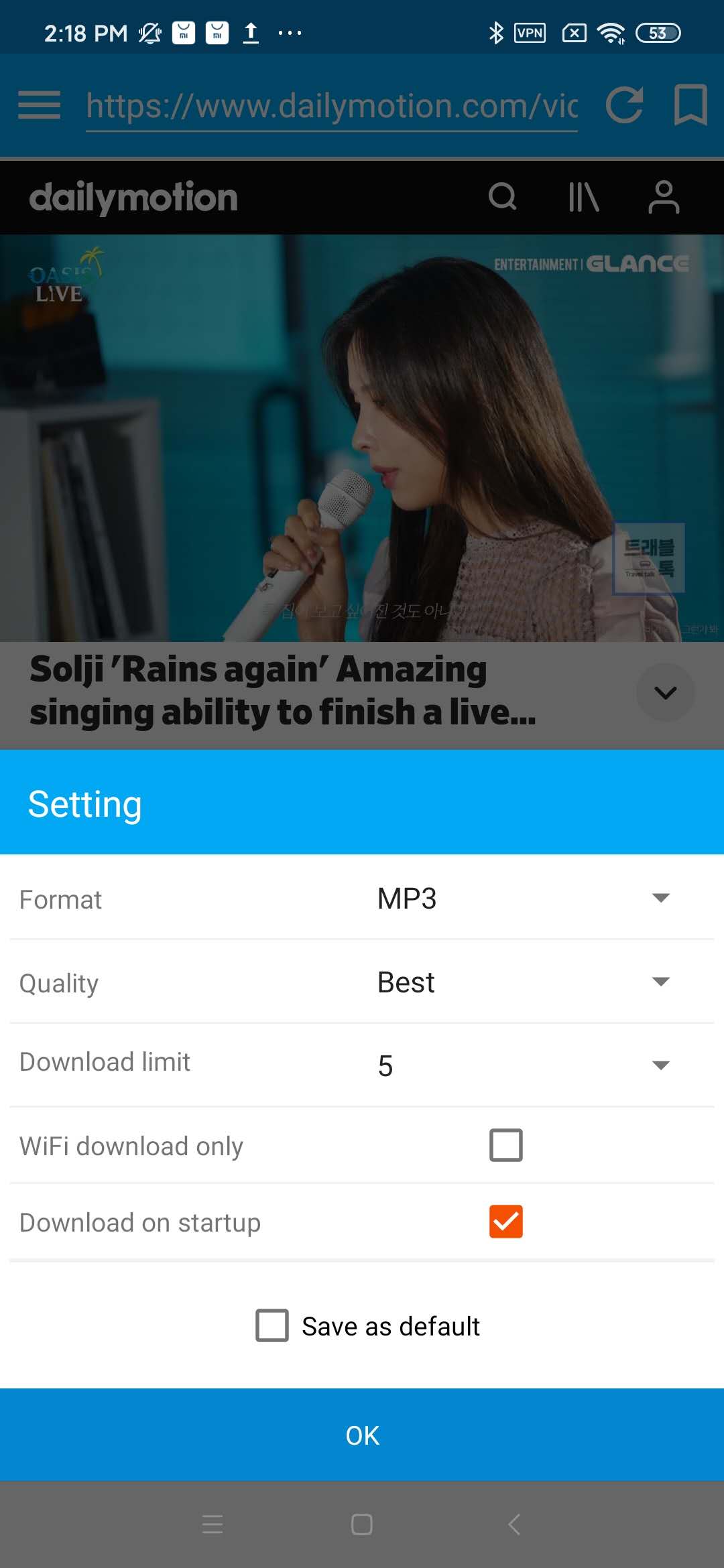 Step 4

Locate the File
Finally, press the OK button and the downloading process will be started automatically. Upon completion, you can find the downloaded file in the "Downloads" folder of your device. If it is downloaded as an audio file, it will reflect in your media player as well.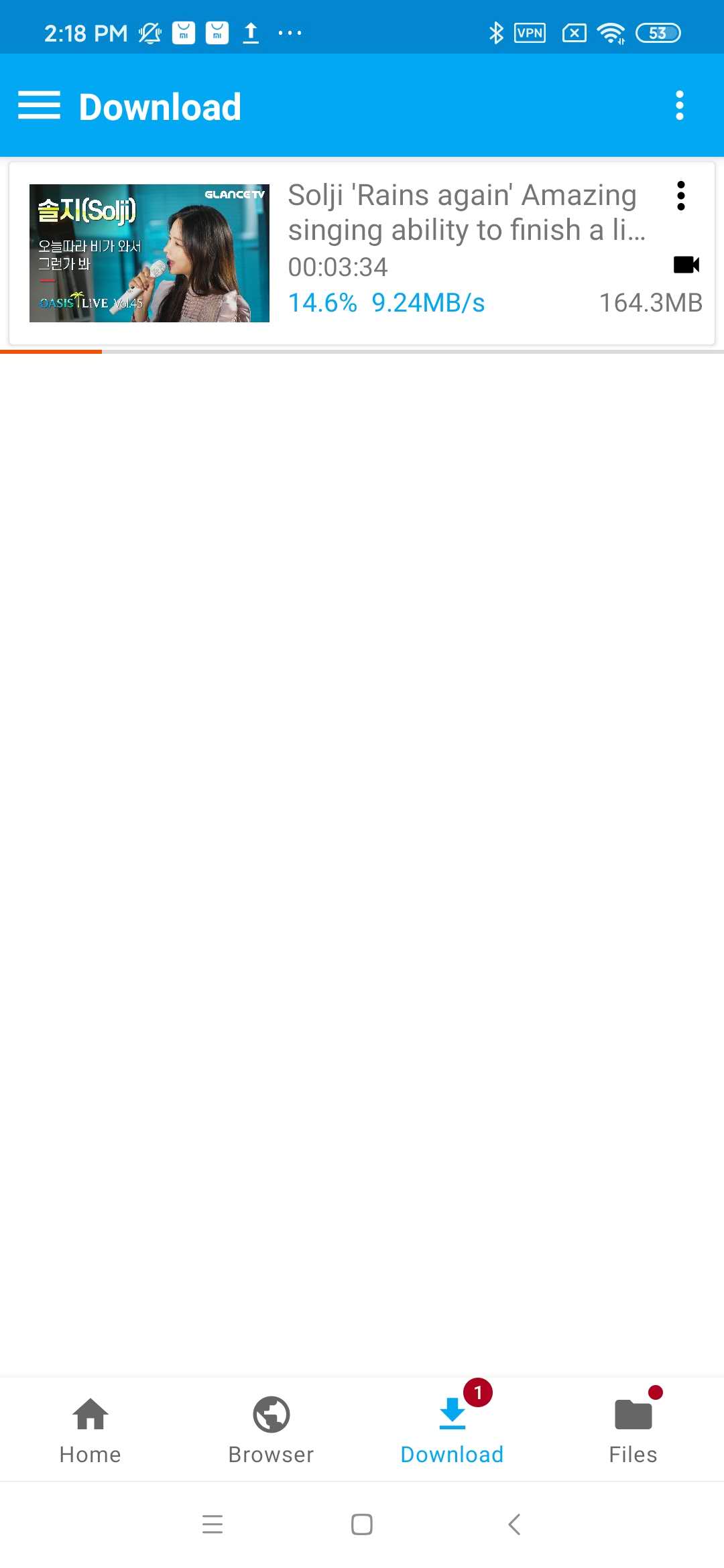 In Summary
Dailymotion doesn't offer the option to download songs directly, but you can do that using iTubeGo. It is available for PC, Mac, and Android devices. You can directly download the songs on PC and Android devices but if you want to download songs on an iPhone, you need to download them to a computer using the iTubeGo desktop software and them you can transfer them to your iPhone from there.