Downloading videos from YouTube is quite a task on its own, and when we talk particularly about iOS devices, you are almost looking at a near-impossible task. However, that can be possible, even easy, if you use or download YouTube shortcut that can grab YouTube media and save it to your iPhone or iPad for offline playback. Let's see how you can use Siri shortcut to download YouTube videos.
Shortcut to Download YouTube Videos
Shortcuts were introduced by Apple in iOS, and ever since, people have developed a lot of them to get many things done on an iOS device. But due to frequent updates of the YouTube protocol, many YouTube Download Shortcuts do not work. Here we found an available shortcut is known as UPull.me YT Downloader. However, before you can use this shortcut to download YouTube on your iPhone/iPad, you need to allow the use of untrusted shortcuts on your device. Here are all the steps you need to execute to download YouTube videos using shortcuts.
1. Turn on Untrusted Shortcuts
First thing that you need to do to download YouTube videos using shortcuts is allowing shortcuts from third-party. To do that, open the Settings app on your device and go to Shortcuts. Toggle the button saying Allow Untrusted Shortcuts to the on position. If you are unable to find the switch, just run any shortcut on your device. And then, come back to turn the switch on.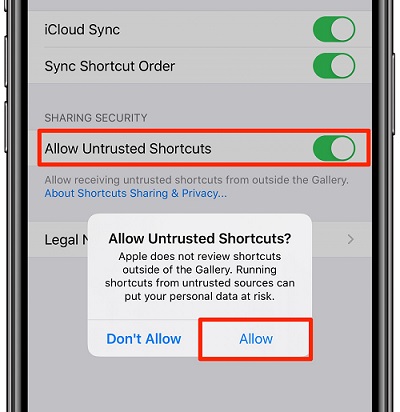 2. Add the Shortcut
Now go to the shortcut URL to download YouTube shortcut on your device. After opening the URL, simply click on the "Get Shortcut" button and it will launch the Shortcuts App on the iPhone. Scroll the bottom and tap "Add Untrusted Shortcut" and the shortcut will be added to your device.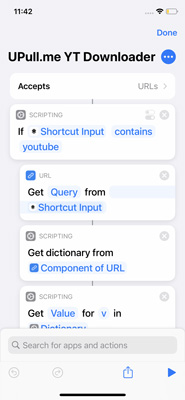 3) Downloading YouTube Videos With Shortcuts
The following are the steps to use this shortcut to download YouTube videos.
Step1, Open the video on YouTube that you want to download to your iPhone.
Step2, Share the video by clicking on the Share icon and select the "More" option from the menu that appears.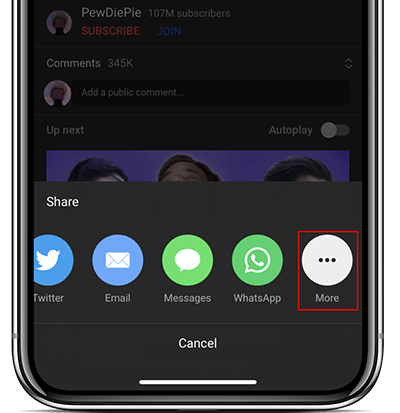 Step3, Choose Unpull.Me shortcut from the list that appears to download the video.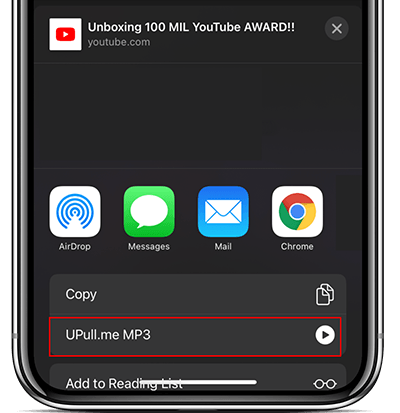 Step4, The video will start downloading to your device and once that is done, you'll be asked to select a location on your device to save the video. Choose "On My iPhone" or "iCould Drive".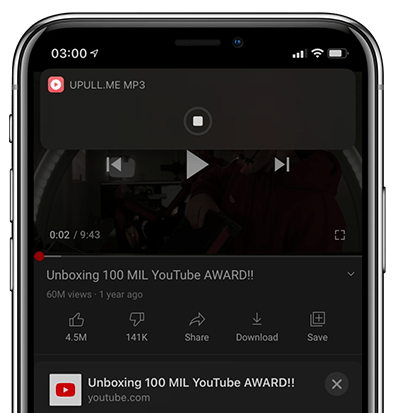 Important Note: It must be noted that this YouTube video download shortcut only works for iPhone and iPad devices running iOS 12 and above. Moreover, this shortcut can only download videos in MP4 format, and if you want to convert them to other formats like MP3, you will need to use a converter. The detailed procedure for that can be found in the links at the end of this article.
In Summary
That was one of the easiest ways to download YouTube video with shortcut on an Apple device. The method might look to be a bit too daunting on the outside, but it is simple and easy after you have used it for a couple of times.
If you want to learn more about downloading videos to an iPhone or an iPad, you can read this detailed article. The shortcut we have described above can only download stuff in MP4 format, and if you are downloading music or any other file for audio, you'll need to convert it. For this, you can convert YouTube to mp3 with more choice here.