Sometimes, it is too much of a task to download an entire playlist from YouTube. Where most of the tools only allow you to download one single video at a time, there are some software solutions that make it possible for you to download playlists from YouTube. You would've heard of Internet Download Manager and have probably used it. Let's see how we can download YouTube playlist with IDM.
Instructions of IDM (Internet Download Manager)
System: Windows 10. Windows 8.1 (Windows 8, Windows 7 and Vista)
Price: $11.95/year/1pc; $24.95/lifetime/1pc
URL: http://www.internetdownloadmanager.com/
Internet Download Manager, aka IDM is one of the best downloaders not only for videos but for anything from the internet including software, documents, and everything. It is one of the most widely used download tools to ever be. Here are some of the properties of this software that truly make it stand apart.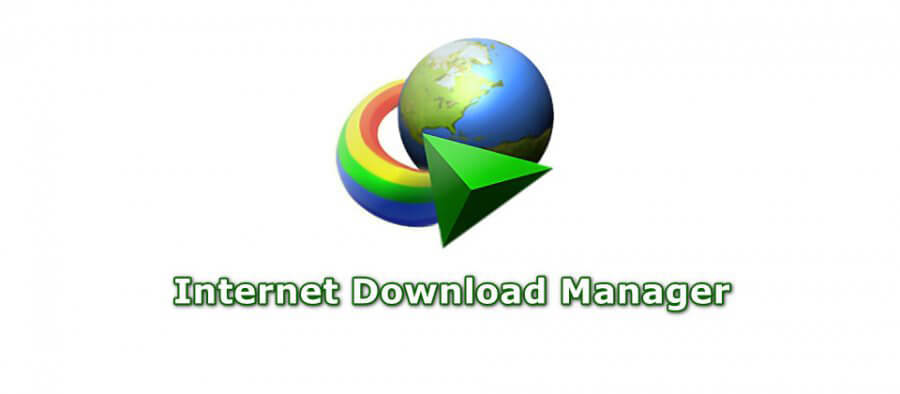 It has an advanced browser integration feature that makes it possible to work with all of the commonly used applications and browsers
All you need to do for downloading anything is to just get the URL of the target and click on the Add URL button on the IDM interface.
It can download all objects on the page of the URL.
It has a built-in virus checking feature to make sure no malware gets downloaded to your computer.
It has a built-in scheduler that can help you automatically start a download at any specified time. It can even turn on internet connection on its own, carry out a scheduled download and shut your computer down at the time you have set or after the download finishes.
It accelerates the speed of the download by engaging multiple (up to 16) separate connections with the host.
How to Download YouTube Playlist with IDM
Below are two methods you can use to download Youtube playlist using IDM.
How to Donwload Youtube Playlist Only with IDM
Now, After having downloaded the software, the following steps are what you need to do.
Step 1 Go to the web browser you use and enable IDM Module Integration to start using IDM for downloads. This is how that can be done.

Step 2 A download button will show up near any video that you play on YouTube. Click on it and select the quality of the file for download.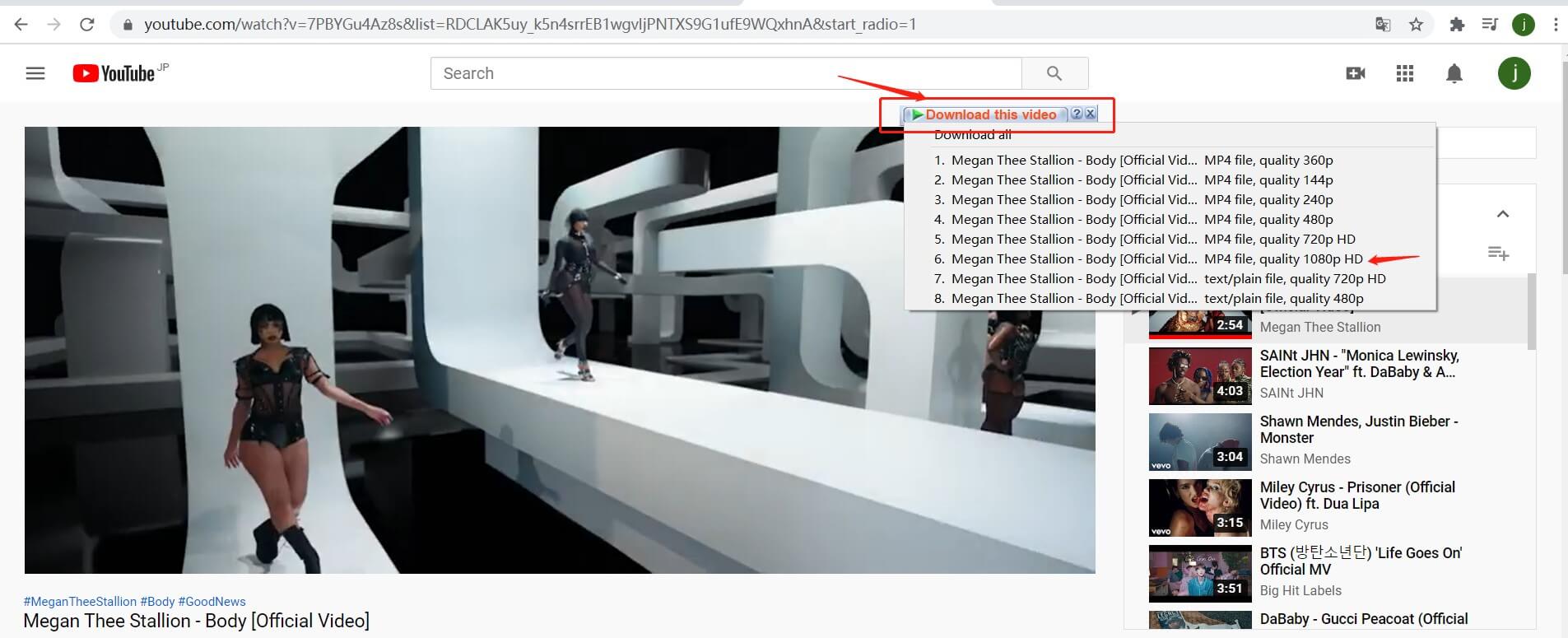 Step 3 The viable URLs for download are always monitored by IDM, if you have a copied link, open IDM and click start download.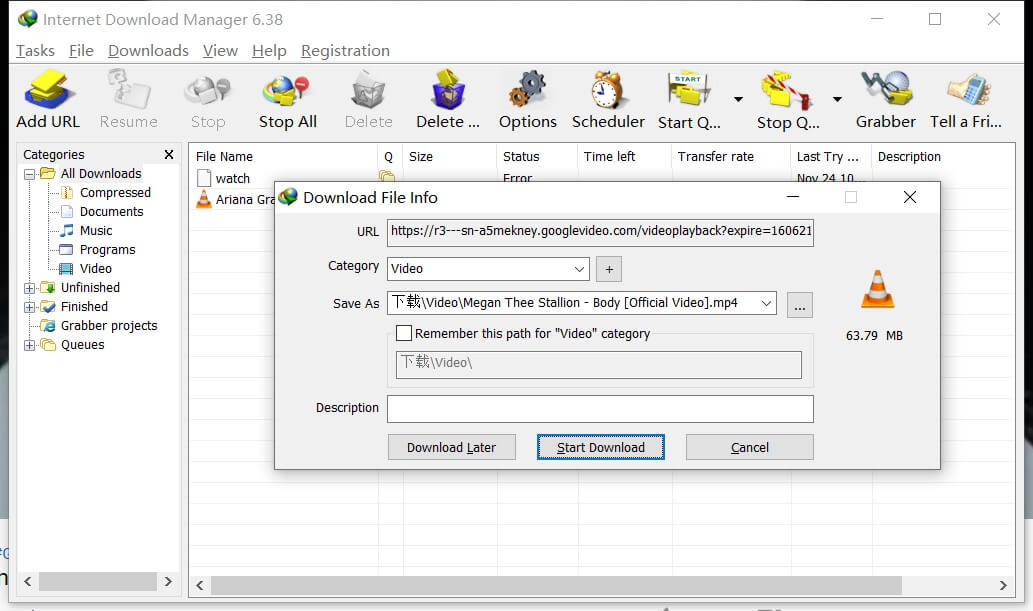 Step 4 You can see the progress of the download here in IDM.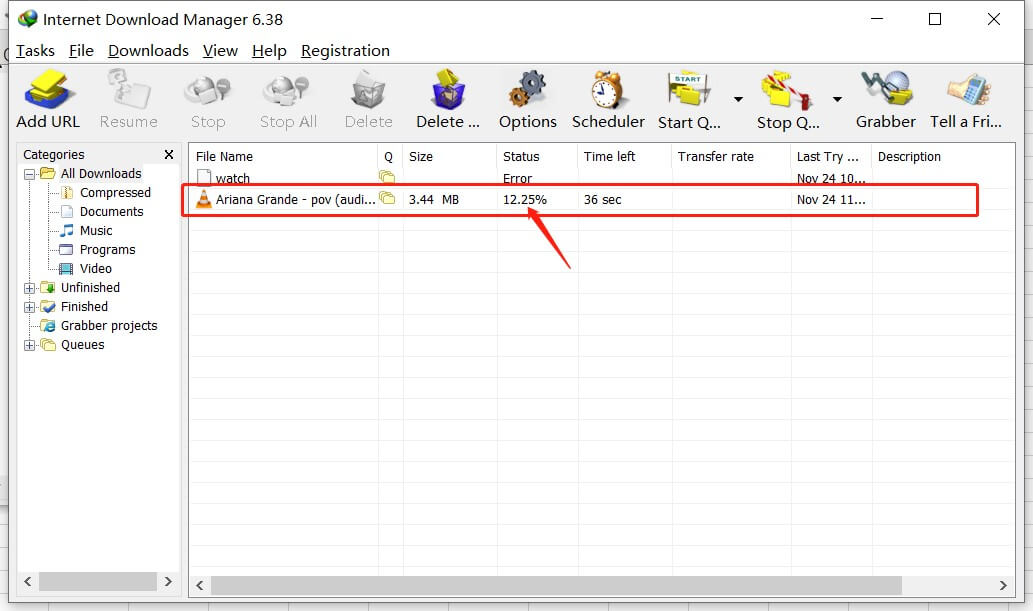 Another way is to click "Add URL" on the program to paste the video link, but this method does not work for YouTube. See the test results below. If you want to download YouTube playlists, you can only download videos one by one through the browser integration function above.Therefore, we need an IDM alternative program to help us download a complete YouTube playlist at once.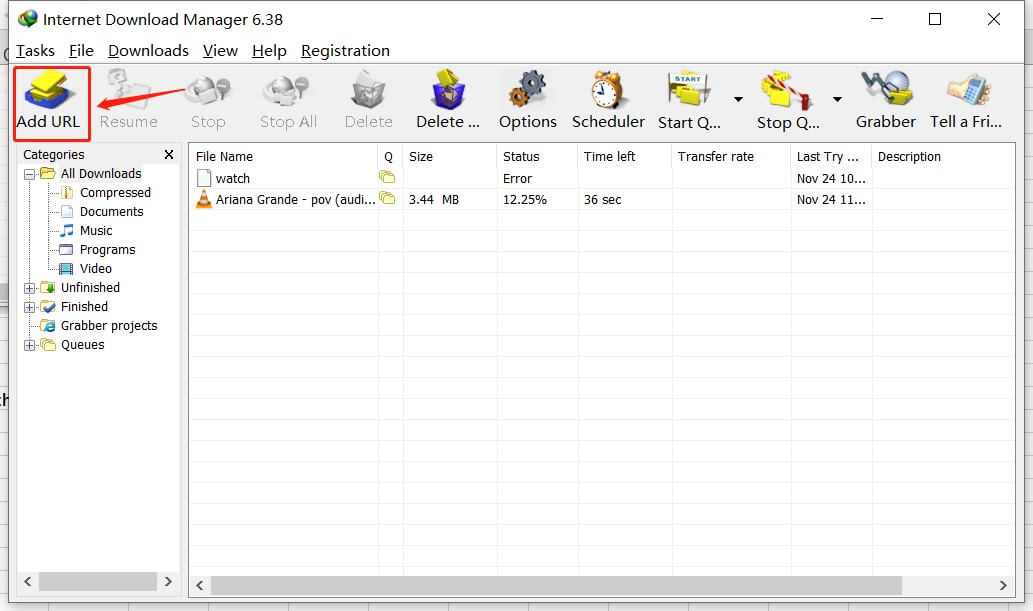 How to Use Youtube Playlist Downloader & IDM
Here are the detailed guide to download Youtube Playlist using Youtube playlist downloader online and IDM.
Step 1 Go to Youtube.com and find the playlist you want to download, then copy the url from the address bar.
Step 2 Here we select the Youtube Multi Downloader online solution to download Youtube playlist, choose the "Playlist" downloader function, click the "Quality" to dertemine the video quality you want.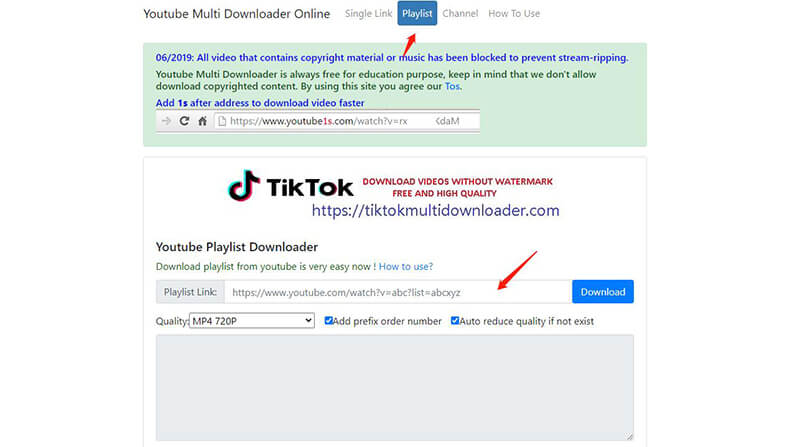 Step 3 Then paste the copied link on the search bar, it will take some time to wait for the entire playlist to be indexed and converted to download link.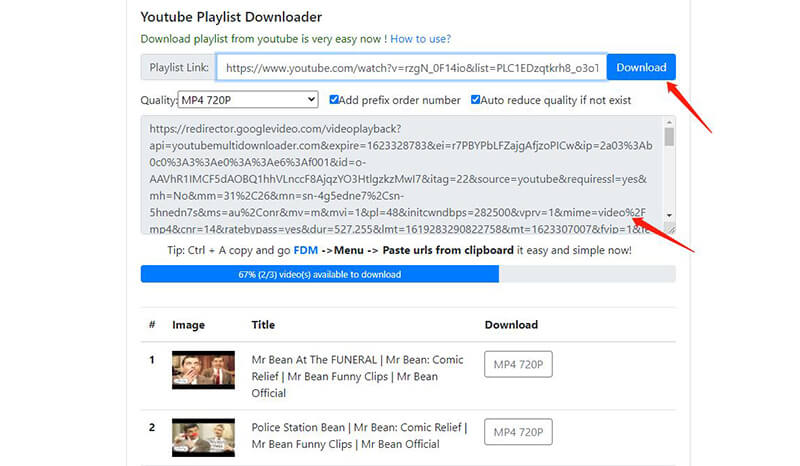 Step 4 After that, press Ctrl+A on your keyboard to copy all the links within the box.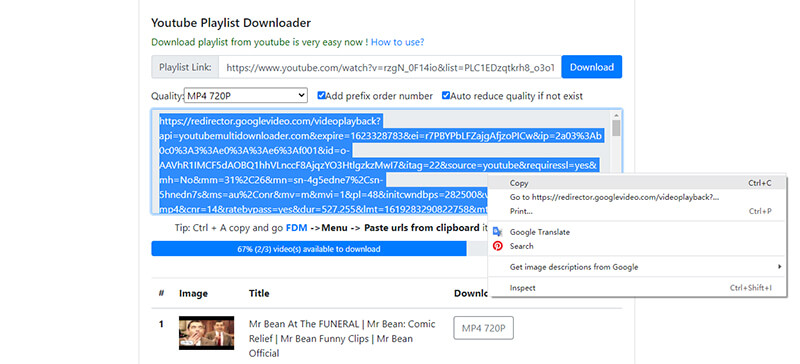 Step 5 Open IDM software, click "Tasks" then click on "Add Batch Download from Clipboard".

Step 6 Wait for few seconds, the IDM will capture the link and generate all download links for this entire playlist, then click on "Check All".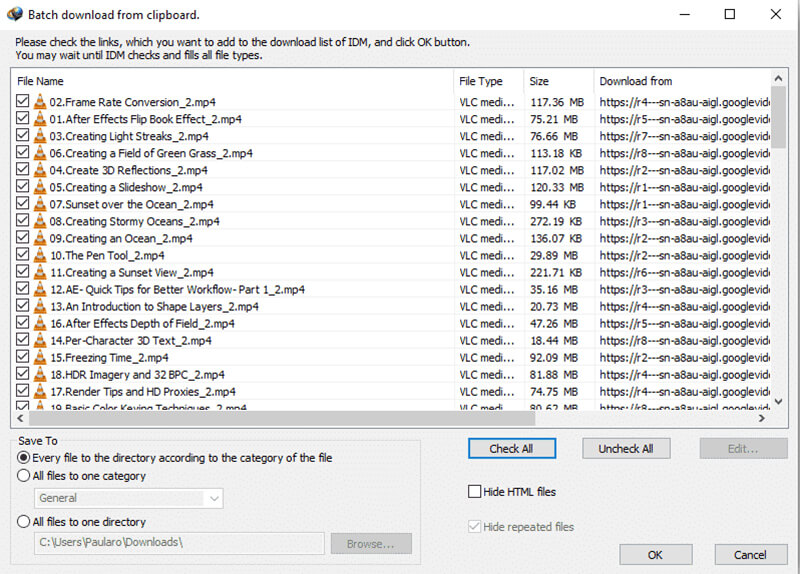 Step 7 Now this entire Youtube playlist links are ready to be downloaded in IDM software.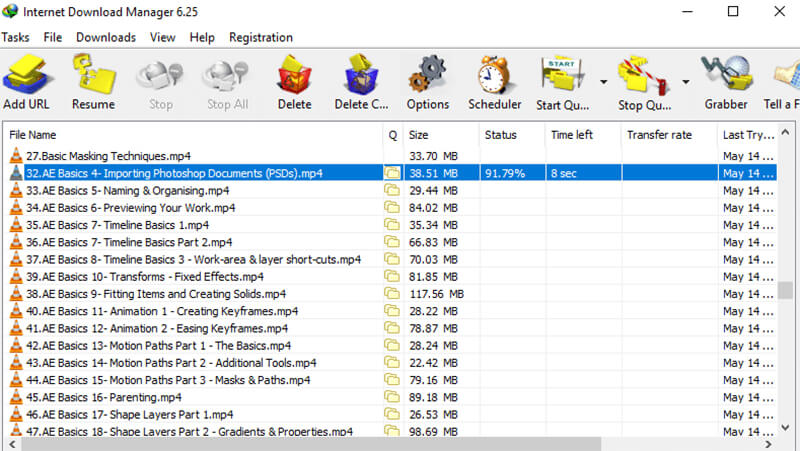 Best Alternative to IDM Youtube Playlist Downloader
iTubeGo YouTube Downloader is the best alternative to IDM YouTube playlist downloader. iTubeGo is desktop-based tool capable of downloading media (videos/audios) in any format and quality that you might want. The software is simple and easy to use and works with literally every single website there is. Here are some of the great features of this amazing video download tool:
Key Feature:
Download entire playlists with unlimited number of videos in one command.
Offers the option to convert YouTube to mp4, mov, avi, flv and more formats with subtitle.
Extract audio from video files and save them in high-quality mp3, m4a, aac, FLAC, etc.
Supports more than 10,000 websites, including Youtube, Facebook, Instagram and more.
It has a built-in web browser and also allows you to cut YouTube videos.
You can simply download iTubeGo software, depending upon the right version for your computer from the following links.
After downloading and installing iTubeGo YouTube Downloader on your computer, the following are the steps to download YouTube playlist using iTubeGo YouTube Downloader.
Step 1 Get the URL of the playlist that you want to download. Go to YouTube, open the playlist and copy the URL of the entire playlist from the browser address bar.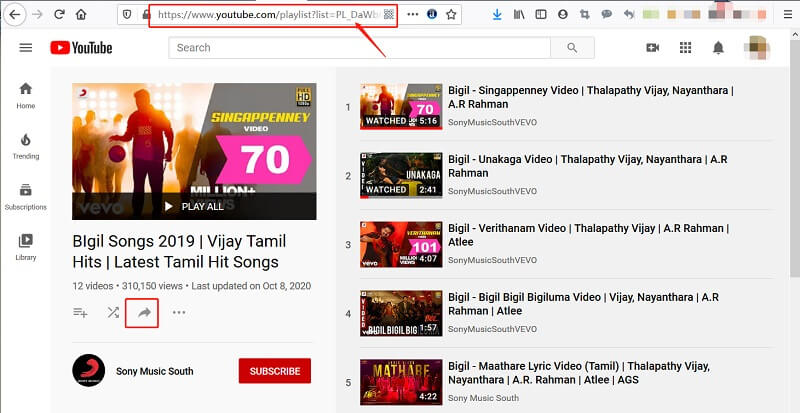 Step 2 Open iTubeGo once you have the link and straightly go to the Preferences tab. In this section, you can select the format and quality for the videos you are downloading.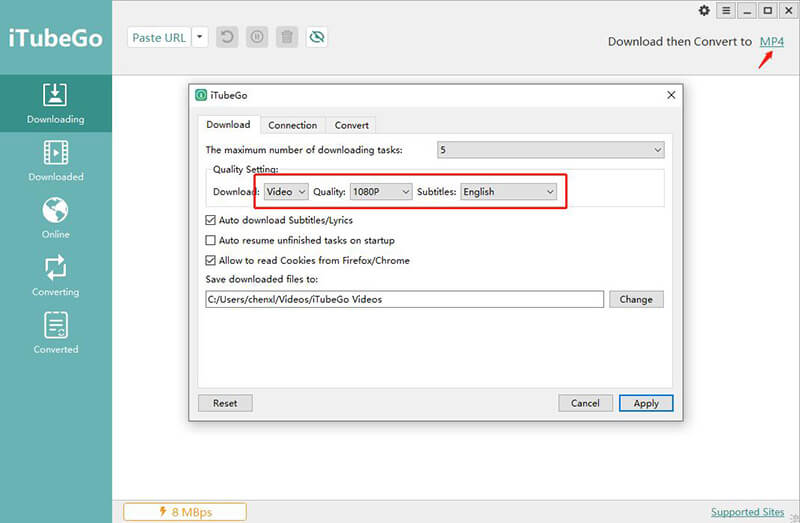 Step 3 Paste URL button can then be clicked so that the software detects the URL from your clipboard and starts the download. As you're downloading YouTube playlist, it will provide a list containing all the videos in the entire playlist. You just have to select the files that you want to download, or simply select all if you want to download the complete playlist.
Step 4 Finally, press the Download button and all of the videos in the playlist will start downloading instantly. After that, the downloaded files are available in the Downloaded section of the tool.
iTubeGo vs. IDM – An Objective Comparison
Here's an objective one-on-one comparison of IDM and iTubeGo YouTube Downloader:
Features
IDM
iTubeGo
Supported Websites
All websites on the internet.
All video or music streaming websites.
Download YouTube Video
Only up to 1080P
Support 1080P, 4K, and even 8K
Download YouTube Audio
–
Up to 320kbps
Supported Format
File source format (No option for output formats)
Video and audio files. Built-in converter can be used freely to convert between different formats.
Download Multiple Files
Yes
Yes
Download Speed Acceleration
5X
10X (See the test reports given below)
Download Success Rate
Low
100% Guaranteed
Browser Integration
Yes
No
Multilingual Support
Arabic, Albanian, Azerbaijan, Bulgarian, Bosnian, Chinese, Czech, Croatian, Dutch, Danish, Farsi, French, Greek, German, Hungarian, Hebrew, Italian, Japanese, Korean, Lithuanian, Macedonian, Norwegian, Portuguese, Polish, Russian, Romanian, Slovak, Serbian, Slovenian, Spanish, Turkish, Thai, and Uzbek
English, 简体中文,繁体中文,Italiano, Deutsch, Français, Español, Português, 日本語
Supported Systems
Windows 10. Windows 8.1 (Windows 8, Windows 7 and Vista)
Windows 10, Windows 8, Windows 7
Mac 10.10 or Later Versions
Trial limit
30 Days
Limited to 3 downloads and 1 playlist. Restrict batch download function
Price

$11.95 / Year / 1 PC
$24.95 / Lifetime / 1PC

$9.95 / Month
$19.95 / Year
$29.95 / Lifetime
$39.95 / Lifetime / 2-5 PC
Test Results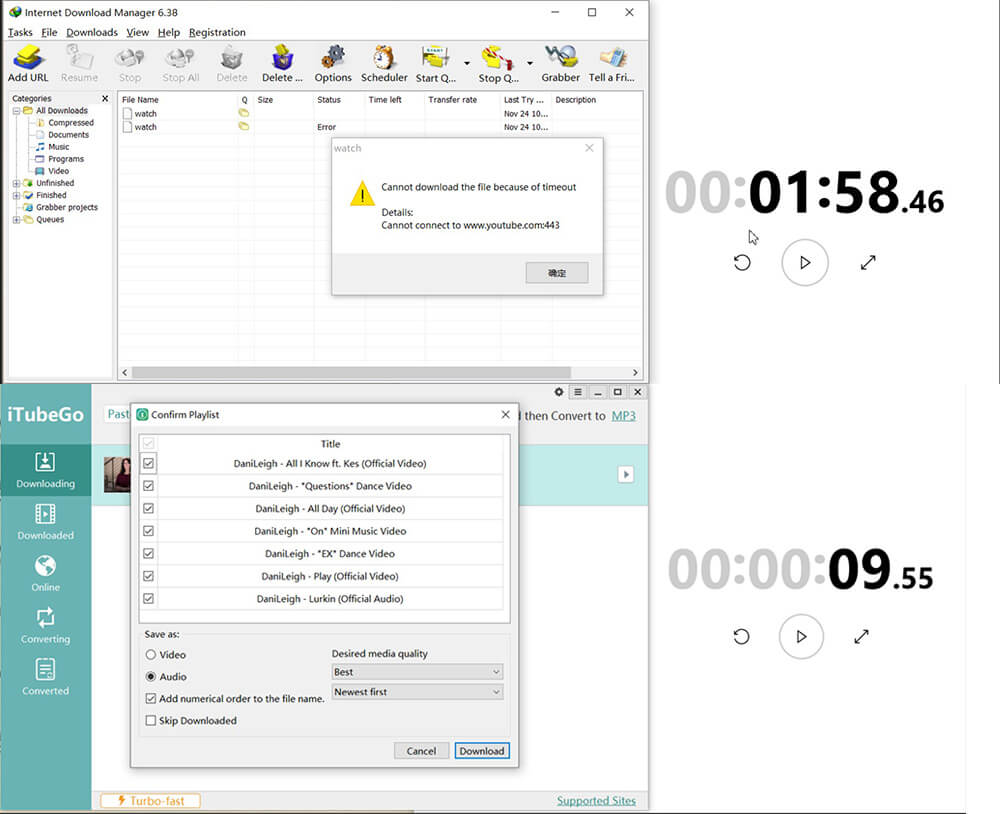 Tested Playlist URL:
https://www.youtube.com/watch?v=arBGsVzhfB8&list=OLAK5uy_lm8WCmcvjuF5IVyd5h1WH8TE-0QgIlVAo
IDM
Analysis failed after 1 minute and 58 seconds with 443 error.
iTubeGo
Successful analysis only in 9 seconds.
Tested Video URL:
https://www.youtube.com/watch?v=wjYUozqLfFsatch?v=wjYUozq
IDM
Reconnected after 15 seconds timeout.
iTubeGo
Successful analysis in 16 seconds.
Verdict: Upon testing the two software, we noted that when given the same URL to both, iTubeGo analyzes the link successfully in 9 seconds while IDM failed after trying for around two minutes.
The Add URL function often fails to download videos, but using "Browser Integration," the video downloaded successfully. So, we can say that IDM cannot obtain the video file when analyzing the original YouTube URL.
In Summary:
To Download YouTube playlist with IDM is a great idea, however, it is a highly generalized and overly minimalistic tool. On the other hand, iTubeGo is an alternative to IDM YouTube playlist downloader that is designed dedicatedly for this purpose. It has all the features and quirks you can ever ask a video downloader to have. If you want to download playlists video from YouTube or any other website, iTubeGo is the tool you need to use for that.
(Click to rate this post)
Generally rated 4.5 (215 participated)