On YouTube, you can find videos created by millions of creators who make channels of different genres. Whether it is music, news, entertainment, or name any genre and videos from it can be easily found on it. It won't be wrong to say that YouTube channels are equal to TV channels these days. In fact, various YouTube channels are creating more content than most of the TV channels. What if you want to download YouTube channel videos so that you can watch your favorite videos offline? In this guide, we'll let you know how you can even download all videos from YouTube channel in one click!
From cooking shows to product reviews, YouTube has an endless list of channels on almost every topic. Coming up next is a list of some of the most famous and most-subscribed channels on YouTube.
List of Most-Subscribed Channels on YouTube
No.
Channel
Subscribers
(In Millions)
Category
1
T-Series
142
Music
2
PewDiePie
105
Entertainment
3
Cocomelon – Nursery Rhymes
85
Education
4
SET India
74
Entertainment
5
5-Minute Crafts
67
How-to
6
WWE
61
Sports
7
Canal KondZilla
58
Music
8
Like Nastya
56
Entertainment
9
Zee Music Company
56
Music
10
Kids Diana Show
56
Entertainment
11
Justin Bieber
54
Music
12
Dude Perfect
51
Sports
13
Zee TV
46
Entertainment
14
Marshmello
46
Music
15
Ed Sheeran
44
Music
How to Download All Videos from YouTube Channel?
If you're looking for a solution to download YouTube channel, then iTubeGo YouTube Downloader is the right tool for you. Unlike most of the other downloaders, which require you to go over the list of channel's videos and download them one by one, iTubeGo YouTube Downloader allows you to download all videos from YouTube channel in high quality and various formats with just one click. Also, it can easily download Full HD and 4k videos from YouTube and doesn't affect the original video quality.
iTubeGo YouTube Downloader is one of its kind downloading solution, as it supports 10,000+ online websites and converts media to more than 20 formats, including mp4, mp3, mov, avi, m4a, and many more. With its multithread technology and turbo-fast technology, it offers 10X faster download speed than any other downloader.
Steps to Download Entire YouTube Channel
Using the iTubeGo YouTube channel downloader, you can download videos from YouTube channel at once in the following steps.
Step 1 Download Latest Version of iTubeGo Software:
First of all, get the latest version of iTubeGo YouTube Downloader. You can download the installation file from the official webpage of the iTubeGo YouTube Downloader. To save your time, we're coming up with the downloading links to free download iTubeGo software for both Windows and Mac users.
Step 2 Copy the YouTube Channel URL
In this step, look for the YouTube channel whose videos you would like to download. After opening the YouTube channel, you can simply copy its link by right-click the URL and select copy.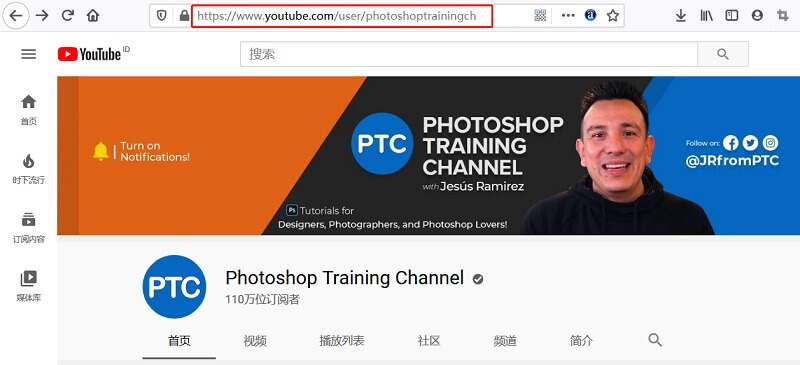 Step 3 Launch Software and Paste the Copied URL
Now, launch the iTubeGo YouTube Channel Downloader on your computer, and on the main interface of the program, you'll see the Paste URL button. Click on it, and the downloader will start analyzing the information of this channel.
Step 4 Set the Output Format and Desired Media Quality
After clicking the Paste URL button, a new window will open, and here, you'll have to set the output format and the desired media quality. To download videos in mp4 format, select Video, and you can also set the desired media quality from the given options.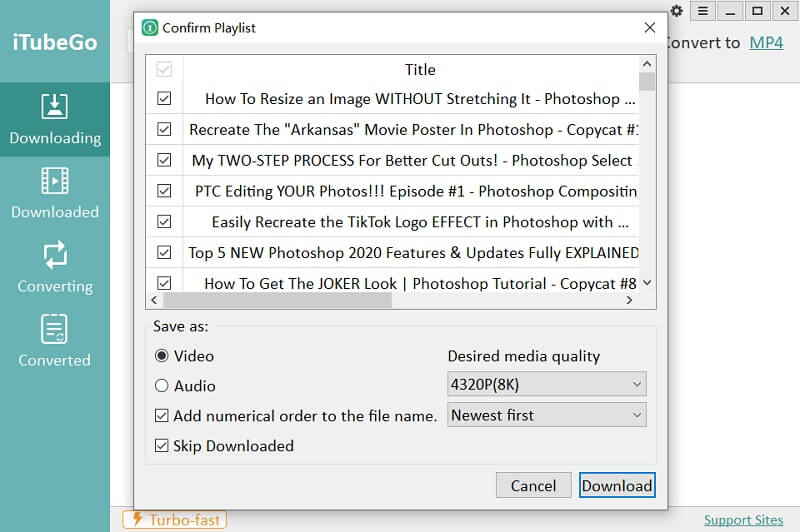 Step 5 Download All Videos from YouTube Channel
Finally, click the Download button, and it will start downloading YouTube channel. After that, the mp4 files will be saved to your computer, or you can also access the downloaded media in the Downloaded section of the software.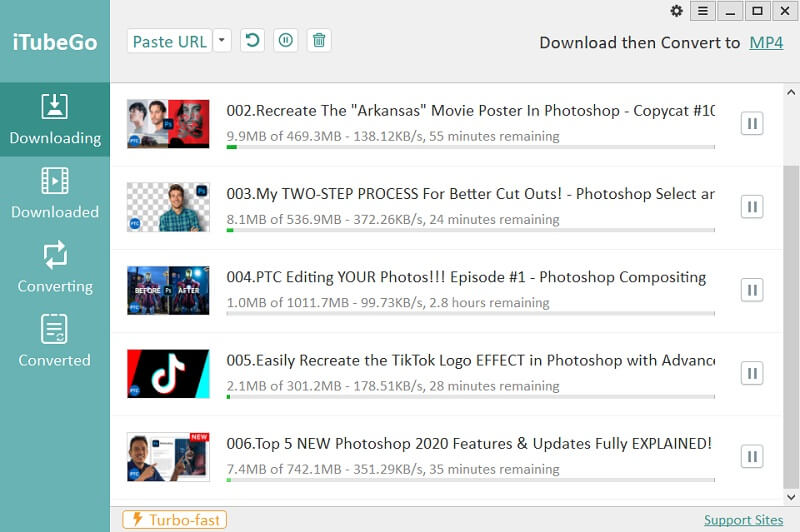 Download the Updated Video from Your Subscribed YouTube Channel
When you like videos of some users, you subscribe to their channels so that you'll get notified whenever any new video uploaded to that particular channel. To download any newly uploaded video on the channel, you don't need to download all the videos from the beginning.
Whenever the YouTube channel you subscribe to has some video updates, you need to follow the above-mentioned steps, and at the time of setting the output format in step 4, you'll see a "Skip Downloaded" option below the window displaying all the videos. Simply select that option and doing so, you'll skip all the previously downloaded videos and only the latest updated videos will be downloaded avoiding the repeated downloads.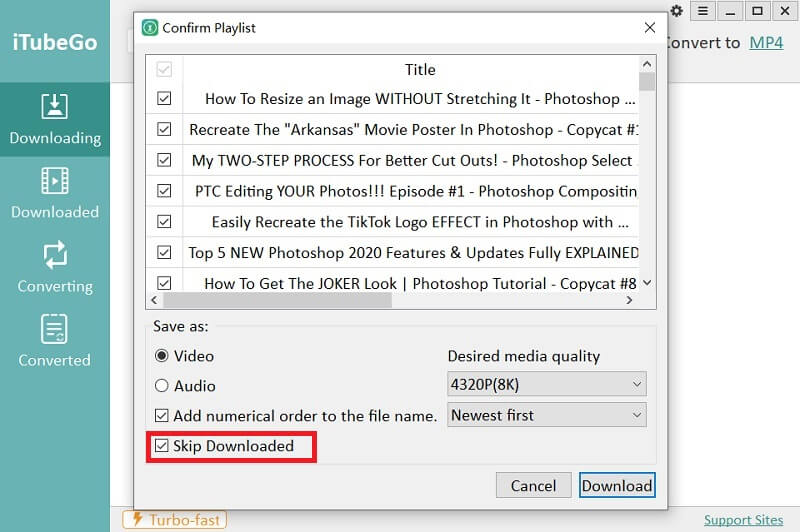 Download Selected Videos from a YouTube Channel
iTubeGo YouTube Downloader is a complete downloading solution and caters to all the needs of the users. If you want to download only selected videos from a YouTube channel, it will be possible with iTubeGo software.
Following all the above-mentioned download steps, iTubeGo will automatically detect all the videos under the particular YouTube channel. To downloaded selected videos, you can simply select the files to download in the list displaying all the videos. By doing that, it will only download the selected videos from the YouTube channel.
The Bottom Line
In this article, you've learned how you can download YouTube channel using iTubeGo YouTube Downloader. With the help of this downloading software, you'll be able to download all videos from YouTube channel at once with ultra-fast downloading speed.
(Click to rate this post)
Generally rated 4.5 (215 participated)