All of us have been in a position, more than once, where we want to convert YouTube to WMV, but YouTube doesn't offer any such service. We've brought an overview of the various options currently available on the market that can be used to download any YouTube video to WMV. This includes both free and paid options and all of them have their own pros and cons that we will discuss in the coming lines.
After reading through this text you will be able to convert YouTube to WMV and in the end, we'll give an unbiased comparison of all the YouTube to WMV converter options available. Let's get right into it and see what options we have.
How to convert YouTube to WMV?
iTubeGo YouTube Downloader is a multipurpose media downloader designed to download video and audio content from any website on the internet. It is safe, secure, fast, and reliable. It offers a range of different formats and resolution options and seldom runs into errors while executing a download.
Key Features
A choice of 50+ formats including WMV, AVI, MP4, FLV, MP3, M4A and others
The ability to download audio/video content from more than 10,000 websites
10 times greater download and conversion speed than any other tool
Multi-threaded processing method for converting several files in one go
It can download multiple videos in one go
You can download entire playlists or channels by entering one link
You can download in full HD, 2K, 4K and even 8K resolution
Steps to convert YouTube video to WMV
Using iTubeGo to download YouTube to WMV or any other format is very simple and easy. Here are the steps you want to carry out to perform this task:
Step 1 Download and Install iTubeGo
iTubeGo software can easily be downloaded from the iTubeGo Website. Download the installation file and run it. The software will be installed on your computer in a couple of minutes.
Once the installation is complete you can use iTubeGo to download any video from any sites.
Step 2 Get the URL of the content to download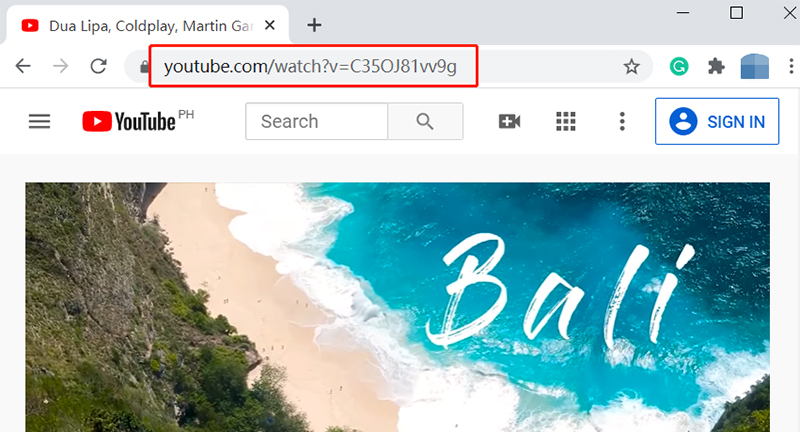 Open a web browser and go to the YouTube video, playlist or channel you want to download. Copy the link of the content in the address bar of the web browser.
Step 3 Configure Preferences
Open iTubeGo on your computer and go to the "Download then Convert to" tab located at the top-right side of the main interface. Here, you've to set the output format to WMV. Then, go to the Settings or Preferences section and select the download resolution that you like.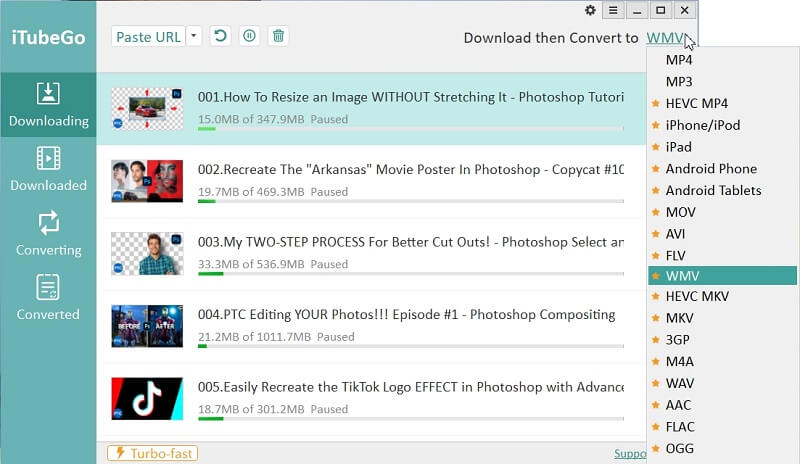 Step 4 Enter URL
Once all the preferences have been configured just hit the Paste URL button on the interface to add the link to the software and the download will start automatically.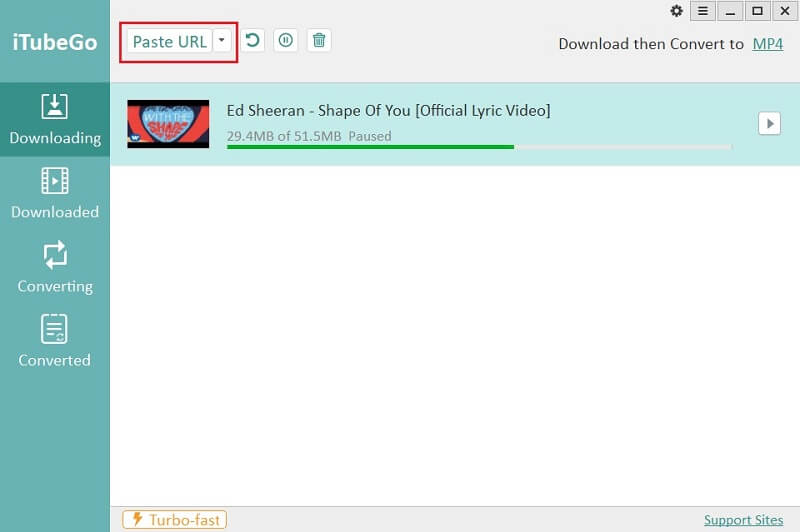 Step 5 Locate Downloaded files
Once the download is complete, you can access the file in the "Downloaded" section.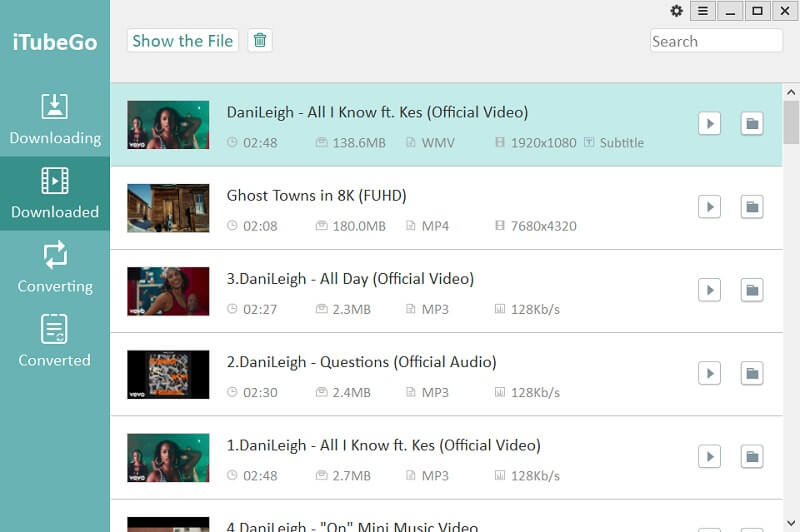 Free YouTube to WMV converters
If you are not willing to pay for the iTubeGo YouTube downloader and are okay with slow speed downloads and limited functionality, you can use one of these free tools.
YTD
URL: https://www.ytddownloader.com/
YTD downloader is a video downloader that comes as a free and a paid version. It can be sued to download videos from more than 60 websites including the main social media platforms and adult content websites. The free version does the job but has very limited functionality. It is only available for Windows computers and not for Mac or Linux. The detailed specs of this software are described in detail in the table below.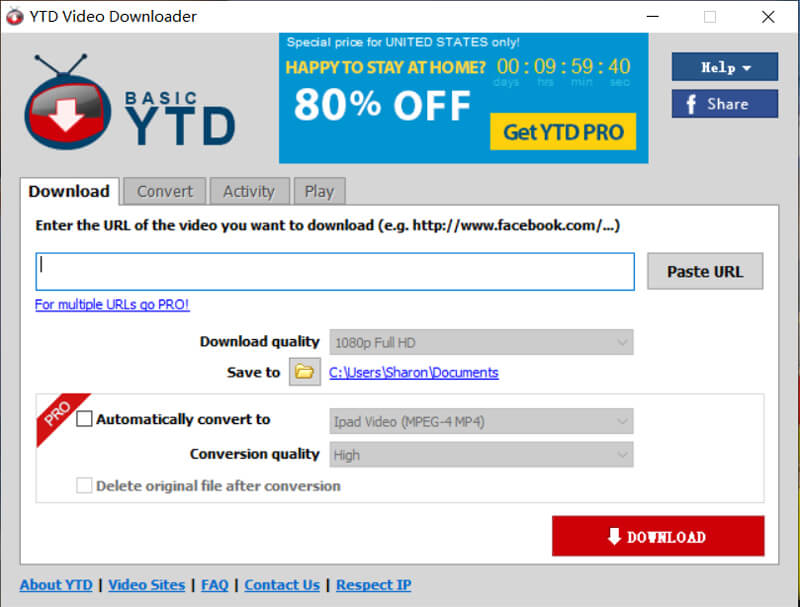 Freemake
URL: https://www.freemake.com/free_video_downloader/
Freemake is yet another free video downloader tool that can be used to convert YouTube to WMV in a few simple steps. It has a free as well as a paid version. It supports more than 10,000 websites and quite a few format options for downloading videos from YouTube and other websites. The pro version is notably overpriced compared to the options it offers, which are not plentiful, to be honest. Details about this downloader are in the the following comparison table.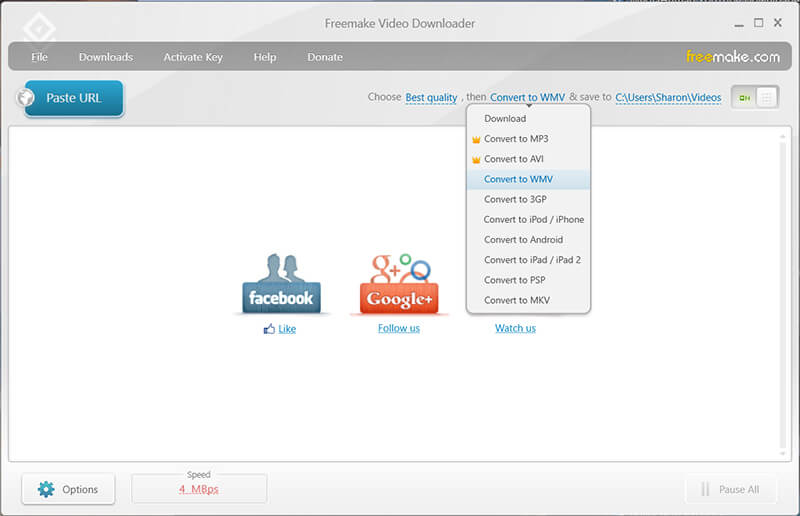 A comparison of the paid versions of various YouTube to WMV converters
Features
iTubeGo
YTD
Freemake
Compatible OS
Windows 10/8/7
Mac OS 10.15 (Catalina), 10.14, 10.13, 10.12, 10.11, 10.10
Windows XP/Vista/7/8/10
Windows OS: 10, 8, 8.1, 7, Vista
Supported Websites
More than 10,000
More than 60
More than 10,000
Supports 1 Step Conversion
✓
✓
✓
Download Multiple Videos
✓
✓
✗
Download Playlists
✓
✗
Maximum 500 Files
8K Video Download
✓
✗
✗
4K Video Download
✓
✗
✓
1080p Video Download
✓
✓
✓
Output Formats
MP4, MOV, WMV, AVI, FLV, MKV, HEVC MP4, HEVC MKV, MP3, M4A, MKA, WAV, AAC, FLAC, AIFF, OGG
MP4, MOV, AVI, 3GP, MP3, WMV
AVI, MKV, WMV, MP4, WebM, 3GP, Flash FLV
Media Conversion
✓
✓
✗
Conversion Speed
Ultra-Fast
Standard
Fast
Price
$19.95/year
$5.88/year
$39.96/Year
Paid or Freeware, What to Choose?
If you are looking for a free method to download YouTube to WMV, Freemake offers a free version that pretty much does the job of converting YouTube to WMV. However, the free version has a painfully slow download speed and very limited functionality as can be seen in the table above. If you are willing to pay money for a YouTube to WMV converter, it will be the best decision get the most premium yet affordable option, iTubeGo YouTube Downloader. It has a relatively affordable price and has the maximum functionality and will serve as your all-in-one media download and conversion tool no matter what website you want to download content from.
(Click to rate this post)
Generally rated 4.5 (215 participated)