When you discover that perfect track or song on SoundCloud, you will come across the need to download it. However, SoundCloud doesn't provide a direct option for you to go ahead and download the track into your Mac. That's where you need to look for an alternative method to download SoundCloud music on Mac.
We will show you 4 different and time-saving ways to download SoundCloud MP3 music on your Mac OS.
Tool
Price
Type
Speed
Tech Specs
iTubeGo YouTube Downloader
1-month plan: $9.95
1-year plan: $19.95
lifetime plan: $29.95
Family plan: $39.95
Desktop software
20.12s
Mac OS Big Sur, Mac OS X 10.15, 10.14, 10.13, 10.12, 10.11, 10.10
Audio Hijack
lifetime plan: $59.95 + local taxes
Desktop software
Music duration
MacOS 10.13 to MacOS 11
Sclouddownloader
Free
Online tool
25.29s
20.12s
Soundcloud Music Downloader
Free
Chrome extension
Fail to download
Chrome
Download SoundCloud Music on Mac with Software
1. iTubeGo Downloader
This is the easiest way to download SoundCloud music as well as playlists. iTubeGo Downloader is a full-featured downloader that can download MP3 music from SoundCloud, and also download HD, 4K videos from streaming websites such as YouTube, Facebook, Vimeo. iTubeGo comes with a built-in MP4, MP3 converter, so you no longer have to worry about format compatibility issues.
👍 Pros
It offers the most competitive price as compared to other similar tools even though its features are steadier and richer when compared to others.
It has one of the fastest download speeds in the business and the quality of the downloaded files remains the same.
Aside from SoundCloud, you can also use it to download music from a variety of other music and video sharing sites including YouTube, Instagram, Facebook, Vimeo and more.
It is updated often to ensure it remains useful and effective.
👎 Cons
You have to purchase the program to use it.
How-to Steps
Step 1. Copy your favorite music links on SoundCloud, Open iTubeGo, choose the output format as "MP3" in ⚙.
Step 2. Click "Paste url" to start the download process. You can paste multiple music URLs at once, iTubeGo supports downloading multiple songs at the same time.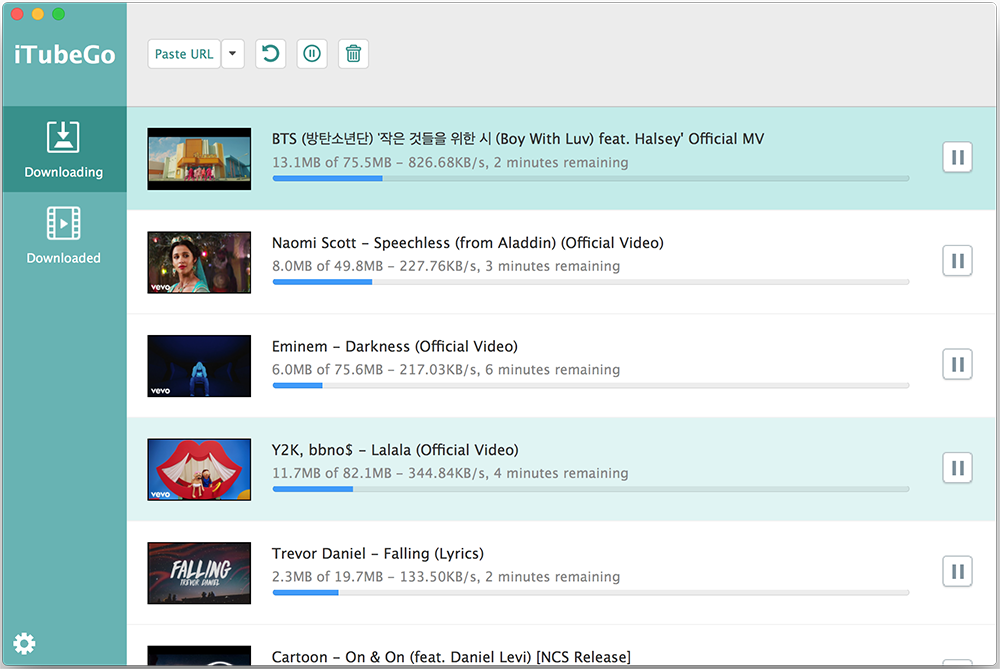 2. Audio Hijack
You can use Audio Hijack as a Mac SoundCloud Recorder and get the audio track downloaded into your Macbook. That's where Streaming Audio Recorder will be able to assist you with. This tool is in a position to record audio from a variety of sources, including web streaming audio, system audio, device audio, skype and more.
👍 Pros
You can use it to record music from unlimited websites. As long as the audio can be played on your Mac, you can use this program to record it.
It offers a wide array of practical functions that include the transfer of Audio to iTunes, Timed Recording, File Organization.
👎 Cons
The output quality will depend on the specifications of the microphone and the sound card on your computer.
The recording process is completely manual. You have to press a button to start the process and press a button to end the recording.
Since it doesn't actually download songs, you may not be able to download playlists or albums.
How-to Steps
Step 1. Drag the source you want to record to the panel, and drag the "Recorder" control to the panel. Then click the record button to start the recording.
Step 2. Click the pause button and the recorded file will be saved automatically.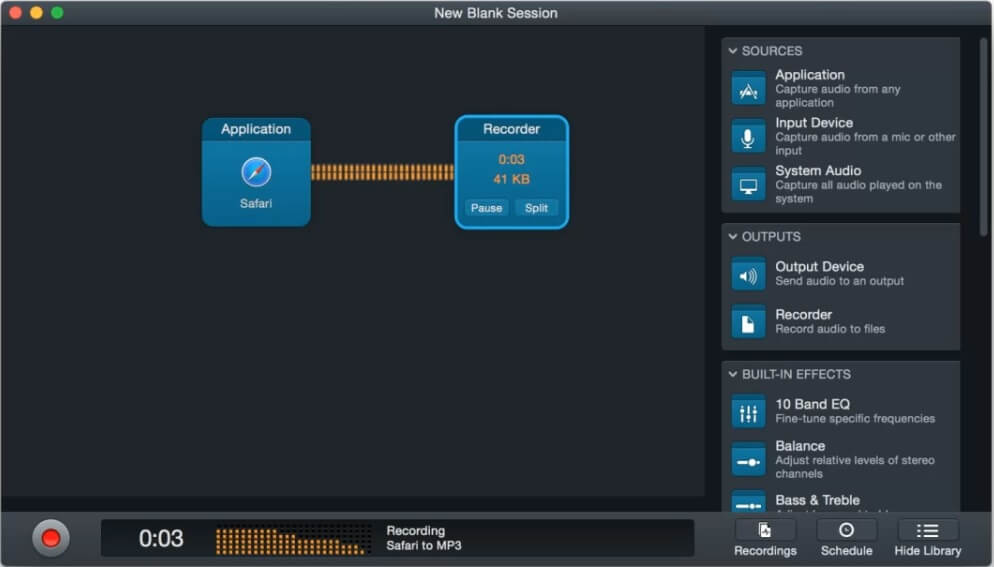 SoundCloud Downloader Online Tool
3. Sclouddownloader
Sclouddownloader is an online tool that you can use to download music from SoundCloud and save the songs to your computer in MP3 format. Like most other online tools, you can download the song by pasting the URL for the song you want to download in the provided space. Sclouddownloader then very easily converts the song to the MP3 and downloads it to your computer.
👍 Pros
It is completely free to use.
Since it is an online tool, you don't have to download or install any software or service on your computer to use it.
The download process is easy and quick.
👎Cons
The title of the downloaded music is wrong.
You have very little choice in the output format or the quality of the video.
The website can be unstable and fail to load sometimes.
How-to Steps
Step 1. Go to https://sclouddownloader.net/, copy the URL of a SoundCloud track and paste it on the SoundCloud downloader.
Step 2. After you paste, you will be able to see an option called "Download Track". Click on this button, and the downloader will start fetching the MP3 file from the source and downloading it.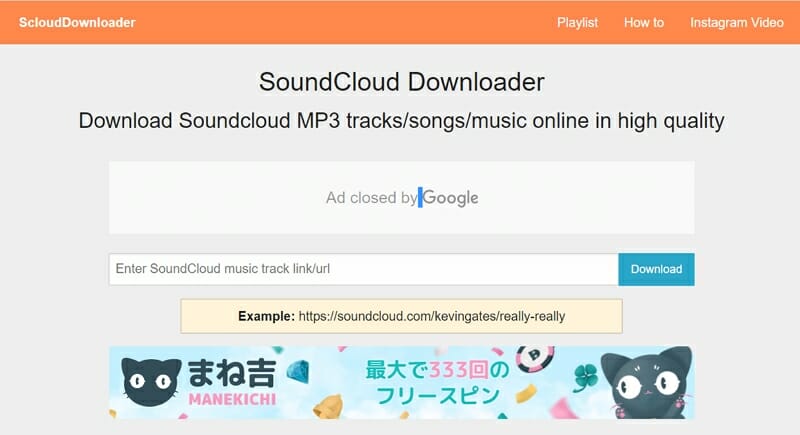 Use a Chrome Extension
4. Soundcloud Music Downloader
Soundcloud Music Downloader is a free Chrome extension which allows you to download music, playlist from easily. Just install the Chrome browser on your Mac and you can use it.
Pros
It is completely free to use.
Since it is a Google Chrome extension, it is very easy to set up.
It can download SoundCloud Playlist all at once.
Cons
Install using Chrome developer mode. Not in Chrome store.
How-to Steps
Step 1. Use developer mode to install extensions.
Open SoundCloud, a download button will appear under each track.
Click the download button, the program will convert SoundCloud music to mp3 and provide for download..

Above you can choose the method that suits you to download SoundCloud music on Macs. We recommend using the iTubeGo downloader, which can meet your needs for downloading, converting formats and retaining MP3 source tags. If you don't want to install any tools or software, free online tools are enough, and occasionally you can download one or two songs quickly and conveniently.