If you love music and listen to it on SoundCloud and want to download and convert SoundCloud to mp4 tracks and you don't know the solution. Well, you are at the right place. In this article we will tell you about 4 amazing ways to convert SoundCloud to mp4.
How to Convert Soundcloud to MP4 on PC/Mac
If you want to convert SoundCloud music to mp4 directly to your PC you can do it by iTubeGo SoundCloud mp4 converter. This software is a go to software for all your downloading problems. It is efficient, handy and user friendly with many amazing features.
You can download this software from below link:
Key Features:
Downloads media files (videos/music) from more than ten thousand websites.
Provides 10 times faster speed for downloads.
Easily convert SoundCloud media files into mp4 format.
Convert audio or video to various output formats without the loss of quality.
Download unlimited number of media files in bulk.
100% safe and available for both Windows and Mac operating systems.
How to Convert Soundcloud to MP4 Using iTubeGo
Step 1 Open SoundCloud and search for the track you want to download, then click Share and copy the URL.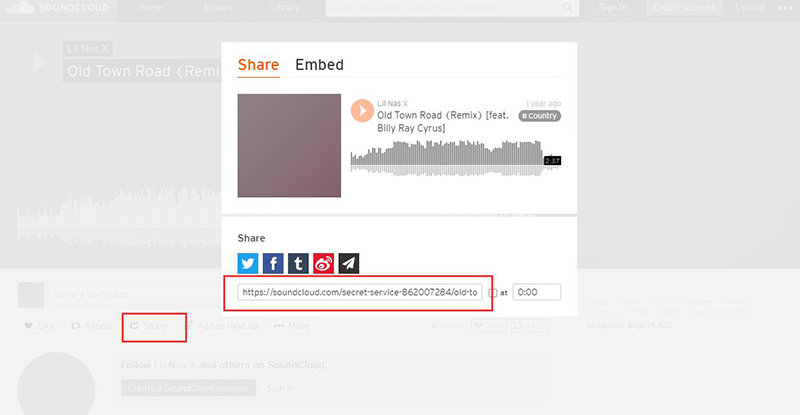 Step 2 As a next step, open iTubeGo desktop software and go to Preferences section. Here, you need to select the Download format as Audio and the required bitrate from the Quality tab. Then, go to "Download then Convert to" section of the software and set the output format as mp4.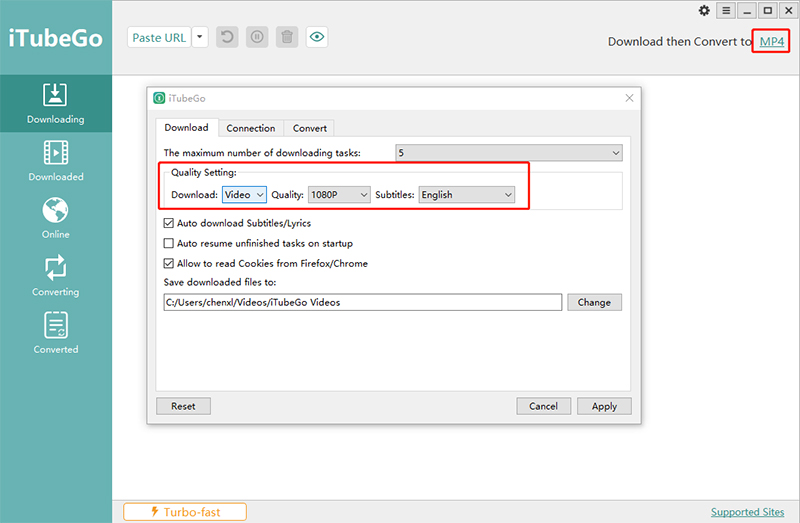 Step 3 Once you have selected the download settings, you will have to click Paste URL button. By doing this, your audio will start downloading automatically in the mp4 format.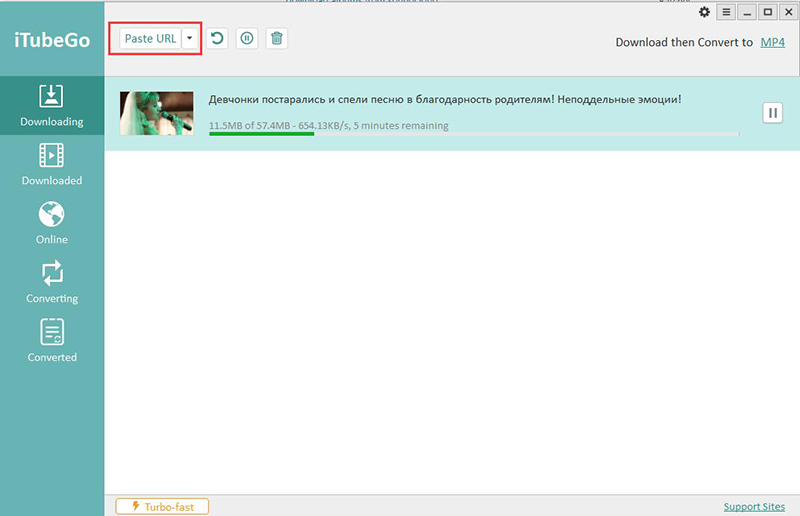 Step 4 When the download is complete, you can find the downloaded SoundCloud to mp4 file in the Downloaded section of the software or at any preselected location on your computer.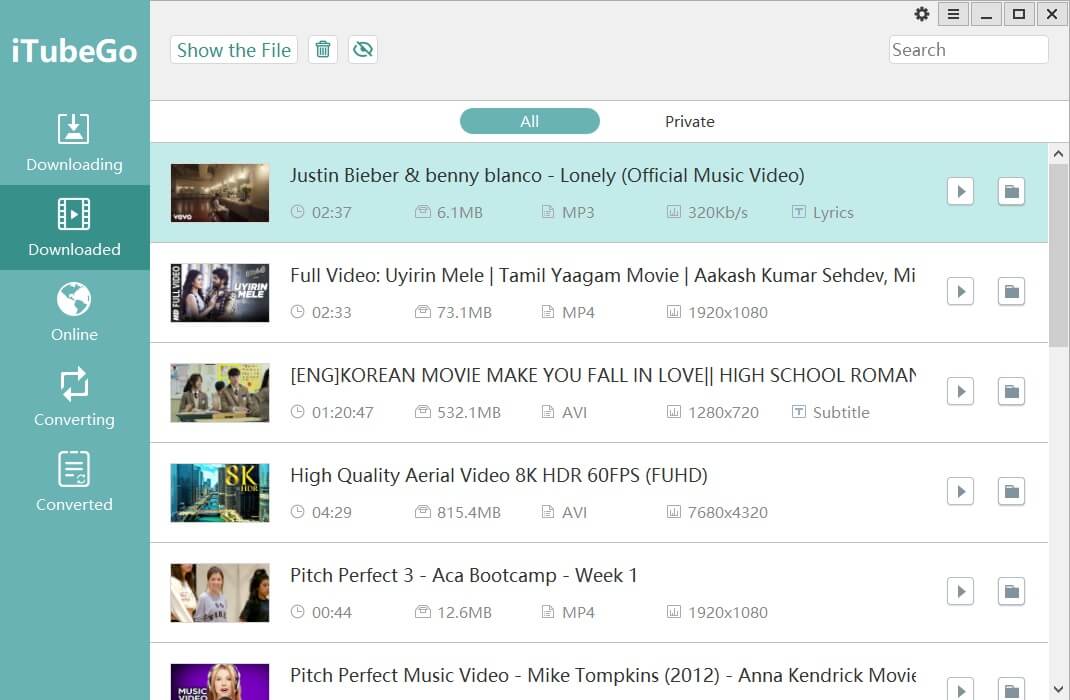 How to Get SoundCloud Download MP4 Online
You can also get SoundCloud mp4 download by online method using KeepVid.Pro. This software allows you to download and convert SoundCloud to mp4 format in high quality without the need to install any program or plugin. It allows you to download media files at higher speed than most of the other online tools.
You can follow the instructions mentioned below to convert SoundCloud music to mp4 format with the help of KeepVid.Pro online service.
Step 1 Go to SoundCloud and search for the track that you want to download in mp4 format. Then, click the share button and select the "copy the URL" from the provided options.
Step 2 In this step, open KeepVid.Pro on your browser. On the main interface, you will see a search box. Enter or paste the copied URL in that box.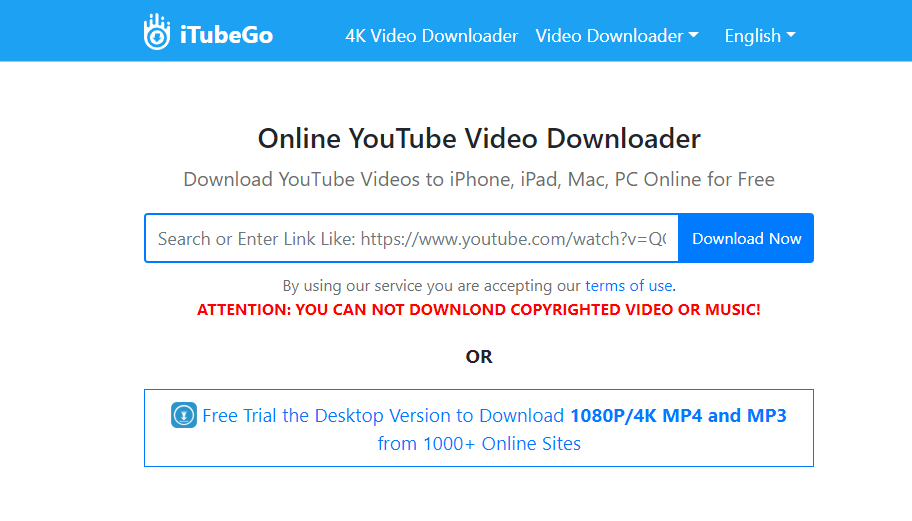 Step 3 As a last step, click on download now button to start converting SoundCloud track to mp4. You can also convert track to mp4 by right clicking and then select download button and select save link as… or download link as… to mp4 format to download. In this way, your SoundCloud music file will be downloaded.
SoundCloud MP4 Converter for Android
You can convert SoundCloud music files to MP4 on your Android device using the specialized iTubeGo for Android. It supports downloading in multiple formats including mp4. It prevents the buildup of storage on your phone and allows you to download on SD card. It has a smart link detection tool, which makes it even easier to use. That's not all; it also enables you to manage your files within the app.
You can download the app directly from the website. This is the safest way to download an apk version of the app for your android device.
Step 1 First of all, launch the already installed app on your Android device. On the main interface you can choose SoundCloud so that you can directly navigate the required SoundCloud content using the built-in browse and simply press the Download button.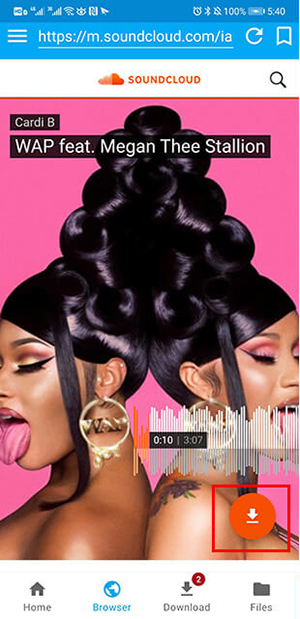 Or you can open SoundCloud and click share button so you can copy the URL. After you have copied the link, open the app it will automatically recognize the link and a box will appear and you can click the download button.
Step 2 Once you press the download button, you will get different options. Choose your format as mp4 and quality for download, and then, click OK.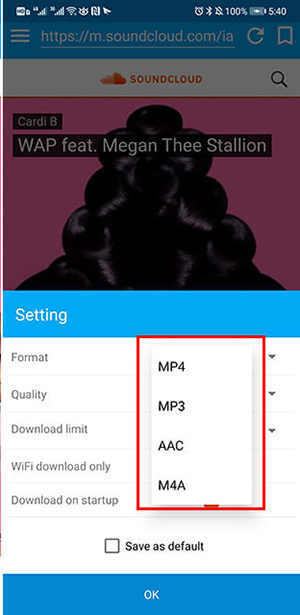 Step 3 After you've tapped the OK button, your file will be converted into required format i.e. mp4 and then downloaded into your Android device. You can find the downloaded track in Files section of the app.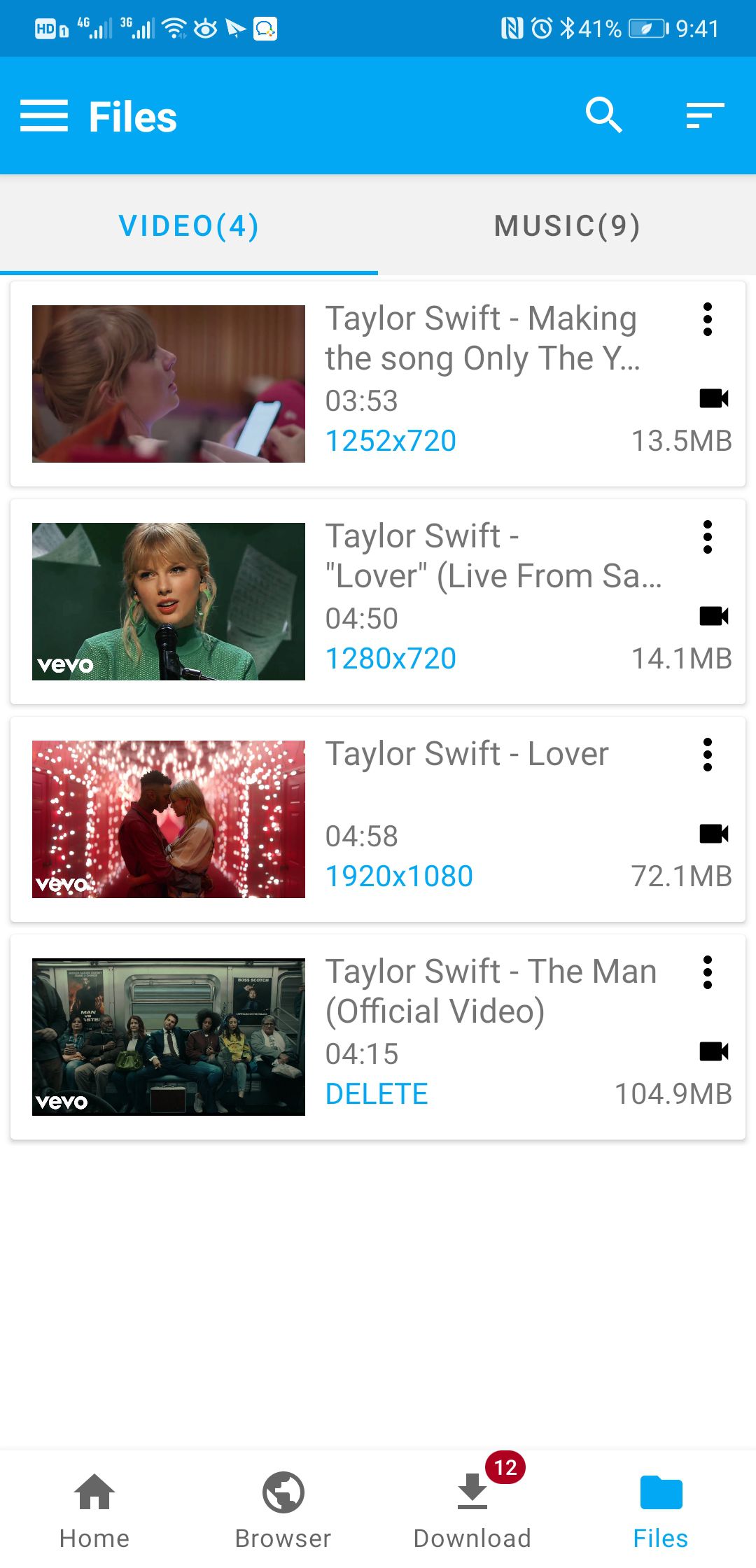 How to Convert Soundcloud to MP4 on iPhone
As, App Store does not allow any app to download music from SoundCloud, you wouldn't be able to convert SoundCloud to mp4 on iPhone using any dedicated SoundCloud mp4 converter app. But don't worry, we will tell you the way to download and convert your favorite SoundCloud to MP4 on your iPhone. Firstly, using iTubeGo, convert SoundCloud to mp4 on your PC as explained above in the article. Then you can directly transfer the files from PC to iPhone by following these steps:
Step 1 You can transfer the SoundCloud MP4 tracks from your PC to iPhone by connecting it with USB cable wire. You can also connect by using Wi-Fi sync option. Both of these methods will ensure the connection between both the devices.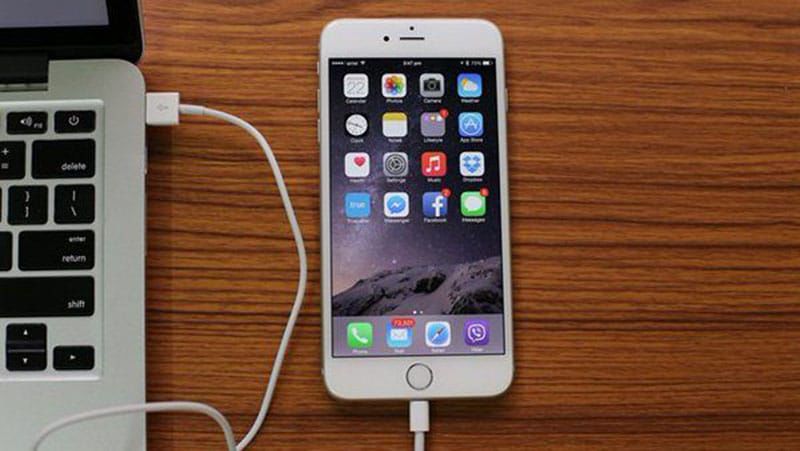 Step 2 Once you have established the connection you need to RUN iTunes software on your PC. Go to the top left of the iTunes window for mobile icon and select the media sharing option.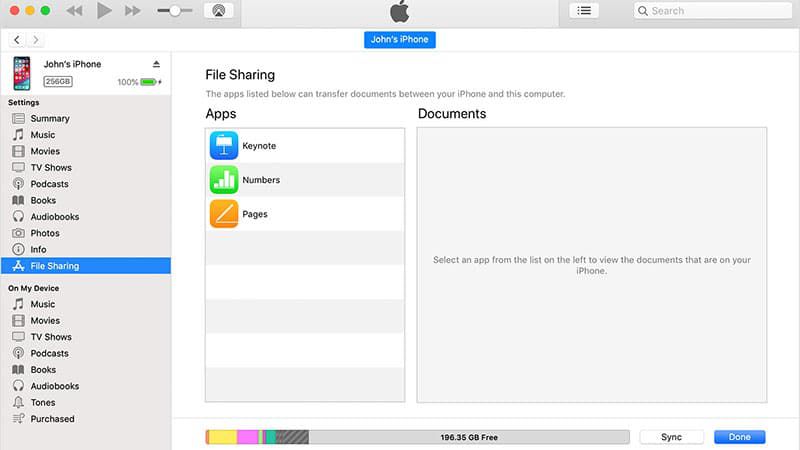 Step 3 The final step is to choose the SoundCloud MP4 track and click TRANSFER. This will ensure your mp4 track is now transferred to your iPhone.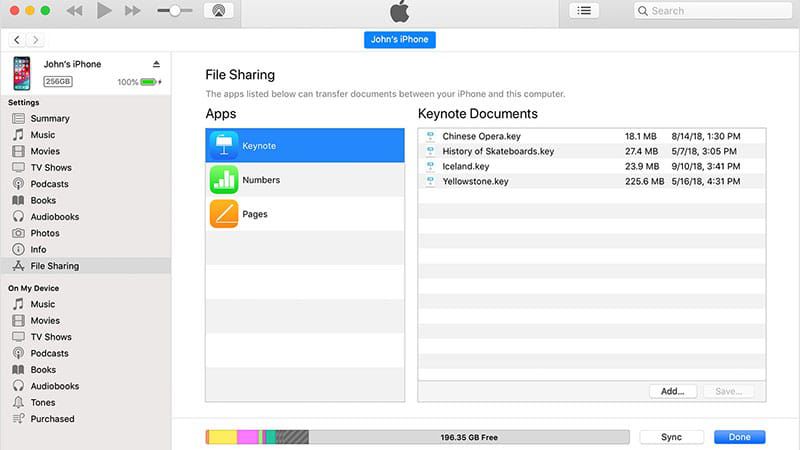 In Summary
In this article, we told you about the 4 amazing ways to get SoundCloud download mp4. Whether you are using PC, an android device, or an iPhone, we have got you covered. Where iTubeGo is all in one software for media downloading problems, more details in this article will make it easier for you to convert SoundCloud to mp4. We hope this article covered all of your queries related to the topic!
(Click to rate this post)
Generally rated 4.5 (215 participated)