People love to hear music, and they try to find the best possible ways to tune into their favourite melodies in the most convenient ways possible. Nowadays, there are plenty of music streaming services that offer free access to music, and it's becoming hard to choose the best ones among them. Two of the topmost music streaming services is offered by Spotify and Deezer that one must consider.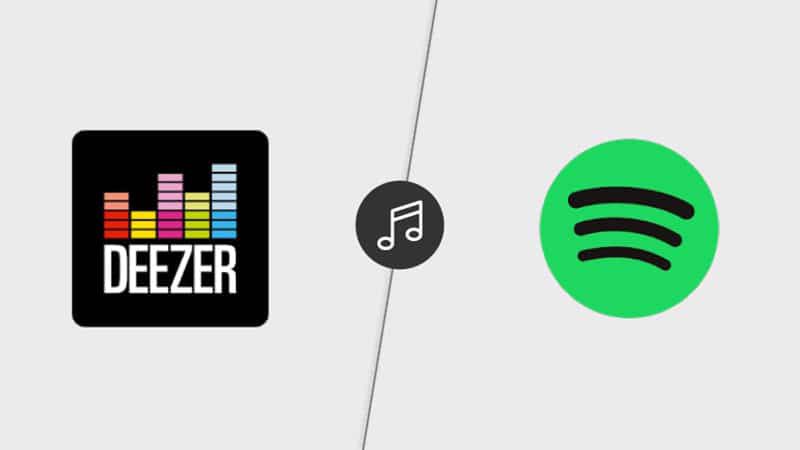 Spotify General Intro
One of the best digital music streaming services is offered by Spotify that provides access to millions of podcasts, songs and videos from different artists across the globe. This appealing streaming service allows you to get free access to its content by simply connecting with Facebook or signing up using an email address. You can tune into your favourite latest hits or old collections just by hitting the play button.
Deezer General Intro
Deezer is considered to be a massive hit among the biggest names of digital music streaming services. Deezer allows you to tune into a vast library of songs across a variety of devices with both paid and free subscription tiers available. It is generally operating in around 182 countries worldwide and is rendered the oldest and most widely music streaming services available on the market.
Let's debunk the difference between Spotify and Deezer that will assist you in choosing the best service!
Side by Side Comparison
Deezer
Spotify
Offline download
Yes
Yes
Platforms
Web, Android, iOS, Windows Phone; Blackberry, Apple Watch, Roku, Chromecast, Android TV, Bang & Olufsen TV, Hisense, Sony Bravia, Samsung TV, LG TV, Toshiba TV, WD TV, Panasonic TV, Philips TV, NetRange, Amazon Fire TV, TV Foxxum, Vestel
Web; Android; iOS; Linux; Windows; MacOS
Playlist sharing
Yes
Yes
User-created playlists
Yes
Yes
Get Suggested playlists
Yes
Yes
Radio Stations
Yes
Yes
Free Plan Audio Quality
128 kbps MP3
160 kbps MP3
Paid Plan Audio Quality
320 kbps MP3 (Premium) / 1411 kbps FLAC (HiFi)
320 kbps MP3 (Premium)
Ad-free music
Yes
Yes
Number of songs available
50M
30M
Number of countries available
180
58
Free Trial
30 days
90 days
Price

Student Premium: $4.99
Premium: $9.99
Family: $14.99 (6 accounts)

Student (Premium): $4.99
Premium: $9.99
Family: $14.99
HiFi: $ 19.99
Annual Premium Plan: $99.90
Libraries
When you are using the music app, the main thing to consider is what services you are getting from a particular app. Spotify gives their user excess to the 30 million of the songs from their tracks which are available in their library. You access this app within the 58 countries; the site is accessible in limited countries.
Deezer, on the other hand, is more popular because it gives its users more the 40 million songs in their library. The interesting thing is that you can easily access their site from all over the world, which includes the 180 countries. Deezer is an ideal app for the travellers because it will suggest you the famous local songs according to your live location.
Quality of Songs
The important thing to consider while you are choosing the best music app is the sound quality of the songs that are available in their library. Spotify free account gives the songs quality of 160kbps and 320 kbps for the premium users.
Deezer gives its user 128kbps quality of songs for the free users and for the premium account it give the 1411kbps quality of songs. If you want to write a CD, then Deezer is the best option for you.
User Interface
The design of the website plays an important in their success. The design of the music streaming service should be user-friendly, so any type of user can access it easily.
Deezer is famous for its user-friendly interface, and it is simple to use. Both the web and the mobile version is user-friendly. You can easily navigate the app to play your favourite songs.
Spotify is much difficult to use for everyone as compared with the Deezer. But you will enjoy the app and get used to it with the passage of time.