Where you can stream online music from Mixcloud, it doesn't allow you to directly download every Mixes. For this purpose, various solutions are available in the market, but to convert Mixcloud m4a to MP3 is something new for everyone. In this article, all the methods are provided with the links, which you can follow as per demand and can easily convert Mixcloud m4a to mp3.
Best Mixcloud M4A to MP3 Downloader on PC/Mac
To convert Mixcloud m4a to mp3 on your PC/Mac, you have to take help from a desktop software. And when it comes to downloading music from the internet, not any other program can beat Musify Music Downloader.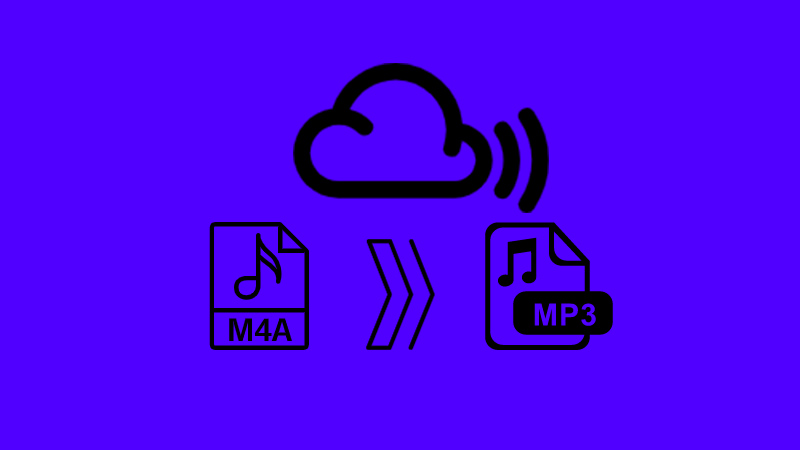 You can download this mixcloud downloader m4a to mp3 from below link:
Key Features:
Allows to download Mixcloud M4A to MP3, FLAC, OGG, WAV, and more.
Provides wide range of quality options, even high-quality 320kbps MP3.
Easy-to-use and impressive user interface.
Converts online videos into highest quality audio files.
Offers 100% reliable and 10X faster download speed than any other tool.
Available for Windows and Mac OS.
How to Download Mixcloud M4A to MP3
Step 1 First of all, open Mixcloud website and find the m4a file to copy its link. To copy the link, click the "Share" tab given below the track select the given link.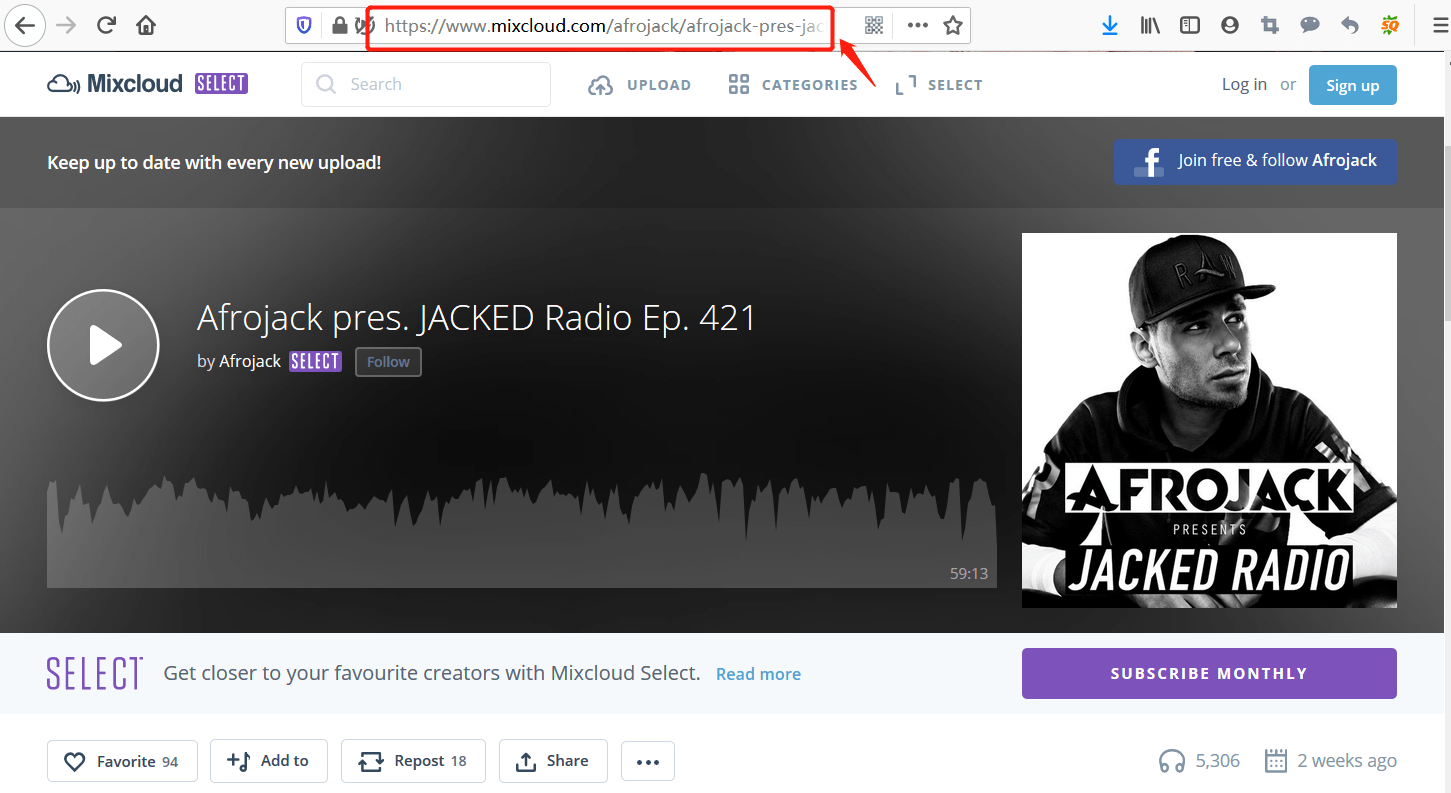 Step 2 Now, open the Musify Music Downloader and head over to Preferences and Download sections respectively. In the Download tab, you'll have to select Mp3 in the Format option and the required bitrate in the Quality field.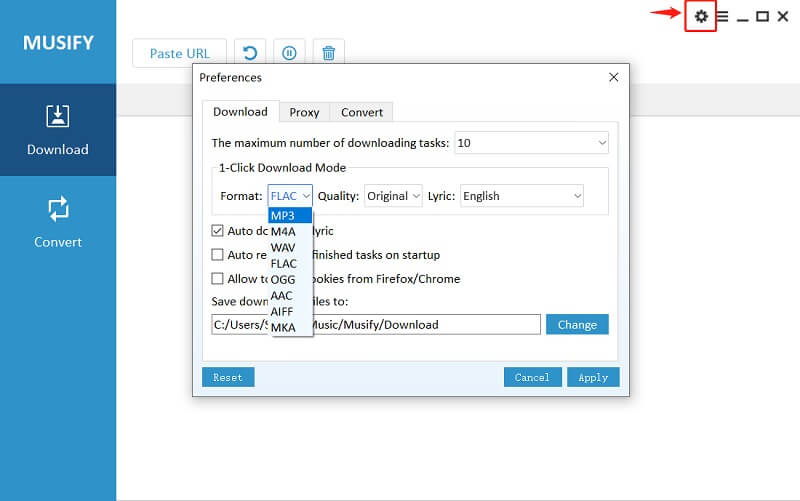 Step 3 Then, you'll need to come back to the main interface of the Musify program and click the "Paste URL" button. Once you've clicked that, the program will automatically analyze the copied link and start the downloading process instantly.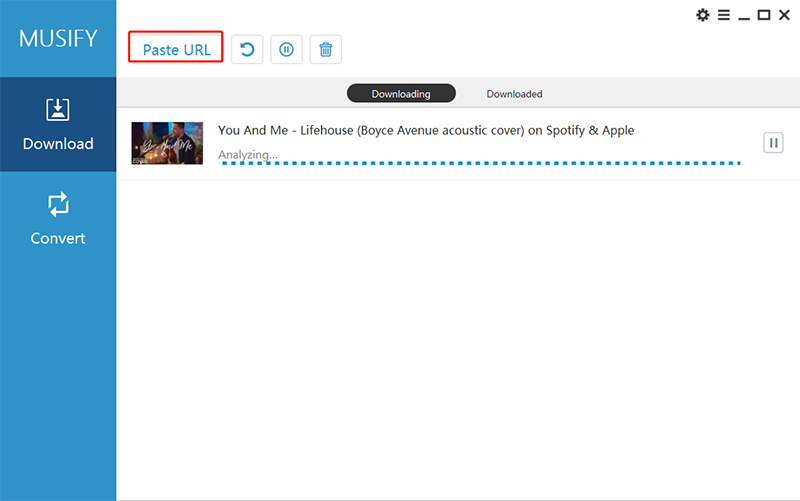 Step 4 As soon as the download is complete, you will find the downloaded song at the pre-selected destination location on your computer or simply from the Downloaded section of your Musify software.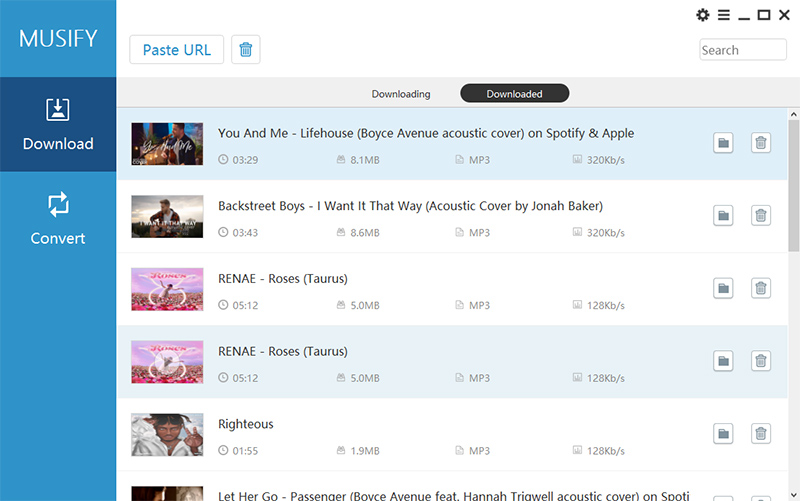 Tip: If you need to convert any local m4a file to mp3, you can also try the Musify converting function. Simply follow this link to get more details for this.
Mixcloud Downloader M4A to MP3 Online
What if you don't have enough space on your computer to install any software and still want to convert M4A to MP3? Yes, it's pretty much possible with the help of online tools. To convert Mixcloud m4a files to mp3, we're going to refer one of the best online downloading services, KeepVid.Pro.
KeepVid Converter is a web-based MP3 converter with millions of trusted users and fans. It enables you to convert m4a to high-quality MP3 files and download them to your device. KeepVid gives you the most secure and reliable MP3 converting solution. Online Mixcloud downloader m4a to mp3 (KeepVid.Pro) makes it much easier to download Mp3 files without having to install any software. Just follow these 3 easy steps:
Step 1 First of all, copy the URL of the m4a song that want download from Mixcloud.
Step 2 Now, open KeepVid.Pro on your web browser and paste the link in the search box of the downloader.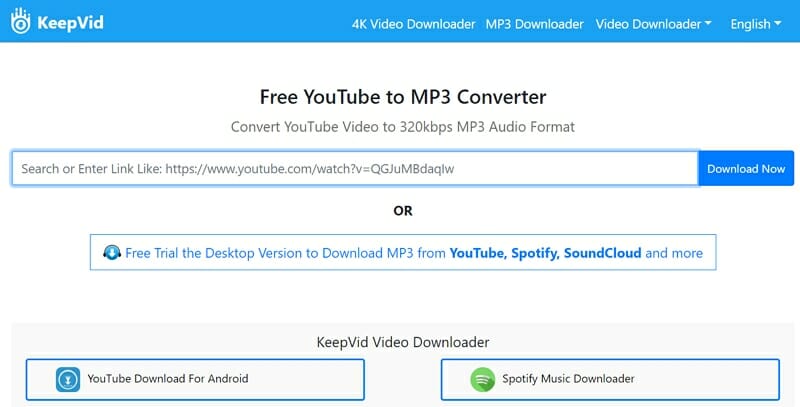 Step 3 Click "Download Now" button to save the Mixcloud track in MP3 format.

How to Convert Mixcloud M4A to MP3 on Android
If you want to download your favorite song from the Mixcloud m4a to mp3 directly on your Android device, there is no such way available in the past. But after the release of free dedicated Android application, iTubeGo for Android, download video/music from the internet in just a piece of cake.
You can download this APP from below link:
Key Features:
Can download high-quality music and videos from 1000+ websites, including Mixcloud.
Allows you to convert Mixcloud M4A to MP3 and various other output format, providing the option to choose from differed quality option.
No pop-ups or ads.
100% free to use and allows to download content directly on your Android phones.
Here are easy steps you can follow once you are done with the downloading of the iTubeGo on your Android device.
Step 1 After installing iTubeGo for Android app on your device, head over to its homepage where you can see the dedicated icons for all the prominent video and music sharing websites. In the "Other Sites" section, you'll see a Mixcloud tab. Click on it to navigate the website with the built-in browser of the app.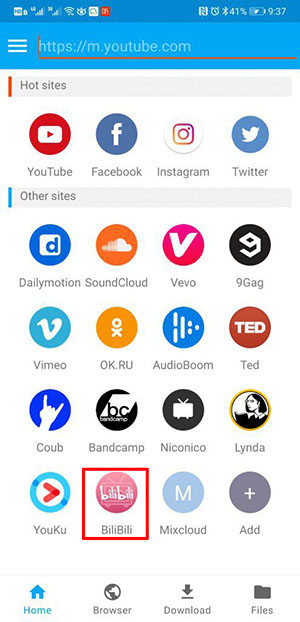 Step 2 In this step, search your required Mixcloud content in M4A format. After opening the particular Mixcloud page, press the Download button located at the right-bottom side of the screen.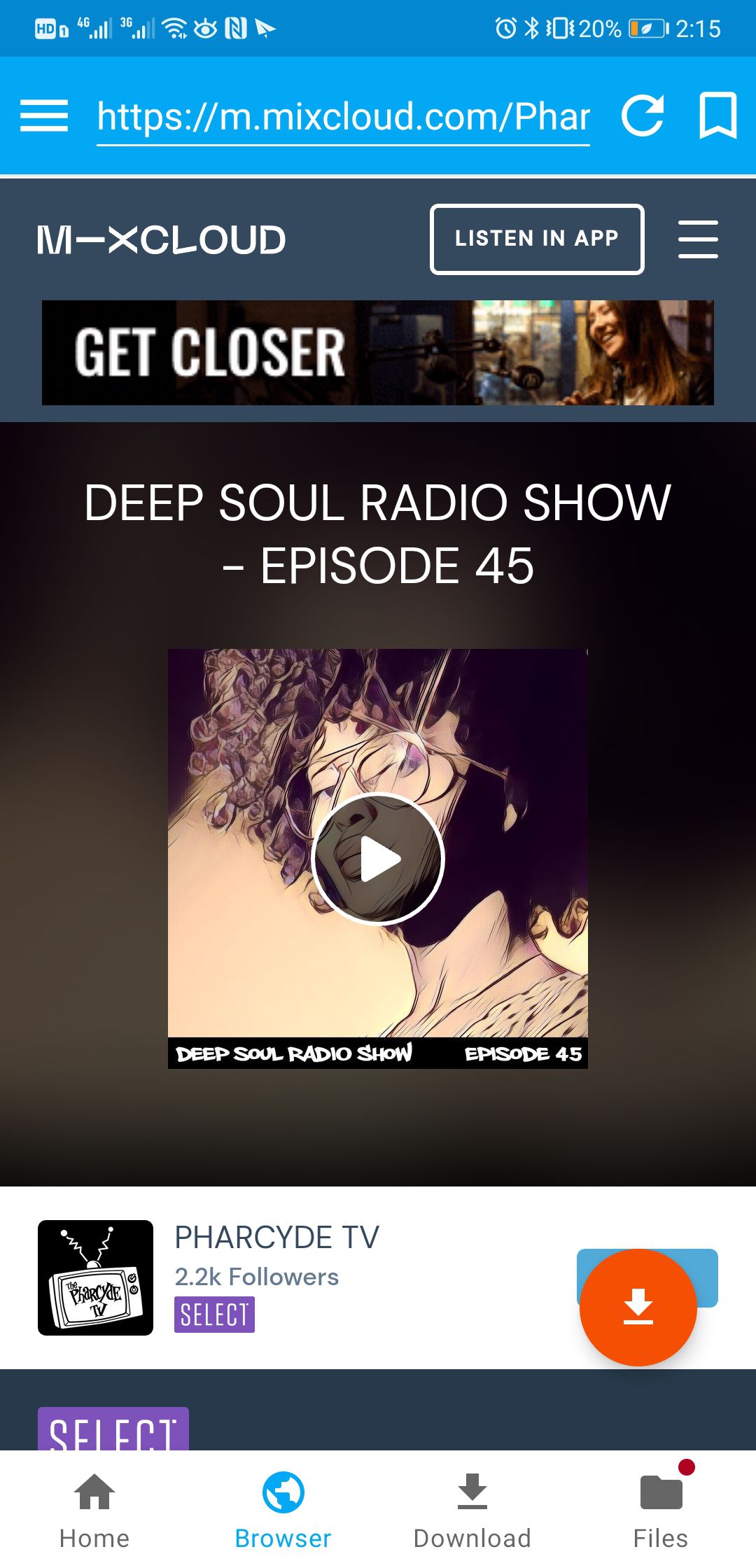 Step 3 Pressing the Download button, you'll be provided with different download options to choose from. Select the MP3 as the output format and 320kbps in the Quality field. Finally, press the OK to start the downloading process in the required format and quality.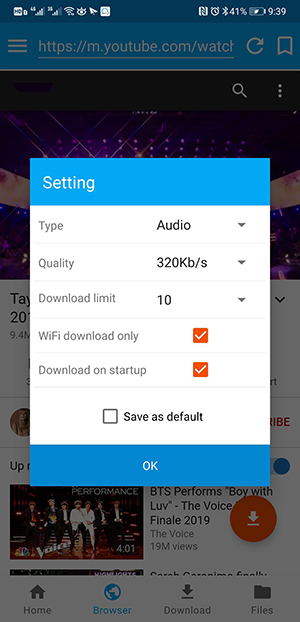 Step 4 Once the Mixcloud MP3 file has been saved successfully on your Android device, you can access all the saved media from the "Files" section of the iTubeGo app.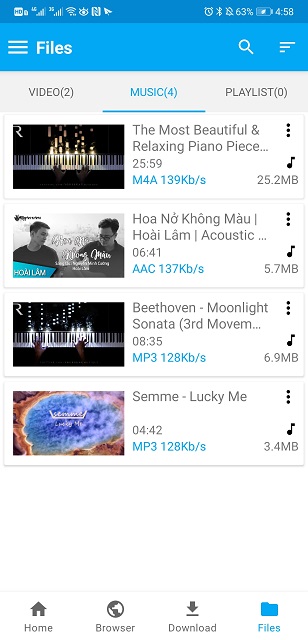 How to Convert Mixcloud M4A to MP3 on iPhone
Converting Mixcloud m4a to mp3 on the iPhone has always been a tough job for the users. But now Musify software has made a lot of things easy, which also includes converting Mixcloud m4a to mp3. You can easily convert Mixcloud M4A to MP3 using Musify (as described above), and then, transfer the downloaded files from the computer to your iPhone.
The following are the steps through which you can transfer the converted mp3 songs from computer to your iPhone.
Step 1 Once you have converted mp3 songs on your PC which you want on your iPhone. Connect your device to the computer. It can be connected by using two methods either by USB wire connection or else by wireless WiFi sync option. Both of the methods will work equally well. Make sure the iPhone is firmly connected to the computer.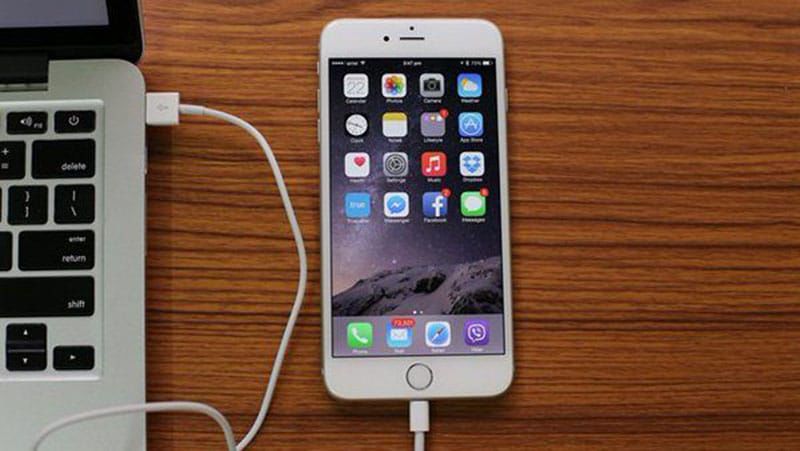 Step 2 As soon as your iPhone is connected to your PC, start iTunes software on your computer to start the transfer process. In iTunes click on the small phone icon on the topmost left corner and click on the media sharing option.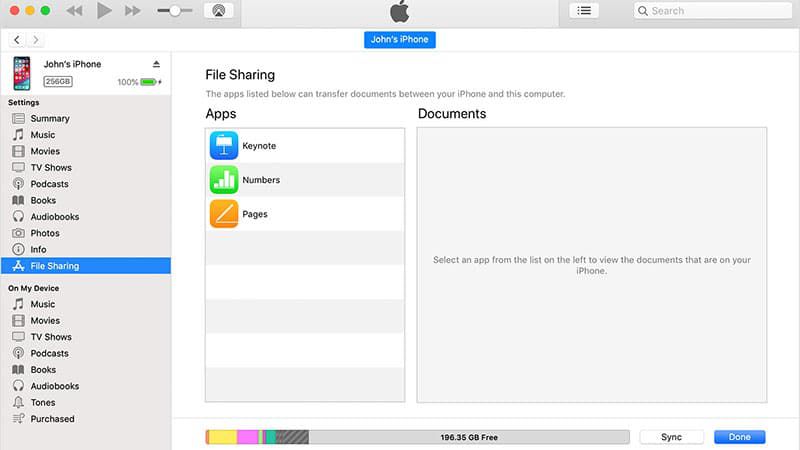 Step 3 Choose the mp3 converted songs you want to transfer to your iPhone and click on the Transfer button to transfer the video to iPhone.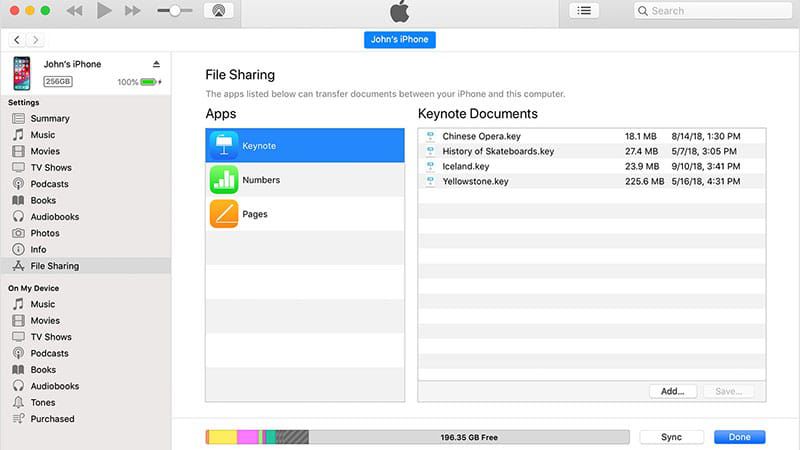 By following this method you will be easily able to have mp3 songs on your iPhone.
Summing-Up
You cannot convert Mixcloud m4a to mp3 directly using any official method. Mixcloud doesn't offer the option to download directly, but you can do that using Musify software. It is available for PC and Mac, and for Android devices, You can convert the songs using iTubeGo. And if you want the converted songs on an iPhone, you need to download them to a computer using the Musify desktop software, and then you can transfer them to your iPhone from there.
(Click to rate this post)
Generally rated 4.5 (215 participated)