One of the benefits of having a MixCloud account is that you can enjoy music in so many different ways. Other than the usual songs and playlists, you can also get access to some of the best DJ mixes, news and even podcasts. But like most streaming services, you can only get access to these if you are connected to the internet.
MixCloud does have a way to save the songs and playlists for offline listening, but as you may well already know, this solution is severely limited. In this guide, we will share with you alternative ways to convert MixCloud to MP3 and get to keep them permanently.
Tool
Price
Type
Speed
Musify MixCloud Downloader
1-month plan: $9.95
1-year plan: $19.95
lifetime plan: $29.95
Family plan: $39.95
Desktop software
21.75s
Audacity
Free
Desktop software
Music duration
iMusic
1-year plan: $39.95
lifetime plan: $59.95
Family plan: $149.88
Desktop software
25.29s
Y2Mate.tv
Free
Online website
27.08s
ytmp3.co.com
Free
Online website
28.30s
1. Musify MixCloud Downloader
Musify music downloader allows you to download MixCloud mp3 music, album and playlist for offline listening by copying and pasting the URL easily. You can convert the media file to MP3, M4A, WAV without the need of audio converters. The ID3 tags, audio quality, and lyrics of the music are retained. It also supports other poplular music websites such as Spotify, SoundCloud, Bandcamp, etc.
👍 Pros
It offers the most competitive price of the paid MixCloud downloaders especially when you consider that it has better, richer and steadier features.
It has one of the fastest download speeds of any tool in the market.
Apart from MixCloud, you can use it to download music from countless other sites including YouTube, SoundCloud, Vimeo, Spotify and so many more.
It is also very easy to use; all you have to do is paste the MixCloud link into the program and the download begins.
👎 Cons
You have to pay to use this program.
How-to Steps
Step 1 Copy the MixCloud music link in the browser address bar, or click the Share button to get the music url.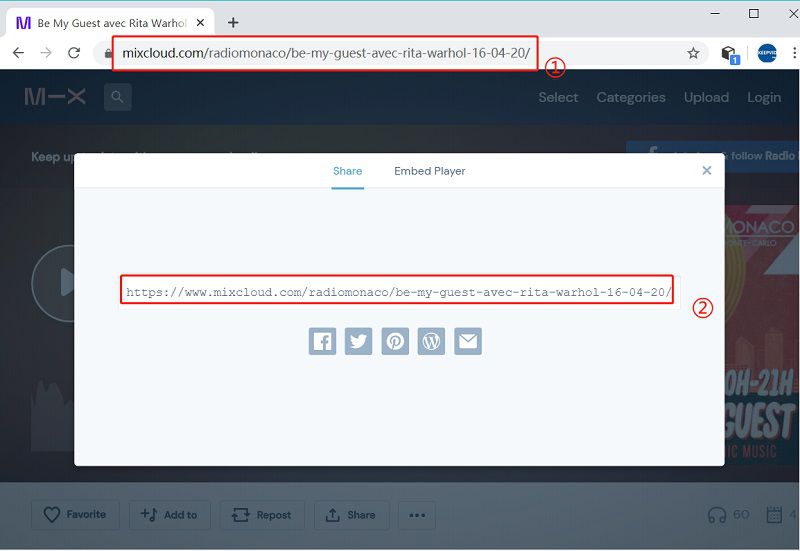 Step 2 Then click Paste URL, Musify will automatically detect the music link. When the download is complete, jump to the downloaded tab for playback MixCloud music.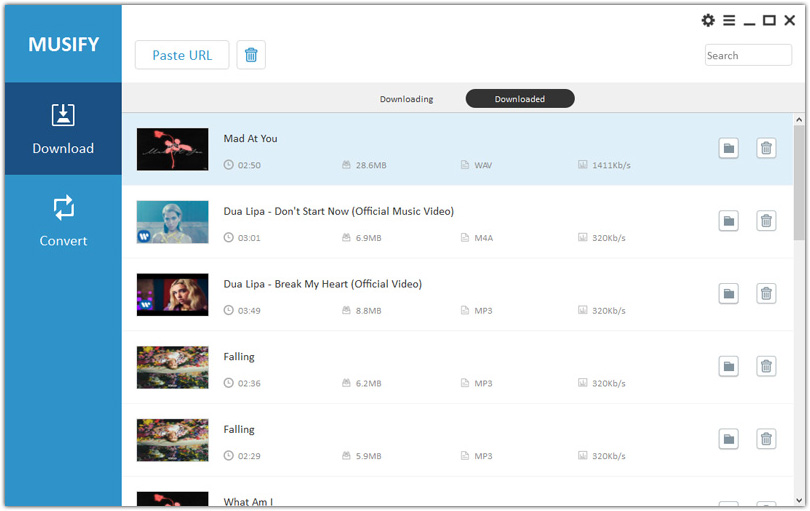 2. Audacity
You may already be familiar with this free and very popular audio editing suite. Available for Mac, Windows and Linux OS, Audacity may be known for its audio editing capabilities, but you can also use it to record some of the songs on your MixCloud account.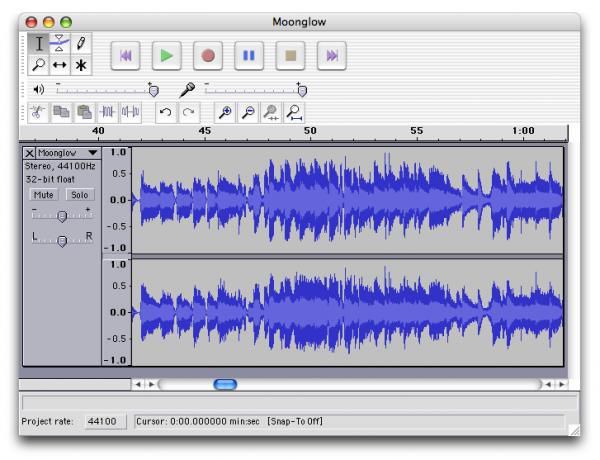 👍 Pros
It is free to use
It offers plenty of audio editing functions including the ability to edit dialogue, trimming music tracks and sound effects
It supports batch processing
👎 Cons
It is more of an audio editor than a recorder
The quality of the recorded song will depend on the computer's microphone specifications and sound card
You have to install several add-on programs and services to access the full suite of features
Recording of the song can only be done manually. You have to click the "Record" button to start recording the song
The user interface is not very friendly particularly to beginner users
It can't be used to download albums of playlists
It doesn't offer any customer support
How-to Steps
To use Audacity to record the song in your MixCloud account, follow simple steps:
Install Audacity on to your computer and then open it
Now open MixCloud and begin playing the song that you want to record
At the same time, click "Record" in Audacity to begin recording the song. You will have to stop the recording after the song is complete.
You can then use the variety of editing tools Audacity has to edit the audio recording as you see fit before saving it in MP3 format.
3. iMusic
This all-in-one music downloader can be used to download music from MixCloud and other sites as well as record music on your computer. It can also be used to transfer music between your device (Android and iOS) and the computer.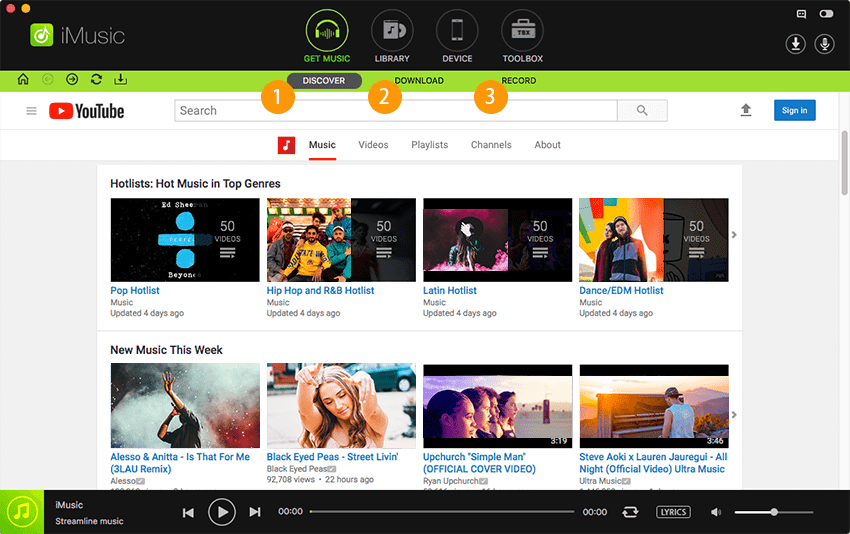 👍 Pros
The download speed is very fast and the downloaded song doesn't lose its quality
You can download music from more than 3000 sites
You can download and record music from MixCloud
This tool will automatically start recording a song if it is not in the library
👎 Cons
Sometimes you may experience error codes when you try to download
It is very expensive
Fails to correctly identify ID3 tags
How-to Steps
Here's how to use iMusic to download MixCloud to mp3;
Download and install the program on your computer. Open it after installation.
Go to MixCloud and find the song you want to download. Copy the URL
Paste the URL in iMusic and the download process will begin immediately.
To make your downloading experience easy and useful, we have made a list of trustworthy mp3 converters available on the internet. You can use these online tools to convert Mixcloud to mp3 format and save your favorite music to the computer.
Y2Mate MP3 Converter is an online tool that provides a useful and secure way to convert songs from Mixcloud to mp3 format. The user-friendly interface and simple procedure enable you to download mp3 songs in an ultra-fast way.
It allows downloading the Mp3 files in the bit rate up to 320kbps. This online tool can be opened with any browser such as Chrome, Safari, Firefox, etc. Furthermore, it is a free tool that converts the music into mp3 format without any quality loss.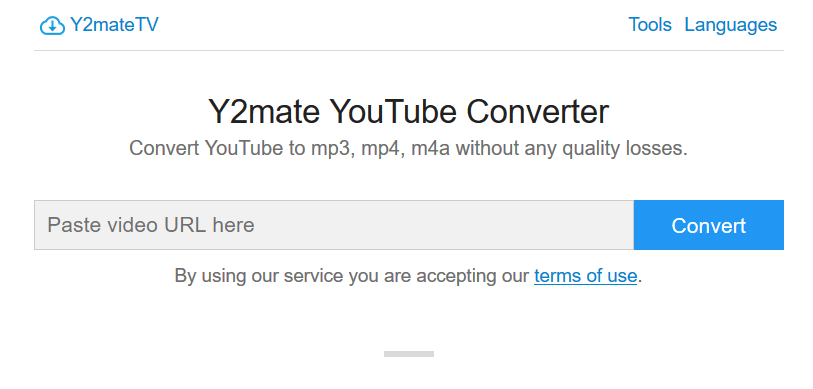 👍 Pros
It is completely free to use and easily accessible on any browser
Download can be very easy: all you have to do is paste in the URL of the song that you want to download
The downloaded songs are in good quality
👎 Cons
A stable connection of Internet is necessary, otherwise the download process needs to be started over again if it breaks up.
Less choice of output format and quality of the media files.
It may fail to download some of the songs
It displays a lot of ads, sometimes even inappropriate content
How-to Steps
Go to the Mixcloud website. Look for the music that you want to download and copy its link.
Now paste the link in the Y2Mate MP3 Converter search box and click on the "Convert" button.
Once you have clicked the "Convert" button, the conversion will start and then the mp3 music will be downloaded to your computer.
5. YTMP3
You can use Ytmp3 MP3 Converter to easily convert Mixcloud music into mp3 at 320kbps and then download it for free on your computer. The quality of the music after the conversion always remains the same as the original file.


👍 Pros
It is free to use
It is very easy to use
It supports the download of music and videos from a variety of other sites including YouTube, VEVO, Vimeo and more.
👎 Cons
A stable connection of Internet is necessary, otherwise the download process needs to be started over again if it breaks up.
Less choice of output format and quality of the media files.
How-to Steps
Copy the URL of the Mixcloud music that you want to download.
Now paste the copied URL in the YTMP3 search box and select the format to MP3.
Click the "Convert". When the conversion will be completed, you can download the MP3 file by clicking on the "Download" button.
The Bottom Line:
There are various other options are available in the market but we have figure out the best tools (Online & Desktop) that can be used to download Mixcloud as mp3. Choose any one of them and enjoy the Best Mixcloud MP3 Music!
(Click to rate this post)
Generally rated 4.5 (215 participated)