An MP3 Tag editor can make your work easy and less time consuming. As we all know, tag editing means editing metadata of file formats than altering the actual file content. These MP3 tag editors work in a batch processing mode, so you don't have to edit files one by one manually. It saves your time and gets your job done perfectly.
This article will discuss how we can use the MP3 tag editor free and which one is the best Mp3 tag editor.
Best MP3 Tag Editor to Edit MP3 Metadata – TidyTag
Managing your music collections is not a problem anymore. TidyTag Music Tag Editor is the best Mp3 tag editor as it is versatile and powerful music tagger that can be used to add or modify ID3 tag to music files. Moreover, you can also remove duplicates from the library by using the TidyTag music tag editor.
It is the best mp3 tag editor software for everyone if you are a musician, DJ, or a music collector. TidyTag music tag editor offers 30 days money-back guarantee and supports almost all the audio and metadata formats. In addition, its batch process mode edits all your files just in a click. Also, you can organize your music collection accordingly by making folders.
Key Features
Separate versions for Windows and Mac operating systems.
Supports audio formats (MP3, AIFF, AIF, M4A, M4R, FLAC, OGG, WAV, APE, ASF, and WMA) and metadata formats (ID3V1.3, ID3V2.3, ID3V2.4, Ogg Vorbis Comment, APE, ASF, and RIFF Tag).
Comes with built-in music player.
iTunes supportive: you can add or drag music into TidyTag.
30 days money-back guarantee.
Playlist management by creating folders according to artist, album artist, and genre.
How to Edit Music Tags Using Tidytag
Sometimes we download music files with wrong metadata that can mess up your music collection. Metadata is the information about the content like a release date or singer/album name. To avoid any complication managing your music library, you need music files that are improperly tagged to keep your files organized. You can also edit tags by using an MP3 tag editor. Fortunately, we are going to discuss how we can use the TidyTag music tag editor.
Step 1

Download TidyTag and Install
To download the TidyTag music tag editor, you can go to their official website or use the links given below.
After downloading, install it on your computer. You can also get guidance from the official user guide available on the website.
Step 2

Add Audio Files to TidyTag
Open TidyTag and click on the "Add music files" and your computer's music library will appear. Now select the files you want to add and click on "open". You can also add music by the drag and drop method. Select the files and drag them to the main interface of the TidyTag and drop them. In this way, your music files are added.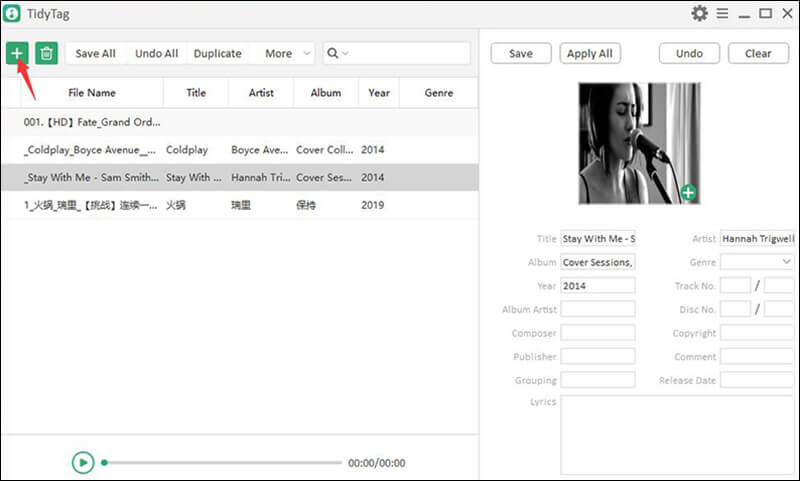 Step 3

Select the File and Review the Metadata Tags
Now, select the files to review the metadata tags. After selecting the files, the TidyTag will display the corresponding metadata tags on the sidebar at the interface's right side. You will see all the tags, including Title, Album, Artist, Genre, Year, Copyright, Publisher, Album Artist, Disc Number, Composer, Comment, Grouping, Release Date, Track Number, Cover, and Lyrics at the right side of the interface.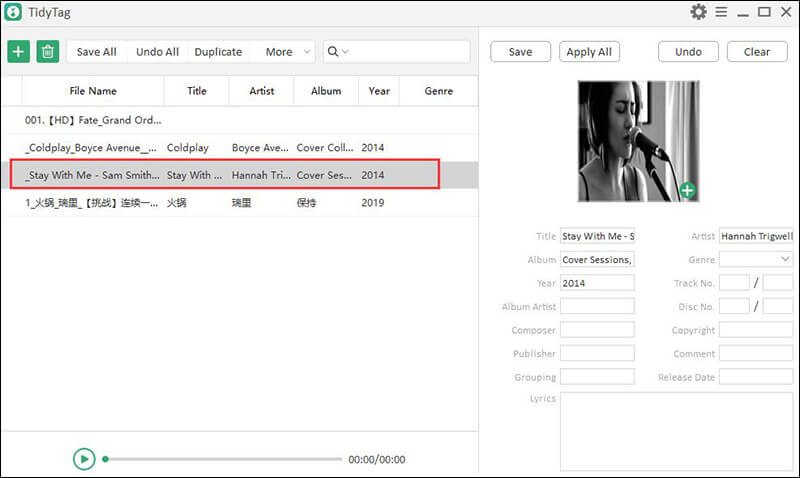 Step 4

Add or Modify Metadata Tags
Once you have selected the files, you can edit or modify tags according to your requirements. You can also add missing tags and change the album cover by clicking on the + button on the album's cover photo and choosing the required cover photo from your computer.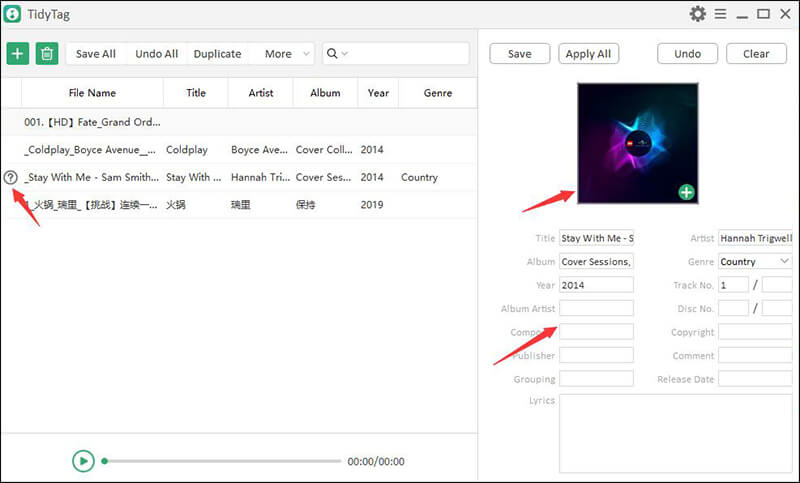 Step 5

Save the Edited Tags
After making all the changes, select the "Save" option on the top of the sidebar and apply the changes to your music files.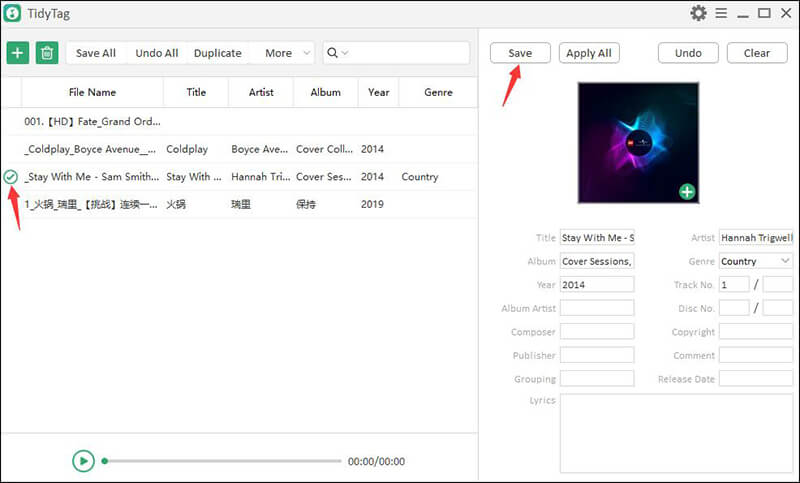 How to Edit MP3 Tags Using iTunes
iTunes is an application for iPhone users. It is a free application for Windows and Mac and available on the official website of Apple. iTunes can play all your music files and sync your data between your devices. You can also find the latest music videos and audios on iTunes. You can also edit music tags and organize songs through iTunes.
Pros
Cons

It has a huge collection of music and videos.
The clean design of iTunes makes it less complicated for users to operate.
You can back up your iPhone's data on your computer or iCloud.

You have to delete your files manually on your external device.
Also, you cannot merge multiple libraries, and it takes a lot of disk space for a media player.
How to Edit MP3 Tags Using iTunes
Step 1

Add Your MP3 Files to iTunes
Go to your music files, select them and right click and choose "open with iTunes" to add your music files to iTunes.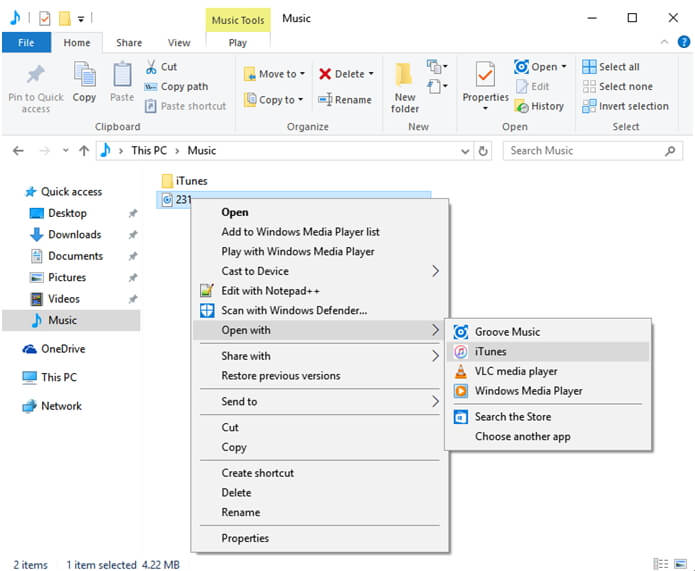 Step 2

Add ID3 Tags
After your music file has been added to iTunes, right-click on it and choose "album info." A pop-up screen will appear, you can edit tags and metadata as required.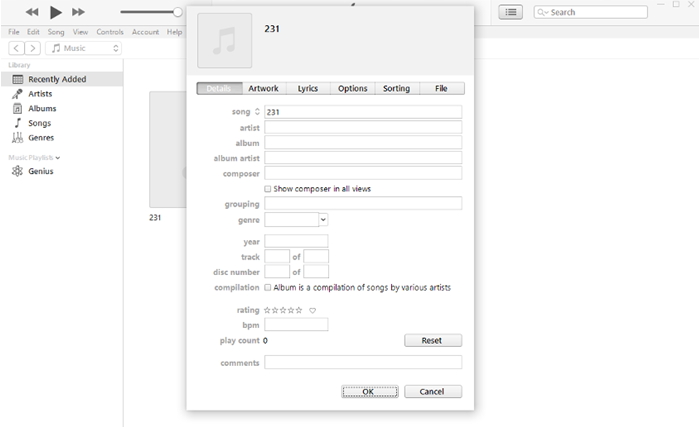 Step 3

Save Your Changes
Now click "ok" at the bottom of the pop-up window. Your updated mp3 music file is saved.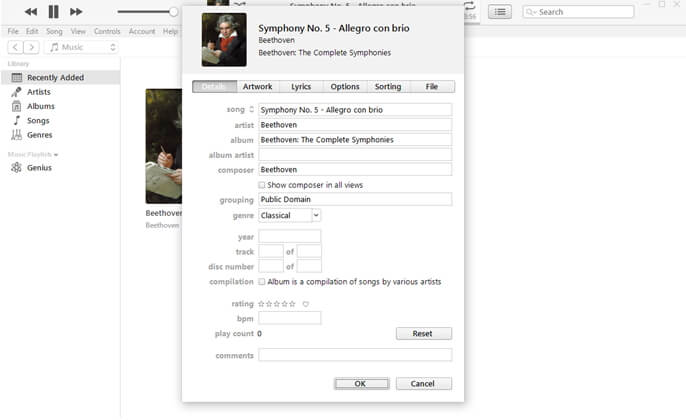 Other Free MP3 Tag Editors
1. MP3Tag
MP3tag is an easy to use tool that allows you to edit metadata tags. It is one of the best MP3 tag editors as it allows tag editing of other formats like ALAC, AIFF, DSF, AAC, FLAC, and more. Moreover, it offers many extra features, like managing your music collection and organizing your music library.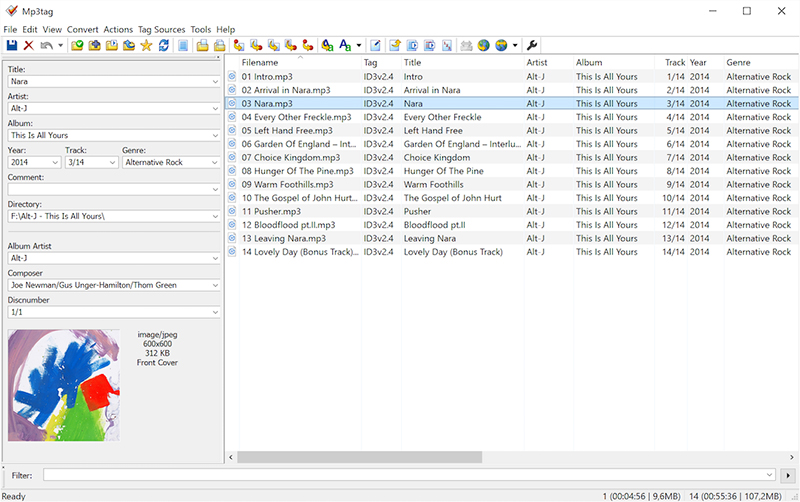 Pros
Cons

It supports a variety of formats and online metadata lookup.
They satisfy their users by their easy-to-use interface.

It cannot save changes automatically that is one of its most major disadvantages
Users cannot edit synced lyrics as well.
2. TagScanner
TagScanner is another useful Mp3 tag editor free tool, as it allows you to edit modern formats like ID3v1/v2, Vorbis comments, APEv2, and others. Moreover, it is a powerful tool that can manage and organize your music files. You can create a playlist just in one click, and you can rename your music files according to your requirements.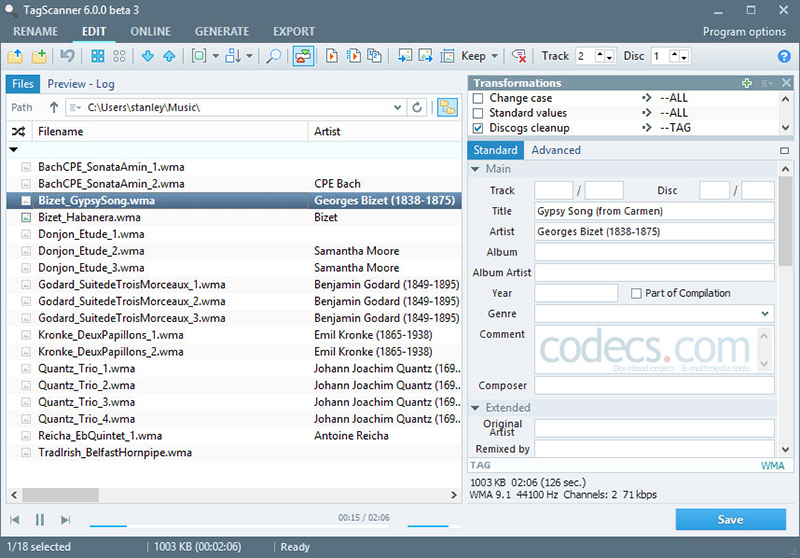 Pros
Cons

You can export playlists as HTML and spreadsheets.
It automatically pulls metadata from online databases.

The interface isn't very intuitive.
It does not support viewing and editing synced lyrics.
3. Kid3
Kid3 audio tagger is the Mp3 tag editor that allows you to edit tags without typing the same information repeatedly. It supports multiple formats MP4/AAC, MP2, Opus, Speex, TrueAudio, WavPack, WMA, MP3, Ogg/Vorbis, FLAC, MPC, WAV, and AIFF files.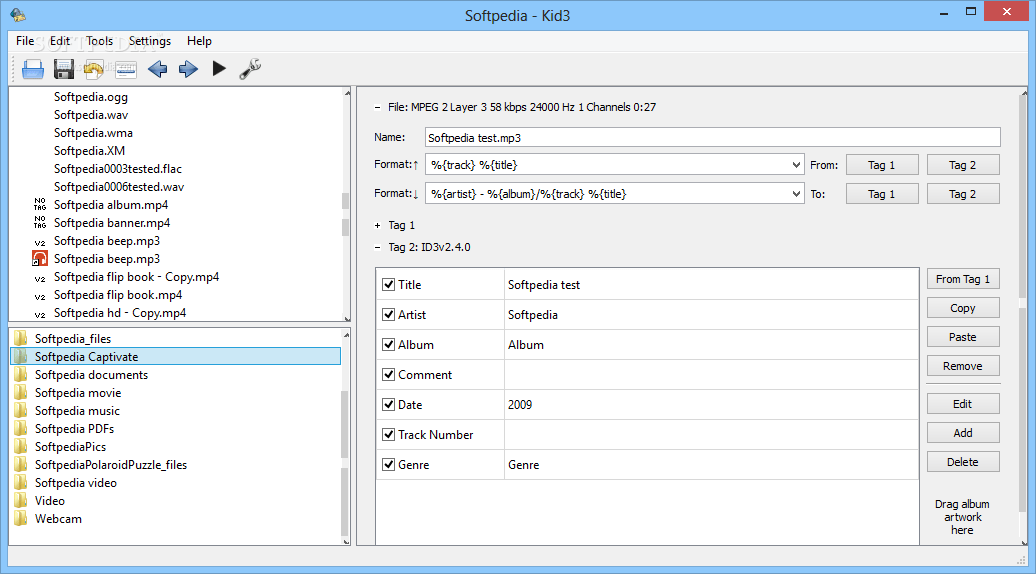 Pros
Cons

This audio tag editor for Linux is a stand-alone product.
It edit all tags and generates them from different types of sources like files, databases, etc.
Kid3 is an open source freeware tool, due to which, new updates are constantly available.
A portable version of software is also available.
Supports multiple platforms such as Linux, Mac OS, and Windows.

It does not have a column view for multiple files.
You cannot use advanced features without taking help from online manuals.
You'll need to have command line knowledge to automate the tasks.
In Summary
As we have discussed, there are many software that you can use to edit tags of your music files, so Mp3 tag editing is not a problem anymore. If you want to manage your music files' metadata and organize your music library like a pro – TidyTag is the best MP3 tag editor that can manage and edit your MP3 tags in just a single click. Moreover, you can find all of the above-mentioned software on their official sites that also allows you to download any version you want.
(Click to rate this post)
Generally rated 4.5 (215 participated)