As one of the world's largest social networking websites, Facebook allows registered users to communicate and share photos, music, and video clips with friends and family. You will most likely to find exciting music videos or motivational talks if you are a big Facebook user.
Unfortunately, they are not allowed to download to play offline or share on another social media platform due to copyright issues. But if you insist on downloading your favorite Facebook videos to MP3, you will need to use some creativity and external tools to accomplish this task. This article will show you six efficient ways to convert Facebook videos to MP3 for personal use.
The first 6 tools are online free Facebook to MP3 Converters.
1. KeepVid
Some tools allow us to download and convert our videos to any type of format quickly and easily. One of them is KeepVid, an online video downloader for Windows and Mac. It helps to download videos from Facebook and convert Facebook to MP3 online. But when you use it to download free videos, it will indirect link to other sites, which may cause some security problem about your computer.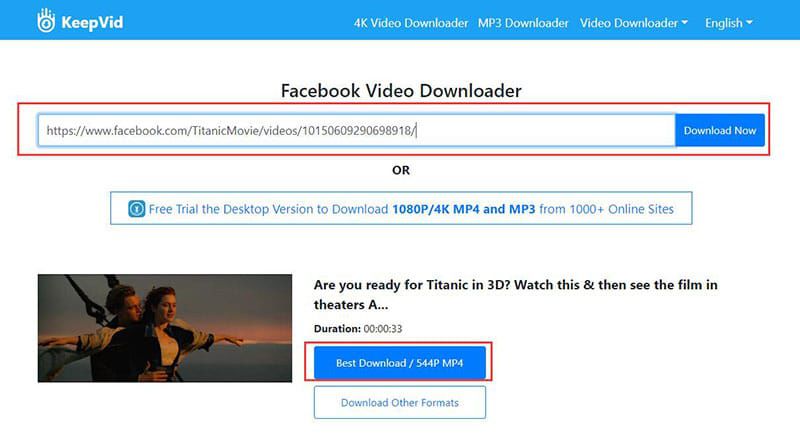 Pros:
It supports more than 1000 online video streaming sites
KeepVid has versions compatible for both desktop and mobile
It is easy and straightforward to use
Cons:
It redirects users to different websites
Limited output formats
2. Getfvid
Without a doubt, Getfvid is one of the best online tools to convert Facebook video to mp3 online files and download them for free. This program works for desktops, tablets, and mobile devices. It has three output options to choose from, and it is available as an extension as well.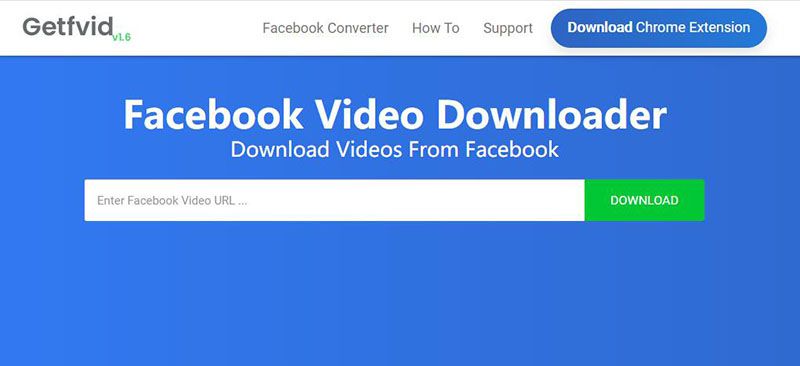 Pros:
It supports for private web browsing.
Doesn't require to download and install software
It is easy to use
Cons:
Contains ads that interrupt the streaming experience of the user
Limited output formats
Reduce quality during the download process
3. Fb search
Fb search provides a secure and straightforward way to do download Facebook videos to mp3 online. Since there is no registration or payment process, this tool is used by most of the Facebook users. It is available for laptops, PC, and mobile devices.

Pros:
Support various output format including MP3, M4A, WAV, OGG, and ACC formats
No daily limitations in downloading and converting videos
Easy to use and simple interface
Cons:
It takes a longer time to convert the downloaded videos into required formats
Doesn't support large video files especially videos with 4K resolution
4. Myvid
It's a fresh look, and modern UI attracts many users to download videos through it. Apart from being a Facebook downloader online, it is used as a YouTube downloader as well. Myvid is not just a browser extension. It is used as a bookmark-let that grabs the URL of the video and directs you to the downloading page automatically.

Pros:
Supports more than 800 video streaming sites
It can be used to download YouTube playlists with one click
Myvid is used to add metadata to MP3 IDv3 tags
Cons:
It has only two output formats. i.e., MP3 and MP4
Downloading speed is comparatively slower than the other downloading sites
5. Fbdownloader
Fbdownloader is a dedicated downloader to download all videos from feeds, groups, and Facebook pages. With straightforward steps, you can download the videos that interest you on your device and save them for as long as you want. The Downloads tab keeps all of your media clips downloaded. You can easily check and watch videos offline. The multifunctional design can help you easily manage downloaded FB videos; you can share media clips with your friends or forward videos to other social networks. It is very efficient and friendly.

Pros:
Free video downloader for Facebook, download all media clips from Facebook for free
Super-fast downloader for Facebook
Download in the background
Cons:
It doesn't support Facebook videos to MP3/MOV/MKV formats
There are security concerns reported about the tool
Doesn't support 4K videos
6. fbtomp3
fbtomp3 is a website that is used to download low resolution and high-resolution Facebook videos to MP3. It is compatible with both mobile and desktop. Users can copy the relevant Facebook video URL and paste it on the fbtomp3 search bar. Once it is done, you can click on the download button to download it.

Pros:
A simple interface and easy to use
Compatible with Mobile and Desktop
Ads-free downloading experience
Cons:
Limited output formats including MP3 and MP4
All these above tools have limited capability to convert Facebook videos to different output formats. As a solution for that, we recommend using iTubeGo YouTube Downloader.
Online Alternative:iTubeGo Youtube Downloader
iTubeGo YouTube Downloader is a versatile video downloading software that supports more than 1000 online video streaming websites. There are many software available to download videos from Facebook. But iTubeGo can download Facebook videos and convert them to WAV, M4A, MKA, AAC, FLAC, AIFF, OGG, etc.
How to Download Facebook to MP3
Step 1 Download and Install iTubeGo
The first step is to download the iTubeGo to your device. You can download iTubeGo from here.
Step 2 Copy theVideo URL
Next, log in to Facebook and copy the video URL that you want to download. To get the video URL, click on the share button, and get the video URL from the popup window. Once it is copied, it will be saved to your clipboard.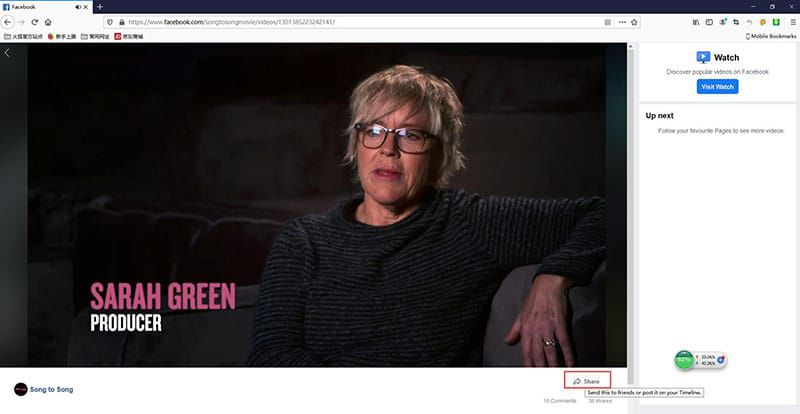 Step 3 Launch the iTubeGo YouTube Downloader
Double click on the iTubeGo icon on your desktop. After launching the program, you will see the main window of the software.
Step 4 Set the Configurations
It is essential to set the settings before you download the video. For that, click on the settings icon at the top right corner of the window. Once it is clicked, a new window will pop up. From that window, navigate to the Download tab. In the download tab, set the download option as either Video or Audio per your requirement. You can set the quality as 320kbps for better output. After that, click on the Apply button to apply the changes. Now click on the link Download then Convert to in the main window. It will show a list of output formats available for you. Select any of the formats as you wish. Then it will convert the video to that format.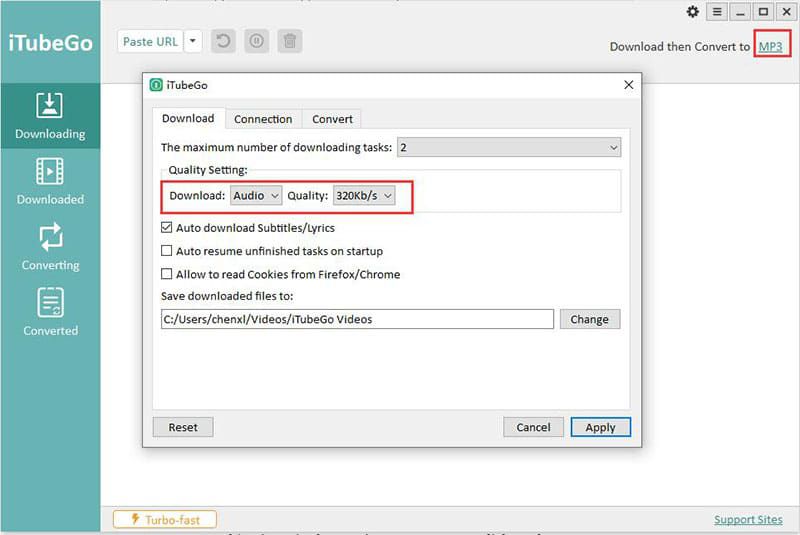 Step 5 Paste the copied URL
Once everything is set in the previous step, you can click on the "Paste URL" button at the top left corner. Then it will analyze the copied URL in the clipboard, and downloading will start automatically. You don't need to paste the copied URL to start downloading. Since iTubeGo is a smart URL detector, it will do the needful.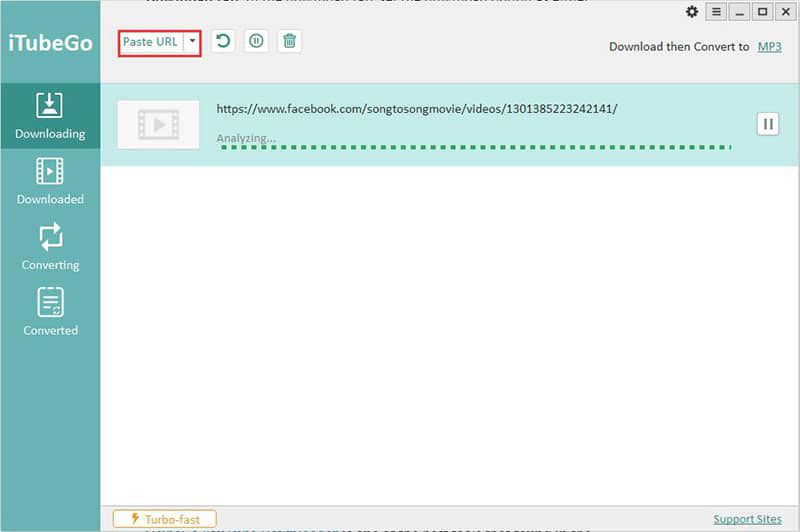 Step 6 Enjoy the Music
After the downloading ends, you can find the converted file in the destination that you set. You can open the file with any music player and enjoy it.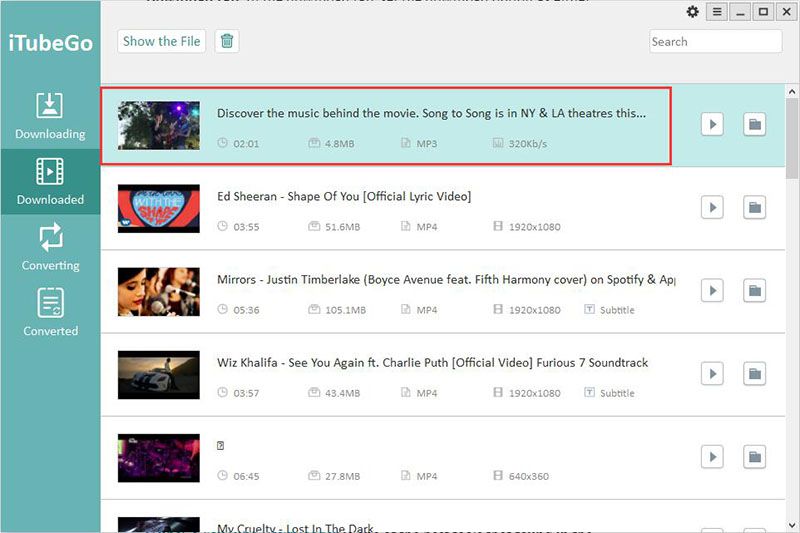 Conclusion
iTubeGo YouTube Downloader is one of the best tools that found in the market to convert Facebook video to MP3 online. Apart from MP3, you can convert videos to many other formats without losing quality.