Bandcamp is an online music website that makes it easy for you to directly connect with the artists you love. You can stream music from your favorite artists or can also buy songs at a price set by the particular artist. Here we'll also let you know how to download mp3 from Bandcamp and store them permanently on your computer and mobile devices.
Best Bandcamp to MP3 Downloader – iTubego
iTubeGo YouTube Downloader is an unparalleled downloading software that enables you to download music from Bandcamp and converts it into mp3 format so that you can store it into your devices permanently. Its unique features, powerful performance, and user-friendly interface make it the best choice to download and convert Bandcamp to mp3 format.
Key Features
Download MP3 Music from 10,000+ Websites
Support High-Quality 320kbps MP3 Music Downloading
10 Times Faster Downloading Speed
Support Bulk Downloading, saves you a lot of time
Download 4K & Full HD Videos
Manage Downloaded Media with File Manager
Installing iTubeGo YouTube Downloader
You can simply download this software from the official webpage of the iTubeGo YouTube Downloader. After downloading the installation file, you need to install the software on your computer. iTubeGo offers separate versions for both Windows and Mac Operating System. The following are the downloading links for both versions:
Steps to Download Bandcamp to Mp3 Using iTubeGo
After downloading and installing the iTubeGo YouTube Downloader into your computer, you have to follow these easy steps in order to download mp3 from Bandcamp.
Step 1 Copy the Bandcamp Song URL
First of all, you need to copy the URL of the song that you want to download using the iTubeGo YouTube Downloader. For this, log in to your Bandcamp account and look for the song that you're looking to download, then simply copy it's URL from the browser address bar, or click the "share" button.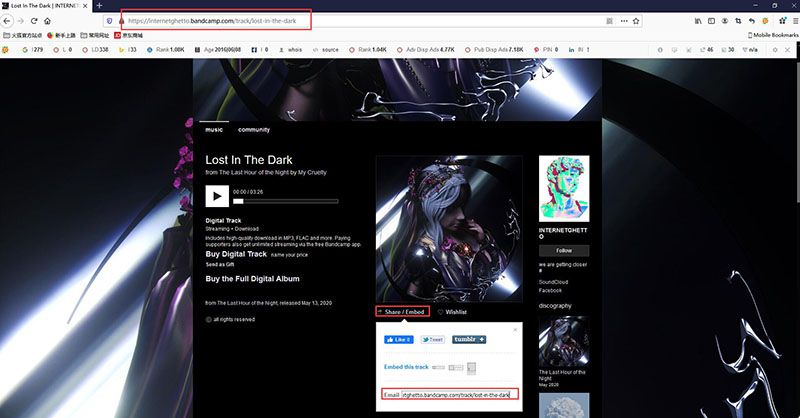 Step 2 Proceed to iTubeGo Software
After copying the song URL, open the iTubeGo software on your computer and select the output format as "audio" in the preferences section of the settings. If you haven't changed the format, then the default audio format will be mp3, otherwise, you can also change it from the upper right corner of the interface. You can also select audio quality from different options i.e. 70kb/s, 128kb/s, and 320kb/s.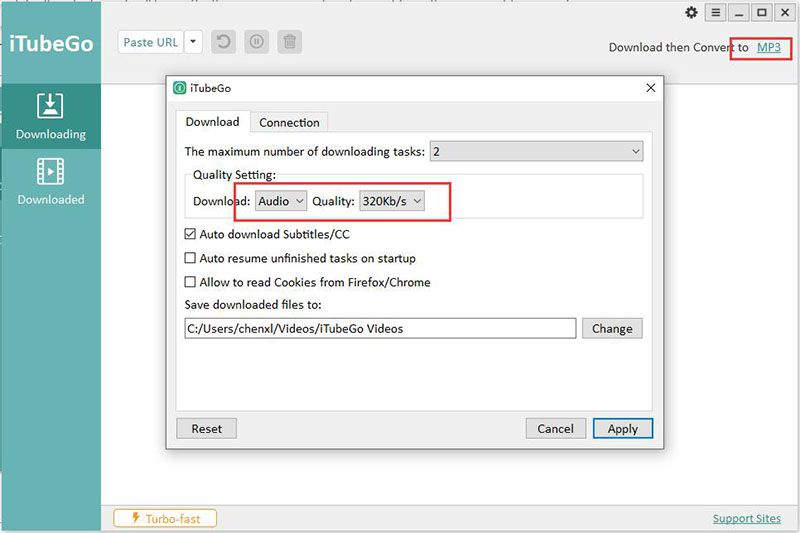 Step 3 Click "Paste URL" to Initiate the Downloading Process
Once you have selected the output format and quality, simply click the "Paste URL", and it will automatically start converting the song to the required format.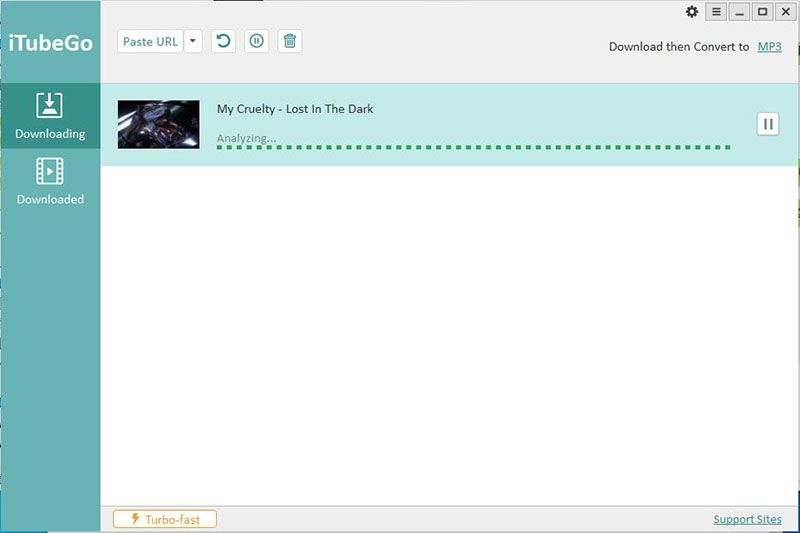 Step 4 Download MP3 Bandcamp Music
After converting the Bandcamp song to the required format and quality, it will be saved to the destination folder of your computer. Or, you can also access the downloaded media from the "Downloaded" section of the interface.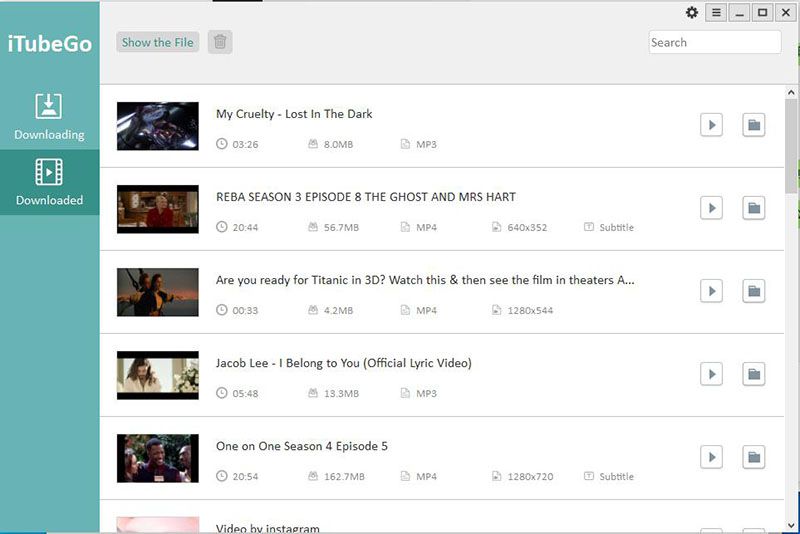 How to Download Bandcamp in MP3 by Online Solution
The online solutions are more popular among these days since it doesn't require any software installation. You can open the web browser and go to an online downloader and get the video downloaded in a quick time. But the critical part is to select the best Bandcamp to MP3 downloader, which suits you. Here are the 3 main Bandcamp to MP3 online downloaders.
1. Bandcamptomp3
Bandcamptomp3 is one of the most used downloaders to download MP3 from Bandcamp due to the supportability for various browsers. There is no special login or registration required to access the website. Since it uses HTTPS connection, end to end data encryption is enabled thereby your data is not put on risk.
The downloading process is straightforward and easy to follow. First, copy the link to the Bandcamp music track you want to download. Then, open bandcamptomp3, paste the link in the search box at the top of the page, and click the Download Now button.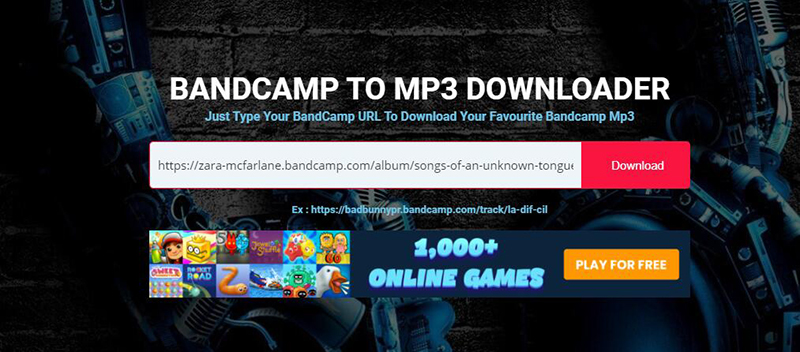 Pros:
Interfaces are straightforward and user-friendly
Support Tiktok and Instagram download
Compatible with various browsers
Cons:
Too many annoying ads and pop-ups
Limited output format, only MP3 available at the moment
2. Keepv.id
Keepv.id is a website for downloading videos from online streaming multimedia content portals compatible with thousands of websites and services. You need to add the URL to the search box or click the button that appears in the browser. You can select the file format and quality, and that's it. In seconds the video will be in the folder you have designated on your hard drive.
Also, it is compatible with different platforms and mobile devices that you have at your disposal. This tool is perfect in case you are a music lover. You can use each of the website features and advantages to having a better organization of your songs.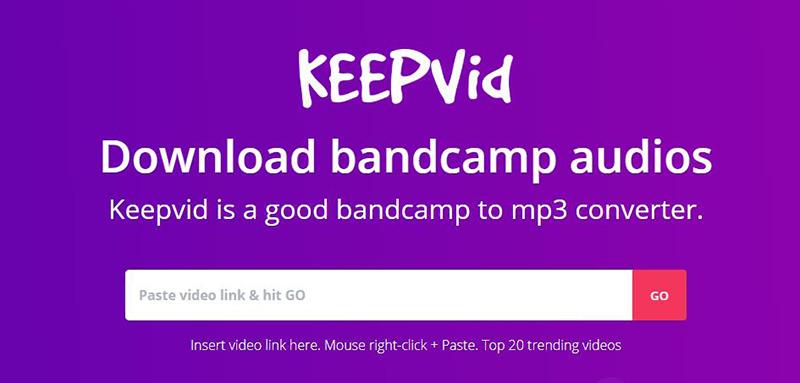 Pros:
Support 100+ websites including Spotify, YouTube, Soundcloud
User-friendly interface
Built-in extension for Firefox, Chrome and Internet Explorer
No pop-up or annoying ads
Cons:
Only MP3 output format available at the current version
3. Vido.download
Next up, we have Vido.download listed, which may be a bit strange. But it is an excellent online tool to convert Bandcamp videos into MP3 files. Vido.download allows you to download and convert videos into audios and listen to them later. It is a favorable tool for music collectors when they find it challenging to get a particular type of music. Vido.download offers an easy to use interface. Just copy/paste the link to the media file and convert the video clip to MP3.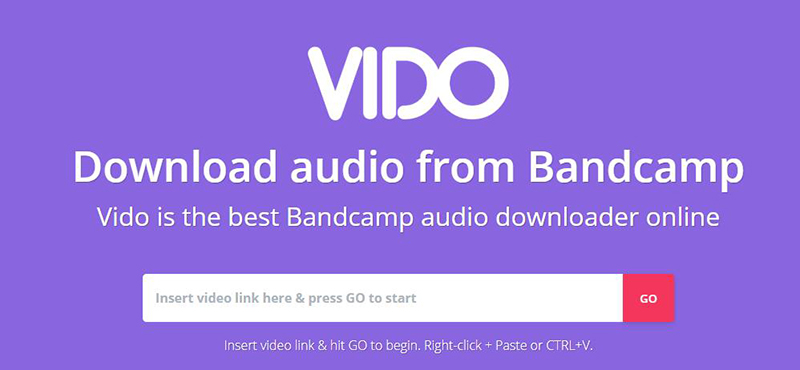 Pros:
Support 800+ video streaming websites
No ads
Acceptable user experience
Cons:
Limited output format, only MP3
Support downloading one video at a time. No playlists can be downloaded
Online Solutions VS iTubeGo YouTube Downloader
iTubeGo YouTube Downloader is a desktop downloader that is heavily used to download Bandcamp to MP3. Most people use online tools since they are easy to use. But the main disadvantage is, they lack many features these desktop tools have. Below is a comparison between the online tools and iTubeGo YouTube Downloader.
| | Online Solution | iTubeGo YouTube Downloader |
| --- | --- | --- |
| The Output Quality of the Downloaded Files | Reduces original quality | 100% of original quality |
| Supports Many Output Formats and Qualities | Only MP3 support | √ |
| Capability to Download Playlists, 4K and 8K Videos | × | √ |
| Ability to Download as a Batch Without Any Limitations | × | √ |
| Customer Support and Lifetime Updates | × | √ |
| Option to Resume Download Process After a While | × | √ |
| Presence of Ads | √ | × |
| Reliability and Stability While Downloading | Less reliable and breaks down in most of the occasions | Highly reliable and stable tool |
How to Download Bandcamp in MP3 on Android
iTubeGo for Android is an HD/4K video downloader APK which is available for free. This allows you to download Bandcamp MP3 and MP4 in different qualities, including HD and 4K. iTubeGo built-in converter can convert your Bandcamp files to MP3 format in seconds.
Apart from that, it allows you to save your downloaded videos into your SD card straightaway. Hence, you can use iTubeGo for Android to download from more than 1000 video streaming sites, including Instagram, YouTube, Facebook, Twitter, etc.
The Steps of Download Bandcamp Videos with iTubeGo
Step 1 Download and Install iTubeGo for Android
iTubeGo is compatible with all most every Android version. The first thing is to download and install the iTubeGo into your Android device. You can download the APK from here.
Step 2 Open the iTubeGo for Android
One the app installed on your device, open it to start downloading the video. Once you open the app, you will see a set of video streaming sites that support iTubeGo.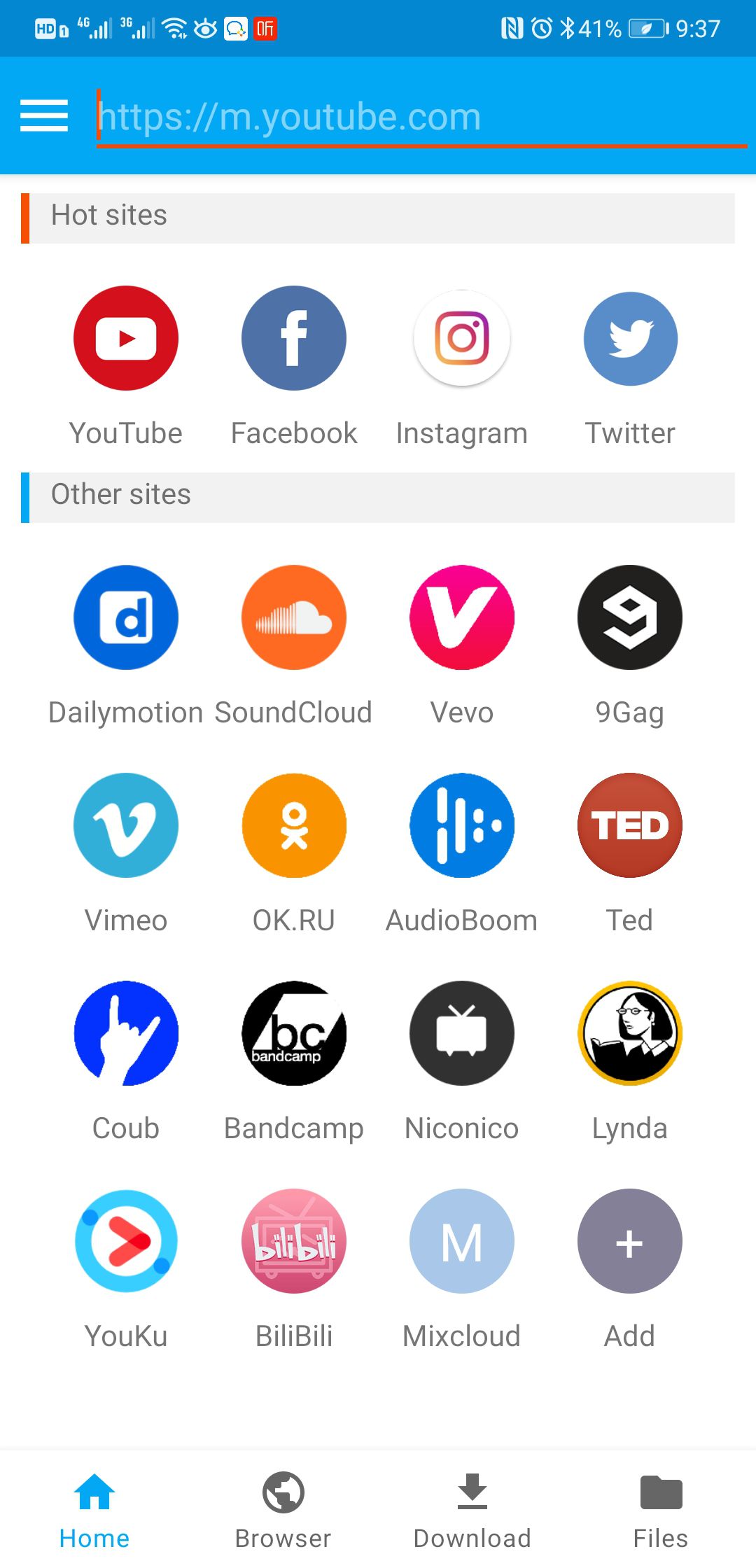 Step 3 Get the Bandcamp Video Link
In iTubeGo, there are two ways to download the video. This app has a built-in browser where you can search the video using the search bar; you can head to Bandcamp and copy the video link using the share option. Once the link is copied, paste it to the search bar of the app.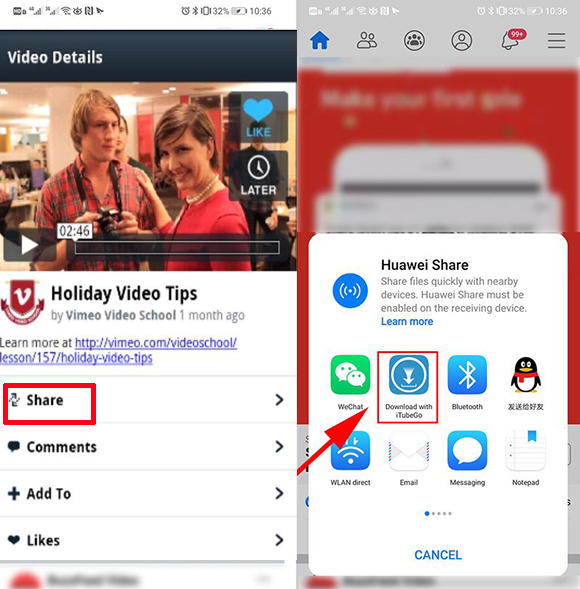 Step 4 Set the Format and Video Resolution
Once the Bandcamp video link is a paste, you should set the video's resolution and format, like MP3 320kbps.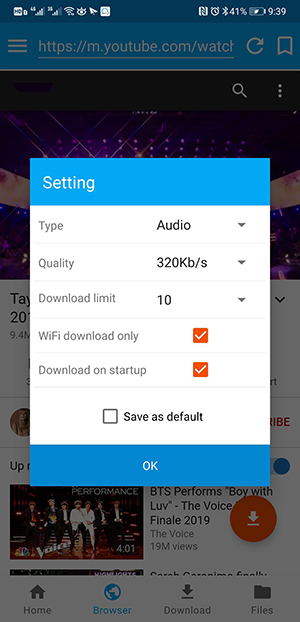 Step 5 Download the Bandcamp Video
Once everything is set, click on the download button to download the video into your device.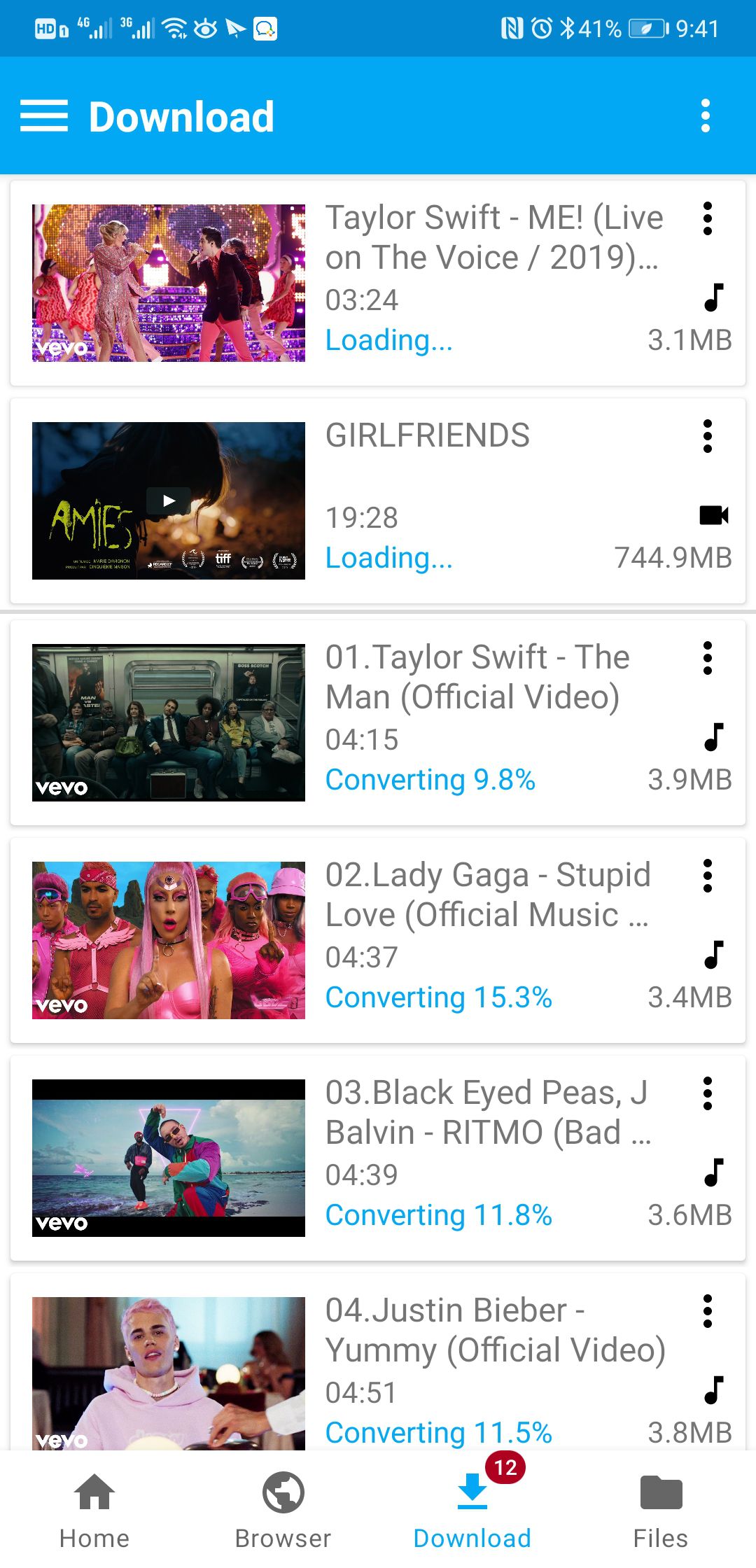 How to Download Bandcamp in MP3 on iPhone
Step 1 Download and Install Documents by Readdle
To download Bandcamp to MP3 on the iPhone, you have to go to the App Store and download and install the Documents by Readdle app. Once it installs, open it.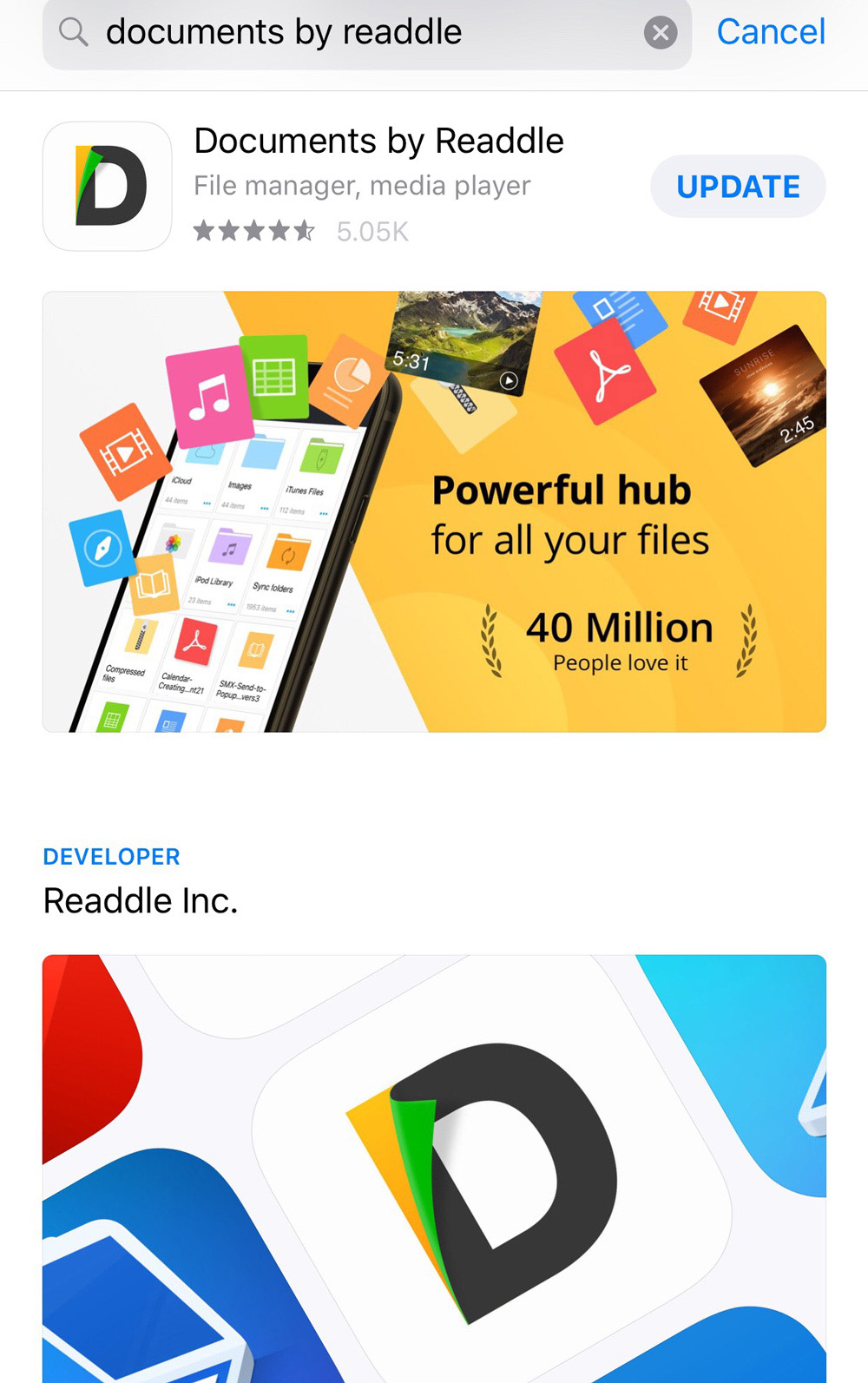 Step 2 Open the Documents by Readdle Built-in Browser
After installing the Documents by Readdle app, open the built-in browser and search for the bandcamptomp3 website with the given URL. Once you reach the homepage of the bandcamptomp3, you can use it to download the Bandcamp to MP3.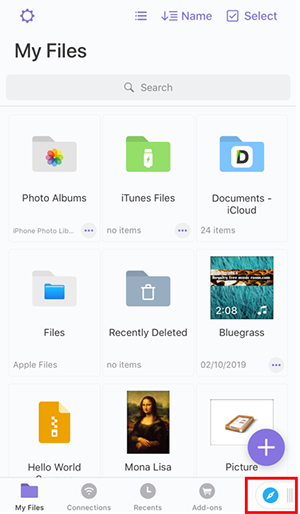 Step 3 Copy the Bandcamp Video URL
To start the download, you need to have the video URL copied to your clipboard. For that head-on to the Bandcamp.com and find a suitable video to download. Once you find that, copy its URL and return to bandcamptomp3 and paste it in the search bar.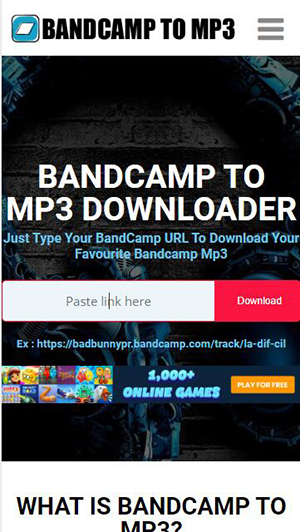 Step 4 Download the Video
After pasting the link, the online downloader will automatically analyze the video and suggest several downloading links depending on the resolution available. Once you find the best resolution for you, click on the Download button, and it will be download to your Document app Download folder.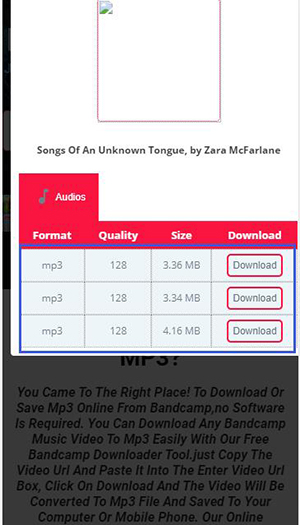 What is Bandcamp?
Bandcamp is a platform, which provides great opportunities to emerging artists, but at the same time, it also provides spectacular experience to the users. Some of the features that make Bandcamp a unique music platform are the following:
Bandcamp's simple yet awesome interface makes it easy for the users to navigate the website.
Unlike many other online websites, users can experience the seamless experience without the distractions of ads, pop-ups, and any other links to external profiles.
Unlimited Streaming on Free Mobile Apps:
Bandcamp offers great compatibility with all types of devices. You can access or stream your Bandcamp purchases via free Bandcamp app. If you're an android user, you can find the app on Google Play Store, or if you're using iOS device, then you can easily find the Bandcamp app on App Store.
You don't have to navigate your favorite music again and again, as you can easily keep track of all the content by adding them in a Wishlist.
Bandcamp shows all the recent activities of the artists you follow. In this way, you can instantly listen to all their picks and new releases.
Share Your Collection with Others:
On Bandcamp, you get a very different page that you can customize in a way you want, and can share your impeccable taste with the world.
In Summary
In this article, you've come to know the different reasons why Bandcamp is getting tremendous popularity day by day. Sometimes, you want to download Bandcamp songs so that you can listen to them whenever and wherever you want.
iTubeGo YouTube Downloader is the best Bandcamp to mp3 downloader that can download Bandcamp to mp3 format without any hassle. That's not all; it preserves the original audio quality and provides the best listening experience to the users.
(Click to rate this post)
Generally rated 4.5 (215 participated)