What if I tell you that you don't need to buy any expensive service or premium membership to watch 4K video content? Yes, you've read it right! Currently, YouTube is providing the largest collection of 4K videos to its users. The scale of 4K videos is really impressive, with 16 times as many pixels in the same area as a full HD 1080p video. As 4K videos are huge in size, they need crazy-high bandwidth to play online, which gives rise to the need of 4K YouTube Downloader software to watch those videos without interruption. We are going to introduce you to five of the best 4K YouTube downloader solutions that you can use to download 4K video from YouTube.
5 Tested Best 4K YouTube Downloaders
iTubeGo YouTube Downloader
URL: https://itubego.com/youtube-downloader/
iTubeGo YouTube downloader is the epitome of software engineering and undisputedly the best YouTube downloader to ever be. It offers you the ability to download content from more than 10,000 audio and video hosting platforms and makes downloading 4K videos from YouTube super-easy with the turbo-fast downloading mode that speeds up the downloads to 10x speeds. You can even download entire playlists with one command using this tool. Here are some pros and cons of iTubeGo YouTube Downloader.
Pros
Has cheapest price than most of the competitor tools, while the features are more premium and reliable.
The download speed is the fastest and guarantees the original quality without any compression or loss.
Apart from YouTube, It also supports a lot of other video and music sites, including Facebook, Instagram, Dailymotion, Vimeo and many more.
Lossless conversion to various audio and video formats.
Provide frequent Updated versions and respond positively to user feedback.
Cons
Following are the steps that you must follow when you want to download the videos.
– You should first download iTubeGo to your computer and install.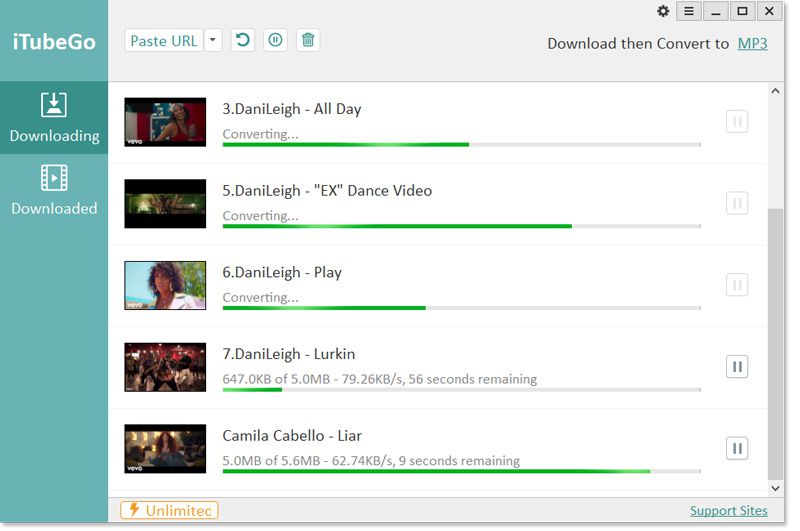 – Now you can open iTubeGo. In the interface, you will be able to see the Paste url button.
– You can copy the URL of the 4K video on YouTube and paste that on iTubeGo interface. Along with that, you will be asked to select the output resolution you prefer. You can select 4K from "Preferences".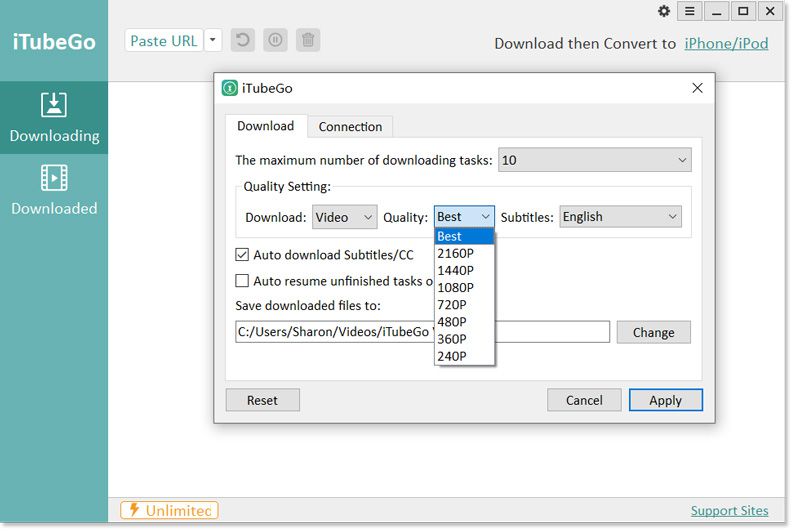 – Now iTubeGo will start downloading the file for you. You will be able to download the video in 4K file format without any difficulties.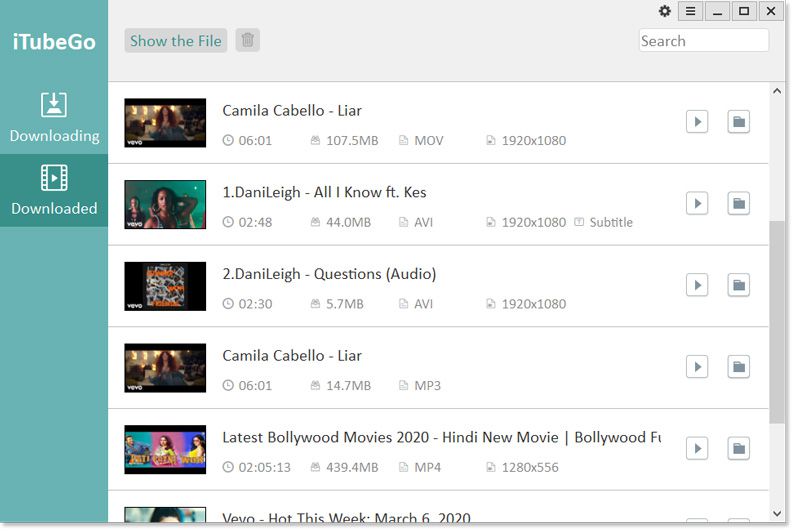 4K Video Downloader
URL: https://www.4kdownload.com/products/product-videodownloader
4K Video Downloader is a free tool for downloading 4K videos from YouTube. It is designed to be simple and easy to use. It needs no registration, sign up payment. It is not only limited to YouTube. You can use this tool to download videos from a number of other leading multimedia hosting platforms including big names like Facebook, Dailymotion and Vimeo.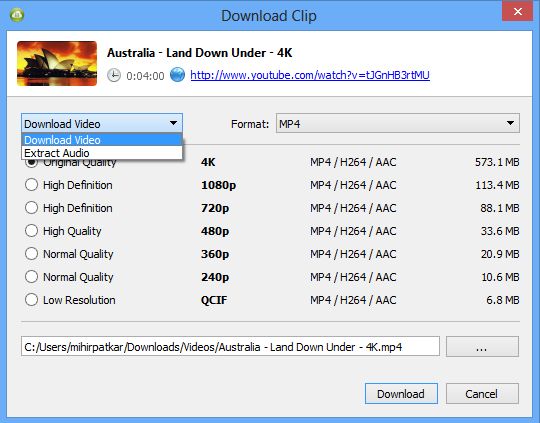 Pros
Download YouTube playlist, channels, and private YouTube videos.
In-app YouTube subscriptions.
Allows URLs import and export.
Also Available for Linux operating system.
Cons
The pro version is so much costly, whereas, Personal version has many limitations.
Doesn't support the earlier versions of Mac OS.
Mp3 download is not supported; you need to purchase another tool, 4K YouTube, to download Mp3 files.
The downloads with trial version often fails, and also the download speed is very slow.
Videoder 4K Video Downloader
URL: https://www.videoder.com/
This is another useful tool for downloading 4K videos from YouTube. The best part of this software is that it is free to use. It comes as a complete package and makes downloading 4K videos from YouTube easy and simple. You can use it on Windows, Mac, and Android devices. It has the following pros and cons.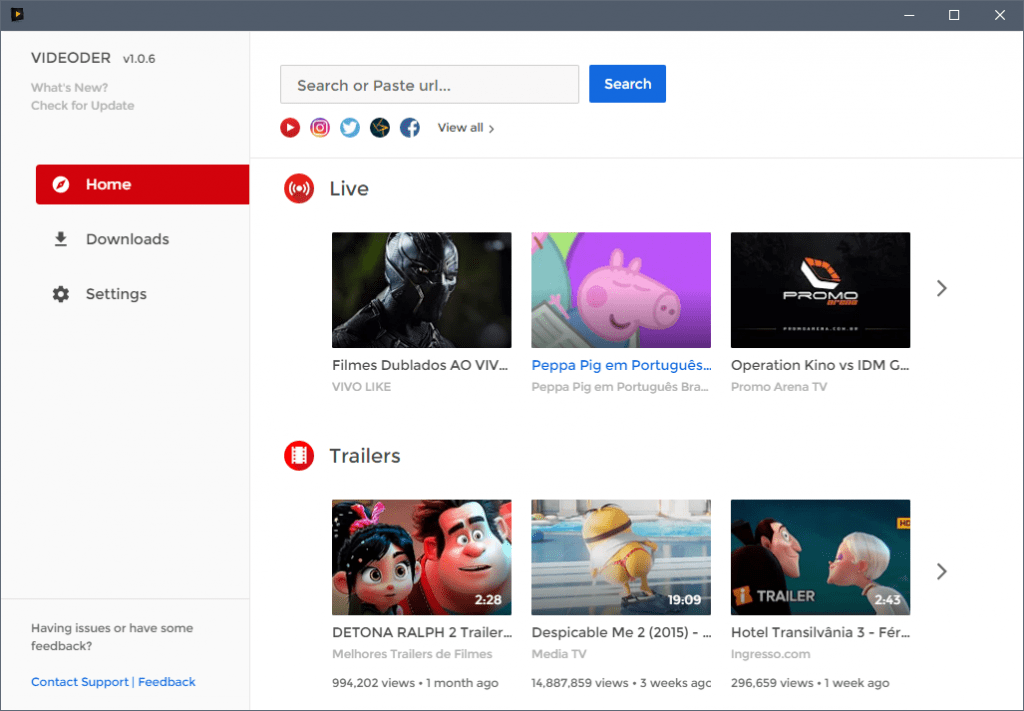 Pros
Support 4K & Full HD Video download.
Compatible with 1,000+ Video & Audio Sites.
Download and convert YouTube videos, audio, channels, and playlists.
It is a free downloading tool.
Cons
In July 2020, they announced that they no longer support YouTube video downloads.
It approximately took more than 21 minutes to download and install the plugin after startup.
While testing the efficiency, we tried several times to paste URL, it still appears: error.
Supports only limited output formats.
Freemake Video Downloader
URL: https://www.freemake.com/free_video_downloader/
As implied by the name, Freemake is a free downloader that supports 4K video downloads from YouTube. T also supports other websites like Facebook, Dailymotion and Vimeo and can download videos from them in a simple and easy way. This is one of the very few free video downloaders that offer the option of downloading video playlists in one go and make it possible to download 4K videos in a choice of different formats.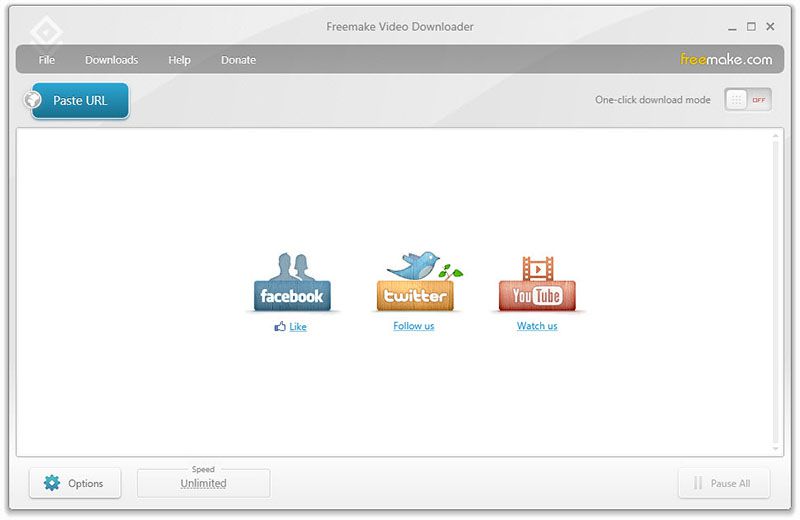 Pros
Support YouTube videos, playlists, channels, charts, embedded visuals, etc.
The download speed is fast and the quality of the downloaded video files is lossless.
No specialist knowledge required; ready-made output profiles for different devices.
Cons
No Mac Version is available.
Adds branding to videos.
Login account is required to download Facebook, Instagram, and content from other specific sites.
YTD Video Downloader & Converter
URL: https://www.ytddownloader.com/
YTD is a video downloader that can make it possible to download videos from YouTube and 50 other websites. It offers a choice of different formats and makes it possible to download content at good speeds. Now, coming up next are some of the pros and cons of this software.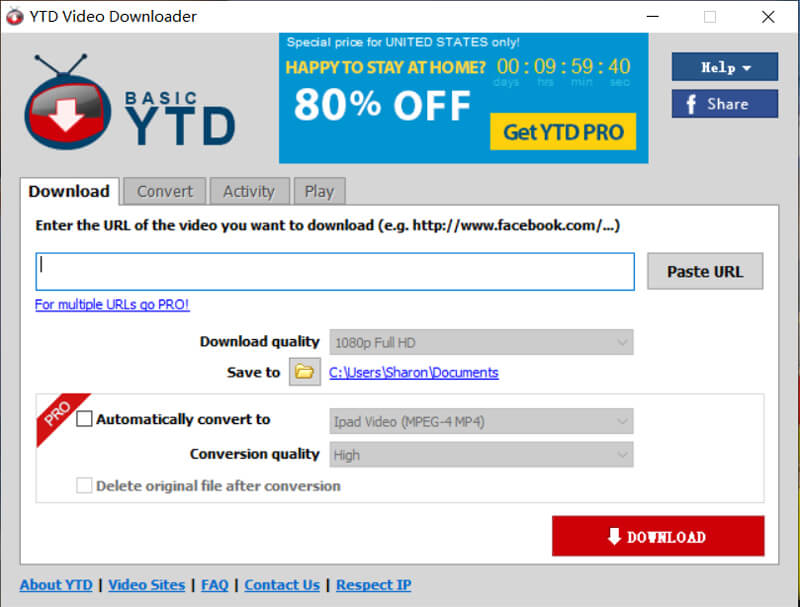 Pros
Compatible with 50+ websites.
Works as a video converter and player.
Cons
Can only download or convert one video at a time.
Downloads are quite slow.
Price is a bit expensive.
Comparison of the 5 Best 4K Video Downloaders
Downloader
Supported Environment
Price
Supported Format
Available video Resolution
iTubeGo
Windows 7 or later
MacOS 10.10 or later
Android 7.0 or later
1-month plan:
$9.95
1-year plan:
$19.95
lifetime plan:
$29.95
Family plan:
$39.95
Video:
format: MP4, MOV, WMV, AVI, FLV, MKV, HEVC MP4, HEVC MKV
Audio:
format: MP3, M4A, MKA, WAV, AAC, FLAC, AIFF, OGG
Video:
240p, 360p, 480p, 720p, 1080p, 2K(1440p), 4K(2160p), 8K
Audio:
Original, 320kbps,256kbps,128kbps,64kbps
4K Video Downloader
Windows 7 and higher
MacOS 10.13 and later
Ubuntu 64-bit
Personal license:
$15
Pro license:
$45
Video:
MP4, MKV, FLV, 3GP
Video:
8K, 4K, 1080p, 720p, 480p
Videoder
Windows, Mac OS, Android
Free
Video:
MP4, FLV, 3GP
Audio:
MP3, M4A
Video:
4K, 1080p, 720p, 480p, 360P, 144P
Freemake
Windows 7or later, Vista
Unlimited Plan:
$39.95
1 year:
$19.95
Video:
MP4, WebM, 3GP, FLV, AVI, MKV, WMV
Audio:
MP3
Video:
4K, 1440p, 1080p, 720p, 480p, 360p, 240p, 180p
YTD
Windows XP/Vista/7/8/10
1 Month:
£7.49
1-year plan:
£29.88
2-year plan:
£35.76
MP3, MP4, WMV, FLV, MOV, 3GP, AVI
4K, 1440p, 1080p, 720p, 480p, 360p, 240p, 180p
Conclusion:
If you want to enjoy the benefits of 4K video playback without any interruptions, you'll need to download the video. There are a number of tools available in the market for that. We have given an overview and comparison of 5 of the best of them. You can use the one you want. Our recommendation is iTubeGo YouTube Downloader as it offers the maximum functionality while being the cheapest among the competing options.
(Click to rate this post)
Generally rated 4.5 (215 participated)