Some Internet browsers have all the necessary functions so that we can use all kinds of pages without any problem. They are becoming more complete, but we always want more, and we can add tools and options that we need or that adapt the browser to our needs and customs. To have more tools, we can have some of the best extensions for Firefox that we add to the browser if we want to give it more options. Especially when we want to download YouTube videos, we can use an add-on to get it done efficiently and quickly.
In this article, we will be looking on to the three best YouTube downloader add-on for Firefox in the market.
List of Firefox YouTube Downloader Add-ons
1. iTubeGo YouTube Downloader Extension
Users highly recommend this extension as a YouTube downloader add-on for Firefox, and it is free. The reason to get this ranked high among the users is that it can be used to download videos and audios without a limit.
Pros:
It is free and easy to use
It supports videos of any quality starting from 240p to 4K formats
iTubeGo supports various formats including MP4, MP3 and M4a
Moreover, it currently supports the majority of the browsers including Chrome, Firefox, Opera, and Safari etc.
Cons:
It only supports YouTube at this moment
How to install and download YouTube videos with iTubeGo YouTube Downloader extension
Step 01 Add Tampermonkey extension to your browser
To use iTubeGo YouTube Downloader extension Firefox, the first thing we need is the Tampermonkey extension. To add it to your browser, you can go to Firefox browser add-ons and search for the term "Tampermonkey". Once it appears in the search, click on the Add to Firefox button to add it to your Firefox.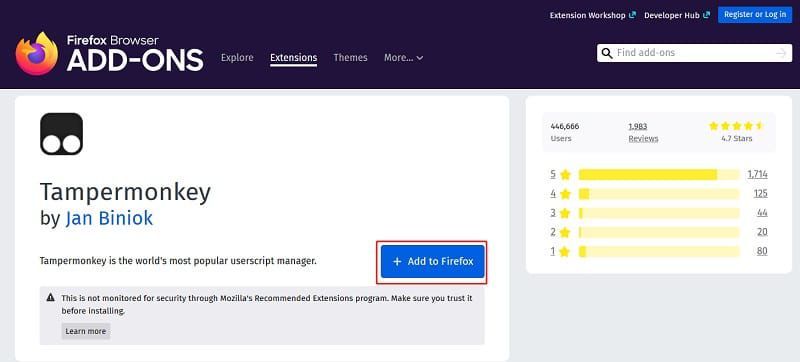 Step 02 Install iTubeGo YouTube Downloader extension
Next, you need to install the iTubeGo YouTube Downloader user script from here. Open the installation page of the Tampermonkey extension and click on the Install button to install the script that we downloaded earlier.

Step 03 Download YouTube videos and audios
Once the installation completes, head over to YouTube.com and select a video. If the extension is successfully installed to your browser, you will see download buttons appear below the video. You can click on the required format, and downloading will start automatically. Hence, if it doesn't start automatically, right-click on the download button and select Save link as from the context menu and download it to your required location.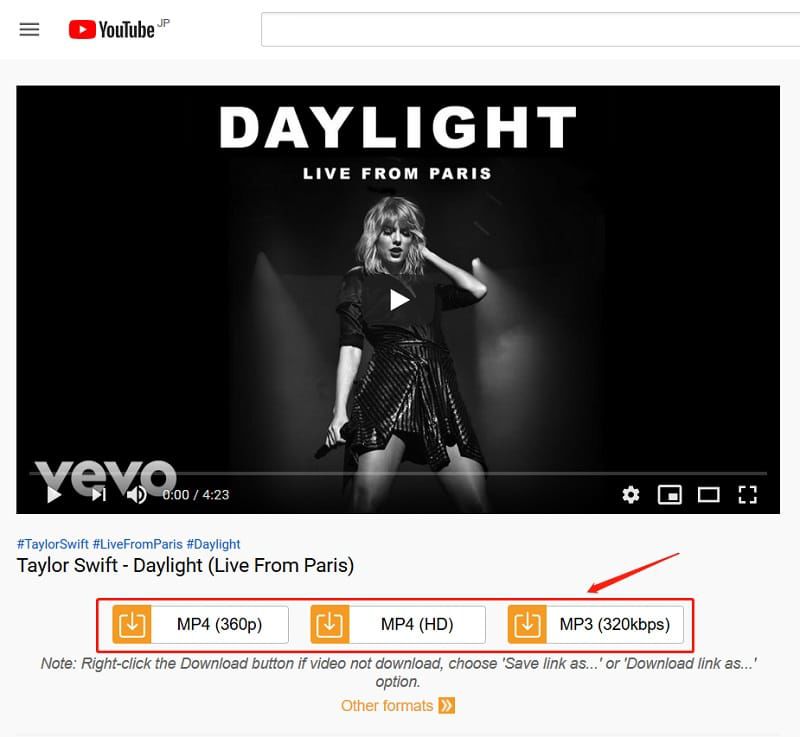 2. ytDownloader
URL: https://github.com/xmillsa/ytDownloader
A simple user script to download YouTube videos. This script is lightweight and allows to download any number of YouTube videos. You don't need to install any external scripts or libraries to download the videos.
Pros:
Since it uses user script, which is lightweight, it doesn't affect the performance of the device. Due to this script, videos are downloaded quicker than any other extension.
Cons:
At the same time, it has a complicated installation process and requires many steps to follow
So far, it supports only MKV format
3. Video DownloaderHelper
Video Download Helper is a Firefox add-on with which you can easily download videos from the Internet. It works by installing a button on the interface, which becomes animated when you register the presence of multimedia content on the page.

Pros:
It works with major video streaming sites including YouTube, Facebook and Instagram
Cons:
Nevertheless, to access more features, the subscription needs to upgrade by paying money
The toolbar is little complicated with features and hard to find the required feature
In contrast, it is vulnerable and can be buggy
In conclusion, our recommendation is to use the iTubeGo YouTube Downloader extension for Firefox to download and convert any of your videos quickly and easily.
(Click to rate this post)
Generally rated 4.5 (215 participated)