Do you love watching your favorite videos on Vimeo but can't download them to your Mac for offline access? Well, it just happens to be that we have a solution to this problem for you, and the best part is, you won't even have to get Vimeo premium account for this which typically costs a small fortune and isn't economically efficient by any means.
We are going to give you a complete tutorial for download Vimeo Videos Mac and all the methods are listed here that work perfectly okay. After going through this tutorial, you will know how to download Vimeo videos on Mac. Without any further delay let's see how to save Vimeo videos to Mac.
The Best Method to Download Vimeo Videos on Mac – iTubeGo
If you think of downloading Vimeo videos to a device running Mac OSX, no matter if is a MacBook, an iMac, or any other sort of computer running on this platform, the best method for doing this is by using a video downloading software.
However, there are tons of software available for downloading videos from the internet, so which one is the one you need to use for downloading Vimeo videos to your Mac? Well, iTubeGo is the software you need.
iTubeGo Youtube Downloader comes with a lot of smart features and quirks that are prove to be extremely useful for you in downloading Vimeo videos. These features include ultrafast download speed, choice of formats and resolutions, ability to download videos from any website on the internet, and many more.
Here's a brief overview of the cool features of the iTubeGo YouTube downloader.
It can download videos in all resolutions starting from 240p and going all the way up to 8k.
You can convert vimeo videos to MP4, MP3, AVI, WMA, and more than 20 other formats.
It works with more than 10,000 websites that host audio and video content including Vimeo, YouTube, Facebook, Instagram, and all other big names.
It downloads videos at a speed at least 10 times faster than any other tool on the market.
It enables you to download in batches, without any limit to the number or size of downloads.
It is 100% safe, secure and private to use and comes with lifetime technical support.
Steps to Download Vimeo Videos on Mac using iTubeGo
Step 1

Install the Latest Version of iTubeGo Program on Your Computer
The first thing you need to do to download Vimeo videos to your Mac is to download and install the latest iteration of iTubeGo YouTube downloader to your computer. You can get the installation file for iTubeGo from the link below.
Step 2

Go to the Desired Vimeo Video and Copy its Link
With the software installed on your Mac, open your web browser and go to the Vimeo video you want to download. Once the video is open in the web browser, copy the link/URL is shown in the address bar of the browser.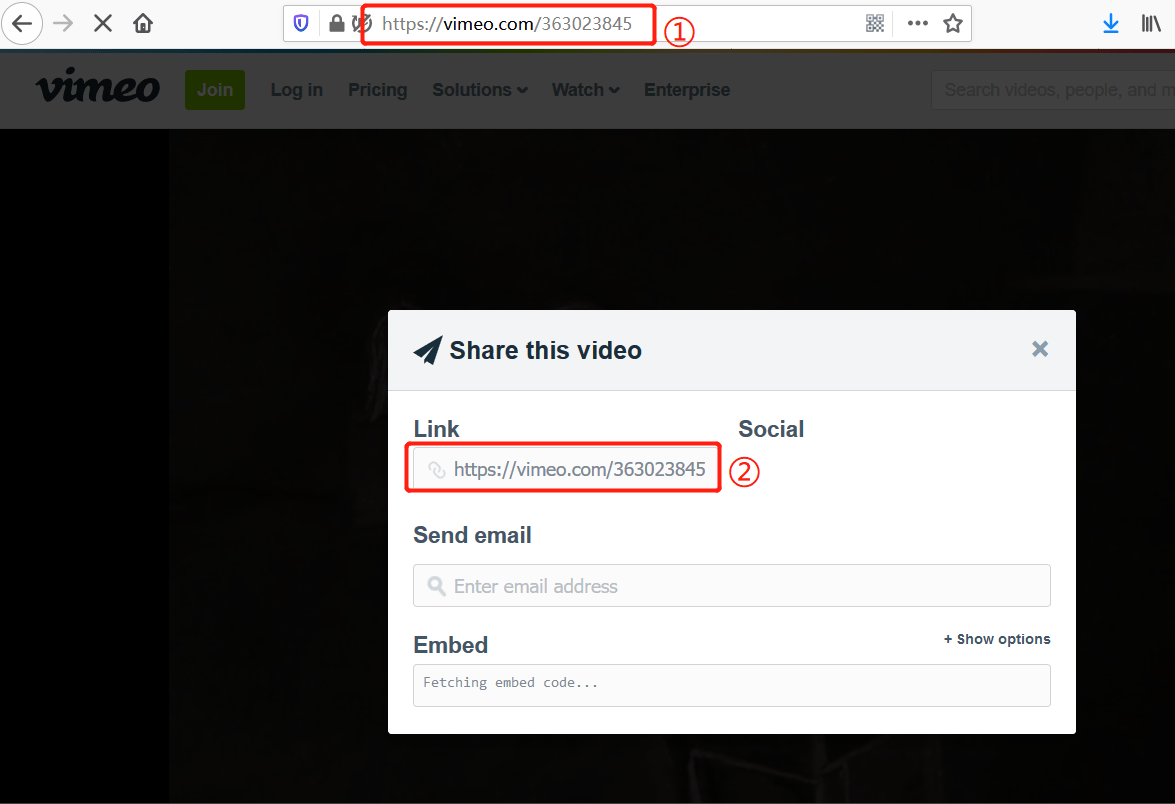 Step 3

Run iTubeGo Application and Select Video Output Preferences
Now open the iTubeGo software and go to the Settings tab to select the output video format and resolution.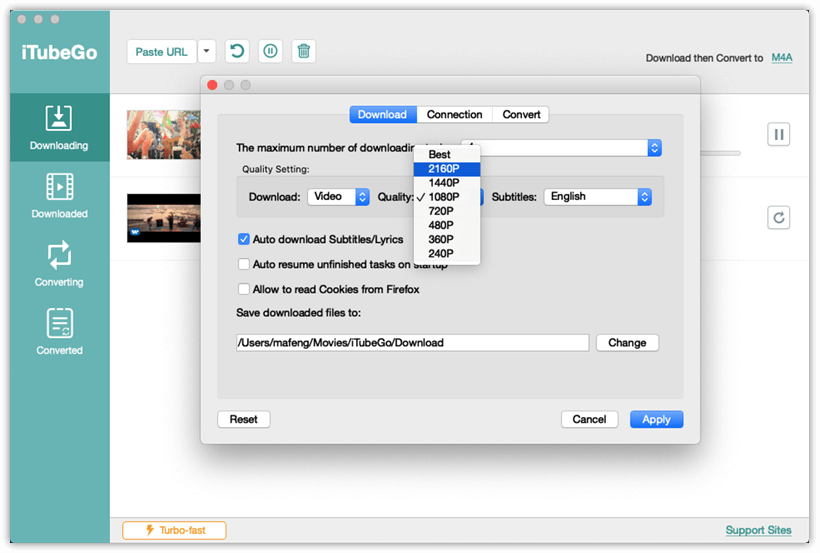 Step 4

Enter the URL
After setting your preferences click on the Paste URL button to enter the URL of the video for download. Once you paste the URL downloading will commence automatically.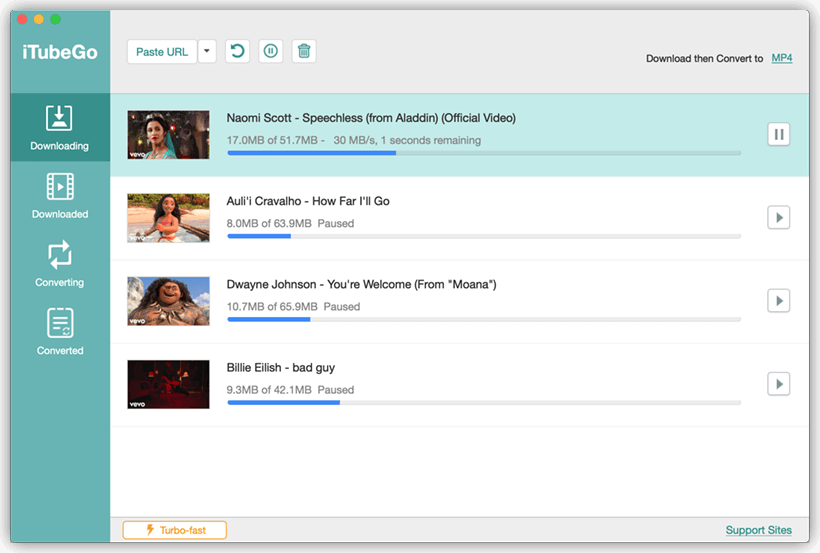 Step 5

Access the Downloaded File
After the download is complete, you can access the downloaded file in the Downloaded section of the software.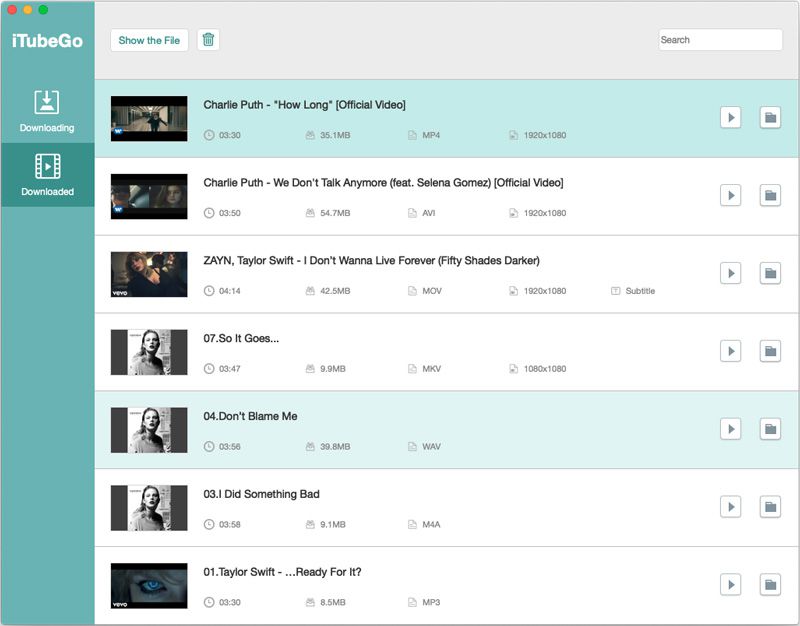 How to Save Vimeo Videos on Mac in Different Resolution
Videos on Vimeo are available in a number of resolution options. You can find videos in 4K and even 8K resolution on this video sharing platform. If you want to download a video from Vimeo in any quality or resolution of your choice, iTubeGo offers you this flexibility. Let's see how you can save a video from Vimeo to your Mac using iTubeGo in any resolution of your preference.
Step 1

Choose the Format You Want
After installing iTubeGo and getting the desired video's URL, go to the "Download then Convert to" option, and set the output video format of your choice. The default video format of the program will be mp4, which you can change from this section.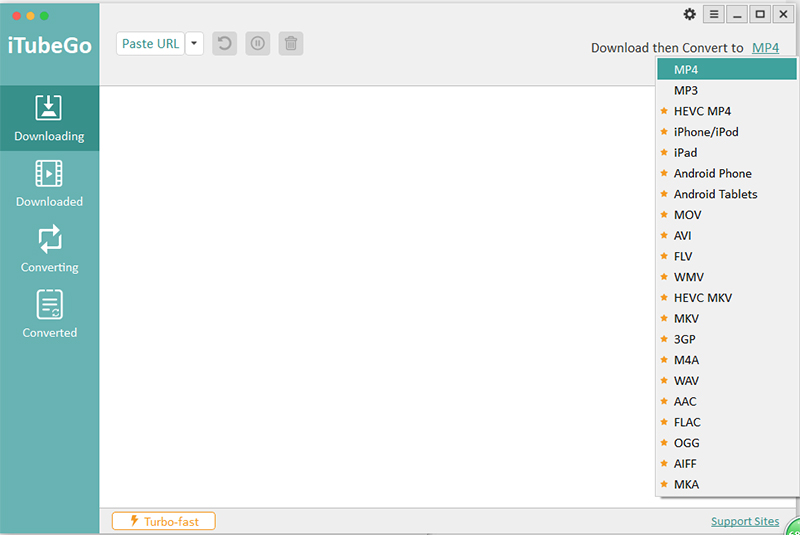 Step 2

Select Resolution
In the Preferences or Settings tab, you'll also find the option for selecting the resolution of the video you want to download. You can go all the way up to 4K and 8K resolution. iTubeGo is one of the very few downloaders that offer 4K and 8K video downloading without affecting the original video and audio quality.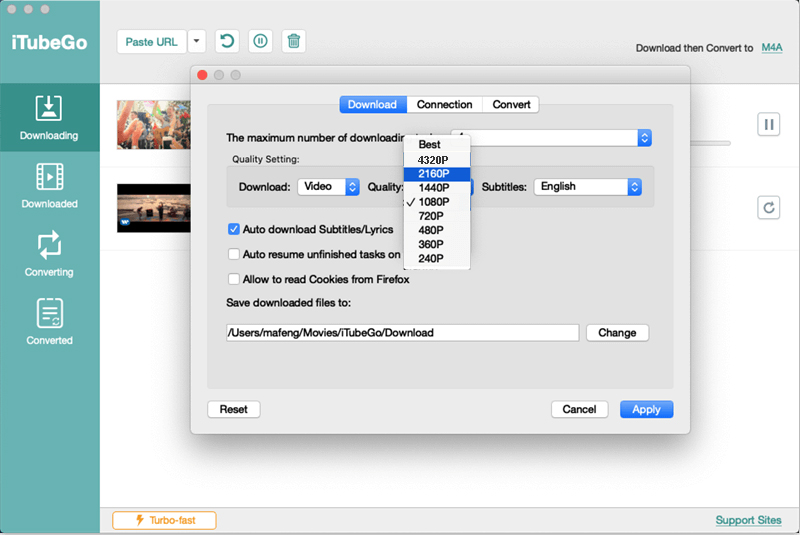 Step 3

Download and Save the Video to Your Mac
As already discussed, just hit the Paste URL button and the video will be saved to your Mac in the resolution you just selected.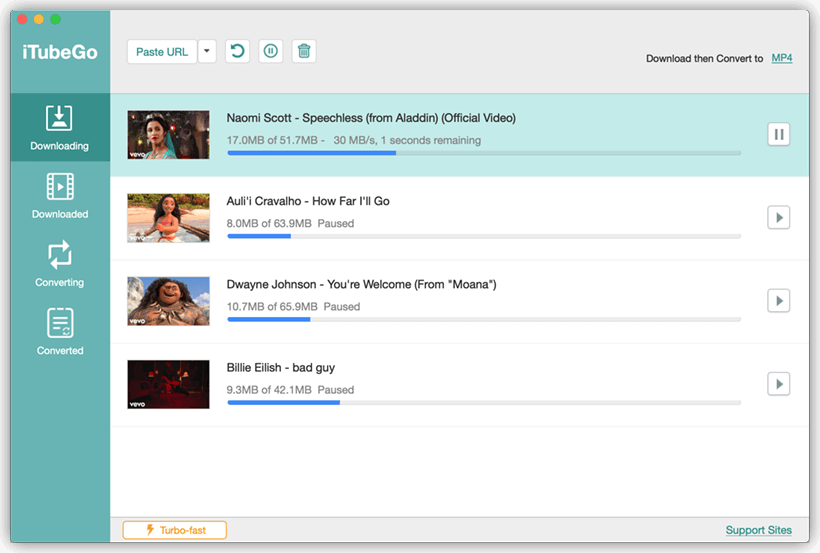 How to Download Private Vimeo Videos on Mac
Some videos on Vimeo are private which means only the people allowed by the video creator are able to access them. iTubeGo Video Downloader software makes it possible to download such videos very easily. Here's what you want to do to download private Vimeo videos to your Mac using iTubeGo.
Step 1

Access the Video in Firefox Browser
Open Firefox on your Mac and log into your Vimeo account to access the private video you want to download. Once you open the video in the browser, copy the URL from the browser address bar to proceed with downloading the video.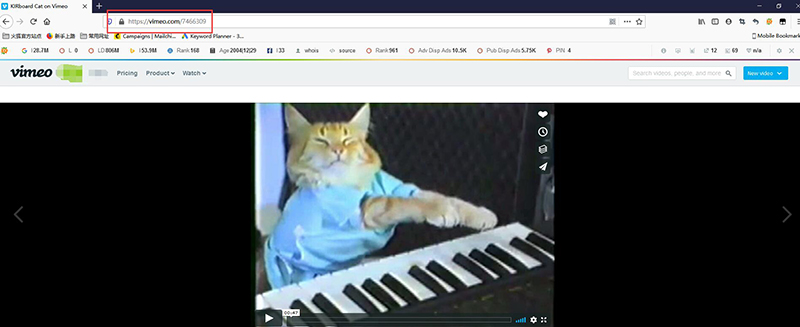 Step 2

Allow iTubeGo to Access Cookies
After selecting the required output format and quality, you have to allow iTubeGo to access cookies. Go to the preferences tab on iTubeGo and enable the "Allow read cookies from Firefox/Chrome" option.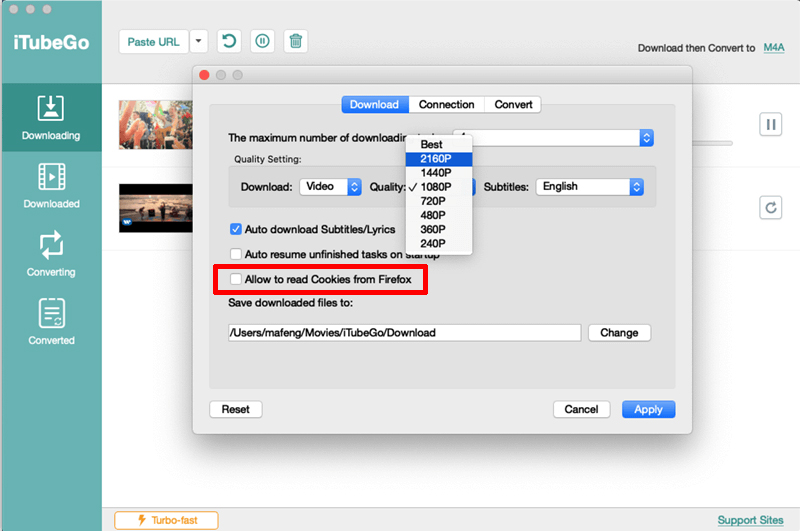 Step 3

Enter the URL
Now, click the "Paste URL" button to enter the URL to the software in order to download the video. Once the URL is identified by the software, downloading with begin.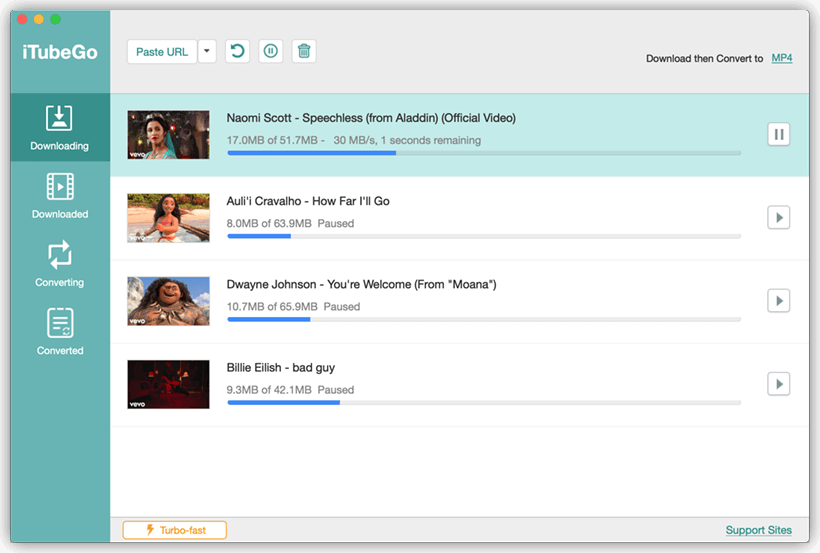 Other Ways to Download Vimeo Videos on Mac
1. Vimeo Official Method
If you don't feel like installing any software or executing a number of steps to download a Vimeo video, you can download the videos to your Apple device by subscribing to the Vimeo premium. The premium subscription costs $7 a month for yearly billing and $12 a month for monthly billing.
The method for downloading a video with a Vimeo premium subscription is very simple. Just open the video on a web browser in your Mac and you'll find a Download button right below the video player. Hit the download button and you'll be asked to select SD or HD resolution for the download and the video will be saved to your device.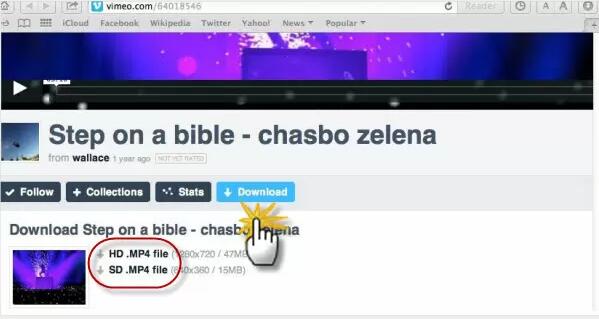 However, some videos are not allowed to be downloaded owing to copyright and other issues and you are stuck with just MP4 format and you cannot extract the audio from a video file directly.
2. Online Vimeo Videos Downloader on Mac
If you don't even want to pay for Vimeo premium and installing software to download videos is not your thing, there's yet another method that can help you download any video from Vimeo to your Mac. This can be done by using an online video downloader for Vimeo. The tool is called Video Grabber Vimeo downloader Mac.
Here's how you can download videos from Vimeo using this tool.
Open this website in your web browser, like Safari, Chrome or Firefox
Go to the Vimeo video you want to download and copy its URL from the address bar of the browser
On the Video Grabber Vimeo downloader Mac website, enter the URL in the "Download" box
The website will show the download format options like MP4, 3GP, FLV, etc
Choose the one you want and right-click to download the video to your computer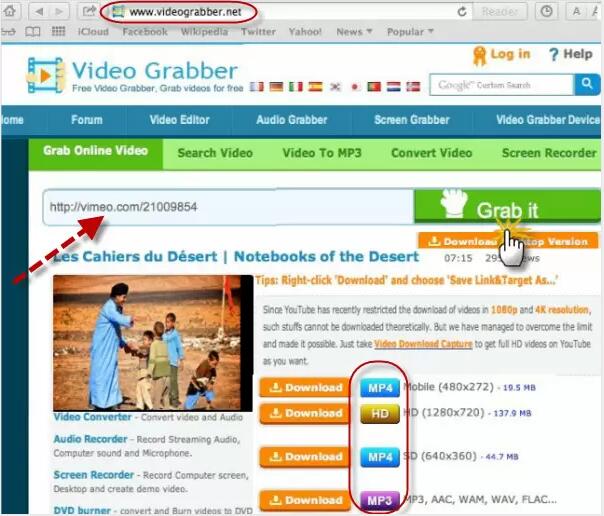 Summing-up
Vimeo is home to a lot of amazing videos and the best part is that this video hosting platform has no ads. However, if you want to save a video from this site to your Mac, you'll have to get a Vimeo premium subscription that costs $12 a month.
Other ways to download videos from Vimeo include using iTubeGo software or an online video downloading tool. The online tools are free to use but have a lot of ads and are extremely limited when it comes to the choice of formats and resolutions they offer. iTubeGo software enables you to download videos in all resolutions and comes with lifetime support from the developers making it the best tool to download Vimeo videos.
(Click to rate this post)
Generally rated 4.5 (215 participated)