Want to share, upload, and watch videos that are longer than the videos on YouTube? Vimeo is the best online video-sharing website launched in 2004 by some filmmakers. You can find any video animation, music, technical, art, film, etc. It is different from YouTube as it promotes more artsy work. But it doesn't mean you shouldn't promote your artwork on YouTube. You can upload your creative videos on Vimeo, and you can also browse the available videos from other users.
You can like, comment, and share just like you do on YouTube, but it is mainly a network of artists who promotes their tutorials and work at Vimeo. You can download videos and convert Vimeo to YouTube. In this article, we will guide you on how to convert Vimeo to YouTube in the best and easiest possible way.
How to Download Vimeo Videos Using iTubeGo
The iTubeGo YouTube Downloader is best for you if you want to download videos from Vimeo. This Software allows you to download high-quality videos in a short time. You can use iTubeGo for downloading videos from Facebook, Vlive, YouTube, Vimeo, etc. Download in whatever format (MP3, MP4, MOV, M4a, etc.) you want the video. You can download videos from Vimeo and convert videos from Vimeo to YouTube easily.
Here we will discuss some of the critical features of the iTubeGo YouTube Downloader:
Download videos in your required format (MP3, MP4, MOV, M4A, and 20 other video and audio output formats).
Download high-quality and 100% lossless videos.
10X Fast downloading speed than any other competitive downloading tool.
A separate version for Windows and Mac Operating Systems.
Protect your videos through a password using private mode.
Download as many videos as you want.
Supports 10,000+ online music and video sharing websites.
Steps to Download Video from Vimeo using iTubeGo
Vimeo has millions of users, uploading and watching videos on Vimeo. To convert Vimeo to YouTube, you have to download the video first. Here are some steps to download a video from Vimeo using the iTubeGo YouTube downloader.
Step 1

Download and Install iTubeGo
Download the latest version of iTubeGo YouTube Downloader from its official website, or you can download it from the links given below:
Now install the Software in your PC and launch it. You can also get guidance from the official user guide of the iTubeGo YouTube Downloader.
Step 2

Locate the Vimeo Video and Copy its URL
Click on the video you want to download and copy the URL from the browser's address bar.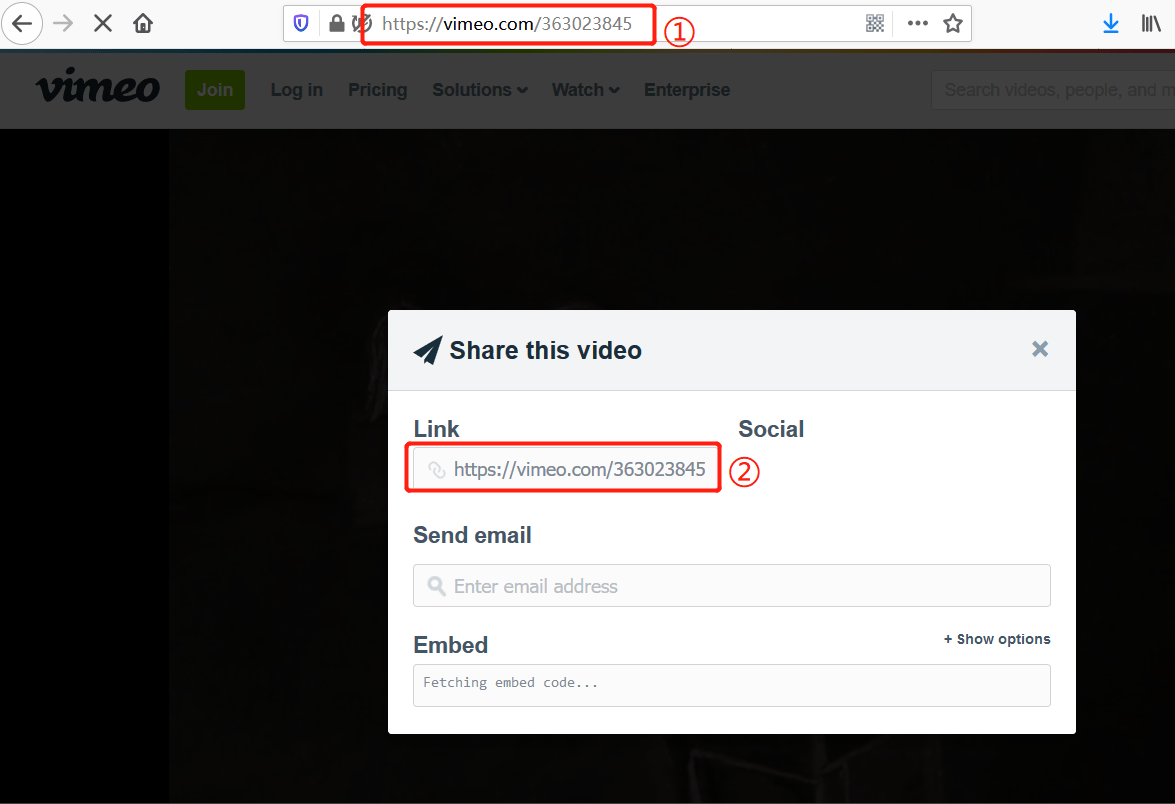 Step 3

Choose Download Settings
Go to the iTubeGo YouTube Downloader Preferences section, and then select the download type as video and quality as per your choice. You can also change or set the video output format like MP4 from the "Download then Convert to" tab located at the main interface of the software.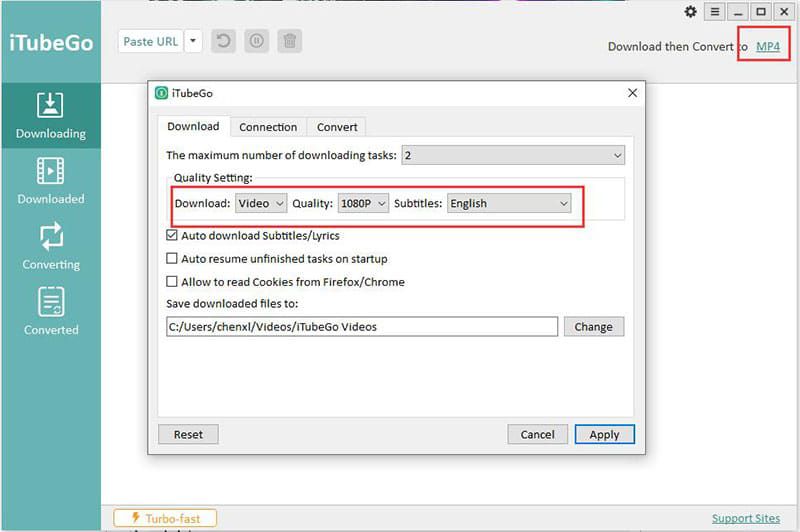 Step 4

Click "Paste URL" Button
Now paste the URL by selecting the "Paste URL" button, which will instantly initiate the downloading process.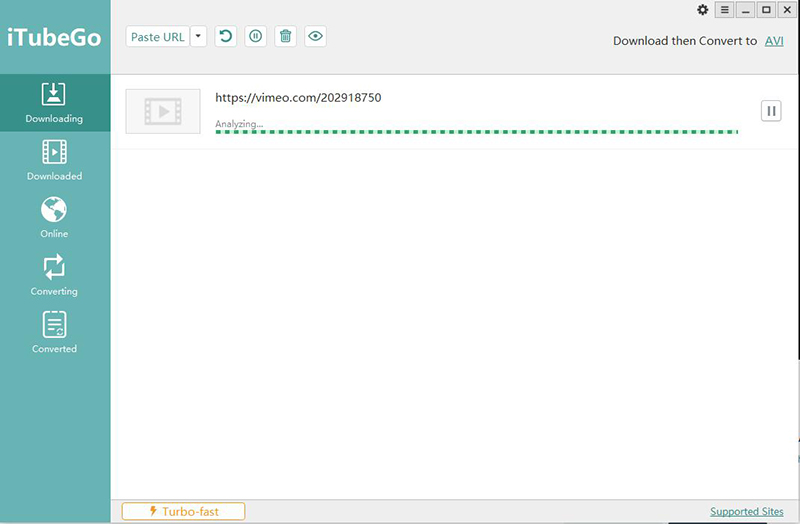 Step 4

Find the Video in the Downloaded File
Once the downloading gets completed, you can find your downloaded videos in the downloaded section of iTubeGo; the video is ready to convert Vimeo video to YouTube.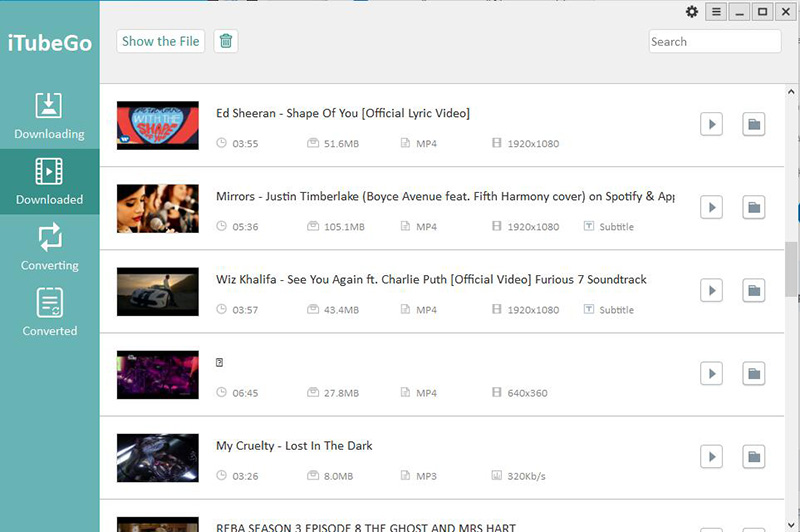 YouTube Video Requirements
The following are some video requirements we all should know before uploading a video on YouTube.
Only a verified user can upload a video of 128 GB or 12 hours long. If you are not verified, the maximum length of the video can be only 15 minutes.
The aspect ratio is 16:9.
Supported video formats: 3GPP, AVI, FLV, MOV, MPEG4, MPEG-PS, WebM, and WMV. MPEG4 commonly uses the .mp4 file extension.
Minimum dimension: 426 x 240.
Maximum dimension: 3840 x 2160.
How to Upload Video to YouTube
The first thing you need to make sure before uploading a video on YouTube is to check that the application supports the video's format. So, after creating your channel and assuring the video's form, you can share your unique content on the world's number 1 famous video channel -YouTube. Just follow these steps and spread knowledge.
In the first step, you have to log in to your account by providing the required information.
On the upper right corner of your screen, there is a video icon. Click on that icon.
Then click on the UPLOAD VIDEO option.
Find your desired video by clicking on the "select files to upload" option. Also, you can drag and the video.
Add the most commonly used SEO title to make your video easily searchable.
Now, add the description of the video to tell the people about what is in it.
The final step is to add tags that help to discover your video.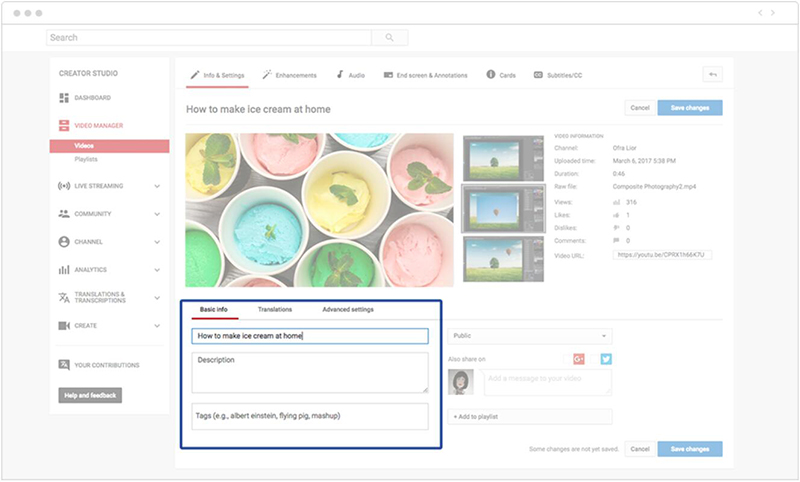 Summing-up
By all these steps, you can convert any video you like from Vimeo to YouTube. If there is a video of your favorite artist/creator who is not at YouTube, you can download that video using the iTubeGo YouTube Downloader to watch it as many times as you want. You can share, watch, download, and upload videos by using the iTubeGo YouTube Downloader. Install the iTubeGo Software and convert Vimeo video to YouTube at top speed.
(Click to rate this post)
Generally rated 4.5 (215 participated)