Gone are the days when people had to use a blank tape and VCRs to record any of their favorite programs. Now the process has become much easier. If you're using Mozilla Firefox, there are tons of add-ons that can help you download videos from any websites. And when we talk about consuming high-quality video content, which name can be better than Vimeo.
Here, we're going to list 8 best ways to video download from Vimeo Firefox tools, with all their features, advantages, and possible drawbacks. In this article, only those downloading solutions are included that we've tried personally and tested; so that you don't have to waste your time is search of the most effective downloaders. Without wasting any time, let's drive right in!
How to Download Vimeo Video in Firefox Using iTubeGo
iTubeGo Youtube Downloader is a name where excellence meets convenience. This desktop software is specially designed to download videos and music from more than 10,000 online video sharing websites, including Vimeo. It can download and convert Vimeo videos into a diverse variety of output formats, providing various SD and HD quality options.
With this program, you can download multiple videos at once without any limitation on numbers or duration. It is compatible with all the available web browsers, and moving a step ahead, it also comes with a built-in browser that eliminates the trouble of copying and pasting the video links.
Some more significant attributes of iTubeGo YouTube Downloader are as follows:
It can convert Vimeo videos into MP4, MP3 MOV, AVI, and 20 other output formats.
This program also let you extract audio from Vimeo videos and convert them into high-quality MP3 files, providing bitrate of up to 320kbps.
It is one of those very few downloaders that can download Full HD, 4K, and even 8K Vimeo videos without any problem.
You can download unlimited numbers of videos in bulk without affecting the original video and audio quality.
With multithread technology, it makes full use of your bandwidth ensuring the 100% reliable downloading, even in slow or unstable internet connection.
Turbo-fast mode helps to provide 10X faster downloading speed, due to which, you can download long duration high-quality videos in just few minutes.
It is fully compatible with Mozilla Firefox and all web browsers available in the market.
How to Download Video from Vimeo Using iTubeGo
To download video from Vimeo Firefox with iTubeGo program, you need to follow the below-mentioned steps.
Step 1

Download and Install iTubeGo Software
First of all, you need to download the latest updated version of iTubeGo YouTube Download from the official webpage. After downloading the installation package of this software, you'll have to install it into your computer, which won't take more than few seconds.
Step 2

Open Vimeo Video on Firefox Browser and Copy its Link
Open Mozilla Firefox browser on your computer and head over to Vimeo website. Now, go to the particular video that you want to download and copy its URL from the browser address bar.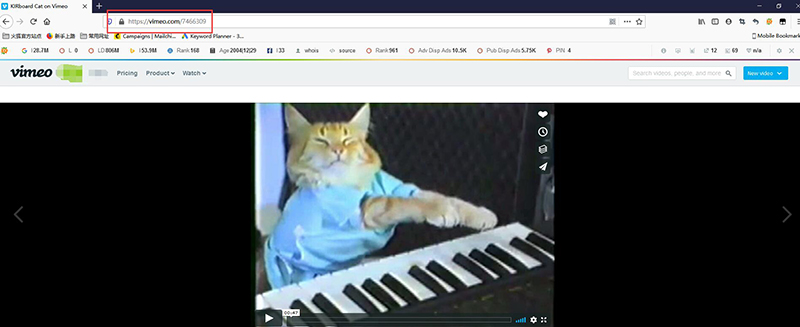 Step 3

Launch iTubeGo Software and Select Download Options
Open the "Preferences" section and select the Download type and Quality from the provided options. You can also change the output format from the "Download then Convert to" tab, which is set as MP4 for video and MP3 for audio downloading by default.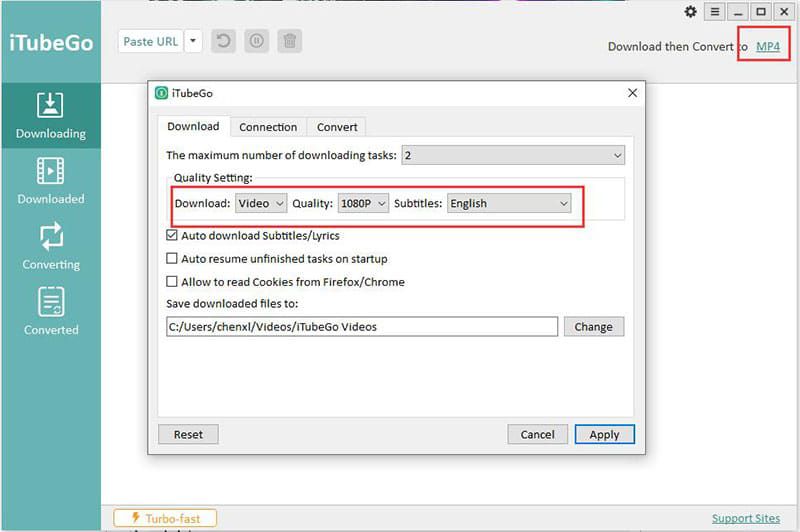 Step 4

Paste the Copied Vimeo Video URL
Then, click the "Paste URL" button on the main interface of the program, which will automatically initiate the downloading process.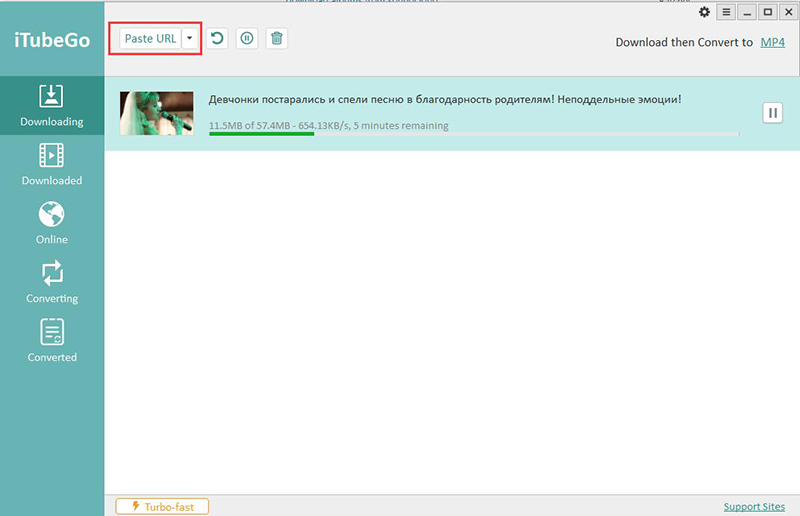 Step 5

Download Vimeo Video on Your Computer
Once the downloading process gets completed, the Vimeo video will be saved to your computer for offline viewing. You can also find and play all the downloaded media in the "Downloaded" section of the iTubeGo program.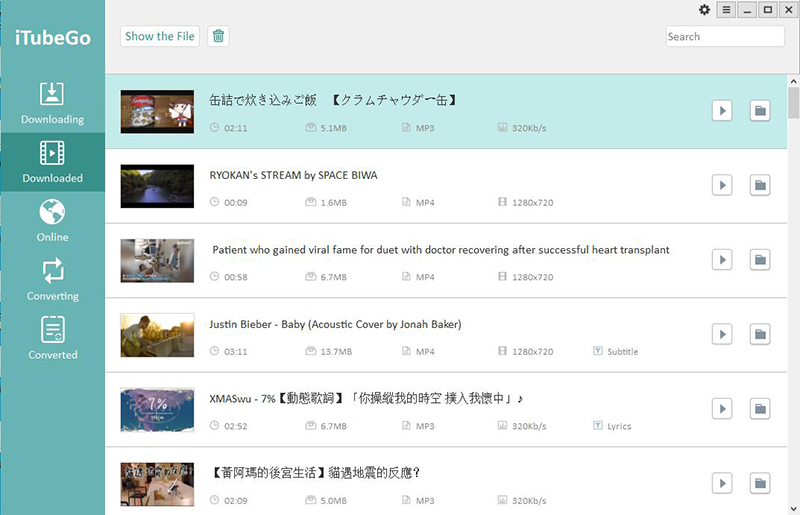 3 Best Firefox Add-Ons to Download Videos from Vimeo
In this section of the article, we're going to disclose 3 best Firefox add-ons that will integrate into Vimeo website and let you to download videos from there. But if this is something new for you, then lets first discuss what these add-ons actually are. There are various Firefox add-ons are available that are designed to modify different functionalities of the browser, but here, we're describing 3 best Firefox add-ons that will help you to download Vimeo videos.
1. Awesome Vimeo Downloader
Developed by fbion.com, Awesome Vimeo Downloader is a specialized add-on for Firefox browser that is designed to download Vimeo videos. It works by adding download buttons into the Vimeo player, so that you can download videos directly from the Vimeo website. You can download up to 4K/UHD vimeo videos easily with this extension. It automatically selects the preset video quality and initiate the downloading process with just single click.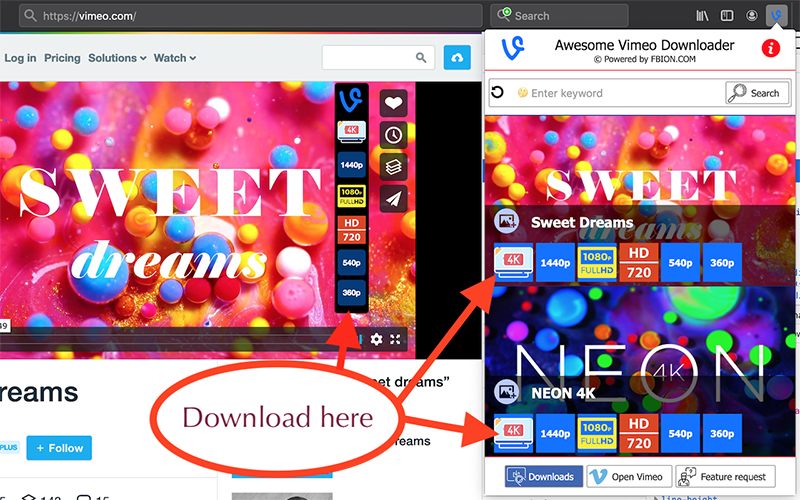 Pros:
It can also work on Android powered devices.
This add-on allows you to download subtitles with Vimeo videos.
It is a multi-language tool, which means you can choose from different available options.
Cons:
It often redirects to some other downloading websites.
2. YouTube and Vimeo Downloader
As its name implies, YouTube and Vimeo Downloader is another useful Firefox add-on that can be used to download videos from multiple platforms. The supported websites includes Vimeo, YouTube, Facebook, Instagram, Twitter, Dailymotion, ESPN, and various other websites.
In addition to supporting multiple websites, it also allows you to download videos in various output formats such as MP4, MP3, M4A, 3GP, JPG, and WEBM. It is a quite lightweight extension, which doesn't affect the performance the performance of your computer.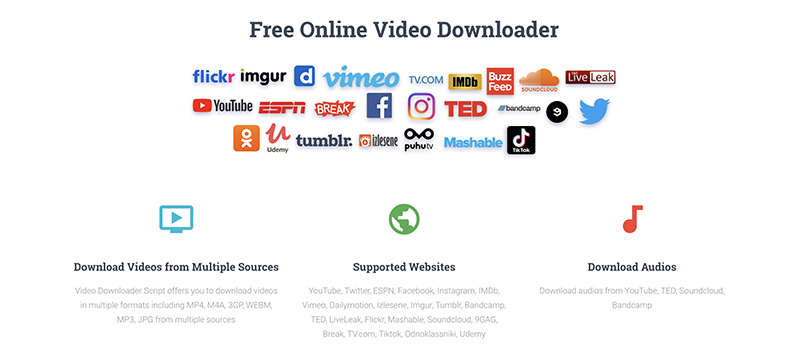 Pros:
Apart from video formats, it also support MP3 format.
Using this add-on, you can download videos from multiple websites.
It also supports various SD and HD video qualities.
Cons:
At times, the download link can redirect you to some spam websites.
It gives error while downloading Vimeo videos.
This add-on can't work for private videos.
3. Video Downloader Professional
The next name in our list of the best Firefox Vimeo add-ons is Vimeo Downloader Professional. This add-on modifies the capability of your Firefox browser and helps to download and save playing videos on websites directly into hard-disk of your computer.
Like any extension or add-on, first, you've to download Vimeo Firefox, after which, you can download videos from Vimeo and some other websites as well. You can also add your favorite videos to personal video list for easy access and download.
Pros:
It directly saves playing videos into your hard disk.
This tool helps to add videos into personal video list.
It supports video resolutions of up to 4K/UHD.
Cons:
The download of private and protected videos is currently not supported with this add-on.
It can't download YouTube videos. And to download YouTube videos, it will require buying another paid software.
4 Free Online Video Downloaders for Firefox Browser
The next method we're going to discuss doesn't require installing of any third-party software or add-on, and still, allows you to download Vimeo videos on Firefox browser. There are various online video downloading services available that are compatible with Firefox and can download videos from Vimeo website.
Now, we'll share a list of top 4 free online video grabbing tools that works better than other online services to download Vimeo videos.
1. KeepVid.Pro
KeepVid.Pro is a free video grabbing tool that enables you to download videos from Vimeo and various other websites. It has a very simple and user-friendly interface that requires only pasting the particular video's link that you're looking to download. It can be opened with any web browser on your device, including Mozilla Firefox. This online Vimeo downloader is reliable and safe to use and helps to save videos without the need to download or install any software or plugin.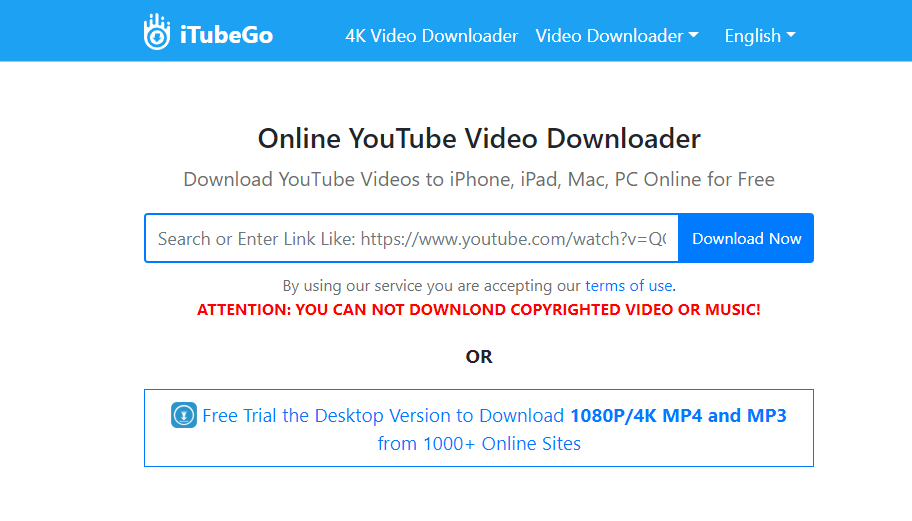 Pros:
It supports more than 1,000 online websites.
KeepVid.Pro is a free online video downloading service.
You just have to copy and paste the video link to download it.
Cons:
It only supports limited output formats, only MP4 for video downloading.
Like any online downloader, it has too many ads.
It can redirect you to some other sites.
2. Ripsave
It is another simple online service to download Vimeo videos. This Ripsave allows you to download MP4 videos, with SD and even HD video quality. It also works almost similar to KeepVid.Pro or any other online tool to download video from Vimeo Firefox browser. Ripsave supports numbers of online video sharing websites and compatible with all famous web browsers.

Pros:
Ripsave can be used to download videos from various websites.
It also supports HD video quality.
Cons:
Limited output format option to download videos, only MP4.
The interface has too many annoying ads.
3. Tube Offline
Tube Offline is a very unique Firefox vimeo downloader that also enables you to download videos offline, which means you don't need an active internet connection to download the videos. Unlike the previously mentioned online tools, it allows you to convert videos into different output formats. There's no sign-up, registration, or any installation required to use this service.

Pros:
It is completely free service.
You can convert videos into different formats using this downloader.
Cons:
It redirects the users to other annoying and irritating websites.
It is very difficult to negotiate from the site.
4. Savefrom.net
The Savefrom.net is yet another very effective online platform that will enable you to download videos from various websites, including Vimeo. The downloader is safe and can convert videos into MP4 and MP3 format. It is compatible with Firefox and allows you to download media files easily in the best quality.

Pros:
This downloader allows you to convert Vimeo videos into MP4 and MP3 format.
It also offers some browser extensions.
Cons:
The speed of your internet connection affects the downloading process.
It has a lot of disturbing ads.
The browser extension isn't safe.
Some Common Problems of Watch Vimeo Videos in Firefox
Despite the fact that Mozilla Firefox is a very popular and widely used web browser throughout the world, its users still encounters several problems while watching the Vimeo videos. Some of these problems are stated below:
Sometimes, Firefox doesn't play Vimeo videos. It happens quite often with the users that they're watching Vimeo video, and suddenly, Firefox failed to play the next video. Clearing the cache can solve this problem at times.
From long time now, after every new update of Firefox browser, users have experienced issues with playing Vimeo videos.
It can also happen that you'll be able to see the video thumbnail, but when you press the play button, they won't actually play. The reason behind it can be your version of Flashback that decided to not play the Vimeo videos due to safety purposes.
Some of these issues might get fixed by clearing the cookies or cache of Firefox web browser, but this can't work in every problem and you've to look for other solutions.
The Bottom Line
These are some of the best solutions to video download from Vimeo Firefox add-ons or other tools. It is quite evident that iTubeGo YouTube Downloader gives you the most effective and easiest solution to download videos from Vimeo. So, don't waste your time and try it now!
(Click to rate this post)
Generally rated 4.5 (215 participated)