Facebook is a rapidly growing database of different sorts of media, especially videos. People can add videos to this platform for others to watch and any Facebook user can enjoy those videos. However, you cannot save Facebook videos to your computer or mobile device for offline viewing. Facebook doesn't allow that. However, there are some methods and tools that can make it possible for you to save video FB. In order to save FB, you'll have to use a Facebook video saver. We'll introduce some of the major Facebook video downloaders that work with Windows, Mac as well as android device and iPhone.
Part 1 – How To Save Facebook Videos To A Computer
In order to save videos from Facebook to your computer, you can use a number of different tools available in the internet. We'll introduce the three most useful, efficient and user-friendly tools.
1. iTubeGo Multi-Purpose Video Downloader
The simplest and the easiest way to download Facebook videos to a computer is by using the iTubeGo video downloader. It is a multi-platform multi-purpose video downloader with a ton of cool options that works with all major video websites and offers you the maximum degree of flexibility. The salient features of this downloader include
Key Features
The download speed you get from iTubeGo is unmatched by any other video downloader on the market. This is because it engages multiple connections with the host website to give you extraordinary download speeds.
You don't have to individually download every video on a playlist when you use iTubeGo. The whole playlist can be downloaded in one command.
Format and resolution flexibility
You can select any resolution and video format that you want while using iTubeGo because it has the option to download in all major formats and the highest resolution the video is available in.
If you want to download audio track for video you just need to set the output format to MP3, M4A, or any other audio format, and the audio will be extracted and saved to your device.
iTubeGo knows no limits. You can download content from more than 10,000 sites using this simple and easy to use app.
Steps to Use iTubeGo to Download Facebook Videos:
Step 1 Get iTubeGo
You can get the iTubeGo installation file from this link in one click. Once you have the file, run it and it will guide you through the installation process. After installation, you have to register and you are good to go. Or just click here:
Step 2 Get the Video Link
With iTubeGo installed on your device, open the Facebook video you want to download, and right-click on it to copy the URL of the video.
Step 3 Run and configure iTubeGo
Next, you need to run iTubeGo and set the download parameters, such as resolution, format, and others. This can be done under the Preferences option.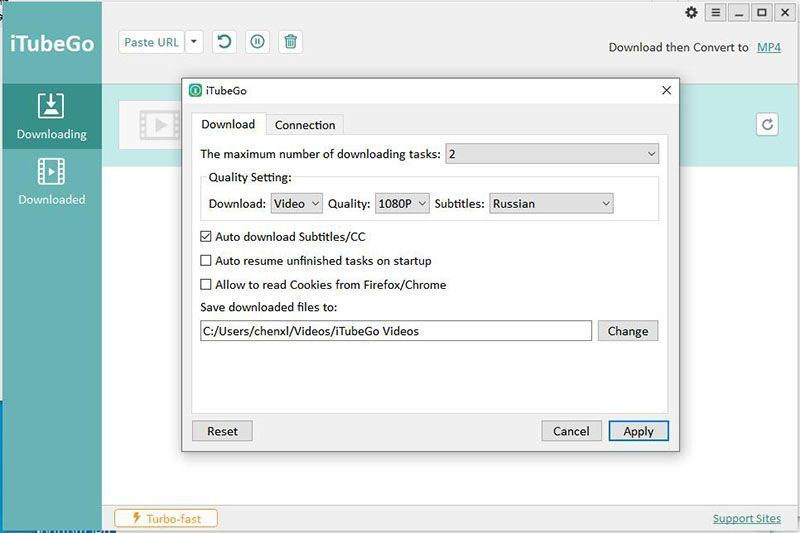 Step 4 Enter Video URL
Click on the Enter URL button on the iTubeGo user interface and paste the copied link.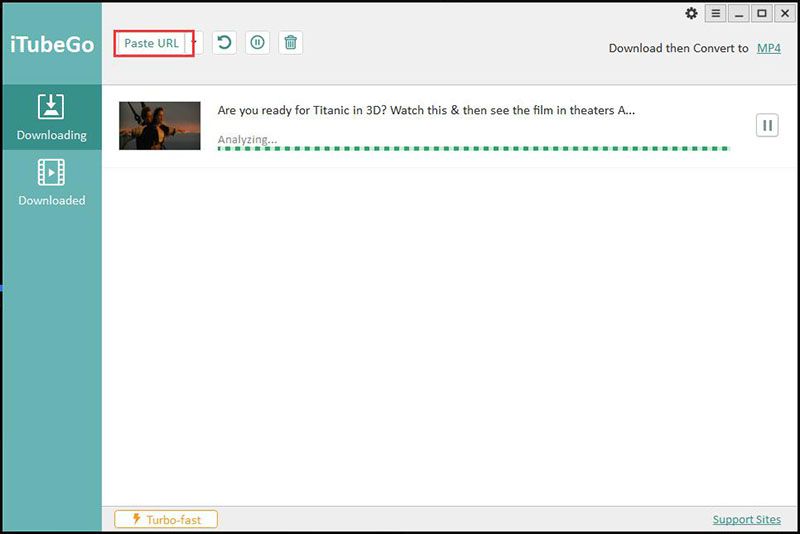 Step 5 Download
After pasting the link, the software will automatically initiate the download and you can find the downloaded file in the Downloads folder of your device.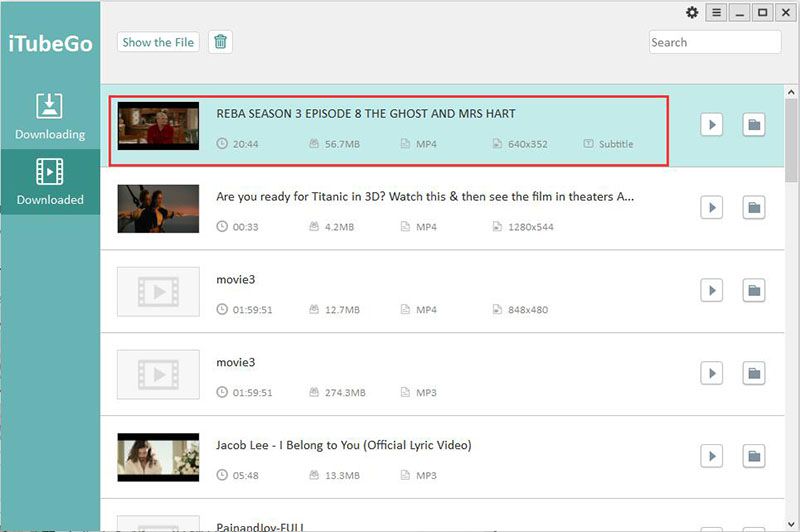 2. Video Downloader for Facebook Chrome Extension
This is tool is a neat little extension that integrates with the Chrome web browser and makes downloading videos easy.
Getting Video Downloader for Facebook Chrome Extension
In order to use this method to download a Facebook video, the thing you need to have is the extension that integrates with your web browser. You can download and install Video Downloader for Facebook Extension by here.
How to download a video using Video Downloader for Facebook Chrome Extension
If you want to download a video, once the extension has been installed, hover the mouse pointer over a video being played on the Facebook website. Then, you'll see a "Download" button at the top right corner of the video, click on it and the video will be downloaded.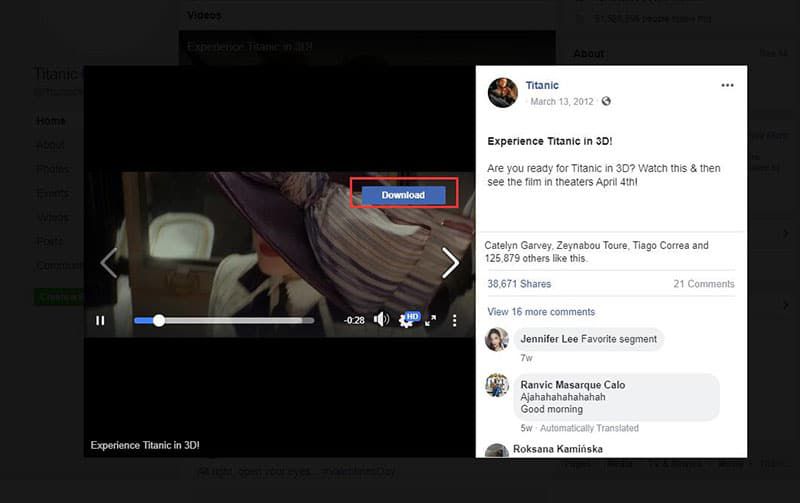 Pros:
This extension is easy to use and install and is free on top of that all.
Cons:
You cannot use this extension to download playlists in one go and will have to download every video individually.
3. KeepVid – iTubeGo Online Video Downloader:
This is probably the simplest way to download a Facebook video to your computer. You don't need to have an extension or an app installed on your computer in order to download a video using this method. Just copy the link of the video you want to download and go to this website. On the top, a bar will appear, paste the video URL in it and click download. The video will be downloaded to your computer, simple as that.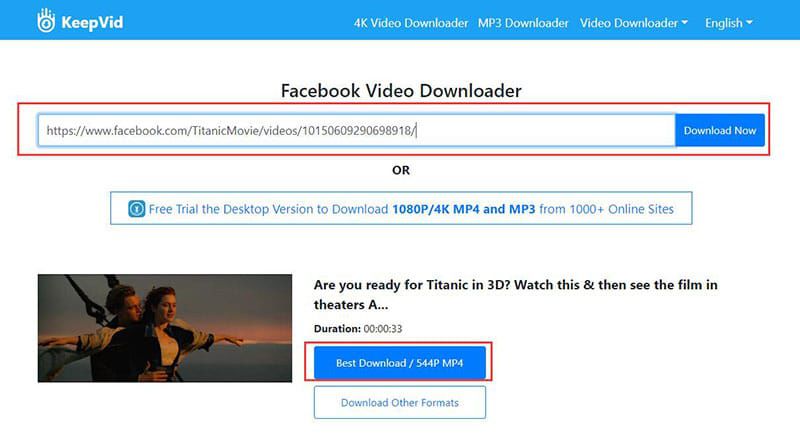 Part 2 – Saving Facebook Videos on Mobile Devices
The official Facebook application for Android or iOS does not allow downloading videos to the device but there are some methods that you can use to do that. Following are some of the best ways to save Facebook videos to a mobile device for offline viewing.
1. iTubeGo for Android App
iTubeGo is not just a desktop application, it is also available for android devices and works great for them too. In order to get the iTubeGo for Android application, you can download it here. Once the app is downloaded to your device, run it, and give it the permissions it needs, and you are good to go. iTubeGo for Android is the best app for downloading Facebook videos on android device.
Key Features
iTubeGo for Android is designed to be easy to install and operate. It is an app that you can understand and master in a few days and the downloading procedure is pretty simple and straight forward.
It promises and delivers the best download speeds no matter which website you are downloading the content from.
Format and resolution Flexibility
You can download the video you want in the format and the resolution of your choice. iTubeGo for Android supports full-HD and 4K downloads.
Steps to download videos using iTubeGo for android
Step 1 Open the Video
Go to the Facebook app and open the video you want to download to your android device to initiate the download process. Then click on the share button.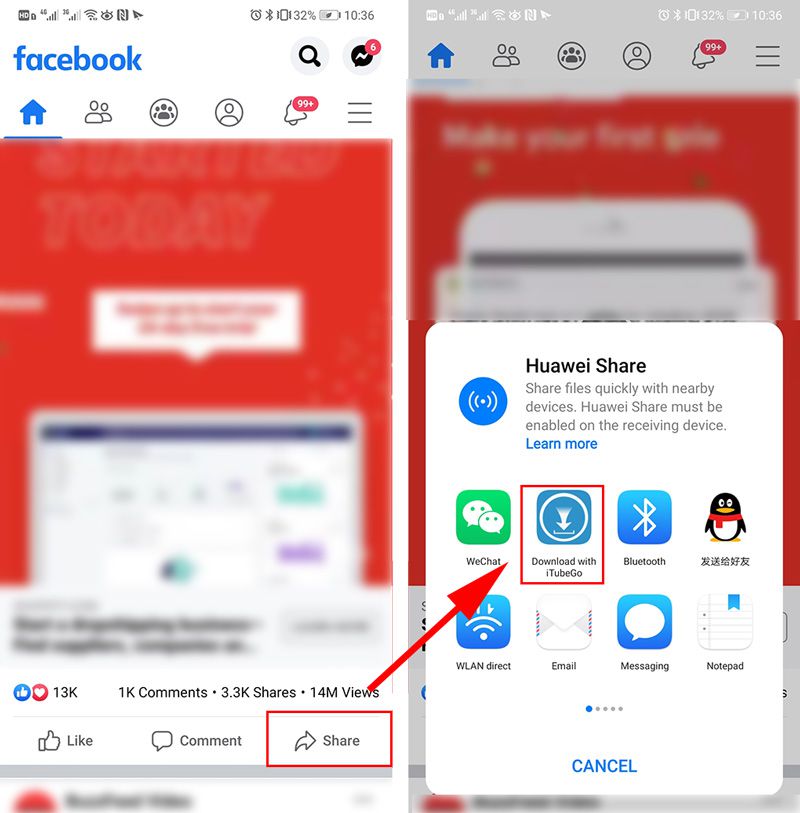 Step 2 Get the Video Link
Once you've opened the particular video on iTubeGo for Android, click on red download button. A popup appears, select the format and resolution of the video you want to download.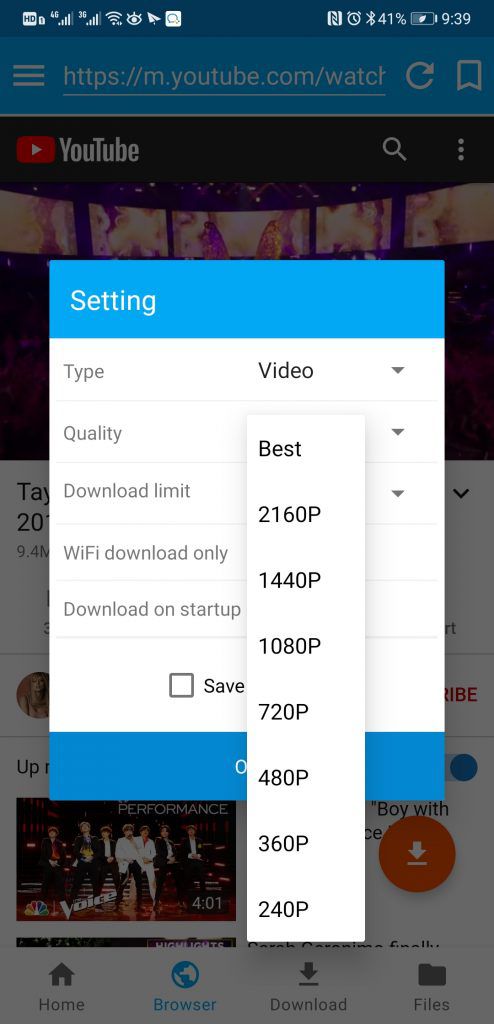 Step 3 Download Facebook video
After getting done with the settings, press the OK button and the downloading process will be started. First, the video will be converted into the required format and then it will automatically save to the device. You can also check all the downloaded videos in the Files section of the App.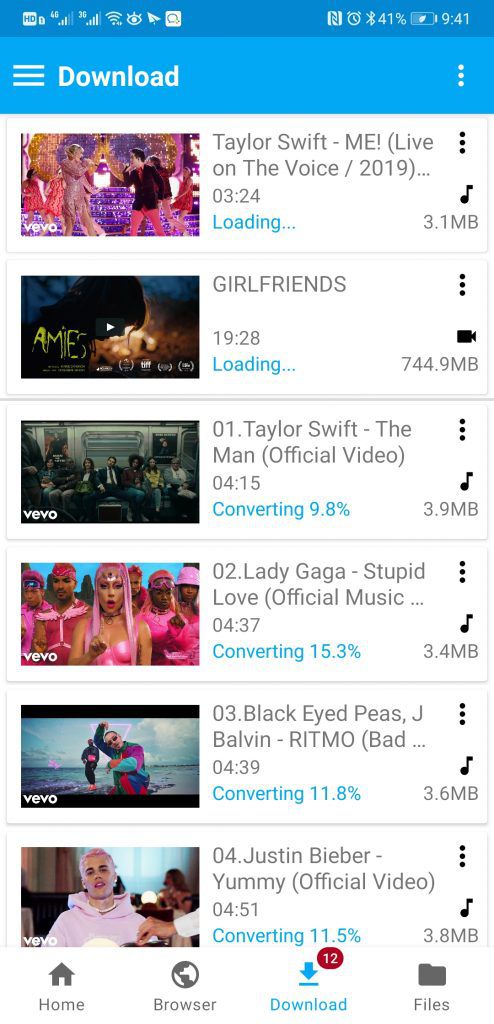 2. Alternate Method for Android/iPhone
1. Saving Videos on Facebook app
The official Facebook app that you use on your android or iOS device doesn't support downloading the videos but there's a way to watch a video again. You can tap on the bookmark icon on the top of the video that you are watching to save a video for viewing again. This won't download the video to your device but you won't have to locate the video again, which is very difficult. You can simply go to the "Saved" tab in your Facebook app and access the videos you want to watch again.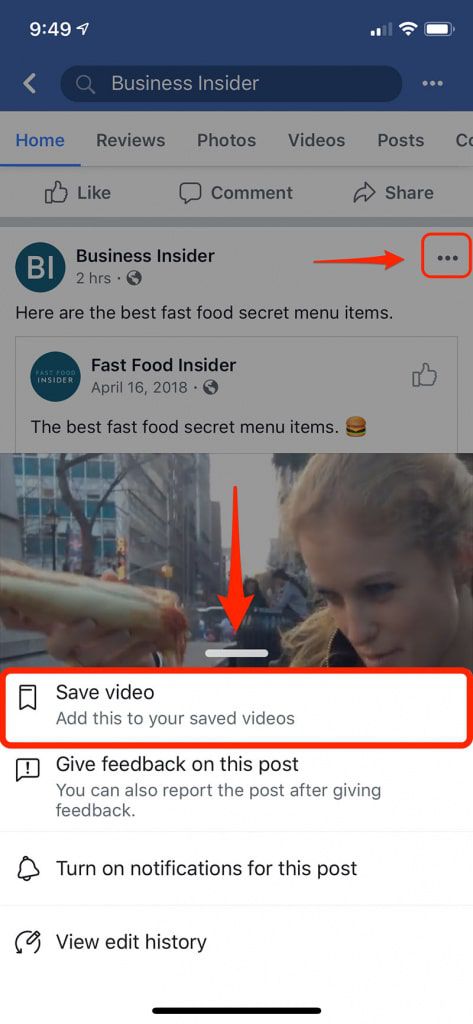 2. Friendly For Facebook
This is a nice little app that you can get from this link. To use this app to download videos from Facebook to your phone you need to do the following steps:
Install Friendly for Facebook App on your device
Open the app and log into it using your Facebook account
If the app prompts you which service you want to use, select Facebook
Open Facebook in the Friendly for Facebook app and go to the video you want to download
A cloud-shaped icon will appear in the lower right corner of the video being played. Tap it and the video will be saved to the photo/video library of your phone.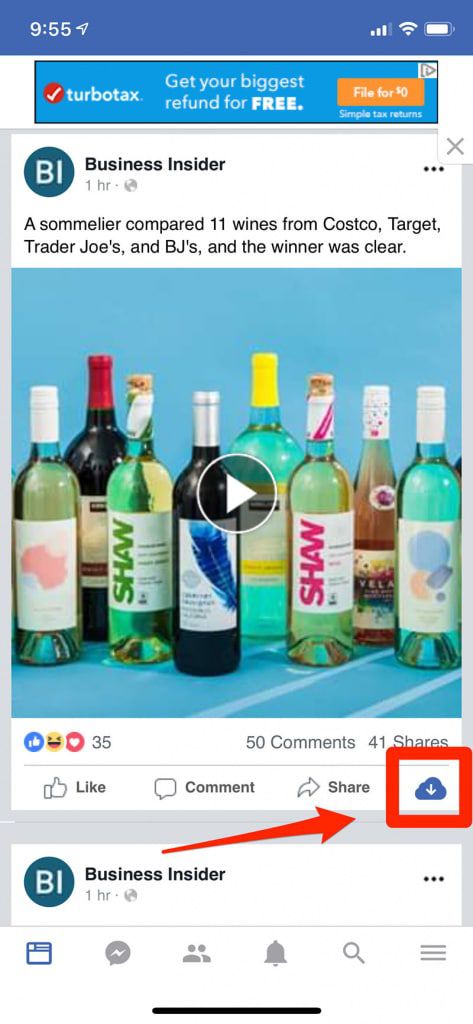 Conclusion
Facebook is home to some of the greatest videos ever created by humanity. You can watch as much of them as you want while online, but Facebook follows a strict no-download policy. It is because they make money by running ads between the videos and offline videos can't show ads. There are a number of online platforms and apps that can make it possible for you to save Facebook videos to your device. In the discussion above we have described some of the simplest and the easiest ways of saving FB videos. iTubeGo, with its ability to download at great speeds, in-app proxy, and playlist download option is so far the best way of saving Facebook videos to both computers and android devices.
(Click to rate this post)
Generally rated 4.5 (215 participated)