The internet hosts more videos than you can watch in a thousand lifetimes. These videos are available on a number of websites like YouTube, Vimeo, Dailymotion, Niconico, Facebook, Instagram, Twitter, and many more. Most of the websites do not allow users to download videos for offline playback. Today we'll discuss some methods that can be used to download video from any website. Some of these methods need you to download and install software to accomplish the task while others work online. We will use YouTube as an example to illustrate all download methods; the process is the same for all other websites.
Download Any Video from Any Site Using URL Online Video Downloader
There are a number of online solutions available for downloading videos from the internet but most of them support only a handful of websites. Downloadit.online is a website that compatible with as much as 10,000 websites. It supports YouTube, Facebook, Twitter, Instagram, BBC, Lynda, Vevo, Vimeo, CBS, and many more. The download process is fairly simple, and it works fine.
Steps to Download with an Online Video Downloader
Step 1 Get Video URL
Go to the video you want to download in a web browser and copy the address being shown in the address bar to start the download process.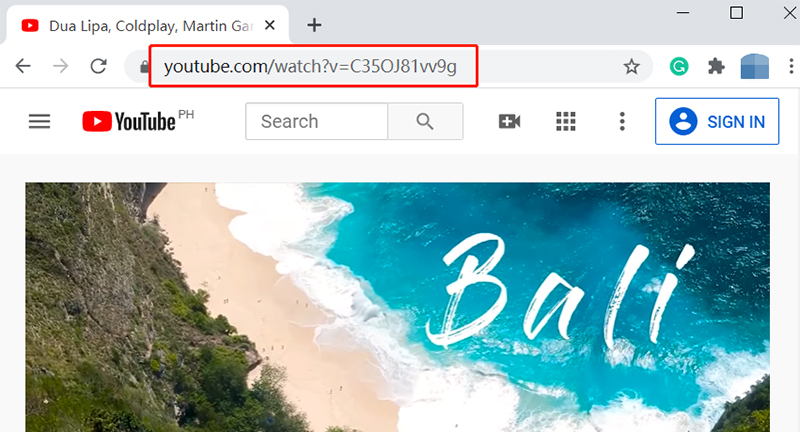 Step 2 Open Downloadit.online
With the video URL copied, go to Downloadit.online to download the video you want.


Step 3 Enter URL
In the designated field on the webpage, enter the URL.
Step 4 Download
After the URL has been analyzed by the webpage, it will offer you the available formats and resolutions. Select the ones you want and hit download button to save the video file to your computer.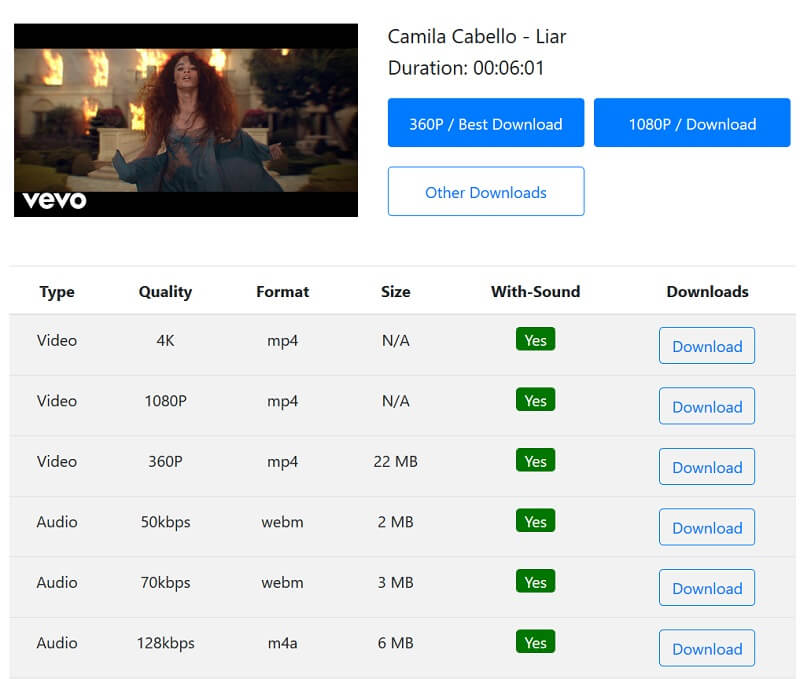 See Also
Download Video from Any Website with Video Downloader Program
If you want the best solution for downloading videos from any website, iTubeGo is the software you are looking for. iTubeGo YouTube Downloader is a multipurpose video downloader that is compatible with more than 10,000 websites online. It offers the option of downloading videos in 1080p, 2K, 4K, and even 8K resolutions. It also offers the flexibility of downloading videos in any format that you want, and you can even extract the audio from any video using this software.
Download videos from 10,000+ websites.
SD, HD, Full HD, Ultra HD are all supported.
ITubeGo can convert to any format(mp4, mp3, mov, m4a, 3gp, flv…) you want.
Downloading playlists allows you to release a lot of time.
Tubo-fast video downloading speed.
Steps to Download Videos from Any website with iTubeGo
Downloading videos using iTubeGo is very easy. Let's take YouTube as an example and see how you can do that.
Step 1 Get iTubeGo
First of all, download and install iTubeGo software. You can get the installation file from the link below. Run it to install the software on your computer.
Step 2 Get Video URL
After installing the software, open the YouTube video you want to download and copy its URL from the address bar of your web browser.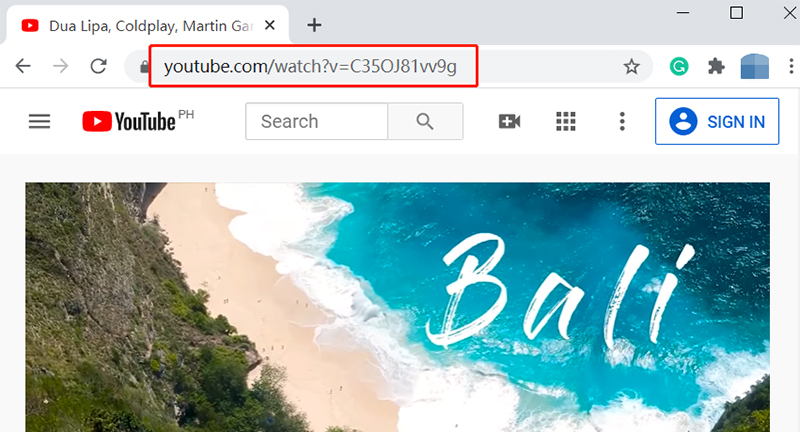 Step 3 Set Preferences
Go to the preferences menu, select the output resolution and format. If you are trying to download private videos from Facebook or Instagram, select the "Allow to read cookie from Chrome/Firefox" option to make the software work flawlessly. Click the Apply button to save the changes.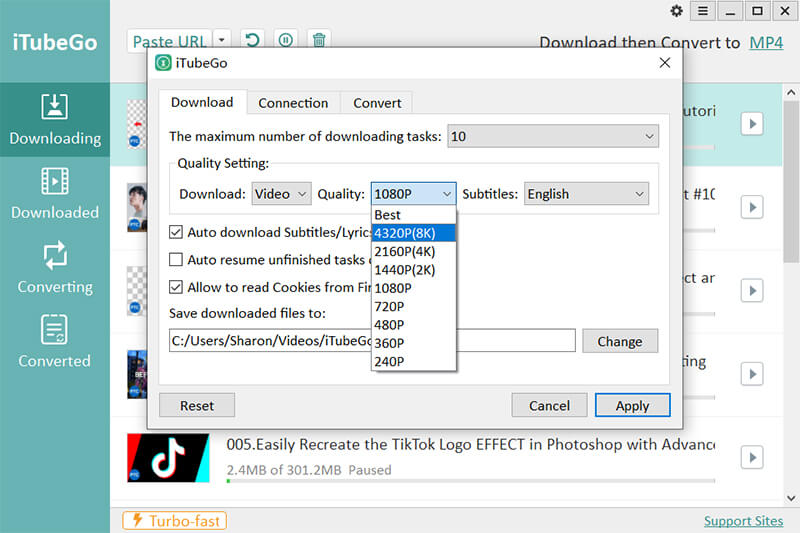 Step 4 Paste URL in iTubeGo
After the preferences are set to your taste just hit the Paste URL button and the video will start downloading.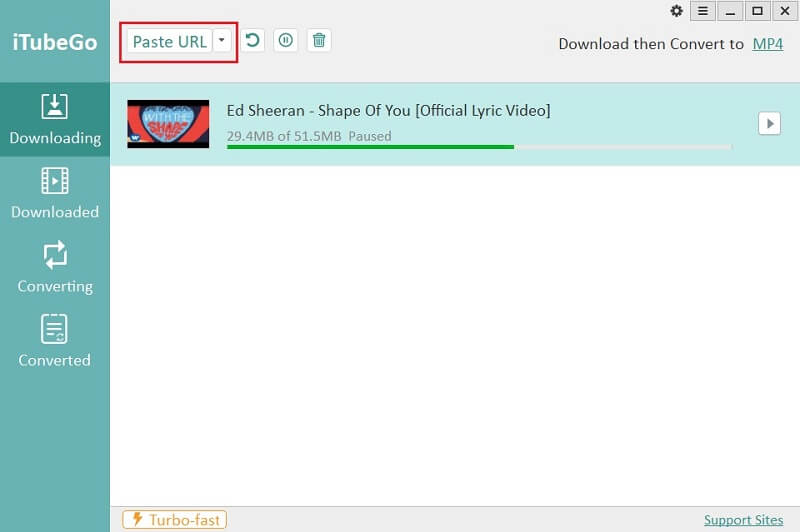 Step 5 Download Video on Computer
Once the video converted into your required format and quality, it will be saved to your computer.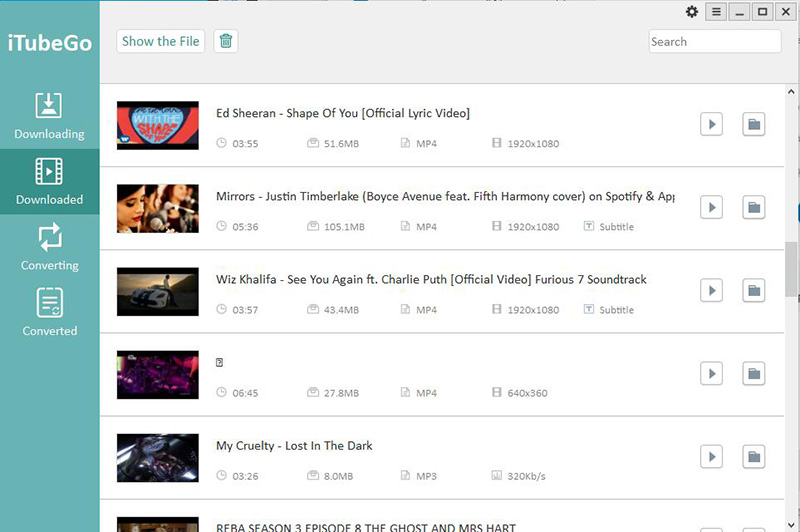 Download Videos from Any Sites with an Android App
If you are looking for a way to download videos from any website on to your android device, iTubeGo has got you covered. Just like the iTubeGo desktop application, there's an Android app that you can use to download videos from websites on Android.
Steps to Use iTubeGo for Android
Here are the simple steps you need to execute to download videos.
Step 1 Get iTubeGo for Android
First of all, download and install iTubeGo Android apk by going to the link below
Step 2 Go to the video
Navigate to a video in any video app and go to sharing options and select "copy link" to copy the link. Once you copy the link, open the iTubeGo android application and it will automatically show a pop-up for downloading the video. Otherwise, you can search for the video in iTubeGo's built-in browser and start the download from there.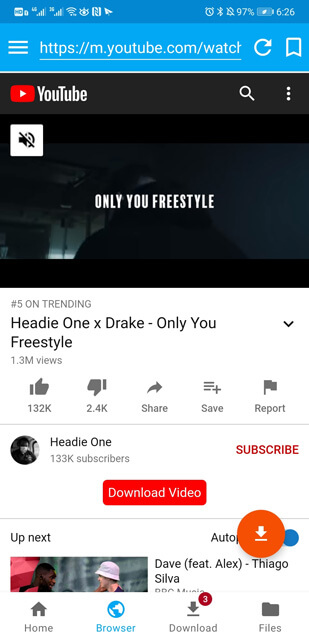 Step 3 Set preferences
iTubeGo will show you the available formats and resolutions, select the ones you want.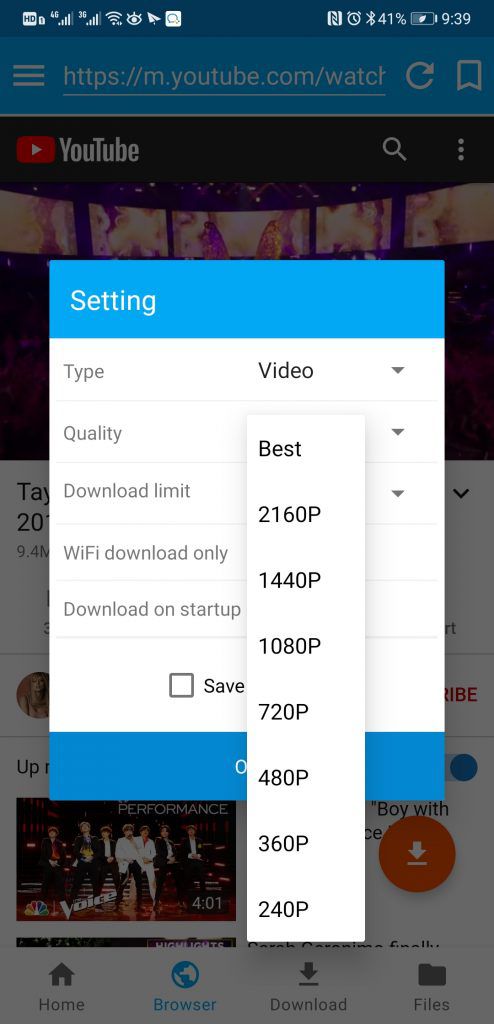 Step 4 Download
After selecting all the options just click the OK button and the video will start downloading.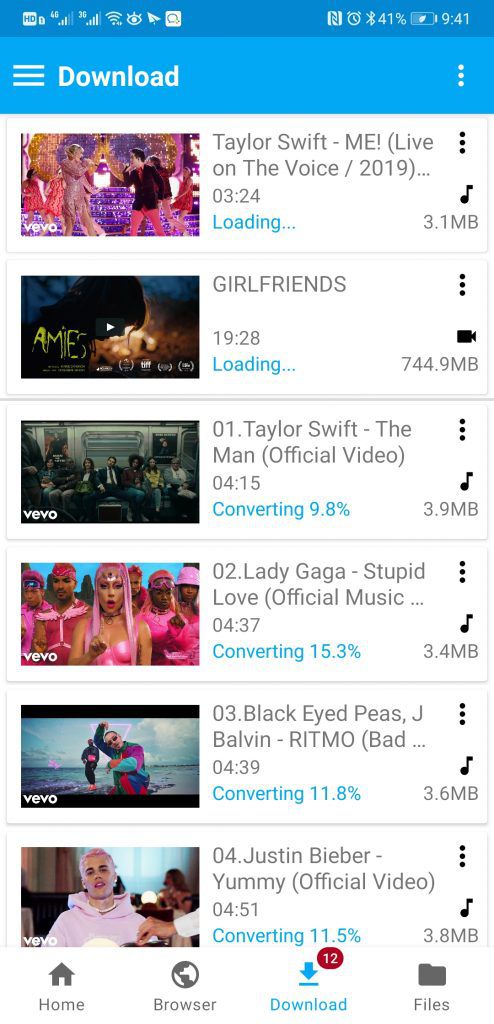 How to Download Video from Website with Chrome or Firefox
1. Download Video with Google Chrome
Google Chrome is undoubtedly one of the most popular and widely used web browsers. There used to be extensions available on the chrome web store that could be used to download videos being played on Google Chrome. However, recently all of them have either been banned by Google or they just don't work. The exact reason for this is known only to Google but it is speculated that Google banned the extensions due to copyright violations. Most of the internet videos are protected by copyright and the owners don't allow downloading them to devices. Google has most probably banned/disabled the extensions to protect the copyrights of internet videos.
And we have also worked hard to find some available solutions, but in a specific website, you need a specific Chrome video downloader add-on.
Learn more about Chrome video downloader extensions and available Chrome YouTube downloaders.
2. Download Video with Firefox Extension
Unlike Google Chrome, Firefox still has an extension that works for downloading videos. The extension is Video Download Helper and you can get it by following this link.
Steps to Use Video Download Helper
Step 1 Install the extension
Install the extension on your Firefox.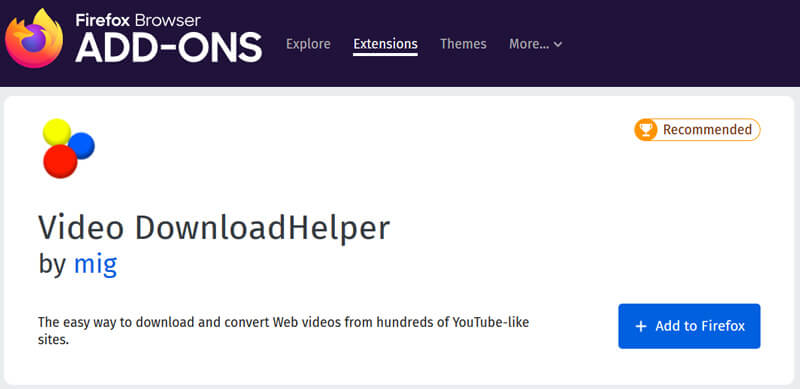 Step 2 Open the Video
Open and play the video from any websites in Firefox, the Video Download Helper extension will automatically detect the video.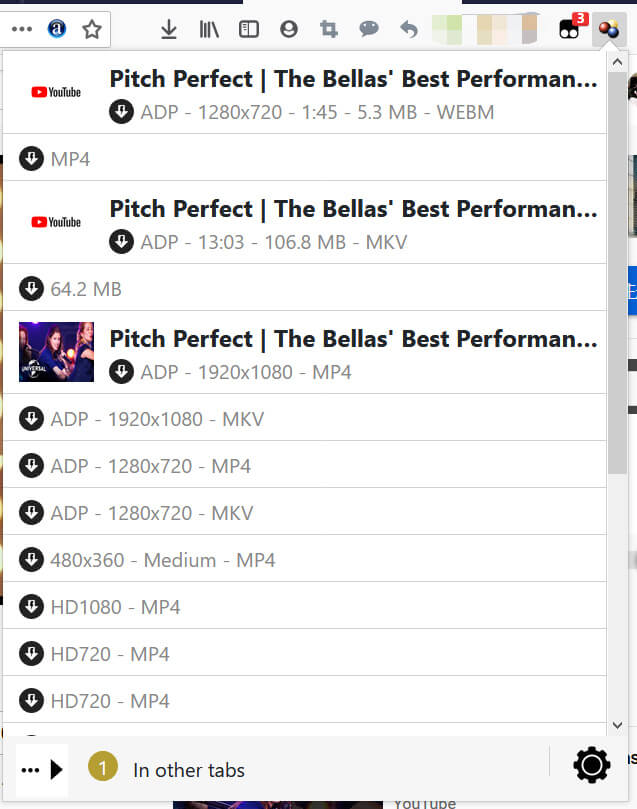 Step 3 Download the Required Video
Click on the extension icon, select the video, and click the Download button. That's all; the video will be downloaded and saved to your device.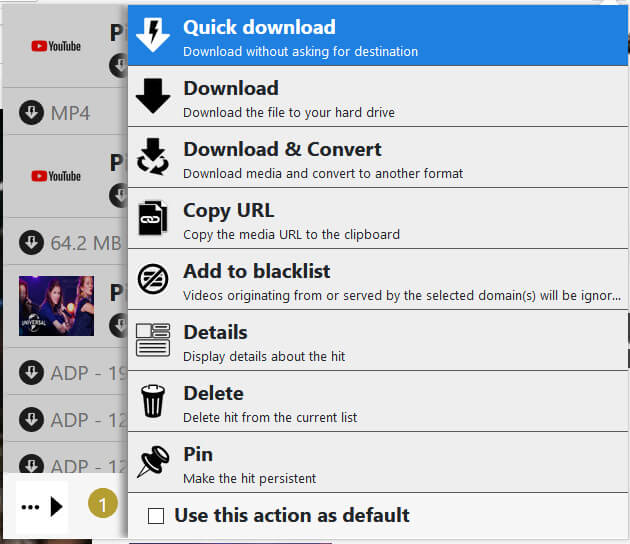 However, this download method comes with some limitations. The most problematic one is that you can only download videos in MP4 format using this extension. If you want to download videos in other formats or want to extract audio from a video, the extension will redirect you to a new page where you'll be asked to download software. Downloading videos in MP4 is easy with this extension but it is not very efficient when it comes to downloading videos in other formats. You can learn more about Firefox YouTube Downloader here.
In Summary:
In the text above we have discussed the methods that can be used to download videos from any website to any device. The best option in our opinion is iTubeGo as it is safe and keeps your privacy uncompromised. It is available for Windows, Mac, and Android devices so you can use it on any device to download videos from online websites.
(Click to rate this post)
Generally rated 4.5 (215 participated)