People these days love to consume content that is precise, grabs their attention and is meaningful. Solid content and short length of video often do well together. Have you watched a short film and loved it that you want to download it or do you want to get a short film to download and watch later? Well, this article is all about how you can download short film free on your device.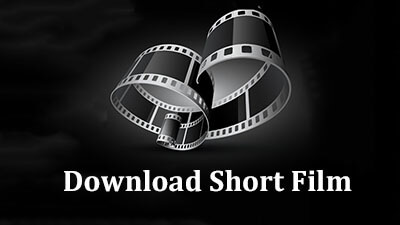 How to Batch Download Short Film on PC/Mac
Looking for a way so you can get a short film to download in batch to your PC/Mac? You will be happy to hear that we have a solution for you in that regard, and without wasting any of your precious time; we present you with an all-in-one downloader that is iTubeGo YouTube Downloader. This is a powerful tool and will grab any of the audio and video files from internet
You can download this HD video downloader from below link:
Key Features
A clean and simple interface.
Supports 10000+ online streaming platforms, including YouTube, Dailymotion, more.
Supports various output formats for audio and video files.
Help you download files in batches.
10 times faster download speed.
Built-in browser, which makes search process quite easy.
Steps for Short Film Download in MP4 1080P
Step 1 As a first step, find the Short film channel or the Short film playlist you would like to download from YouTube, and then, copy the URL of that particular playlist/channel from the address bar of the browser.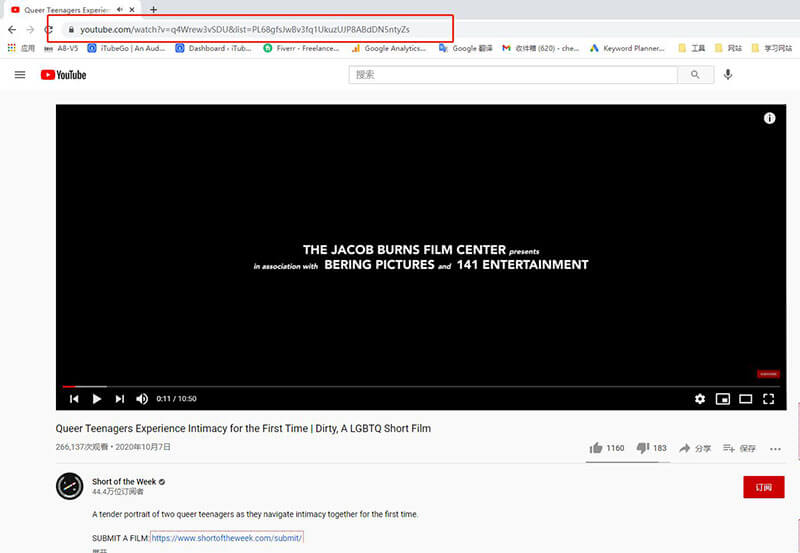 Step 2 Next, you need to launch iTubeGo YouTube Downloader. Here, you will go to the Preferences section and select the download format to Video (MP4) and set the video quality as 1080p.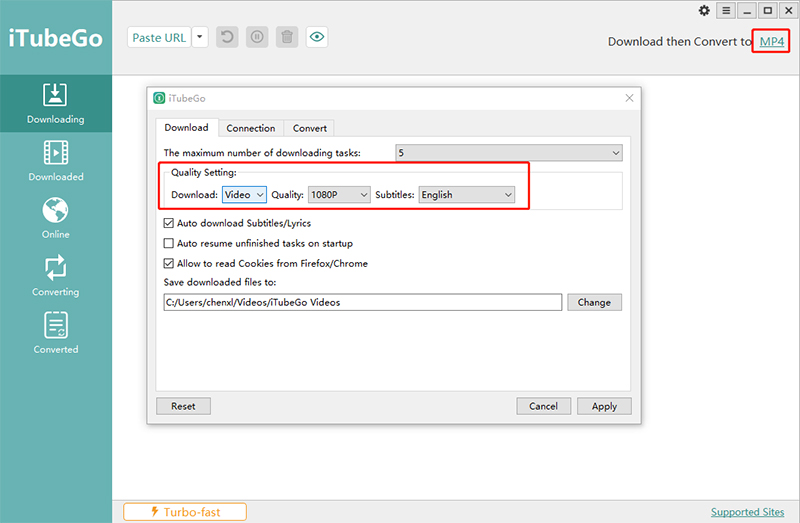 Step 3 Then, you will click on the Paste URL button and the playlist of short films will appear, you can choose and select the videos you want to download.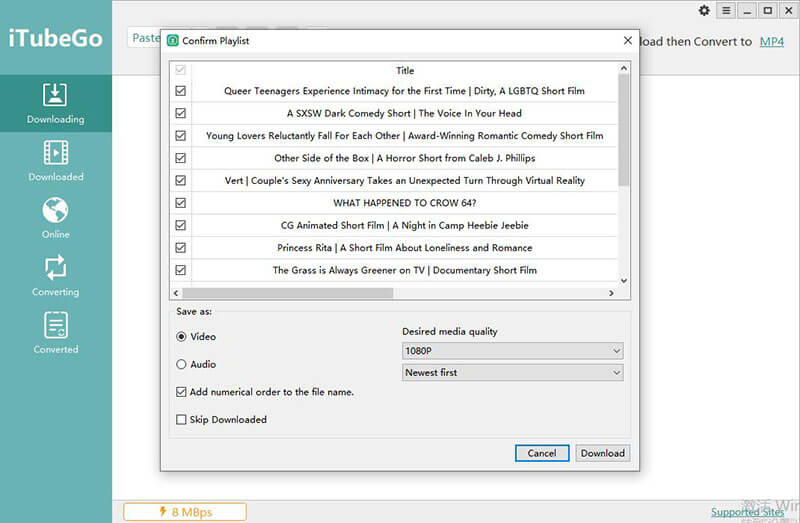 Step 4 Then, you will click the Download button and the playlist of the short films will start downloading instantly. After the download has been completed, you can find the playlist of short films in the downloaded section of the software.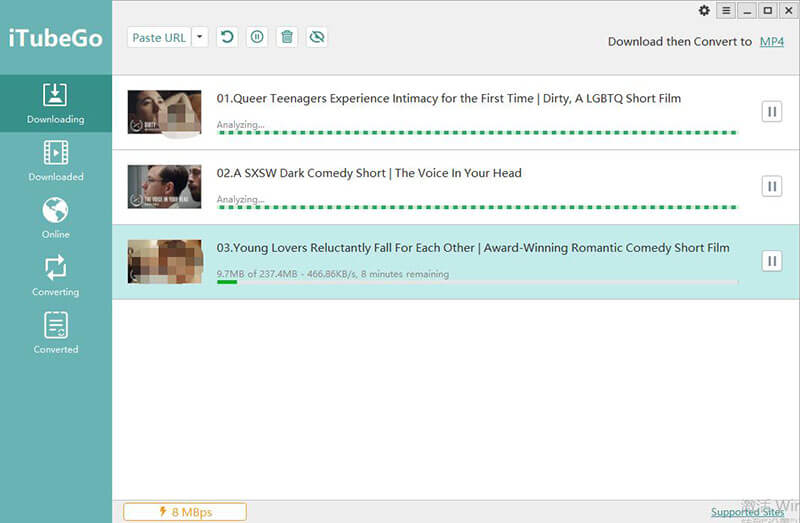 How to Batch Download Short Film on Mobile Phones
If you're an Android user, you can download short film free in batch on your Android device through iTubeGo for Android app. It is simple and free app and can help you download innumerable videos from various streaming platforms. You can even get short film to download in batch through iTubeGo app.
Get the iTubeGo app on your android device by directly clicking on the link given below:
Steps to Download Short Film Free on Your Phone
Step 1 Once you have downloaded and installed the app on your Android phone, open YouTube channel through which you want to download short films using the built-in browser of the app. If you want to download any playlist, tap the Playlist button on the main page of the YouTube channel or head over to the videos section to download all the videos in that particular channel.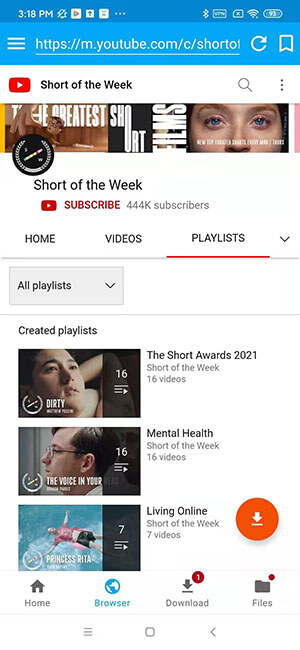 Step 2 Once you have opened the playlist or channel for the short films, click on the red colored download button present in the bottom right corner of the screen.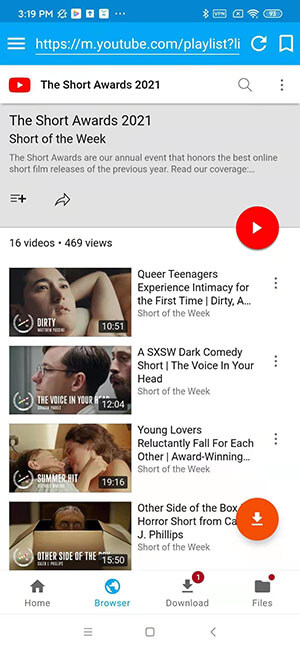 Step 3 A dialog box will appear, from where, you will need to select the output format to mp4 and the video quality to 1080p.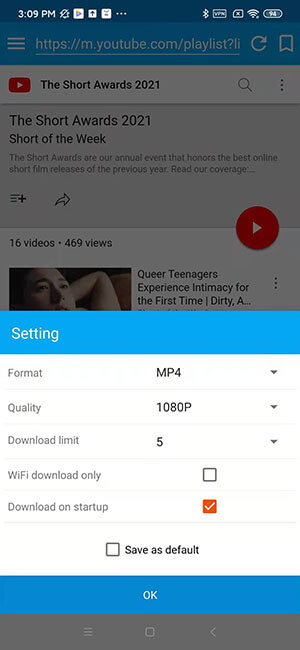 Step 4 Then, you will see the entire playlist displayed, you can select the particular videos you want to download or you can even Select all for downloading the entire playlist.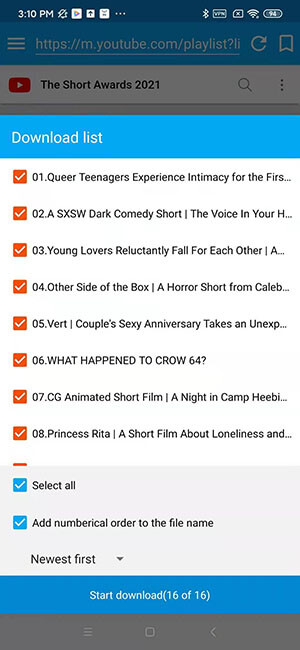 Step 5 As a last step, press the Start Download button, the short films will start downloading in a playlist or channel. Once the download has been finished, you can find the downloaded playlist in the Files section.
Note: If you are looking to get an entire playlist for short film to download on your iPhone, it is quite simple. All you have to do is follow the steps mentioned above in the article and download the playlist on your PC using iTubeGo YouTube Downloader. After that, connect your phone to the computer through the USB cable and transfer the downloaded videos to your iPhone using the iTunes software.
Best Short Film Websites
Here we have compiled some of the best short film websites; you need to check out if you are a fan of new and fresh content or short films.
1. Short of the Week
URL: Click Here
It is one the best websites if you are someone looking for quality short films. With being the most popular website for short films, they have their own YouTube channel on which they release short films every week. They plan to support new talent and you can even submit your own short films to them. They have showcased some of the most amazing and award-winning short films. You can even sign up to become a member and receive weekly digest and better experience overall.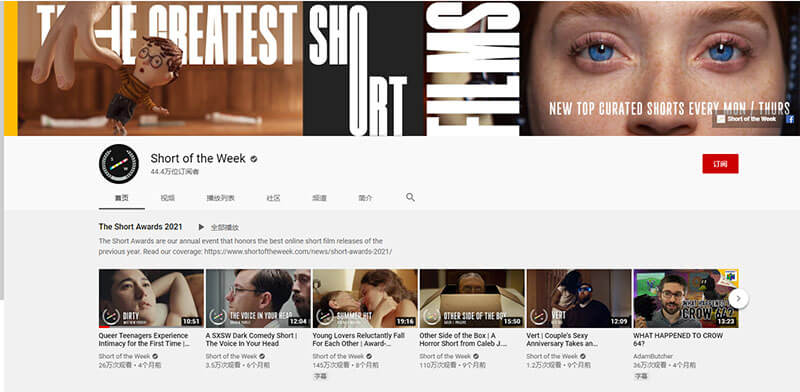 2. Film Shortage
URL: Click Here
Next website on our list is Film Shortage. Film Shortage is like an online cinema and it produces some of the best short films and features short films every day. We have to appreciate it for its display and interface; intuitive and vibrant making whole experience enjoyable. It provides you with amazing trailers, noteworthy filmmaking tips and interviews. There is a category of Daily Picks for you. You can also submit your own created short films. On their website, there is a blog to stay in touch with the new short films every day.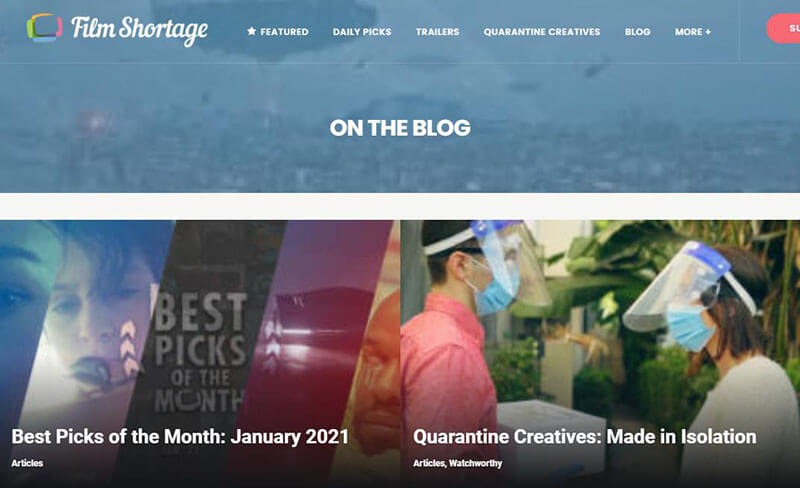 3. Reddit
URL: Click Here
Reddit is an online platform where the ideas and certain topics are so arranged that they form a community; you can join a community you prefer among the 100,000 active ones and become an active member once you have downloaded the app or signed in. In this case, when you are looking for short films, you can join a community related to it, which is /r/ShortFilms, where you will get links to the best and quality short films. Here you can also view the short films online.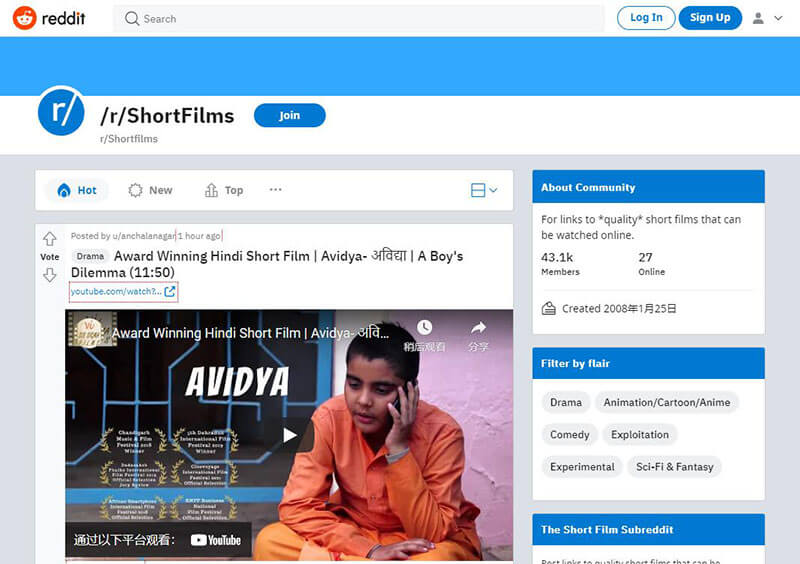 4. Pocket Films.in
URL: Click Here
Pocket Films is a website for Short films, but specifically Indian. The creators focus on producing original content and best quality short films which you can watch online. They have their own YouTube channel with over 4 million subscribers. It produces short films in various genres including Drama, Romance, Comedy and many more. They also produce English shorts. There is also a category for recommended and Award-winning short films. You can sign up to become a member.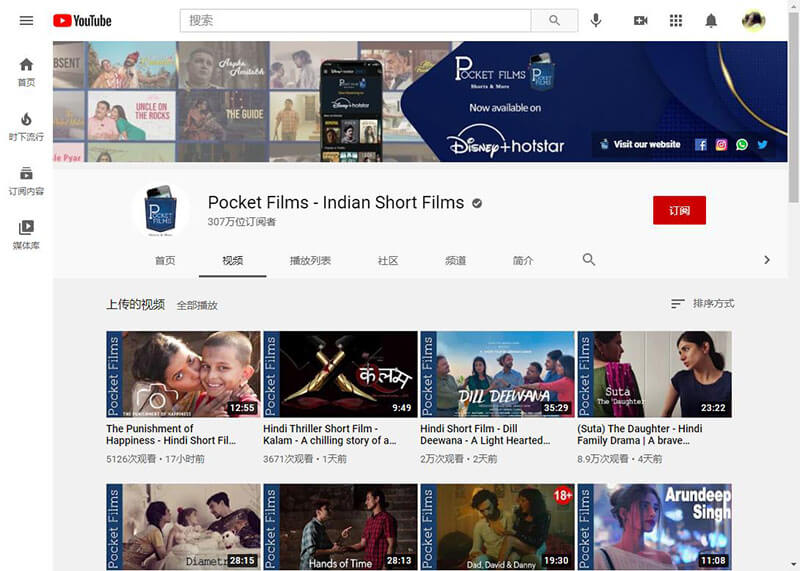 5. Shortfundly
URL: Click Here
It is a platform for creative filmmakers. On Shortfundly, you can even arrange your film festivals and if you are a creator you can also promote your own short films on this platform and can get more views. With this platform, you can directly get connected to film maker and get a chance to act in one. You can even select your favorite short films and keep in your profile. You can even raise funds for your films for their theatrical releases.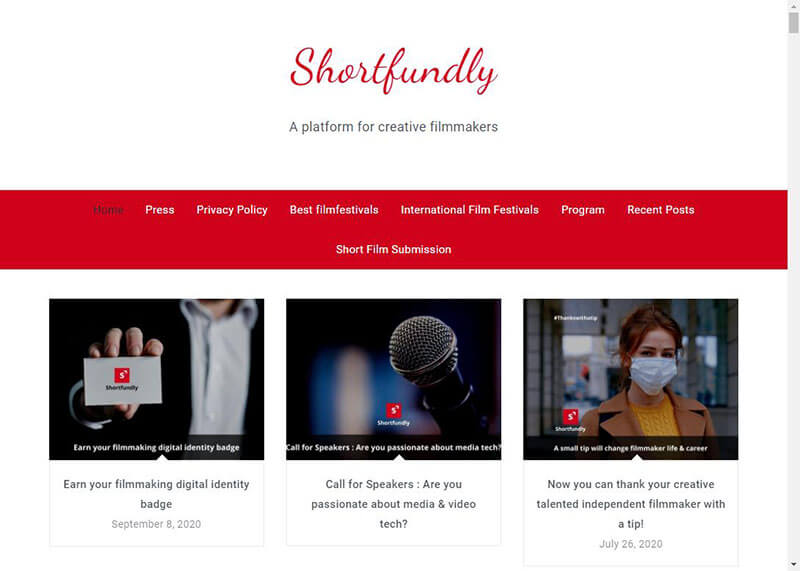 6. Asthetica Short Film Festival
URL: Click Here
Last but not the least on our list is ASFF, this platform allows the best content displayed on their website. You can go to Watch films section and there the films are arranged in chronological order. There is a section for news as well. Asthetica Short Film Festival is an international film festival which takes place in UK every year. This platform is for the celebration of some amazing short films and filmmakers.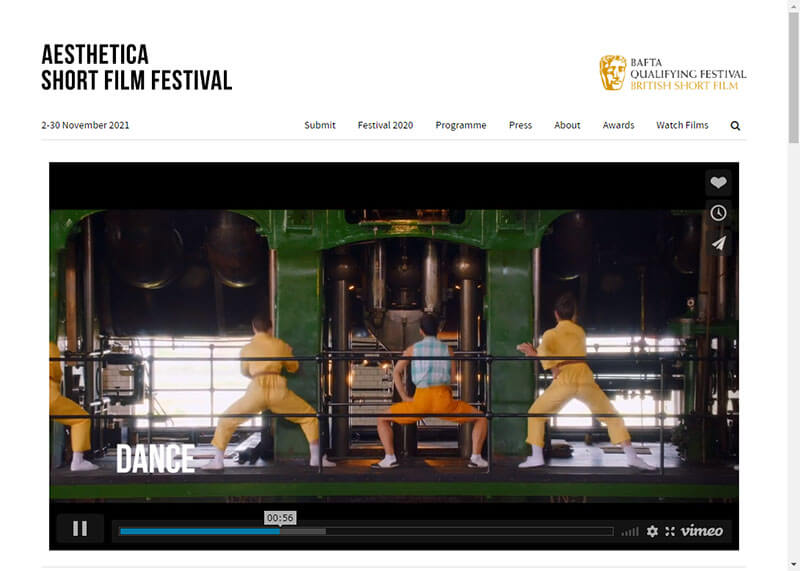 About Short Films
Short films have become popular in the recent years because of their original and intriguing content. The length of the short film ranges from 20 minutes and maximum up to 40 minutes. These films are usually displayed and released in film festivals. The topics of the short films are social issues, controversial or anything other than conventional cinematic feature film. It has become a platform for new and fresh content creators to step in and showcase their talent.
(Click to rate this post)
Generally rated 4.5 (215 participated)