Singing in karaoke is hobby of many. People who enjoy this activity are always browsing online for the latest songs that they can sing in their next karaoke session. Karaoke songs free download can be an issue for many, but fear not, as we will guide you step-by-step how you can easily download karaoke songs.
Where to Download Karaoke Songs?
Karaoke songs can be found on many different websites on the internet. But if you want the biggest and the best collection of karaoke songs, you can head over to YouTube or Karaoke Version.
YouTube
URL: Click Here
YouTube nearly has videos on everything and anything in this world and just like that, it has loads of karaoke channels where you can find thousands of karaoke videos whether they are new or old, whether they are classics or not well known at all, YouTube has got them all. There also channels which would provide you karaoke videos in different languages whether it is in Hindi, Urdu, Tamil, Malayalam and many others. Most of these song videos are of high quality.
You can use YouTube downloader to get these karaoke MTV music video with lyrics. And save them to your computer, then project them on the TV or screen during the party. Just plug in your karaoke microphone, and start your singing.
Karaoke Version
URL: Click Here
Karaoke version is a huge background tracks providing websites. It has millions of tracks present on it and it is leading by a mile in this field. You can download Karaoke songs in different formats, such as MP3, MP4, WMV, KFN, etc., but it hits a little snag on the way. The videos available on this website for download usually cost around $1.9 per video. But there is no need to worry, as iTubeGo video downloader will give you karaoke songs free download. Yes, you read that right. Just select the video you want and follow the steps down below to get the video on to your device and ready to be used at your next karaoke session.

How to Download Karaoke Songs with Lyrics in MP3/MP4?
By following a few easy steps, you can get karaoke mp3 songs free download. The trick is to use a software called iTubeGo Downloader. Install iTubeGo and you can download karaoke songs in MP3/MP4 and various other formats from 10,000+ sites such as:
| | | | | |
| --- | --- | --- | --- | --- |
| YouTube | Karaoke Version | Facebook | Dailymotion | Vimeo |
| TikTok | Instagram | Twitter | VEVO | Vlive |
| Yahoo Video | Bilibili | SoundCloud | Bandcamp | More… |
Tips: Only the YouTube platform can grab lyrics and subtitles.
Now, we will guide you step by step to download karaoke songs for free. But first, you need to download the iTubeGo downloader via the link below.
Once you have downloaded it, find the karaoke video you want to download and follow these steps.
Step 1 Open the particular video page on YouTube or Karaoke Version, and then copy the URL of the video from the browser address bar.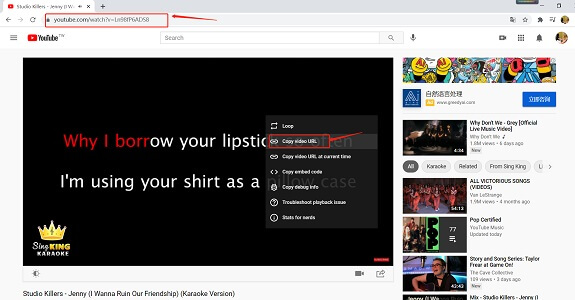 Step 2 Open iTubeGo downloader and select the required download options from the Preferences section of the software. You can also enable "Auto download Subtitles/Lyrics" option to download songs with lyrics in different languages. You can set output format from a whole list such as MP3, MP4, 3GP, WAV, AAC in the "Download then Convert to" tab.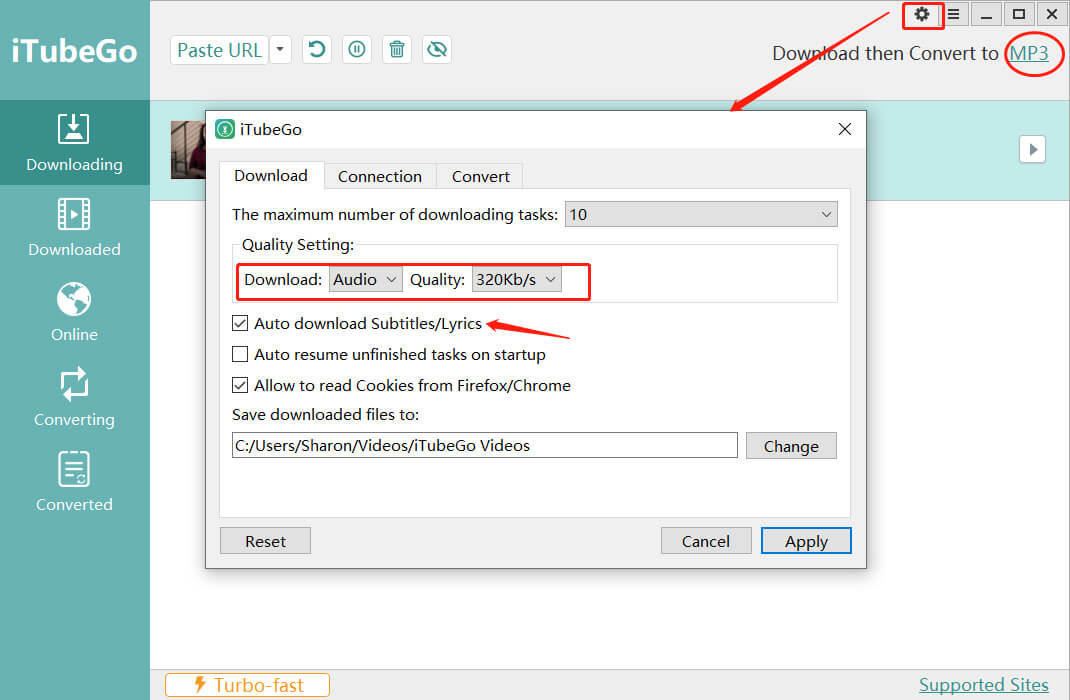 Step 3 Click the Paste URL button and sit back and let the software download the karaoke mp3 songs.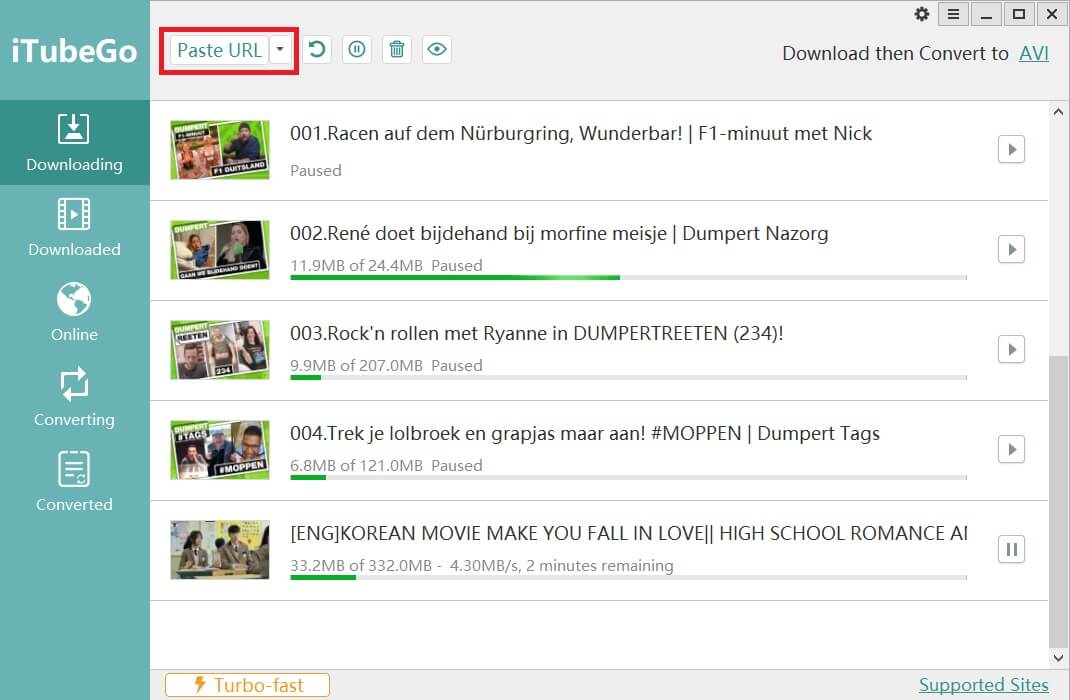 Best YouTube Channel to Download Karaoke Songs
For your ease, I will be listing some of best YouTube channels where you can browse karaoke songs and then use iTubeGo downloader to get the karaoke MP3 download.
1. Sing King
URL: Click Here
This is one of the most popular Karaoke channels on YouTube and it has a huge variety of songs that you can listen to, ranging from old classics to latest releases. You can browse by categories, movie names, album, style, artist and a whole lot of other options. You can also put in special request and they will be responded to. All the videos on this channel only have the lyrics written against a black background.
2. Kara Fun Karaoke
URL: Click Here
This is yet another one of the largest karaoke libraries that you can find online. It has multiple channels in different countries, you can find songs in various languages, including English songs, French songs, German songs, Spanish songs, etc. so you can choose whichever language you like. The videos on this channel only have lyrics with no images as background.
3. Stingray Karaoke
URL: Click Here
This channel has massive amount of karaoke videos and the good part is that it is properly licensed with all the legal paperwork so you will not be downloading any pirated content. Their libraries are updated nearly every day. There are currently 1000s of songs and themed party mixes. you can literally find any type of karaoke that you want on this channel.
4. KaraokeOnVEVO
URL: Click Here
If your aim is to download the best quality karaoke videos, this is the channel for you. VEVO is a joint venture of three major music labels so their channel always lives up to the mark. The content is made by DigiTrax entertainment and it has loads of copyrighted music of top-notch quality.
Other than these, there are plenty of other channels for karaoke songs, such as the Karaoke channel, acousticlub, mega karaoke songs, and many others.
5. PRO music COVER
URL: Click Here
This is a Philippine song channel. Songs on this channel are updated very slowly. It's not updated much now. Most of the songs are still works from 2 years ago.
To Conclude
There are plenty of places where you can find these karaoke songs online, but the real deal is getting karaoke songs free download and karaoke MP3 download. Our software iTubeGo YouTube downloader can be your next best friend at all your future jamming sessions, as it will help you download all and any karaoke song that you want and that too in the fastest and most reliable way.
(Click to rate this post)
Generally rated 4.5 (215 participated)