Very often, we listen to some great music video on YouTube or other video hosting websites like Dailymotion or Vimeo or any other and we like to add that song to our music collection, but those services don't allow doing that. There are tools out there that allow us to download the video, and then you have to use some other software to extract the audio from the video and saved it as an audio file. However, this method is a hard way to download audio tracks for video and if you want to download youtube playlist to MP3, you'll need to do the whole process for each one of the songs and that is a herculean task. Today, we'll acquaint you with an audio tracks downloader that makes it very easy to download audio tracks free and save them to your device.
iTubeGo Youtube Downloader
iTubeGo YouTube Downloader is a software that is available for computers as well as mobile devices and makes downloading media from any website very easy. You can use it to extract audio from any video from your computer or from a video shared on various video hosting websites. It is simple and easy to use and easy on the computer it runs on because of its highly sophisticated design.
Unique Features
iTubeGo the best option for downloading audio tracks from videos because of the following characteristics.
iTubeGo is the one software you can use to download audio and video content from any website on the internet. Int supports more than 10,000 websites and can be used to rip audio from any video shared on those websites. The process for all websites is similar and simple; we'll get to that in a moment.
iTubeGo is designed to be simple and easy to use. The user interface is so simple and straight forward that your grandpa can use it and download any 1960s sing in audio from YouTube.
One of the coolest features of iTubeGo that other similar software lack is that it can download complete playlists and same them to your computer as audio files in one go. So you don't have to repeat the whole procedure for every song.
iTubeGo gives you complete freedom in terms of input and output formats. Besides downloading audio from online videos, you can also use it to convert video formats like MP4, MOV, AVI, MKV, FLV, 3GP, and a lot of others to audio. You can save the extracted audio in MP3, M4A, WAV, MKA and a number of other formats to play them on any device you want without having any format compatibility issue.
iTubeGo engages multiple links with the host website that makes downloading audio files from the source extremely fast.
Unlike other software, iTubeGo downloads audio in the best resolution of 320 kbps. No matter where you download the file from you'll get it in the best quality.
If you download the audio from a site that provides the metadata like genre, artist, and album name, all that data will be downloaded with the file making it very easy for you to organize your library.
iTubeGo uses an in-app proxy set up which makes your connection to the host website private and secured and also allows you to access and download not otherwise available in your area.
Getting iTubeGo YouTube Downloader
Setting up iTubeGo on your computer is an extremely easy and simple task. It is available for both Mac OSX and Windows. You can download the file according to your operating system from this link. Once the file has been downloaded, all you need to do is to run the file and the installation wizard will guide you through the installation process. In the end, you need to register the software and you can then start using the software right away.
How to Download Audio Tracks for Video Using iTubeGo
As said earlier, iTubeGo is designed to be easy for the user in every aspect. Downloading audio from a video using iTubeGo is a very simple process that's described below.
Step 1 Get the URL
The first thing you need to do to download the audio from a video file using iTubeGo is to get the URL. For example, if you are listening to a song on YouTube and want to download and save audio from youtube, copy the link in the address bar of your web browser to proceed with downloading the video.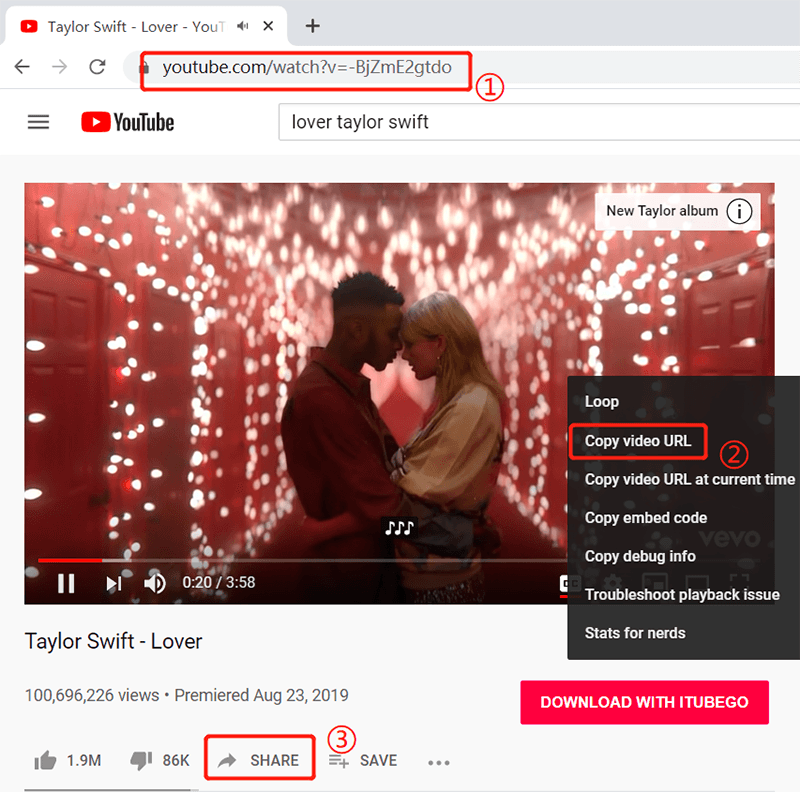 Step 2 Set preferences
Next, open the iTubeGo downloader on your computer and go to the Preferences tab to select the output format you need for the download you want to convert the audio file.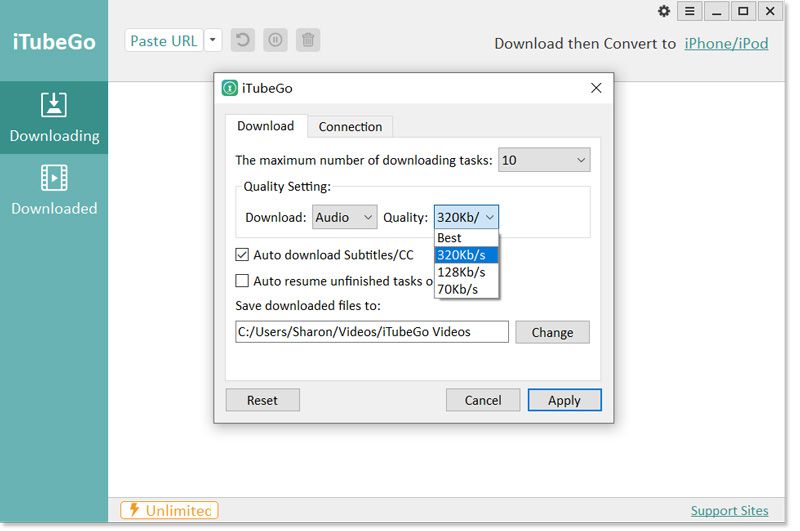 Step 3 Enter the URL
Once you have selected the output format, click on the Paste URL button to enter the copied URL into iTubeGo for downloading. Once the URL is entered, iTubeGo will detect the video it is associated to and the audio file according to the format and bitrate you have selected will start downloading automatically.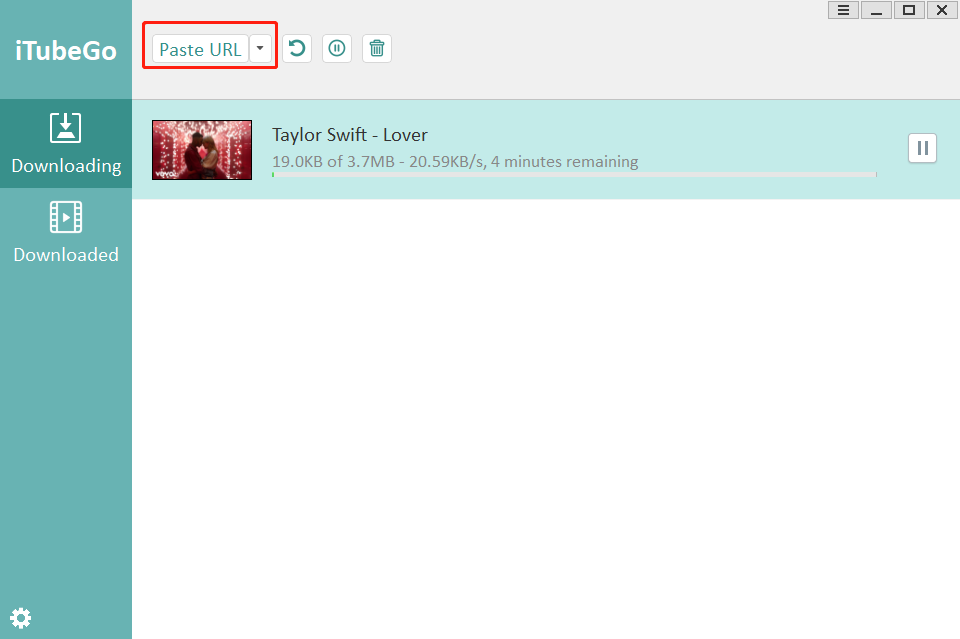 Step 4 Find the Download
The audio file will be downloaded and saved to the Downloads folder on your computer, or any output location of your choice. You can change the output location from the Preferences tab.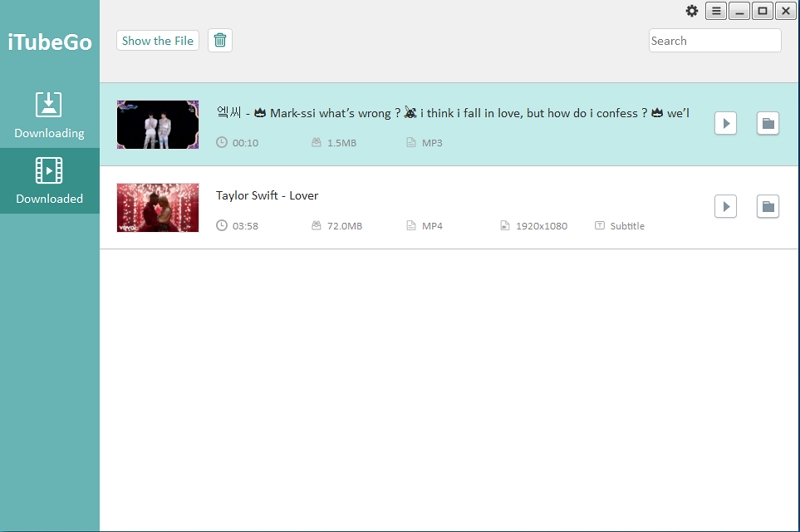 iTubeGo for Android
To make it possible for you to download audio from videos on the go iTubeGo also has an android application. You can get the application here. Download and install it and start your free trial. You can download MP3 with free android app just by sharing the song from the app it is being played in and then selecting "Download with iTubeGo option."
Conclusion
Downloading the audio from a video file shared on the internet is a painstaking and time-consuming task. You need to download the video and then convert to get the audio file you need. Moreover, this process can't handle bulk downloads and you have to repeat all the steps for every file you need to download. iTubeGo is a simple and easy to use tool that works on more than 10,000 websites and can help you download audio tracks free from any video on the internet.
(Click to rate this post)
Generally rated 4.5 (215 participated)