We all know that there are many online solutions and programs which support to download dailymotion video, but is it possible to download dailymotion playlist in one-click? In the following content, we will introduce 4 best dailymotion playlist downloaders to help you do that on computer/mobile phone.

Best Dailymotion Playlist Downloader on Desktop
iTubeGo Dailymotion Playlist Downloader is one of the most popular software that allows you to download your favorite videos directly from the internet. It is capable of converting Dailymotion to the most popular format, including MP3, MP4 and more. Besides Dailymotion, it also supports over 1,000 media streaming websites, such as YouTube, Facebook, Twitter, and more. You can easily download your favorite playlist within a few seconds, thanks to the increased download speed offered by iTubego.
Key Features:
It can download playlists from Dailymotion with just a single click.
Support more than 10,000 online platforms.
Convert Dailymotion to MP4, MP3 and 20+ formats.
It downloads Dailymotion playlists at 10X faster speed.
You can resume the download process after it is interrupted by a network problem.
100% secure and trusted by top professionals.
How to Download Dailymotion Playlists Using iTubeGo
Here's the simple and easy way of downloading Dailymotion playlists using iTubeGo YouTube Downloader.
Step 1

Download and Install iTubeGo's Latest Version

The installation file of this software can easily be downloaded from the iTubeGo software webpage. After downloading the installation fie, it won't take more than a couple of minutes to complete the installation process.
Step 2

Get Dailymotion Playlist's URL

Now, go to the playlist on your web browser and copy its URL to download it using iTubeGo YouTube Downloader.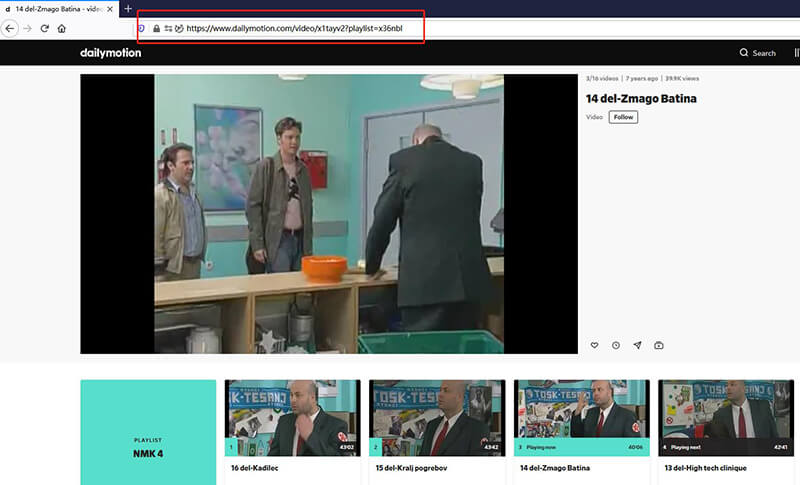 Step 3

Set Format and Quality

Run the iTubeGo YouTube Downloader and go to the "Preferences" tab. Here you can select the Download format i.e. Video or Audio and Resolution/Quality for the content you are downloading. You can also change the video output format from the "Download then Convert to" section of the program. Select the ones you want and continue to the next step.
Step 4

Paste the Already Copied URL

Now, click on the third option "Download Playlist" button on the iTubeGo interface to enter the URL to the software and the download will commence automatically.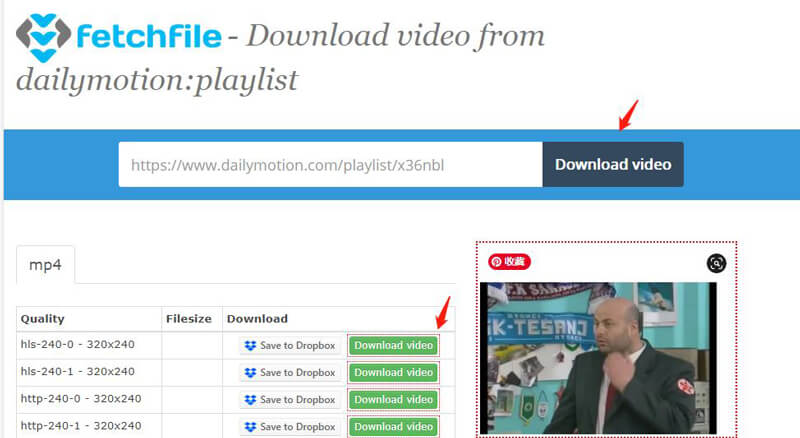 Step 5

Find the Downloaded Playlist

After completion of the downloading process that won't take more than few minutes depending upon the size of the files, you can find the downloaded playlist under the "Downloads" section of the software.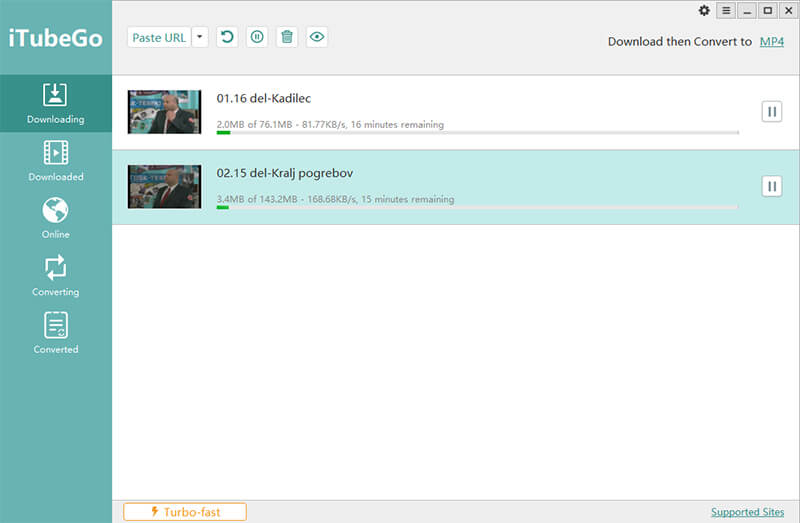 3 Free Dailymotion Playlist Downloader Online
Many users prefer to download Dailymotion playlist without installing any software, but few online downloaders on the market can do that. After my research, I found several sites that can recognize and analyze the Dailymotion playlist URL. The download steps are very easy to use, just copy the playlist from Dailymotion, then paste it on the search bar and click the Download button. However, you cannot download all of them in one click, you have to download the videos one-by-one.
1. https://9xbuddy.org/
2. https://dmvideo.download/
3. https://en.fetchfile.net/download-from-dailymotion-playlist/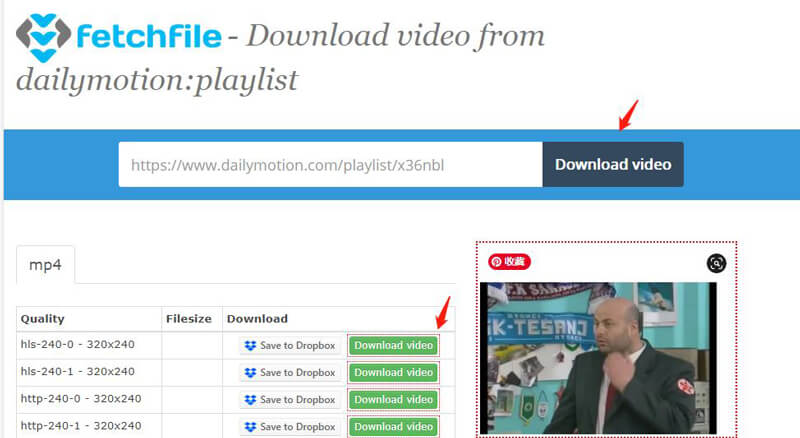 How to Download Dailymotion Playlist on Android
Luckily if you're an Android user, iTubeGo also offers an Android app to make life a bit easier for you. iTubeGo for Android app supports more than 1,000 websites and platforms, and can download videos from any of them. It will allow you to directly download playlists from Dailymotion on your Android-powered devices.
How to Download Dailymotion Playlist on Android Devices
Step 1

Install iTubeGo Android App

To download iTubeGo Android App, you can refer to its official webpage or simply download iTubeGo APK from the link given below. Once you have downloaded the file run it to install the app.
Step 2

Go to the Dailymotion Playlist or Copy its Link

Launch iTubeGo app after it has been installed, and open to its built-in browser. Search for the playlist you want to download and press the red-colored Download Button. You can also directly copy the URL of the playlist from Dailymotion website using any web browser or Dailymotion app. In this case, you just have to open the iTubeGo app and it will automatically process the URL and opens a prompt-box.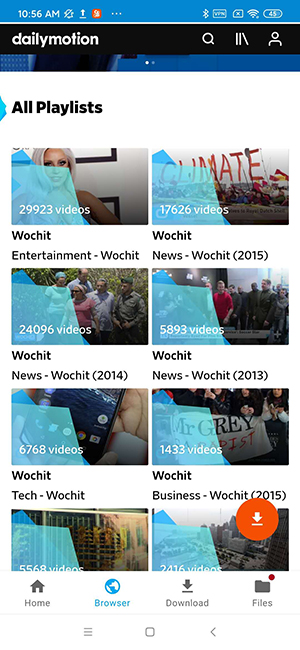 Step 3

Set Output Settings and Select Playlist Videos

In this step, it will give you a choice of formats and qualities for the download. Select the one you want, and then, you'll have to select the required videos in this download list. If you want to download the complete Dailymotion playlist, simply press the Select all button and the playlist videos will start downloading automatically.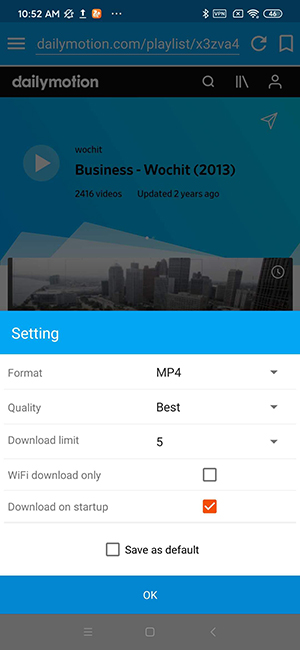 Step 4

Locate the File

Once the complete playlist has been downloaded, you can find the downloaded files in the "Files" folder of your app.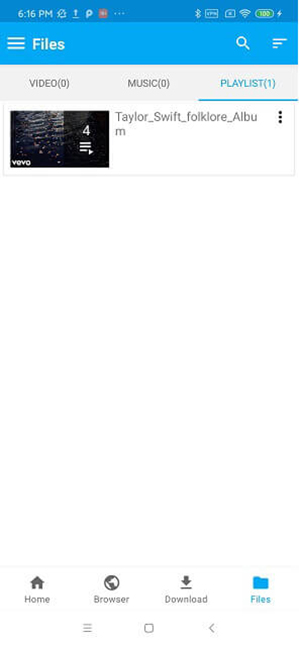 If you want to download Dailymotion Playlist on iPhone, you can download the playlist by using iTubeGo Youtube Downloader just we mention above, then transfer it to your iPhone Device.
See Also:
To Conclude
Separately downloading each individual video in a playlist is a difficult and time-consuming task. iTubeGo YouTube Downloader can make it possible for you to download entire Dailymotion playlists in one go. All you have to do is to enter the link of the playlist and the software will take care of the rest. You can then transfer the videos to an iPhone, and if you are an Android user, you can use iTubeGo Android app to download Dailymotion playlists directly on your Android device.