Funimation is an incredible OTT platform for all the anime lovers. It has a huge library of anime which can be accessed by signing up from anywhere in the world. If you don't like streaming videos online then you must know Funimation has added a download feature which can help you save your videos for viewing them offline. Now you must be wondering how to download Funimation video? Worry not, because this is all we will deal in this article.
How to Download Video from Funimation Now App
Although Funimation is a streaming service that can be accessed across the platforms but, they introduced the download feature only for the mobile app. Now, in this part we will see how to download video from Funimation app.
First things first, you will need to download and install the app for your mobile device from Google Play store or the App Store according to your mobile device. Once it is done, launch the app and set up the app by logging into it. (Use VPN if it is not working in your region. )
As a next step you will have to find the anime you want to download. Go to side menu and tap on the All shows. Then, search by the name in the search box.
The results will appear, tap on it and a list of episodes will be seen on your screen. Find the episode you want to download from series.
To download the episode, you will tap on purple colored download button. Your video will start downloading.
Once the download is complete, go to the menu in the left corner and then tap My Library and then go to On My Device option. You will find the downloaded file in that section.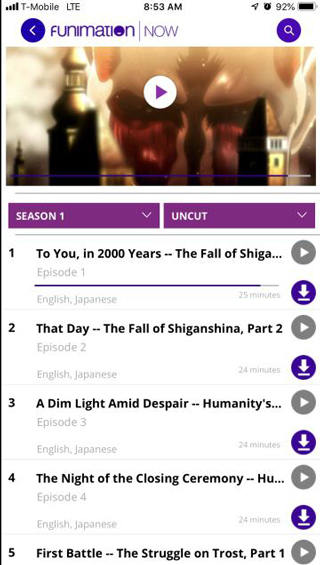 How to Download Funimation Video on Computer
As Funimation only allows you to download Funimation video on the mobile app. So, to download videos from Funimation to your PC might not be directly possible.
In that case, people are thinking and searching for the solution to download the Funimation videos. So, we have a possible solution, which you can check out here. It is a bit tricky as it uses Cookies to download videos through YouTube-dl and FFMpeg, but it is the one method as of now that has been working efficiently.
Tips about Downloading Funimation Videos
The download feature for the Funimation video is only restricted to certain devices. Moreover, it is only compatible to only those devices, which may include Tablet, Android and iOS devices.
Other than this, downloading videos on Funimation app is not completely free. You have to pay for about $7.99/month or $99/year to download the episodes you love. Other users will have to redeem the Digital Copy Code of the particular video to save it on their devices.
Funimation allows batch downloading of the videos where you can download 13 videos simultaneously.
Lastly, not even then all of the videos are available for download. Only the available videos have a purple-colored download button right next to them which upon tapping will begin the download process.
Troubleshooting: Fail to Download Funimation Video
If you fail to download Funimation video, here are some possible solutions and fixes that might help you:
If you have followed the tips mentioned above and still can't download video from Funimation then, you must check if you are using the iPhone with iOS 10.0 and Android 5.0 or newer. Other than that, make sure the Funimation app is updated and is running on 1.7.3.201 version.
If you are a premium member, and you know that certain video can be downloaded then you must check if your membership is still running.
If any of the tricks didn't work for you and you are still having trouble. Try reinstalling the app.
If you want to download Anime from other websites, you can check out some amazing websites with their features here. Also, you'll be able to know how you can download all of your favorite anime videos all together in batches using iTubeGo YouTube Downloader.
Frequently Asked Questions (FAQs)
Lastly, we will discuss and answer some of the most frequently asked questions about how to download video using Funimation and much more.
1. Why Can't I Download Videos on Funimation?
If you are sure that your device is compatible with the app and you are still unable to see the download option for the videos. Please make sure and verify your Funimation account. Only premium members and logged in users that redeemed a Funimation Digital Copy Code are able to download the anime from the app.
2. Where is the Download Button on Funimation?
Once you will find the series you get to see all the episodes of the series. Tap on the particular episode you want to download and you will see a purple-colored down arrow download icon at the bottom right corner of every episode. Tap on it to begin downloading.
3. Is the Funimation App Free?
Free Funimation account after logging in will give you access to a streaming library of series with the ads. If you want to download the episodes and get an ad free service, you must need to subscribe and switch to Premium, Premium Plus, or Premium Plus Ultra.
(Click to rate this post)
Generally rated 4.5 (215 participated)