Video resolutions are getting better and better and the last three decades have seen a tremendous increase in video quality. In the 1980s an average level video camera used to cost near $2,000 and the quality of video shot on those cameras was lower than that of entry-level smartphones of this age. The latest advancement in video quality is the development and use of 8K video resolutions. 8K videos are 16 times larger or have 16 times more pixel density, if played on a screen of the same size, than full HD 1080p videos. Let's see how to download 8k video with 8K downloader.
How to Download 8k Videos on PC/Mac
No online service offers the option of downloading 8K videos. iTubeGo is one of the best video downloading software that can be used to download 8K videos from a number of sources. iTubeGo is designed mainly to download videos from YouTube, this software can be utilized to download videos from more than 10,000 websites. It uses sophisticated multiple connection systems to speed up downloads and is capable of downloading large files of 8K videos in the minimum possible time.
Offers a lot of flexibility you can choose from a range of resolutions and formats
Download a music video and extract the audio later on.
Batch downloads and download complete YouTube playlists, channels, and all videos from user pages.
10x times faster than other downloaders.
Provides a variety of output formats.
Available for Windows PC and Mac Computers.
Let's see how you can use iTubeGo to download 8K videos from any source. There are just a few easy steps.
Using iTubeGo to Download 8K videos:
Step 1 Get iTubeGo
First of all, you need to download and install iTubeGo on your PC/Mac.
Step 2 Locate the Video and get URL
Once the software is installed on your computer, you need to get the URL of the video. The URL is the unique address of the video that helps iTubeGo locate it and download it. For instance, if you want to download 8K video from YouTube, then open the particular YouTube video in your web browser and the copy of the address being shown in the address bar.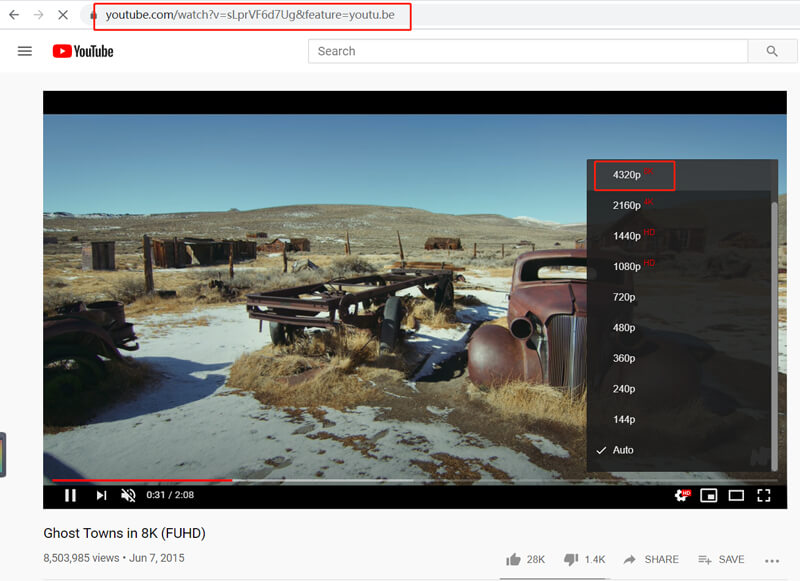 Step 3 Run and configure iTubeGo
With the URL copied, open iTubeGo software on your computer and go to the Settings tab. Here you can set the output video's qualities like resolution, subtitle, and other things. Set the video resolution as 8k, which is recently upgraded in software and click the Apply button to proceed.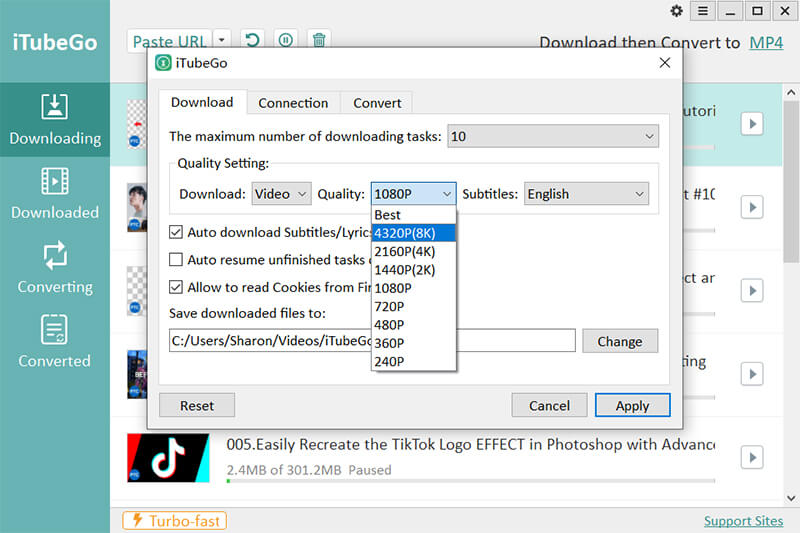 Step 4 Paste URL
After the software has been configured according to your needs, hit the paste URL button and iTubeGo will automatically read the URL.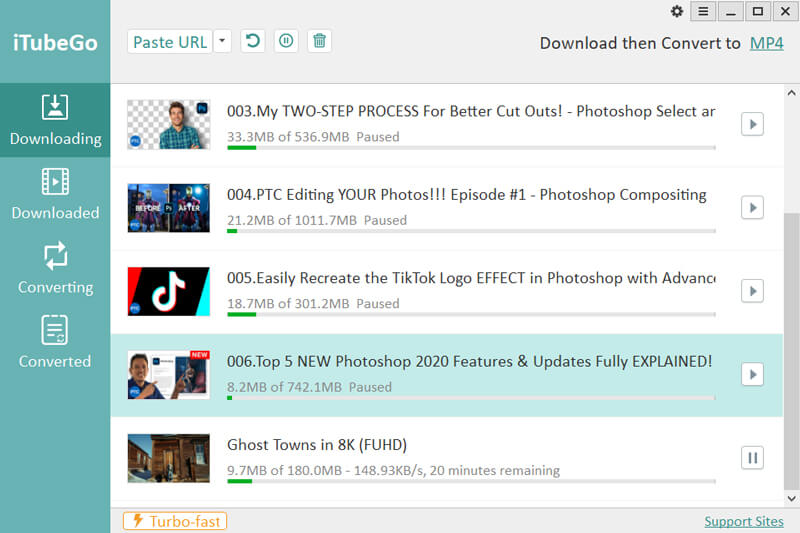 Step 5 Download
The video will be downloaded and saved to the location of your choice on your computer.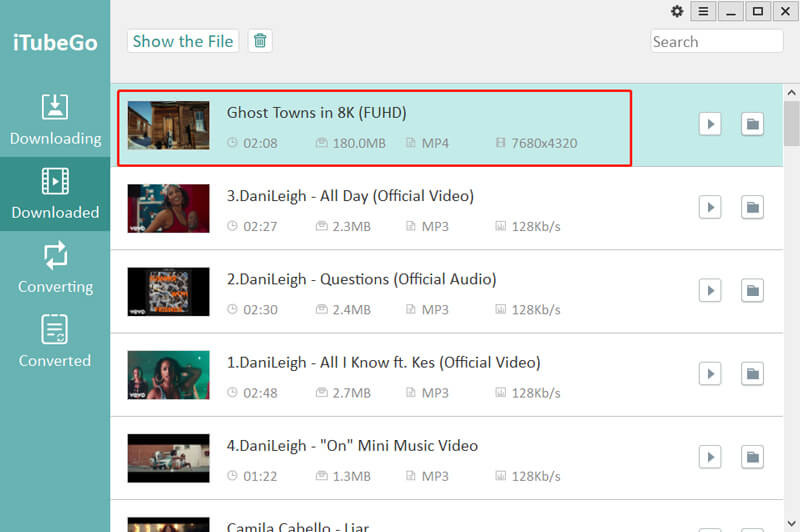 How to Download 8k Videos on Android
iTubeGo is one of the very few android video downloaders that support 8k video download.
However, one thing must be kept in mind is that 8k video playback utilizes a ton of resources of the device. You need to have the top-of-the-line GPU and chipset on your phone to enjoy smooth playback of 8k videos on your device. Currently, only the flagship phones of some of the best smartphone manufacturers support 8k recording or playback on mobile devices. If your phone doesn't support 8k videos it would be better to not play them on it.
Here's how you can use iTubeGo android to free download videos in 8k resolution. iTubeGo is a fast, safe, and easy way to download videos from virtually any website.
Step 1 Get iTubeGo for Android
First of all, you need to install the iTubeGo android app on your android device. The app is not available on the Play Store, so you'll have to download the APK and install it. You can download the APK from the following link. Or download from Cnet, Uptodown, HuaWei and other markets.
Once it is downloaded just open the file and allow to install from "Unknown sources".
Step 2 Open iTubeGo for Android App
Open the app to download the video you want after installed.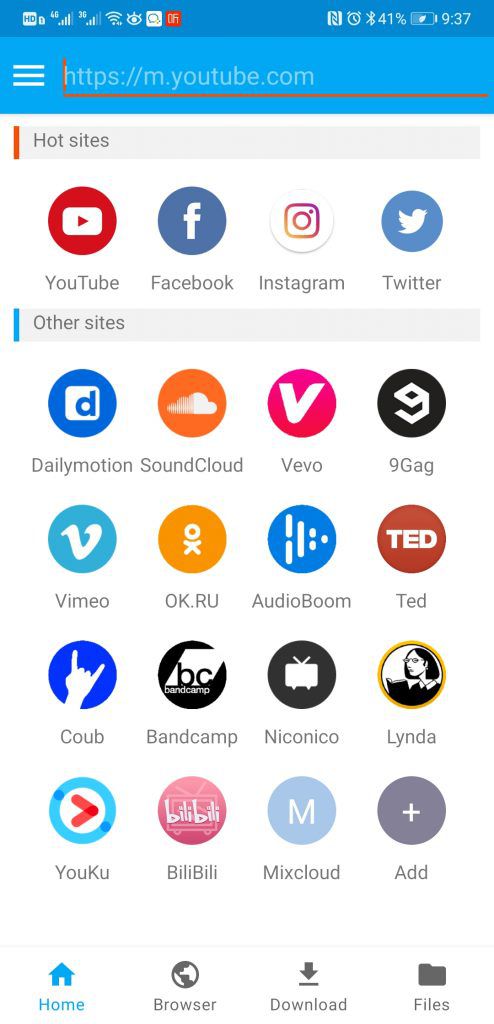 Step 3 Search for the video or enter URL
The iTubeGo app comes with a built-in browser that can be used to search for the videos you want to download. Search for the video to download or search the video in some other app, like YouTube, and copy its URL. Then open the app and the URL will be automatically processed by the iTubeGo for Android app.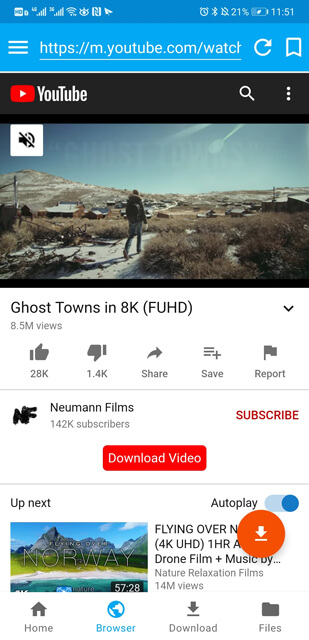 Step 4 Set output resolution and format
Press the red-colored Download button, and then, it will show the available resolutions and video format options. Select "Best" in the Quality and mp4 format.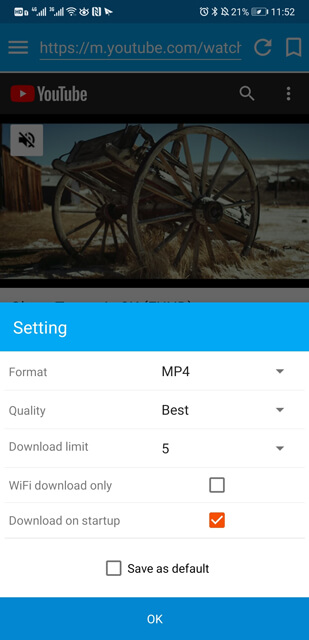 Step 5 Download
Finally, tap the "OK" button and the video will be downloaded in 8k and saved to SD card.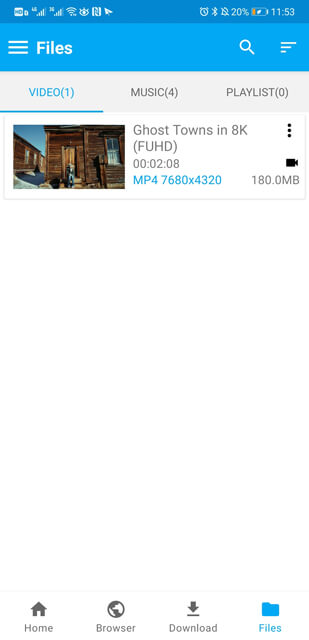 Where to download 8K?
As stated earlier, 8k videos are not very common yet. Only a handful of websites have started publishing 8k videos otherwise these are only seen in the cinema and film industry. The main reason is the sheer size of these videos and the high-end hardware resources that are needed to process, store, and play these videos. The bandwidth of current internet connections is also a big factor in 8k videos not becoming mainstream. Two of the video services that host 8k videos are these:
YouTube
YouTube is, without any doubt, the biggest collection of videos to ever be. The website hosts above 3 billion videos that have a combined playback time of 60,000 years. YouTube has always been a step ahead in video technology and was the first video hosting platform to support 2k and 4k videos as well as 60 fps video playback. Keeping up their reputation, YouTube has now come up with 8k videos that are available on their website and can be streamed live. If you want to download one, you can use iTubeGo to download them to your computer for watching on a home theatre or a TV.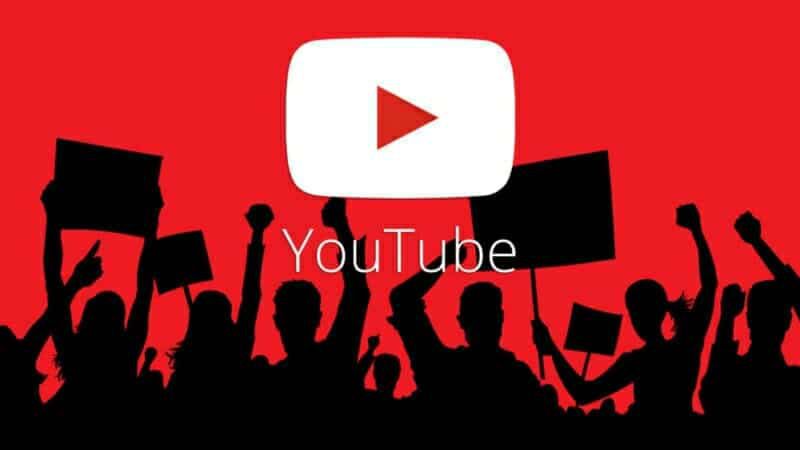 Vimeo
Vimeo is also one of the leading video hosting websites. You can find a number of videos on this website in 8K resolution, but you can only watch it live and not download it, just like YouTube. iTubeGo downloader can come in handy if you want to download a video from Vimeo and watch it later on.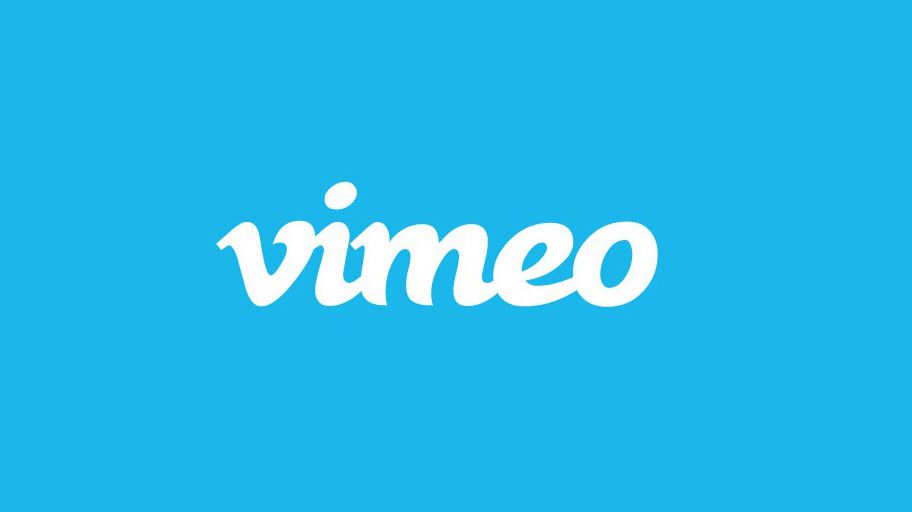 Extended Info About 8K Video
What is an 8k video?
Videos are designated by the number of pixels along the length of the video. 8K video is named so because they have approximately 8,000 pixels in their width. The resolution of a typical 8K video is 7680 × 4320 pixels. A pixel in a video is the smallest unit of the video that can be individually manipulated. It means that if you have more pixels you can increase the size of the video or can make it look smoother by increasing the pixel density of the image. However, it must be noted that the display you are using needs to be an 8K display if you want to play 8K videos. If not, the video playback will only be as good as the display. More on displays in a bit!
How big is an 8k video file?
As you pack more and more pixels in a video, its size increases and it takes up more storage space. 8K videos are 4 times the size of a 4K video or sixteen times the size of a full HD video and hence the file size increases accordingly. Typically, a 7680 x 4320 8K video takes up 6 GB per minute or 553 GB an hour. That is a lot of storage, lie one TB for a movie. You need to be prepared for saving such a large file if you want to download a video in 8k.
| | | | |
| --- | --- | --- | --- |
| Resolution | 1 minute | 30 minutes | 1 hour |
| 8K Video (7,680×4,320) | 6 GB | 194 GB | 553 GB |
| 4K (Ultra HD) 3,840×2160 | 2 GB | 44 GB | 88 GB |
| 2K (2048 x 1080) | 430 MB | 13 GB | 26 GB |
| 1080p 1,920×1,080 | 403 MB | 12 GB | 24 GB |
| 720p 1,280×720 | 256 MB | 5 GB | 11 GB |
4k vs. 8k
A 4k video measures 3840 × 2160 pixels whereas an 8k video is 7680 x 4320. It means that an 8K video is 4 times larger in size and takes 4 times more storage space than a 4K video.
How to play 8k video smoothly?
An 8k video translates to 6 GBs of data flowing through the system in a minute and being transferred to the display and to make that possible you'll need to have a ton of hardware resources to smoothly play 8K videos without putting too much stress on the system.
Okay, now you have an 8K video and the hardware resources to play it the most important thing in the whole equation is the display you are using. If you have a 4K TV or monitor and play an 8K video on it, you'll effectively be watching a 4k video. In order to enjoy an 8k video in its full quality, you need to have a display device that supports 8k videos.
8k video playback requires a relatively high system configuration.
GPU: Intel 7th Generation Core i7 (Kaby Lake) with HD (UHD) Graphics 630, or NVIDIA GeForce GTX 1000 series or above.
Display system: An 8K TV or an 8K monitor
Summing-up:
8k videos are the pinnacle of modern video recording and playback technology but not many platforms are hosting them as of now. The main reason is the large size of 8k video files, and the hardware resources needed to play them. Even if a platform hosts these videos, the limitations of internet connections' bandwidth make it nearly impossible to enjoy 8k videos via live streaming. However, not many software solutions are able to download videos in 8k resolution. This is where iTubeGo comes in handy you can use its windows or Mac software or android application to download videos in 8k resolution, but be careful to play these videos only on the devices that have enough hardware capability to play them.