Today, many URL to MP3 converters are now available on the market. However, a lot of them don't deliver what they claim to do, and some are inundated with ads, which can be frustrating. We will discover in this article 5 of the best URL to MP3 converters you can find around and show you a quick step by step guide on the best one for converting URL to MP3.
Top 4 URL To MP3 Converter
The first URL to MP3 converter I would recommend is iTubeGo YouTube Downloader. iTubeGo YouTube Downloader is one of the best downloading software that allows you to download and convert YouTube and over 1000+ streaming websites to MP3 format. It is fully compatible with iPhone, iPad, Android Phone, and more.
Its one-click conversion feature allows you to directly convert videos quickly into MP3 in no time after downloading directly from YouTube. It offers bit rates of 70kbs, 128kbs, and 320kbs for MP3 conversion. It supports not only YouTube but other music sharing websites as well, which include SoundCloud, Vevo, MixCloud, FreeSound, etc.
Pros:
Have versions compatible with both desktop and mobile
Supports to download videos from more than 1000 video streaming sites
Can use to download playlists with just one-click which is not available in online tools
Application is highly secured and zero embedded malicious programs
Supports many output formats, including MP3, MP4, WebM, 3GP, and MPEG, etc.
Much faster download speed due to build-in proxies
Cons:
No free version available. Need to purchase the software
How to Convert URL to MP3 Using iTubeGo
One of the best URL to MP3 converters on the market today is iTubeGo YouTube Downloader. Here's a simple step-by-step process on how to do this:
Step 1 Install iTubeGo YouTube Downloader
First of all, download iTubeGo YouTube Downloader software and then install it on your computer. You can download the software below and click here for User Guide.
Step 2 Copy the video/audio URL
Then, go to the video/audio resources website which you want to download the music. For instance, if you want to download the music from YouTube, then go to YouTube and look for the video/audio you like. Open that video/audio and copy its URL from the browser address bar.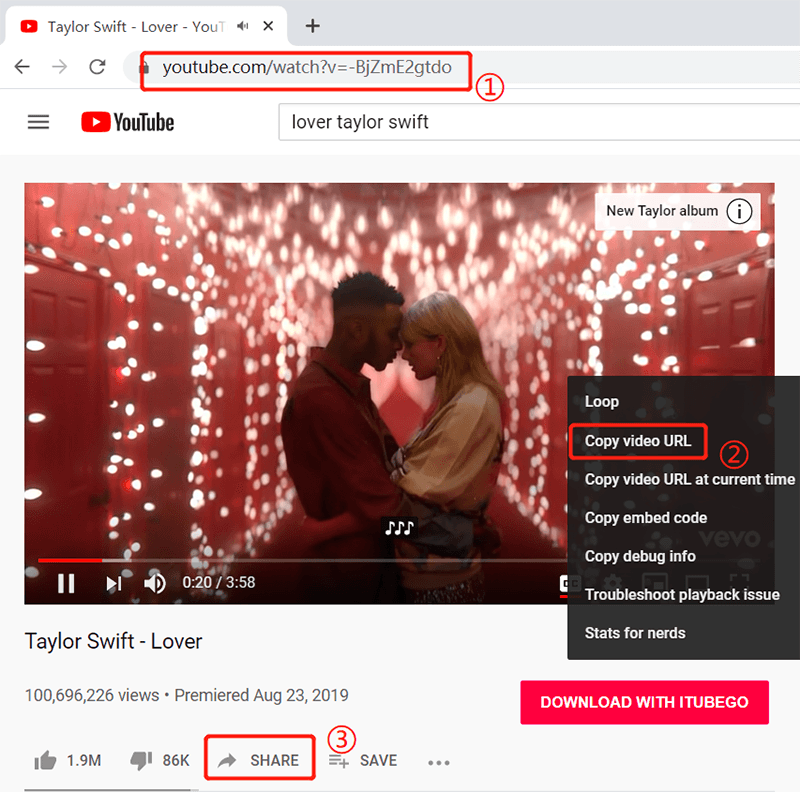 Step 3 Launch iTubeGo YouTube Downloader
Open the iTubeGo YouTube Downloader software on your computer, and set the output format, then click the ⚙ section, and choose the file quality.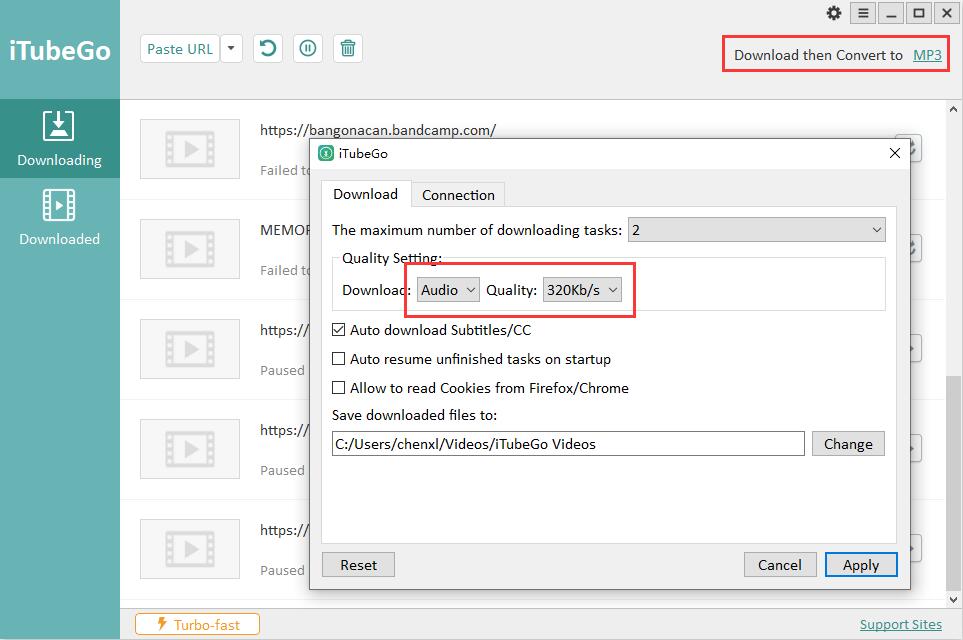 Step 4 Click "Paste URL" Button
Here you don't need to paste the copied URL. Just click the "Paste url" button, and it will start analyzing the video, then the audio will start downloading automatically.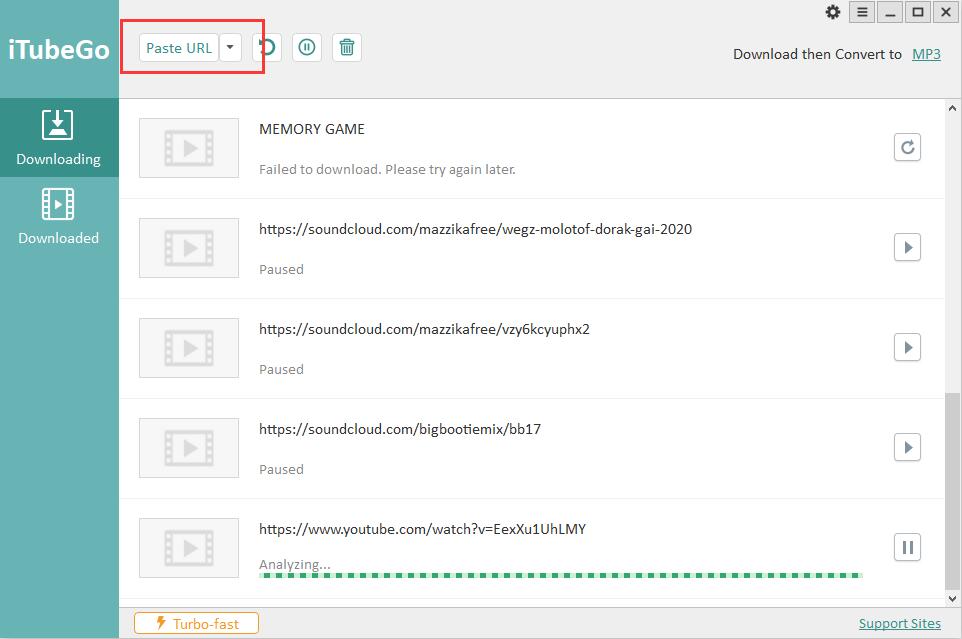 Step 5 Download the Required File
Once the conversion to the required format gets completed , you can find the MP3 format in the downloaded files folder. Click the "Show the file" button, you can find the destination location of the mp3 file in your computer.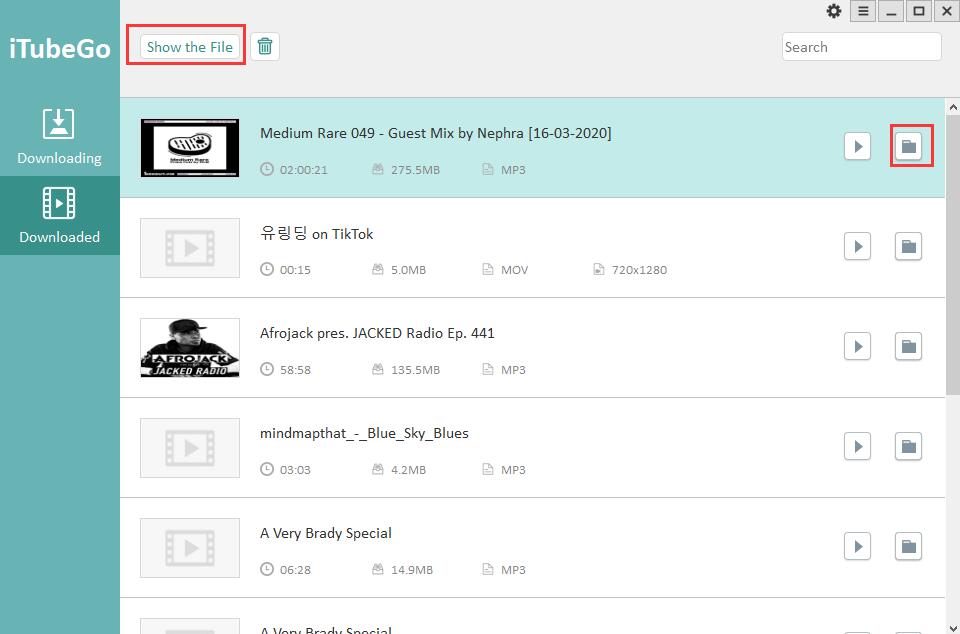 You can download iTubeGo for windows if you are on PC, or get the mac version if you are on a mac. You can download the trial version of the software to get started right away at https://itubego.com/youtube-downloader/.
2. iTube HD Video Downloader
iTube HD Video Downloader can download videos from URL from more than 10,000 video & audio sharing sites, which include YouTube, Facebook, Instagram, etc. When downloading and converting different videos, iTube Studio HD is the ultimate solution.
It can convert videos to more than 150 formats, which include video formats like MOV, WMV, and audio formats like MP3, WAV, M4V, etc. This software is compatible with Windows and Mac computers. iTube HD Video Downloader is available as a trial version where you can download MP3 up to 2 files. But it is upgradable to the full version, which presents no limitations.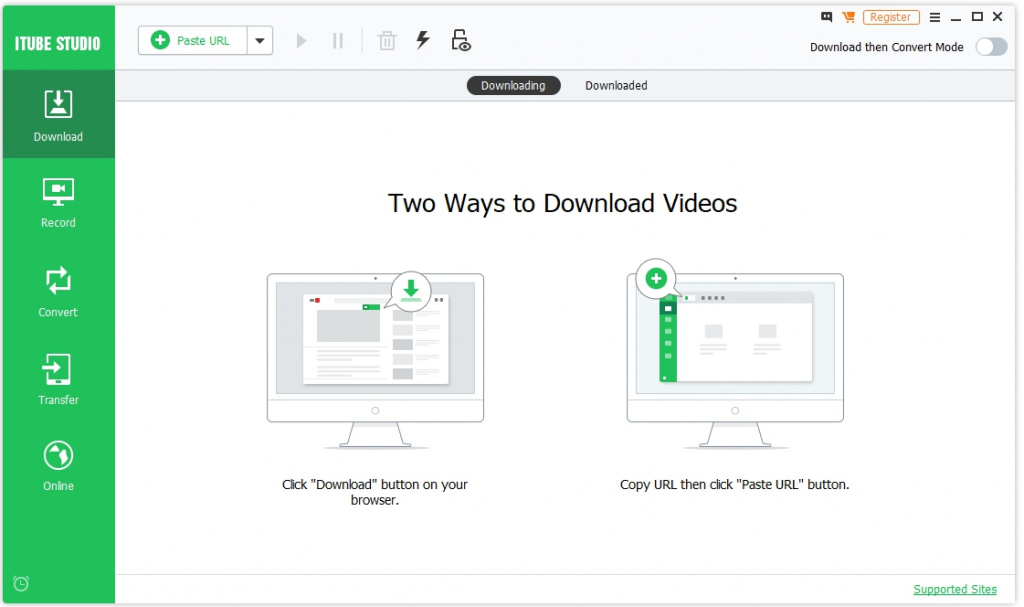 Pros:
iTube HD Video Downloader allows you to download HD video from 10,000 video sites
Allows you to record high-quality video from anywhere
Has a private way to download videos secretly
It also allows you to download Ultimate Playlist in Batch
It is compatible with 4K UHD, 4K, 1920p, 1080p, 720p, 480p, and 360p
Cons:
iTube HD Video Downloader is only available for personal use
Not available for free
3. Aiseesoft Video Downloader
Asieesoft Video Downloader is another great downloader that converts video URL to MP3. With it, you can download different types of videos, including 4K videos from Vimeo, Dailymotion, Vevo, TED, and other video sharing sites.
It supports the conversion of videos to any video/audio format, such as FLV, MKV, MP3, MP4, WebM, etc. Also, Aiseesoft video downloader allows you to download videos in different resolutions like 4K and 1080P. The software has a trial version for windows PC and the paid 1-year version is priced at $19.6/year and a LifeTime version costing $31.5 usable on one PC and $138.6 usable on up to 8 PCs.
Pros:
DVDs without copy protection can be copied and converted into the desired format
Compatible with over 10000 websites
DVDs without copy protection can be copied and converted into the desired format
Can convert simple videos with loss of quality into 3D material
You can also master simple editing and editing processes
Cons:
The trial version doesn't let you render clips completely
Need to purchase the software to enjoy the full benefits
4. 4K Video Downloader
4k Video Downloader is a YouTube content download manager that brings video or audio of a specific clip to your computer, always at the highest possible quality. It allows downloading videos, playlists, channels and subtitles from YouTube, TikTok, Facebook, Vimeo and other video sites in high quality.
You can download podcasts and songs as MP3 files by selecting "Extract audio" option in the downloader. In addition to its simplicity, 4K Video Downloader stands out for its speed and the ability to download several videos at once. Few more efficient managers you will find, and also free and cross-platform.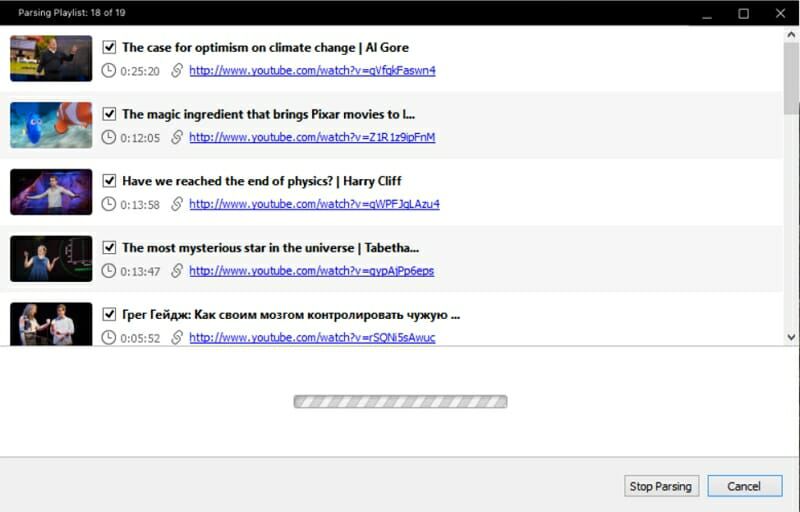 Pros:
Download YouTube playlist and channels, private YouTube videos
The installation of the program is easy and fast
Can use to download from YouTube, Vimeo, DailyMotion and more
Downloads 4K and 360-degree videos
Available for Windows, macOS and Linux
Cons:
The updated version is so expensive
Sometimes required to paste the URL several times to start analyzing
Limits on playlist downloads
Top 4 URL to MP3 Online Converters
1. Online Audio Converter
Online Audio Converter is a browser-based tool which means that you don't need to download anything to your device because it works online. You can use Online Audio Converter in any browser and on any device. It doesn't matter if you use Mac, Windows, and Linux, Android or iPhone.
The interface is very simple and intuitive; it doesn't require any extra actions! It was designed to make it easy for anyone to convert files.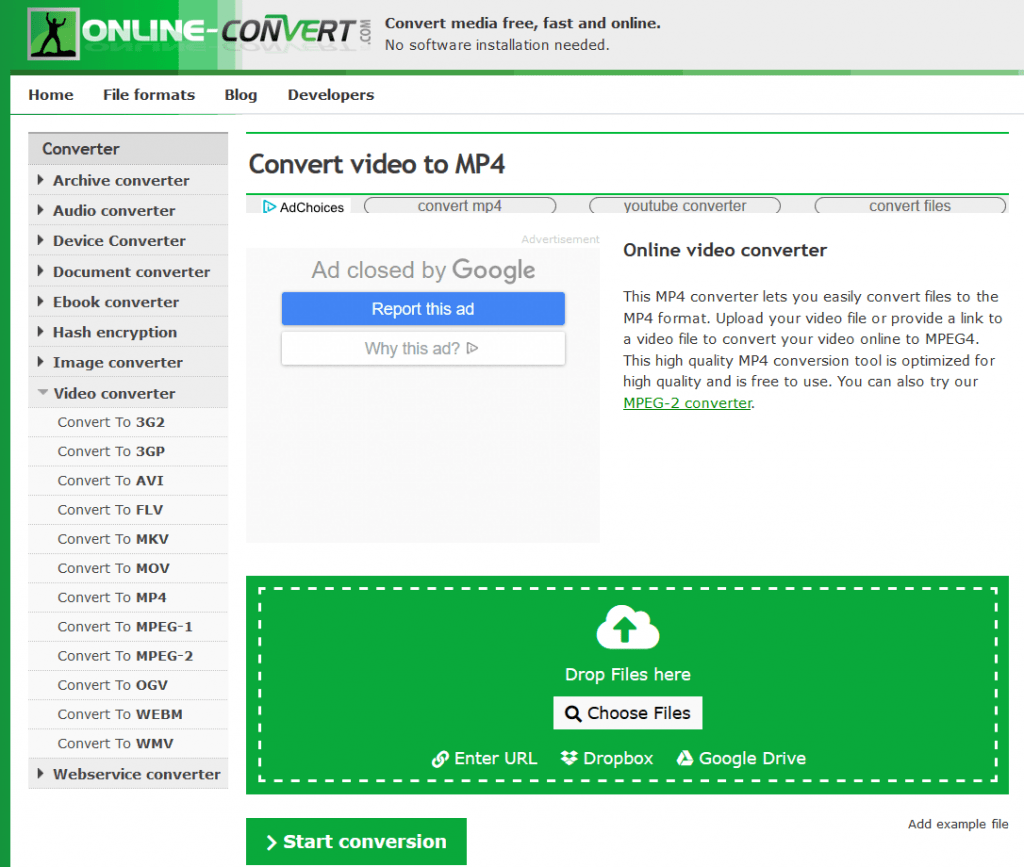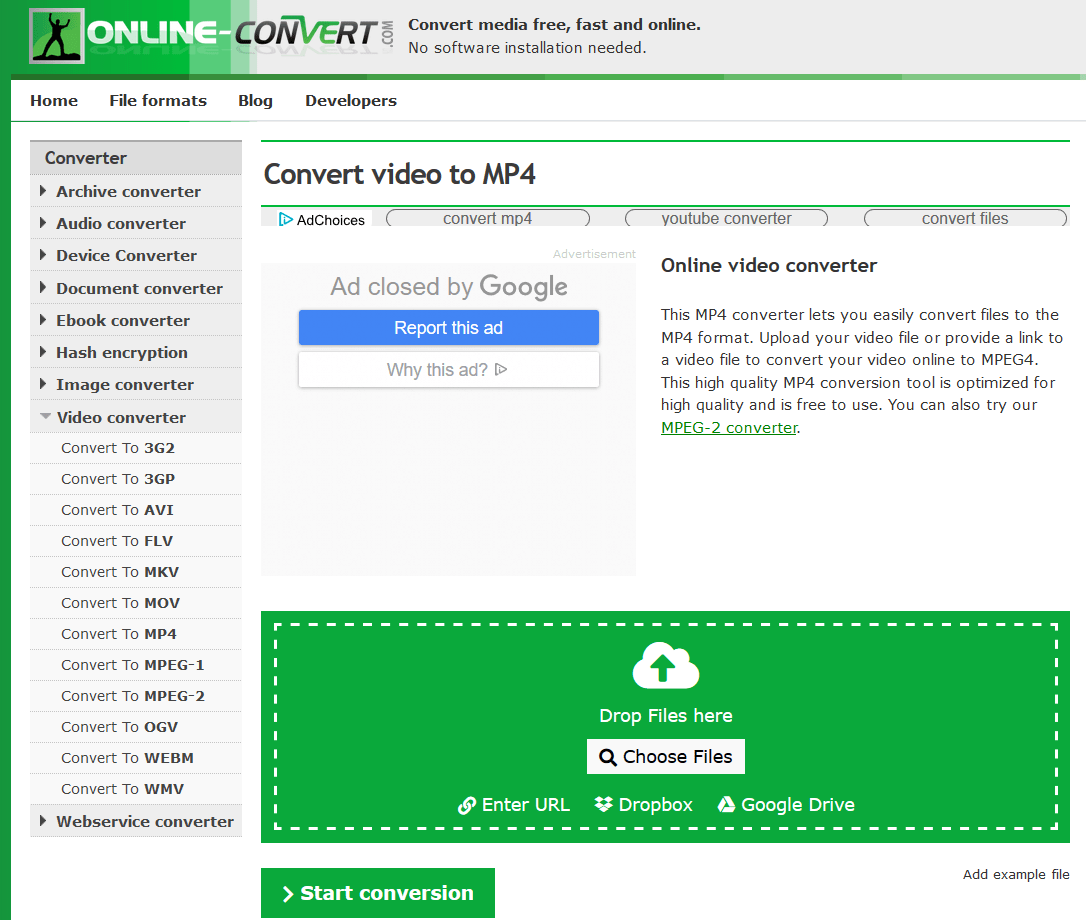 Pros:
The converter supports all the popular audio formats like MP3, OGG, WAV, WMA and others
Use to extract audio from video files
No software to download. Just select your file, pick a format to convert to and away you go
Cons:
Doesn't support YouTube conversions
Most of the features are available in the costly premium version
A high number of advertisements
2. Online Video converter
Online Video Converter is the best online video converter that converts videos with superior conversion quality. It is compatible and reliable on both desktop and mobile devices, such as tablets and Android devices. Above all, it is a free online web media conversion web app that supports various platforms like Vimeo, Dailymotion, and YouTube.
The conversion process is really simple in which you have to enter the link of an input file or load the input file, select the destination format, click on the "Convert" process and download the file.

Pros:
Supports to convert any video by file or URL
The converter supports several major video streaming sites
Can upload files with various formats
Cons:
Can produce limited output formats such as MP$ and MP3
Sometimes it doesn't work when uploading files and have to try several times to succeed
3. Mp3 cyborg
Mp3 cyborg offers you the possibility to download any video from different websites (YouTube, Dailymotion, etc.) in mp3 format, without the need to register or install anything.
It is very easy to use. On its Website, there is a text box, in which you only have to enter the URL of the specific Website of the site where you want to download the video and click on "convert video to mp3". Once downloaded, you just have to save it in our files.

Pros:
All the features are available for free
No annoying ads popping up
Supports different video platforms such as Vimeo, YouTube and Daily Motion
Cons:
Only produce files with limited output format like MP3
4. Anything2MP3
Anything2MP3 is a web application that allows converting audios, even streaming and YouTube URL to MP3. The Website guarantees not to be affiliated with any video sites available online. No login or registration is required on the Website. Among the infinity of sites with which it is compatible are SoundCloud, YouTube, Vimeo, Bandcamp, and Dailymotion, etc.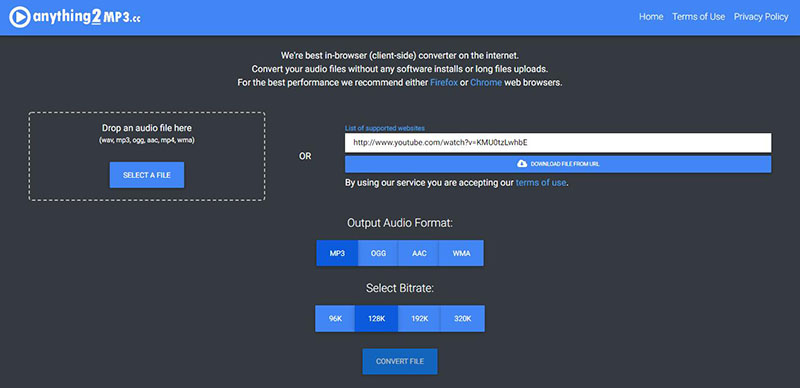 Pros:
It is available for any computer that has a Web browser and free
Supports multiple video streaming websites
A high number of output formats to choose from and much faster than other online tools
Cons:
User experience is worst with the design of interfaces
A high number of advertisements
Online VS Software
There are many URL to MP3 Online Converter and Software Converter to help you convert video to mp3 format. According to the pros & cons for every converter, we can see the difference between them, here we will make a table to see it clearly.
| | Online Version | Desktop Version |
| --- | --- | --- |
| Download YouTube playlists | | √ |
| Download 4K/HD | | √ |
| More choice of output format and quality | MP4/MP3 | √ |
| Download batch videos without limitation of numbers | limit | No limit |
| Support a huge range of media sites | | √ |
| Annoying Ads | √ | |
| Install the software | | √ |
So, if you want to download videos in different format in batch, even 4K/HD, I recommend you choose the software, if you want 8K, you can choose iTubeGo Youtube Downloader.
(Click to rate this post)
Generally rated 4.5 (215 participated)