There are times when you need to convert music video or audio files to different other audio formats. That is when you want to save them on your phones or computers to play them conveniently. With more and more music converter. Converting a video file, a movie clip, or music video into a different audio format is not a big deal in modern times. Many users love online audio converter, while some want to convert audio formats so that they can collect sound effects. The real problem for users is which music converter to choose. Don't worry! You will find the best music converter here.
The main requirement for a music converter is the minimum loss of quality when converting videos or audio to different other formats. But in most cases, it isn't easy to find an excellent music converter that converts preserving the original quality. Apart from that, most of the music converters don't compatible with all the operating systems. Therefore, in this article, we introduce 7 Best Music Converters, which you can try in any operating system.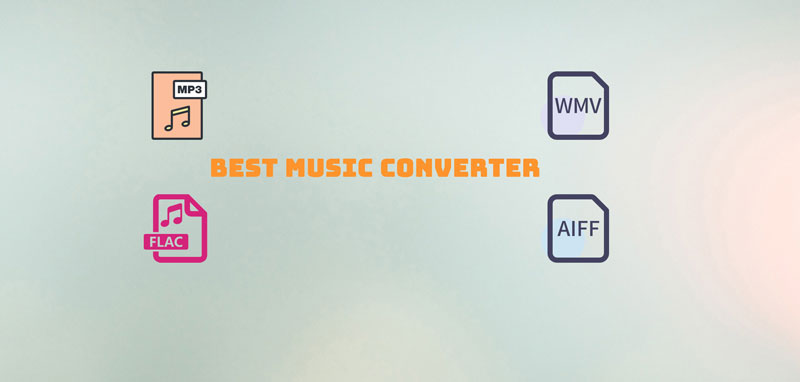 How We Rate the Music Converter
We review each music converter based on several factors. The converters can be divided into classes depending on the processing quality.
Personal use
Professional use
As we focus on many factors, we mainly prioritize how fast the conversion is, availability of format selection, the pricing, and the user experience provided by these music converters.
Musify Music Converter (Paid-for)
Xilisoft Audio Converter (Paid-for)
Freemake Audio Converter (Free)
Apowersoft Streaming Audio Recorder (Paid-for)
Zamzar Online Music Converter (Free)
Switch (Paid-for)
YTMP3 Online Converter (Free)
7 Best Music Converters in the Market
1. Musify Music Converter (Paid-for)
Musify is one of the best music converters find in the market. Once you download videos and audios, it can be converted to other audio formats for free. Musify allows you to choose the quality and format in which you want to download the video or audio. Musify supports more than 1000 music streaming sites, including Facebook, Instagram, SoundCloud, Spotify, etc. It can convert your music files at once as a bulk. So all your videos and audios can be converted to other formats with just a single click.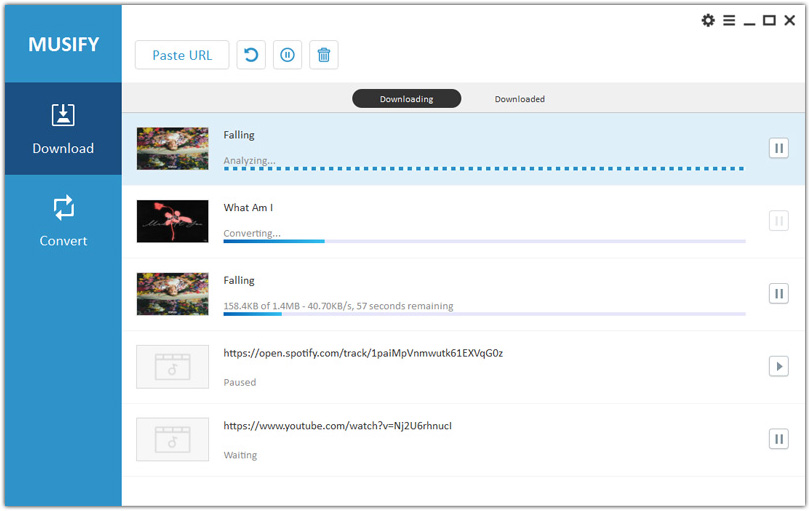 Pros:
Lossless conversion preserving the original quality
Retain the tags
The conversion process is faster than other converters
Can convert multiple files at once
Apart from converting the files, it is used to download files as well
Cons:
No free version available. Need to purchase the premium version
2. Xilisoft Audio Converter (Paid-for)
Xilisoft Audio Converter is versatile and easy to use audio creation and editing software. With it, the user can perform conversions between different file formats and extract audio from videos with ease. The application supports a wide variety of formats, ranging from the most traditional such as MP3, WMA, WAV, AAC, OGG, FLAC, etc. to the most modern and current, such as high definition videos.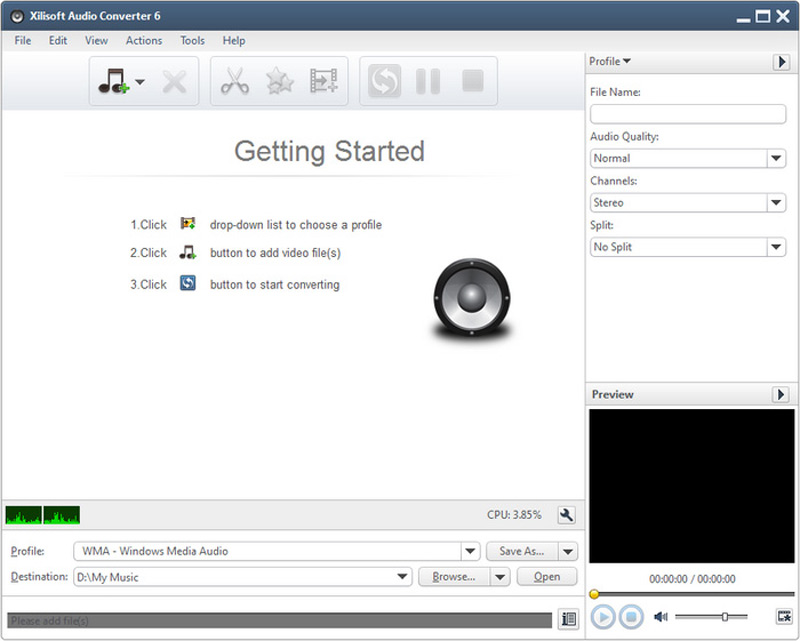 Pros:
Convert almost all music formats
Extract audio from videos and HD video formats
Can customize the audio output
High-speed multi-file conversion with multi-threaded support
Cons:
3. Freemake Audio Converter (Free)
Freemake Audio Converter simplifies the task of converting audio files between formats. You can choose the songs, click with the mouse on the desired format of the seven available, and Freemake Audio Converter will do the rest. Freemake Audio Converter is compatible with MP3, WMA, WAV, FLAC, AAC, M4A, and OGG formats; it has quality profiles that you can customize, including the possibility of joining two or more songs in one.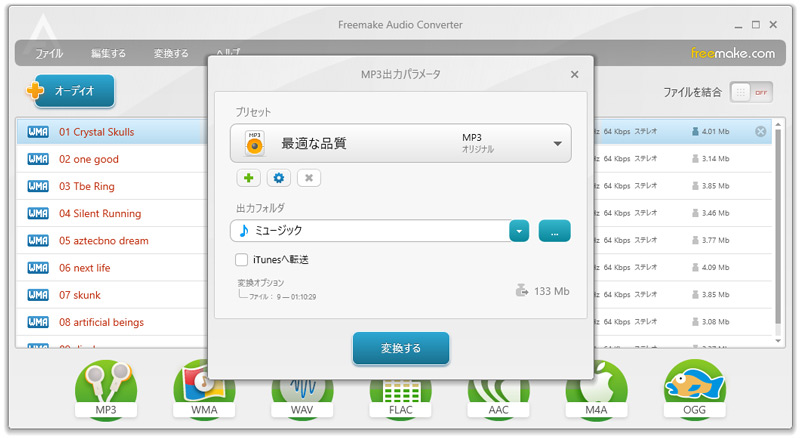 Pros:
Available for free
High user experience
Easy to use
Compatible with common formats
Predefined and customizable profiles
Availability of advanced quality options
Cons:
The free version does not allow converting tracks longer than three minutes
During installation, the application tries to force its start page on you
4. Apowersoft Streaming Audio Recorder (Paid-for)
Using Apowersoft Streaming Audio Recorder, it is possible to make audio recordings from any sound that comes from your computer. Furthermore, this program gives you the option of downloading music from the Internet with great ease and without any problem of potential threats or viruses. You can find a potent search engine, an music converter, a CD and DVD burner, an activity calendar, and an ID3 tag editor.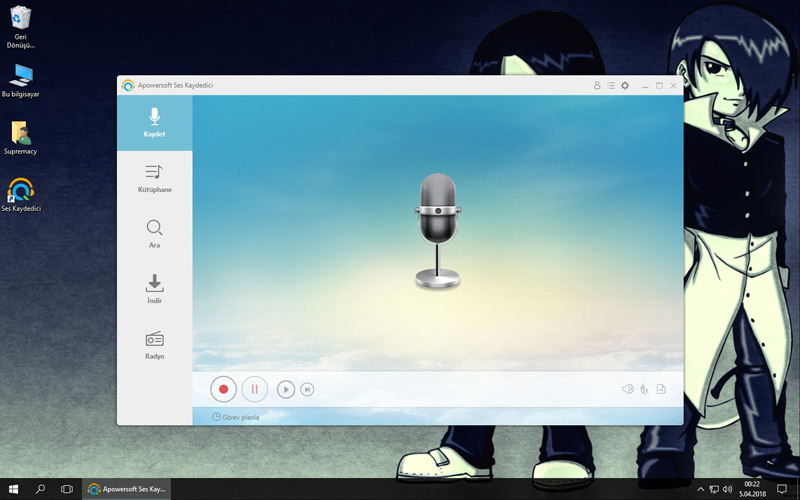 Pros:
Simple and friendly user interface
Support for multiple formats of audio output files
The presence of additional features to work with sound
The app is also available as a free trial version
Cons:
The record instead of downloading the songs (low efficiency)
Can't download multiple files at once
Highly expensive ($59.95)
5. Zamzar Online Music Converter(Free)
Zamzar is an online music converter where you can convert online and free more than 1,200 different formats (M4A, M4R, MP3, MP4, etc.) to the one you need, with the advantage that you do not have to install anything on the computer and it is straightforward to use. Once the conversion is complete, users receive an email with a URL from where the converted file can be downloaded. It is also possible to send files for conversion by emailing them to Zamzar.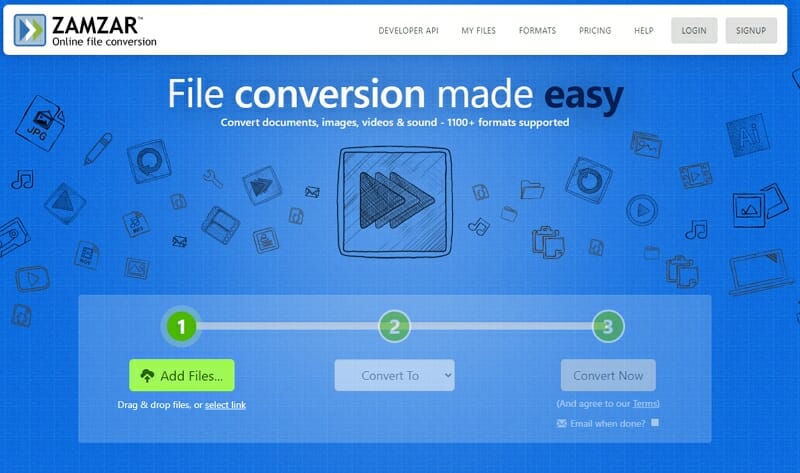 Pros:
Compatible with every operating system
Can use it through the web browser as an audio converter online
Can convert the files online and offline
Multiple audio format support
Provide the option to get the download link via email
Cons:
It takes a longer time to do the conversion
Have restrictions on daily downloads and conversions
Files over 50MB are not convertible in free version
6. Switch (Paid-for)
The Switch Audio Converter is a software to transfer audio files from one format to another. A simple music converter with which you can listen to your favorite songs on all the devices and audio players you have. A tool that will help us convert our files that are not compatible with the player where we want to listen to them. With this application, you will have the option to convert files in WAV, MP3, AC3, AAC, M4A, MP2, WMA, OG, among many others.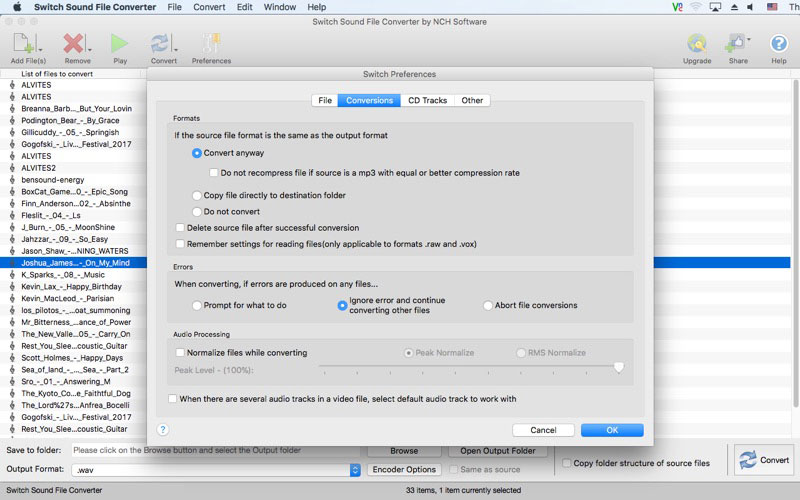 Pros:
Can convert bulk of files at once
Can customize audio formats to reduce the error correction
Contain an online database with many music files
Cons:
Program malfunctions in most of the occasions
Some virus guards detect this as a virus
7. YTMP3 (Free)
YTMP3 is one of the most straightforward music converter free for music conversion, and we are fans of making the process as easy as possible. Just paste your video link into the box, choose MP3 or MP4, and hit Convert. The app will automatically select the highest possible conversion quality and get to work. After a couple of minutes at most, your file should be ready to download.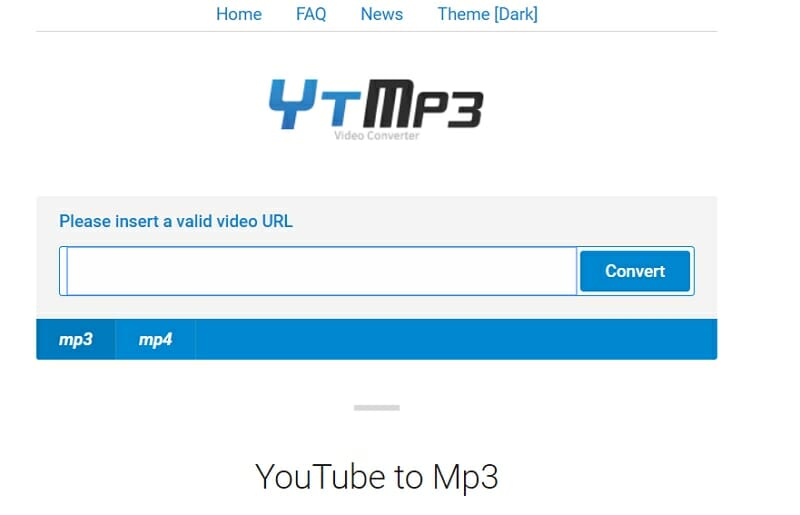 Pros:
Can convert videos to MP3 and then download them
Free of charge
Compatible with computers, tablets, and mobile devices
Converting videos is simple and secure with a high-quality output file
Cons:
No additional features to support the enhancement of the audio files
Only one file at a time
Converts YouTube videos only into MP3 formats
Comparison between Paid-for Converters and Free Converters
| Paid Converters | Free Converters |
| --- | --- |
| Need to purchase the product to use | Free of charge |
| No limitation in downloading and converting | Limit the number of downloads and conversions |
| Have more features to play with | Limited features |
| High conversion speed | Lower conversion speed |
| Rarely reduce the quality | Reduce the quality |
| Highly secure | Expose to threats |
| Many choices of output format and quality of the media files | Less choice of output format and quality of the media files |
| No ads | Ad-supported |
(Click to rate this post)
Generally rated 4.5 (215 participated)