Scrolling through TikTok, we often find videos with songs that just can't be missed. However, these songs can't be directly downloaded to MP3 format directly from TikTok as the social media platform offers no official solution for that.
However, that doesn't mean you can't download TikTok to MP3 at all. We have a few solutions for this problem that come in handy in downloading TikTok to MP3. These solutions include both TikTok to MP3 online solutions and desktop software for the same task. Let's get into it and find out which option is the best for doing this task.
Convert TikTok to MP3 on Desktop – iTubeGo
There's no shortage of audio and video downloading software on the internet but not all of them are the same. iTubeGo YouTube Downloader is the best option currently on the market for some legit reasons. It is fast, safe and secure, offers a lot of format and quality options, supports a large number of websites, and its value doubles as a media converter.
Key Features
It supports WMV, AVI, MP4, FLV, MP3, M4A and 50+ other formats.
It can download audio and video content from more than 10,000 websites.
It has a Turbo-fast downloading mode that downloads content at a 10 times faster speed than any other similar tool.
It can convert multiple files simultaneously.
It can download multiple videos in one go.
You can download entire playlists or channels by entering just one link.
You can download in full HD, 2K, 4K and even 8K resolution.
How to Convert TikTok to MP3 using iTubeGo YouTube Downloader
Step 1

Install the Newest Version of iTubeGo Program
Open this link to get the latest iteration of iTubeGo as it keeps evolving continuously. After the software has been downloaded run it to install it on your device.
Step 2

Locate the Desired TikTok Video and Get its URL
Now open a web browser and go to the video you want to convert to MP3 and copy its URL. Once you've opened the required TikTok video, click the Share button and select Copy Link option.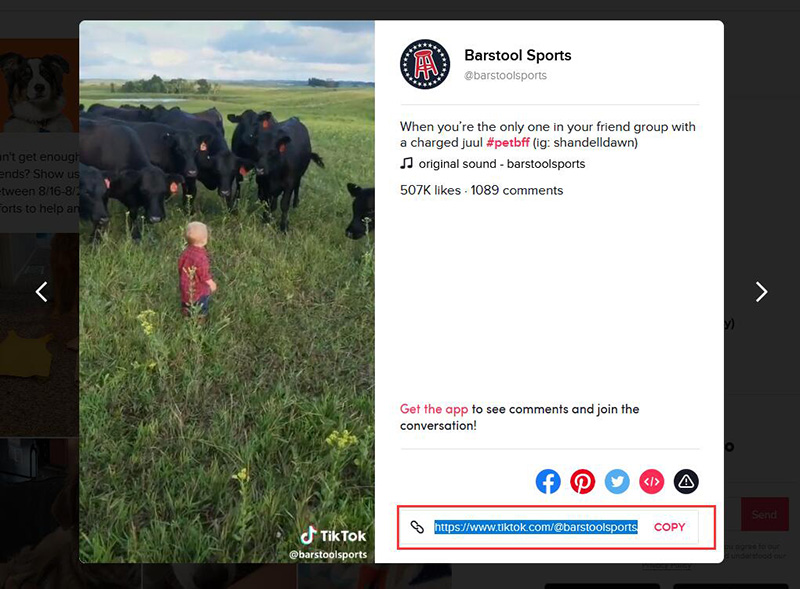 Step 3

Run and Configure iTubeGo
Open iTubeGo and set the output format to MP3 for converting a video to MP3 format. To do this, go to the "Download then Convert to" option located at the main interface and simply select MP3 format. Then, open the Preferences tab and select the required Quality and Download type as audio.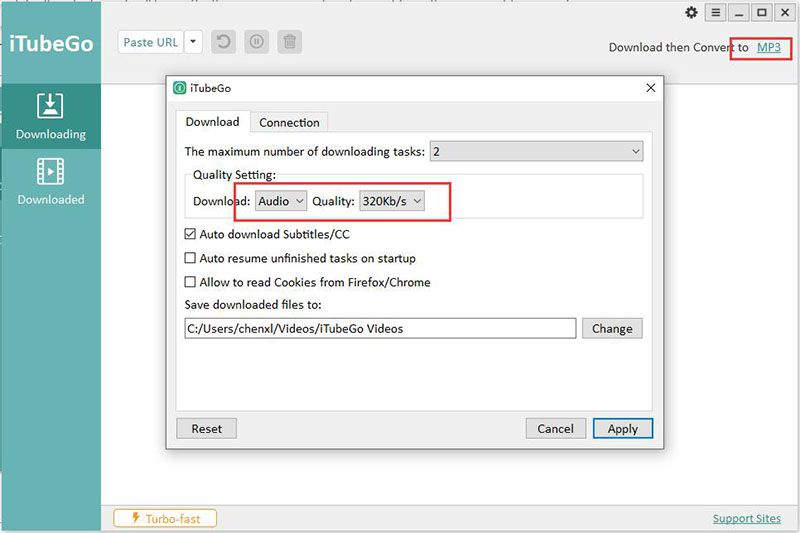 Step 4

Paste the Copied TikTok Video URL
Click the Paste URL button and iTubeGo will detect the URL and start downloading with immediate effect.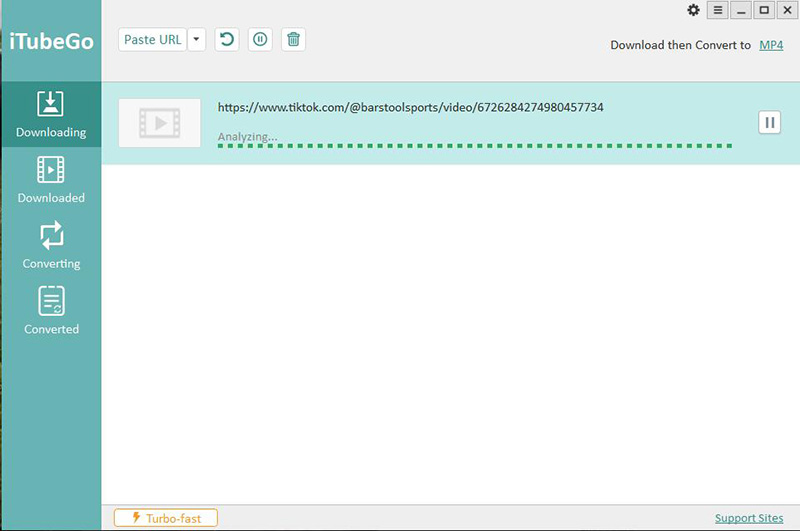 Step 5

Locate the Downloaded TikTok MP3 File
After downloading TikTok video in mp3 format, it will be saved to the selected distination location on your computer. Or, you can also find the downloaded MP3 file in the Downloaded section of the iTubeGo software.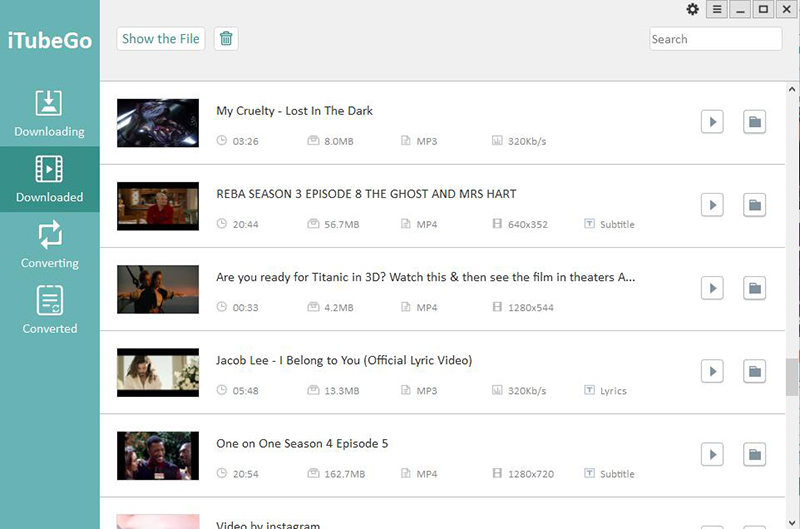 Online Ways to Convert TikTok to MP3
If you do not want to install or purchase a software to convert TikTok to MP3 on your computer, you can do the same by using free online tools. These don't need you to download any software and are free to use but have limited functionality and output options.
1. Ttdown
Ttdown is a dedicated TikTok to MP3 conversion tool. It can be used to download any TikTok video to MP3 in a few easy steps. All you need to do is to copy the link of the video you want to download and past it into the specified field in the Ttdown webpage. After entering the URL click the download button, select the output format and download the video in your desired format.

Pros
Cons

It can download files in HD quality.
It supports Mp4 and Mp3 formats.

It contains a lot of irritating ads.
The user-interface of this tool is complicated and can be confusing for the users.
This tool works only for TikTok.
2. Downloaderi
Downloaderi is another cool online TikTok to MP3 conversion tool. The download procedure requires you to enter the URL of the video you want to download on a webpage, and then you can download it after selecting the required output format and quality. Here are some of the positive and negative aspects of this tool.

Pros
Cons

No Ads.
User-friendly interface.

It can redirect you to some other websites.
It will ask you to install a Google plugin.
3. KeepVid.Pro
KeepVid.Pro is one of the best online audio and video downloads currently on the market. It supports a lot of sites and has the option of high-quality audio downloading. The download procedure is pretty simple. Just enter the URL of the desired video into the Webpage of KeepVid.Pro and click the download button. Then you'll be asked to select the output quality. Select the one you like and the video will be downloaded to your computer.

Pros
Cons

Supports more than 1000 websites.
It can download Mp3 files in up to 320kbps audio quality.

It can redirect you to some other webpages.
Too many annoying ads.
It only support Mp3 audio format.
Comparison of iTubeGo Vs. Online TikTok Converters
| | | |
| --- | --- | --- |
| | Online Solution | iTubeGo |
| Quality of downloaded Video/Audio files | Quality is often compromised | 100% original quality |
| More choice of output format and quality | Only MP3 | √ |
| Support 4K & 8K | × | √ |
| Download batch videos without limitation of numbers. | × | √ |
| Lifetime update, technical support | × | √ |
| Support to resume the download process when broken | × | √ |
| Annoying Ads | √ | × |
| Install the software | × | √ |
| Unreliable and unstable, sometimes fails to downloadp | √ | × |
Summing-up
TikTok has recently surfaced as one of the leading social media platforms and it is mainly based on people performing to the beats of some really nice music. It is not possible to download this music directly from TikTok on to a computer as there is no official TikTok option for that. We have given you the detailed of the best methods to convert TikTok to MP3 on a computer. While the online solutions are free, they are not the best option because of the limited functionality, ads and safety issues.
iTubeGo YouTube Downloader is the best option for this task, as it offers the maximum format and quality options and has the fastest download speed. You can also use it to download audio and video content from pretty much any website on the entire internet.
(Click to rate this post)
Generally rated 4.5 (215 participated)